"I was referred to Get Away Today by a friend that used it and I thought I'd give it a try. We wanted to take another Disneyland vacation this year. We had taken one last year and did everything ourselves (booked the hotel, Disneyland tickets etc..) I called to ask some questions and the person who I spoke with was very helpful and helped me pick out a hotel and explained how everything worked. They were very patient as I called back "a few" times to ask questions and then I finally booked it! Not long after I booked our vacation to Disneyland I received our packet in the mail with everything I needed. Check-in to our hotel was easy and picking up the Disneyland tickets was a breeze too!
Everything was wonderful! The weather was perfect (except the second day when it rained for the first couple of hours) but that was actually one of the times we laughed the hardest! My husband went to the gift shop in the hotel to buy all 6 of us adults rain ponchos and they were only $5.00 each! Great deal right?! Well that's what we thought until we got off the shuttle at Disneyland, put them on and noticed they were a little "short". Every other adult who had on a poncho it seemed to fit them a lot better. After seeing a couple of "kids" wearing ponchos then it dawned on us..................yep, my husband bought "child" ponchos! Hahahaha!!! No wonder it was such a great deal!!! We laughed so hard!!! And we are still laughing at it!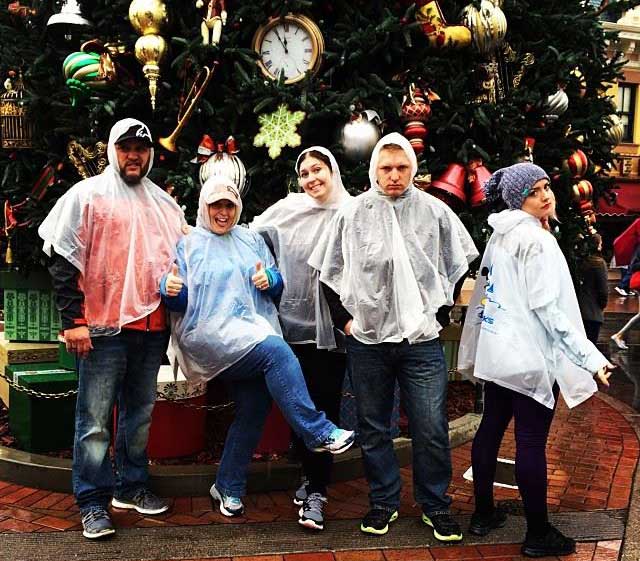 My husband's is the one in the "belly poncho"! :) We ended up buying a couple of adult ponchos for the "taller" ones in our group and we gave the child ones away to "children". :)
We loved using Get Away Today! Thank you so much for making everything so easy!! We will definitely use Get Away Today in the future so we can have another "worry free" vacation!
Thanks!
The Bronk Family"
"Our family wanted to thank you for getting us set up just right. We had a tremendous time and only hoped we had stayed longer. One forgettable moment did occurred at Disneyland on April 1st however. I had gotten a small sunburn the day before so had just put some sun screen on for the upcoming day. While walking into California Adventure I asked my daughter if she still had her chap stick because my lips were a little dry. She said yes, pucker up and I will put some on you and she proceeded to do so. For the next two hours my wife and two children kept chuckling at me. I would ask them "what" and got no response.
Finally I had to go to the rest room and my daughter said, "Just remember Dad, today is April Fool's Day." That's when I looked in the mirror and discovered she had put bright red lipstick on me. No wonder I caught odd looks for two hours. I will get even on our next trip when they least expect it.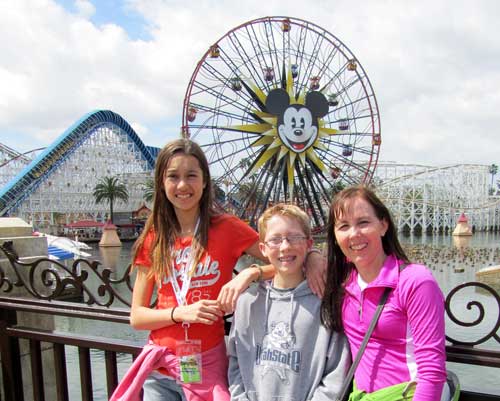 Thank You so much for new memories!
- Dave W."
"We had such a great time on our Disneyland vacation. We went to Goofy's Kitchen and the boys had an amazing time. They loved seeing all the characters. My littlest son Bryce kept asking when Snow White was going to come to the table to see him, as he had a little crush on her. When she finally came to the table he was so excited to see her that he fell out of his chair. She of course went to see if he was ok to which he just kept laughing and smiling at her. My husband told her that Bryce had been waiting to see her, and that he had a little crush. She very nicely said well then come give me a hug and take a picture with me.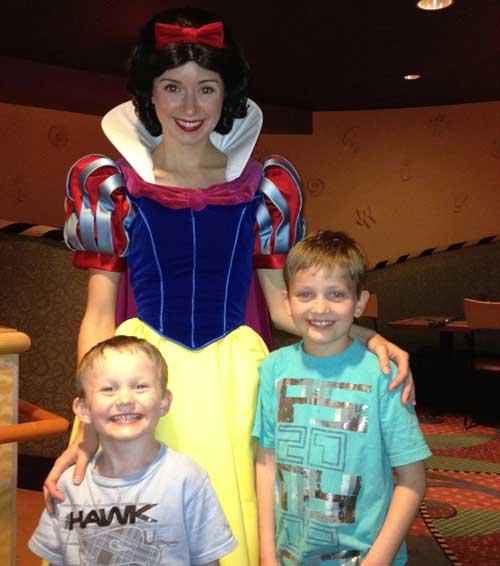 My older son Brayden could not stop laughing as this was to funny to him that his little brother had a crush on a princess.
-Barbara K."
Family vacations are almost always full of laughter - it's one of the things about vacations that we love the most! We love being part of of your fun, funny and heartwarming vacation memories. Send us your vacation stories to
[email protected]
and your family could be the next family featured on our blog!

Read what more families are saying about their vacations:

We Help Families Create Memories
Get Away Today Makes Vacations Easy
Family Memories Are What It's All About