Universal Studios Hollywood is perfect for families. The park has something for everyone, including the little ones. We have all the tips on how to do Universal Studios Hollywood with babies and toddlers.
Universal Studios Hollywood is an incredible theme park with thrilling attractions that completely immserse you in the movies and TV shows that you love. With intense rides like Transformers The Ride: 3D, Revenge of the Mummy, Jurassic Park The Ride, and as of April 7, Harry Potter and the Forbidden Journey, you may think that Universal is suited for older kids. Luckily, Universal Studios Hollywood has something for everyone... including things that babies and toddlers will love.
Plus, they have the perfect system for families that are traveling with the tiniest of tots too... Child Swap. The idea with Child Swap is simple. Check in with the Cast Member as you get into line. They'll have someone from your group stay behind with any young kids that are too short to ride in the Child Swap area while the rest of the group rides. Once the group rides, the group will go back to the Child Swap area where the person who waited will get to go ahead to the front of the line. It is slick!
But, there's so much that kids 40" and shorter will love at Universal Studios Hollywood as well. I recently took my two little boys and we had the best time! Here are some of the can't miss attractions for the smallest visitors at Universal Studios Hollywood:
Character Meet-n-Greets: Universal Studios Hollywood does a wonderful job creating atmosphere in the park. Shrek and Donkey rotate at thier cart to greet visitors throughout the day. Scooby Doo and Shaggy can be seen dancing with guests. Dora hangs out right out side Jurassic Park. Characters from The Simpsons are hanging around Springfield all day long, and even though my kids had no idea who they were, they loved the bright cartoon colors of Bart, Marge, and the rest of the gang. The Minions, Gru, and his daugters were my boys' favorites. They spent so much one on one time that I'm pretty sure my son thinks that they're his new best friends.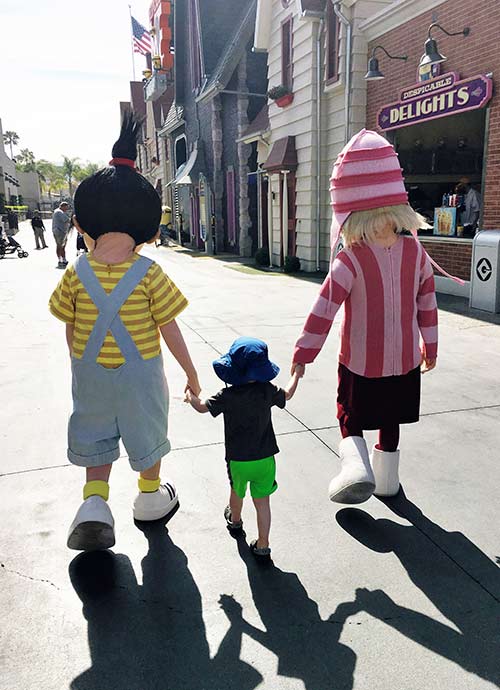 Playgrounds and areas: There's a Dino Play Area right outside Jurassic Park, and there are two, one wet and one dry, near Despicable Me: Minion Mayhem. Both are perfect areas for little kids to burn some energy. There's even a swimsuit changing area if your kids want to cool off in the splash area on a hot day.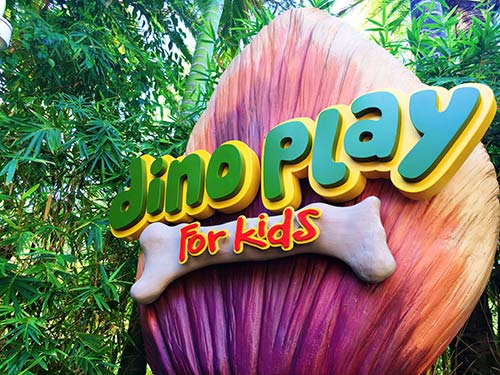 Universal's Animal Actors: This show features actual animal stars from film. Cats, dogs, birds and more will keep your kids completely entertained. It's also impressive and clever enought that adults will enjoy the show as well.

Shrek 4-D: There's a little rude humor (what toddler doesn't appreciate a potty joke), and it's a little dark, but there are no height requirements and it's pretty PG. After meeting the "real" Shrek, it adds a little more magic.UPDATE AUG 2017: Shrek 4-D closed on August 13, 2017. It is currently undergoing construction to become the DreamWorks Animation Theatre. The new theatre will re-open in 2018 and showcase characters from Kung Fu Panda.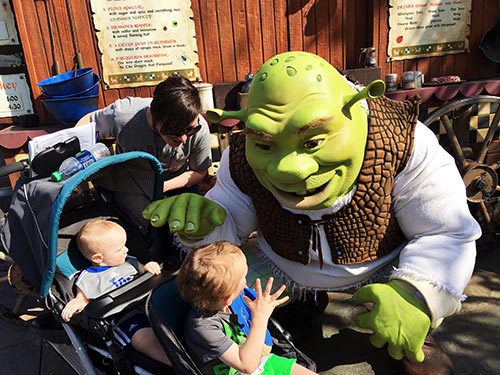 Ollivanders: Starting April 7, guests of all ages will be able to officially see a real wand ceremony where the wand chooses a wizard. The magical show only lasts a few minutes, which is actually perfect for short attention spans, and it's incredibly engaging.

TriWizard Spirit Ralley and The Frog Choir: As of April 7, two new outdoor shows will play daily on the stage of The Wizarding World of Harry Potter. The shows are entertaining, not too long, and the cast sticks around afterwards for photos with guests. Grab a Butterbeer on the way to the show for a real treat!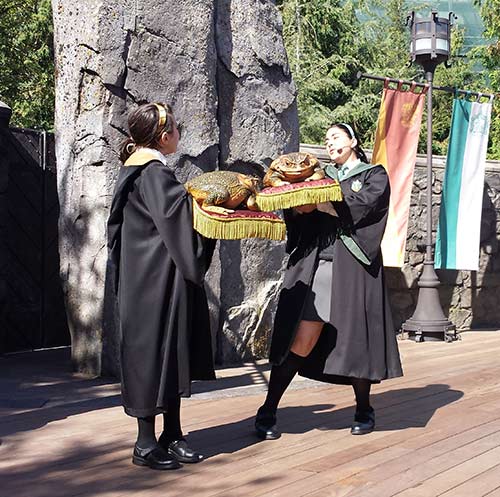 Lard Lad's Donuts: I don't know a kid who doesn't love donuts. Lard Lad's has a variety of delicious flavors, and more importantly, they have giant donuts that are perfect for sharing. I don't know what it is about something so humongous that makes it irrisistible, but we couldn't pass these up. Just be aware, your kids may cry if you don't let them dig in right away!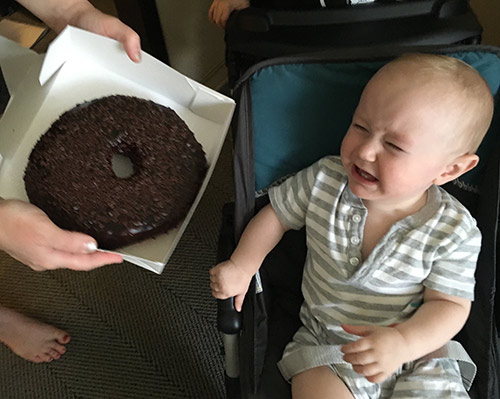 The Studio Tour: You'll want to use your best judgement on this one, because some things could be scary for young kids. Interestingly, it wasn't the earthquake simulation, King Kong, or Fast & the Furious car chase that scared my 2-year-old. It was when Jaws jumped out of the water towards his unfortunately placed seat on the last row of the first car on the edge of the tram. If you decide your kids can handle it, I recommend having them sit in the middle of the row, not on the edge where sharks can startle them. We also left off the 3D glasses for the times when they were recommended to make them a little less realistic.

Gru's Cafe: If your kids are anything like mine, they'll want to spend a lot of time with the beloved characters from Despicable Me. Gru's Cafe is an awesome place to grab lunch and feel like you're in the movies. Later you can grab a Freeze Ray Smoothie around the corner at Despicable Delights, it's similar to a Dole Whip, delicous, and large enough to share. Plus, it comes with a color changing straw that kids thought was pretty amazing!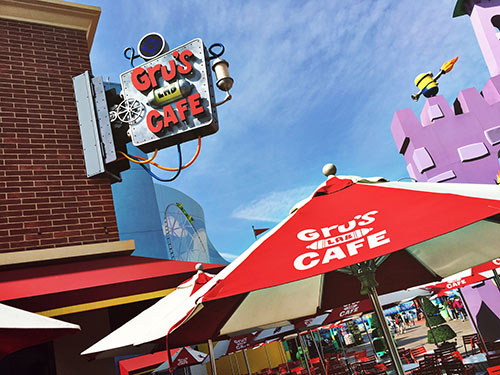 There is so much to do at Universal Studios Hollywood for everyone! If you're planning a Disneyland vacation, we recommend adding a day at Universal Studios Hollywood to your adventure. It's only about 45 minutes away, and sure to leave you with memories you'll cherish forever. Or, make it a quick away with your family. Either way, everyone from the youngest to the oldest will love Universal Studios Hollywood! Book online or call our vacation experts at 855-GET-AWAY.

Check out these other great articles: