New Year's Eve is just around the corner and every princess deserves a party! However, staying up until midnight is not always a great idea for tiny tykes. To make sure that no one misses out on the fun of New Year's Eve, we decided to take a note from Cinderella and came up with our own Not Quite Midnight Ball. Decorating for the Not Quite Midnight Ball is as simple as balloons, stars, chocolate and a whole lot of sparkle. Creating a dreamy and magical atmosphere is easy with these simple decorating ideas.

Floating Glitter Stars

Dancing under the stars is one of the most magical activities a girl could dream of. Since it is much too chilly outside to dance under the actual stars, we created our own. All you need to make your own starry indoor sky are balloons, tape and some glitter paper.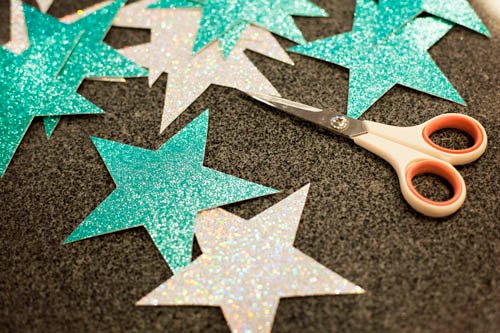 Start by cutting stars out of nice glittery paper. To make it simple, use a star stencil - I loved this sheet from Amazon.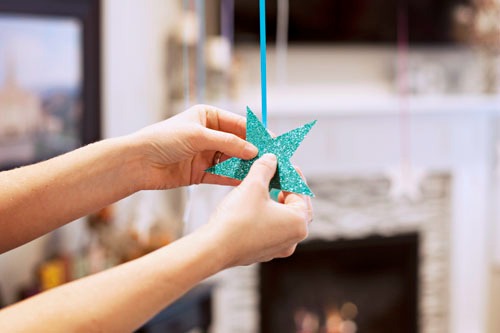 Order helium balloons in your party colors to be picked up the day of the party. You want them to have as much float as possible. Place the balloons in the area that you will be using as the ballroom. Cut the ribbons so they hang just above the height of your party guests. Then, tape the stars onto the ribbons. The girls at our event loved dancing under the paper stars and were mesmerized by them.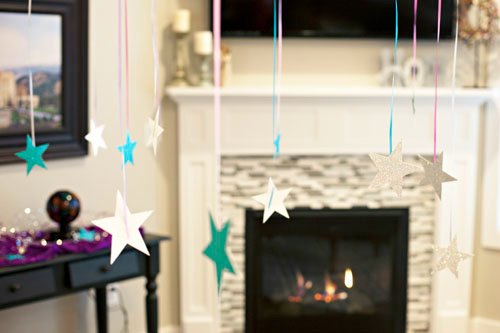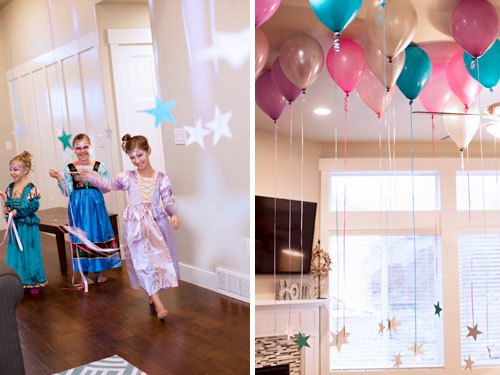 Glitter Fabric and Star Accessories

Since the party is a Midnight Ball, we focused on stars. We had everything from the stars floating in the sky, beads and star garland on the table, and sprinkles and candles on the cupcakes!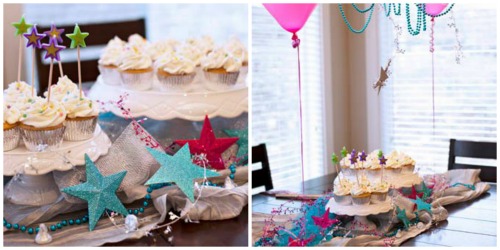 One of my favorite ways to make a table fancy is to add fabric. Nice table cloths are pretty expensive, but we found so many gorgeous fabrics on Amazon for a great price! Two yards of fabric covers a standard table very nicely. Use it to billow up as a centerpiece or to drape as a backdrop. There are so many options to choose from! I found several coordinating fabrics in silver, purple, pink and turquoise that were full of shimmer, glitter and shine. They add fullness and elegance to the decor that really makes the girls feel special.




New Year's Kisses

Our little princesses were much too young to need a real midnight kiss, but they were very excited to find chocolate kisses placed around the party area. We scattered Hershey's kisses around the table and placed them on cake stands near the ballroom. Our cute guests had chocolate lips and sweet sugary breath. Someday, their prince will come, but for now, chocolate kisses did the trick.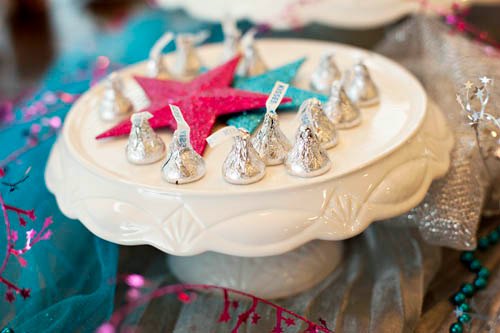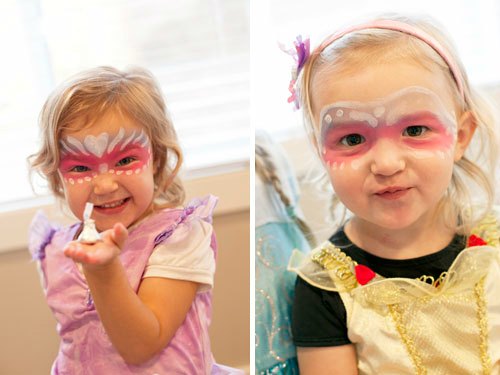 You won't need a Fairy Godmother to transform your home into a beautiful palace fit for a Midnight Ball if you follow these easy suggestions.
With a touch of glam and a lot of sparkle, your princesses will feel completely enchanted. We love sharing ways to create magic at home, but of course we think the best place for enchantment is the Disneyland Resort. We'd love to help you surprise your princess with any of our
Disneyland packages
. Book online or call our Disney Experts at 855-GET-AWAY.

Check out these other great articles: