New Year's Eve is almost upon us and we want to make sure even the youngest of princesses gets to celebrate in style. We threw a "Not Quite Midnight Ball" that you can hold any time of the day. It's the perfect way to ring in the new year! If you missed our previous post, you'll want to check out our Not Quite Midnight Ball Decorations. At the Not Quite Midnight Ball, the princesses in attendance are made to feel like true royalty. After they have been fully prepped and pampered it is time to begin dancing under the stars. You will need a speaker for playing music and some fun dancing songs. We also plugged in a few disco light balls to add atmosphere.

Formally Announcing the Guests
Choose an adult to be the Master of Ceremonies. He or she will be in charge of announcing each princess as she enters the "ballroom." We let each of the little girl's choose their own princess name. Some chose the name of the princess who's dress she was wearing, others used their own name, and a few even made up something totally original. Each princess will secretly whisper their name to the Master of Ceremonies.
Turn on some background music. I used a little bit of classical instrumental music that sounded royal and formal. Then, the Master of Ceremonies announces each lady with her chosen name. After her name is called, she walks into the room, does a twirl and a bow and then waits for the others to join her. We all clapped and cheered for each girl as she made her entrance. The pride in their eyes was so touching. It was seriously adorable.
We used phrases like:
"Introducing the lovely and graceful Princess Ariel."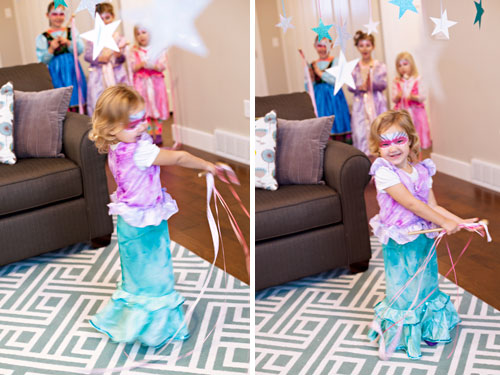 "Ladies and Gentlemen, please welcome the one and only Beautiful Lady Belle!"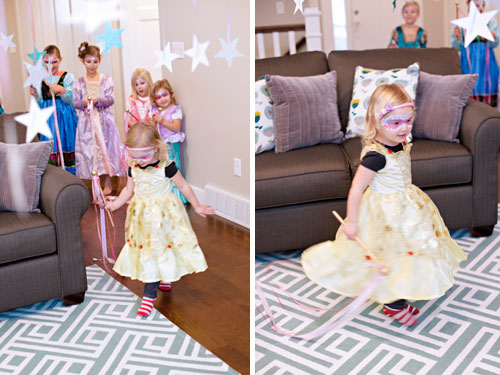 "Here we have a princess who is loved throughout the land, our kind and lovely Princess Tenderheart."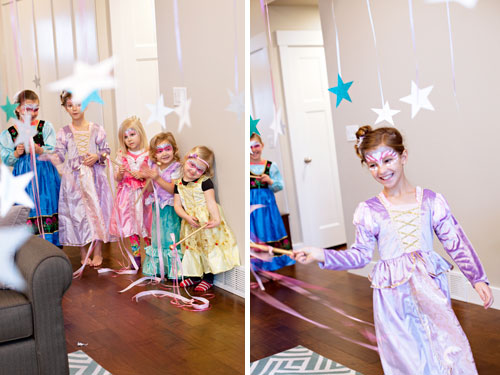 Each girl gets a turn in the spotlight.
Midnight Bubble Wrap Dance
After the girls have danced the night away, there is one special dance to do as the big finale - the Midnight Dance. Ask everyone to step off the dance floor then roll out long sections of bubble wrap to cover the dancing area. You can
buy bubble wrap in long rolls
at a packing supply store or a home improvement store. Or, make it easy on yourself and grab some on Amazon - just be sure to grab the
large bubbles like this roll
.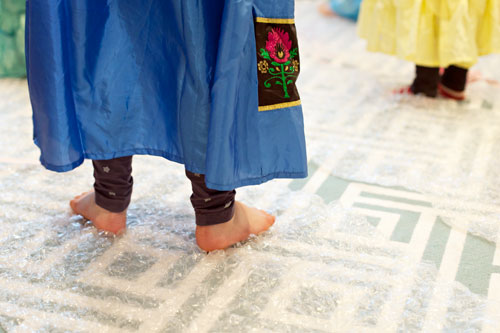 Countdown to midnight as a group and then let the party princesses jump, twirl, and stomp on the bubble wrap dance floor. It sounds like fireworks! The girls had so much fun dancing on the noisy bubble wrap. It was impossible to watch and not laugh along with them. There is no question that everyone enjoyed the boisterous last dance of the evening.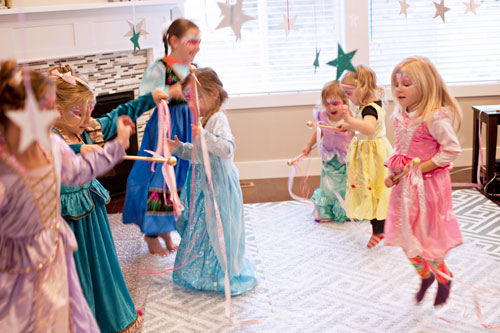 Make your own Not Quite Midnight Ball party a formal and fancy affair for the little princesses in your life! And if you missed it, check out
How to Decorate for Your Not Quite Midnight Ball
. We go over everything you will need to set the scene for the Princess Ball. There is still more fun to be had so stay tuned.
Always the best place for your little princess to see fireworks and dance the night away is at the Disneyland Resort. Our Disney travel experts would be happy to help you with any of our
Disneyland packages!
Book online or call us at 855-GET-AWAY.

Check out these other great articles: