"I am a Disney addict. I'm not ashamed to say it. I love the parks, the movies and the characters. My home features many Disney decorations. My home office is wall to wall with Disney decor. I fancy myself a bit of a Disney expert. No, I can't recite numerous Disney facts, but I know quite a bit, and of importance to this blog entry, I know my way around Disneyland!

When my wife Lori first approached me about a trip around the holidays to Disneyland, with her brother Glenn and his family, I of course was on board. It meant we'd have to go without our other children - Kaylee, Braden, Jason and Alyssa - which would be painful, but it was a sacrifice I was willing to make. I imagined it would be different, but I was not prepared for the vast number of nuances and changes. I have to say, Disney nailed it once again. My Christmas may never be the same!

Before I dig right into the park experience, let me give you a run down of the drive from Utah down to California. This was our youngest Traven's first time driving, and it had been years since Lori made the drive. I have to say, they both did great! Traven watched a lot of movies, played on the iPads, and for the most part was an angel. Lori and I listened to a cheesy audio book, when she wasn't sleeping. Honestly, she was out from Spanish Fork to the Arizona border!

We stayed at the Ayers Inn, the one a few miles from the park. I enjoyed it. There were not a large number of fellow park visitors. It was more a mix of business people and other travelers. It didn't feel as rushed as some of the other places we've stayed.

I have to say a bit about parking. I know, who cares right? I learned a couple of things. First off, the Toy Story parking lot is quickest for getting in and out. Second, the Mickey parking structure opens earlier than Toy Story. Third, Mickey is TONS busier, but we didn't really have to wait very long. And fourth, Mickey is awesome for buying the customary souvenirs then taking them back to the car. We did our shopping around lunch time, which was a phenomenal idea.

On a related note, booking with Get Away Today was once again a no-brainer. We had our park tickets in hand. No standing in line to swap a voucher or something lame like that. The hotel worked flawlessly. Get Away Today is a well oiled machine.

Now, a bit about the holidays at Disneyland. Absolutely wonderful! There was a giant Christmas tree at the start of Main Street. Wreaths and lights everywhere, carolers randomly singing all throughout the park and all the characters in their holiday attire.

The holiday fireworks show featured not only holiday music and fireworks, but snow. Yes, Disney made it snow at Disneyland. The lighting at the end of the snow highlighted each snowflake, making it feel like a winter wonderland. I loved how Disney featured not just secular music, but some Silent Night, Joy to the World and other more religious fare. Our initial strategy for fireworks watching was to arrive 2 hours early and get a seat. Two hours before, it was already packed. We opted to take a bench with a completely blocked view of the castle. Strange, you say? Well at about 10 minutes before, we simply walked into the street with those that had been standing for two hours, with fresh legs and ready to take in a show! It worked out brilliantly.

World of Color got its Frozen on! Olaf was the host. He even led us in a giant sing-a-long. And they didn't mess around, either. Disney knew the vast majority of the crowd would want to "Let It Go", so BAM! That was the show finale. They didn't try to work it into the show or anything forced. They knew it wasn't really a holiday song, but with Olaf hosting and other Frozen songs already having been played, it needed to be done.

They did away with the World of Color lunch special, so we sprung for lunch at Carthay Circle. $40 a plate, $20 for children under 9. And plan on about two hours to complete your dining experience. I felt for the food it was a bit overpriced, but I actually enjoyed just relaxing and enjoying a good meal! One thing about a trip to Disneyland, you need to plan in rest times! Even with that, by the end of three days I was ready to be done. Of course, I'd love to be back TODAY, but that's a problem I just have to live with.

The lines were non-existent. We were so spoiled. The longest we waited was for Toy Story Midway Mania and Peter Pan, and both waits were under 30 minutes. We pretty much walked onto rides. The only fast passes we really needed were Radiator Springs Racers, and we did that twice. By the way, what an amazing ride. I think I liked it even more at night.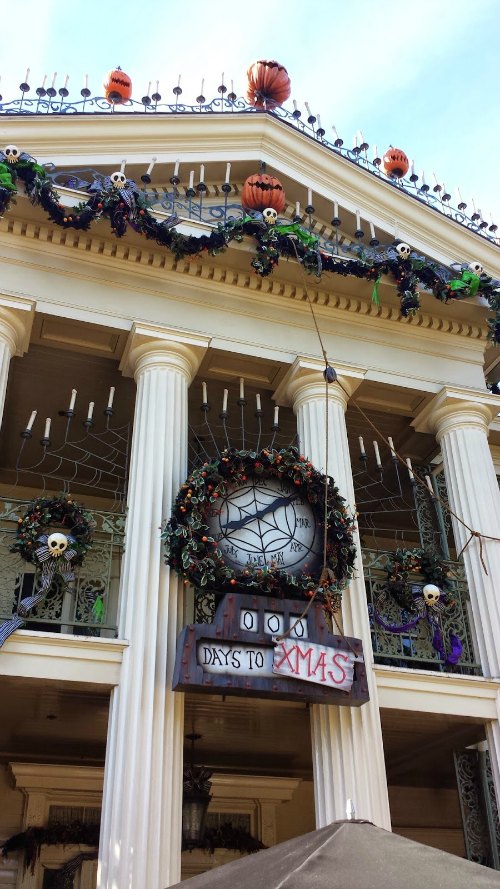 Photo Courtesy of Mike E.
My favorite holiday themed ride has to be Haunted Mansion. It is pretty much completely different. The music and sound effects all seemed so crisp and clear. The decorations, down to the smallest detail, are all done just right. Did I mention it's all based off The Nightmare Before Christmas? So cool!
It's a Small World is also worked over for the holidays, but it just doesn't measure up to Haunted Mansion. I mean, it's still way cooler than normal, though!
A word about positive peer pressure now, if you don't mind. We vacationed with Lori's parents, her sister Emily, and her brother Glenn with his family (Allison, Annie, Eric, Eli and Caleb). Traven is a just a bit younger than Caleb, and when they weren't fighting, they were best buddies. And Caleb was up for any ride. Traven had in the past vowed to never ride a LOT of rides again, but when paired with Caleb, he found a new level of braveness! And it turns out he loved Big Thunder Mountain, Tower of Terror and the Matterhorn. He was not really crazy about Indiana Jones, and still refused Splash Mountain and Space Mountain. But all in all, he did great! He now says Tower of Terror is his favorite. And on a related note, vacationing with the extended family was wonderful.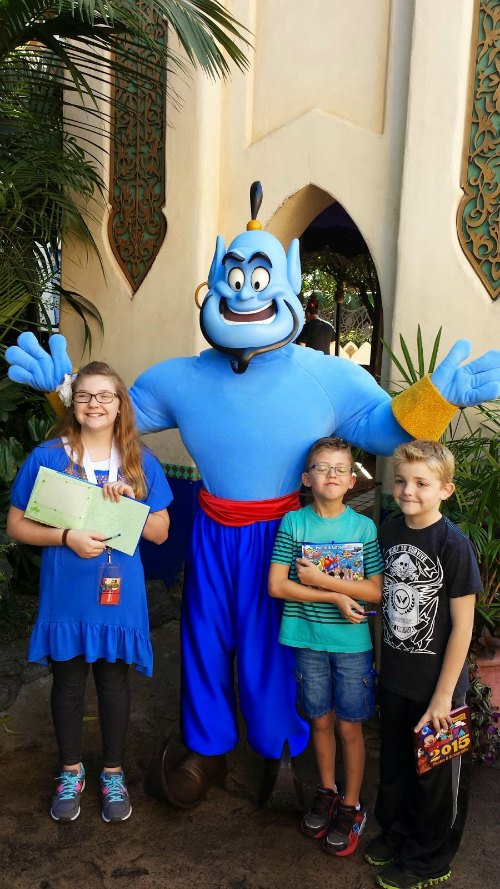 Photo Courtesy of Mike E
I am going back in two years with the whole family. It will be epic! I can't wait to experience it with all my kids! And it would be great to have the rest of the family there as well. Something tells me Lucy might have a good time there.
Thanks again for a great Disneyland vacation. I am a customer for life!"
We love hearing about our guest experiences at the Happiest Place on Earth! And even more, we love we were a small part in helping you get there. We still have great deals available on our Disneyland tickets for 2014 with more great deals coming for 2015! You can book any of our Disneyland packages online or call our experts at 855-GET-AWAY.
Check out what these other great guests are saying about their vacations: