Get ready to put on your Jedi Robe and become one with the Force, because today, our staff shares their individual review of Star Wars: Galaxy's Edge at Disneyland Park.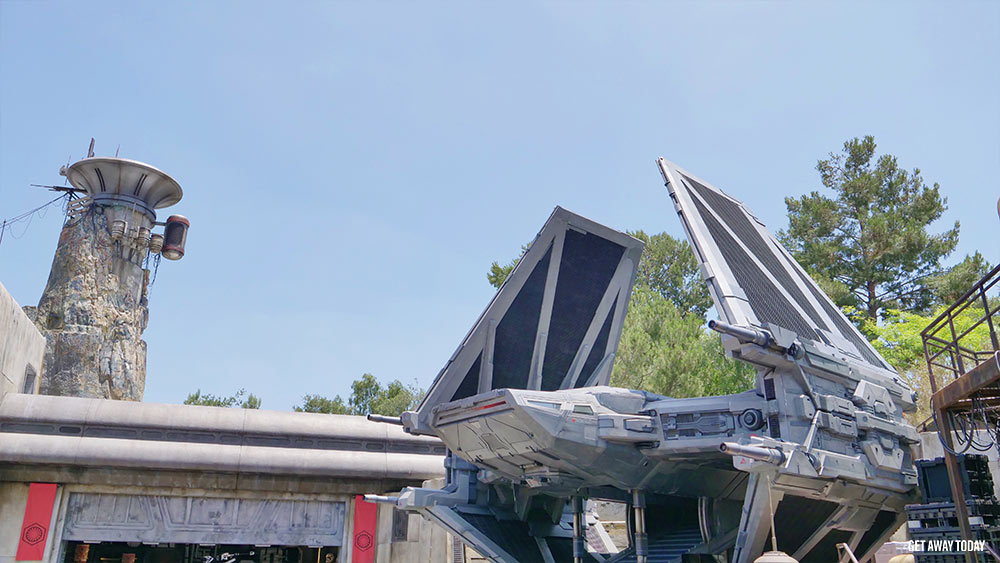 Review of Star Wars: Galaxy's Edge
With Star Wars: Galaxy's Edge opening this past week at the Disneyland Resort, there's a lot of information to process. With so much to experience in this brand-new, 14-acre land, it can be overwhelming trying to plan your very own Star Wars adventure. To help, we had a few staff members share their thoughts and experiences while traveling to Batuu. So, let's get to it. Here is our review of Star Wars: Galaxy's Edge.

Review of Star Wars: Galaxy's Edge - How big of a Star Wars fan are you?
Kim: I am a casual Star Wars fan. I watch the movies and buy the books for my kids. I enjoy Star Wars, but I am in no way a super fan.
Jen: Honestly, I had watched one move before and was about as small of fan as you could be. With four daughters, we tend to lean more towards the princesses at the park ??.
Jordan: It is safe to say that my whole life has been leading up to this moment. We grew up on the original films, books, comics and video games. I mean, our parents took us out of school to see the prequels - a true learning experience. And my love of Star Wars continued from there. Never forget, HAN SHOT FIRST.
Erin: First, I want to preface that Jordan and I are sisters (not twins), so a lot of our past experiences with the Star Wars franchise are the same. However, to answer the question more specifically, I vividly remember a dream (more like a nightmare) I had when I was about six or seven years old about Jabba the Hut slithering around outside of my house trying to find me. About 17 years later, I was walking down the aisle to the Imperial March at my wedding. So, whether it was good, or bad (the prequels), Star Wars has occupied a piece of my heart for as long as I can remember.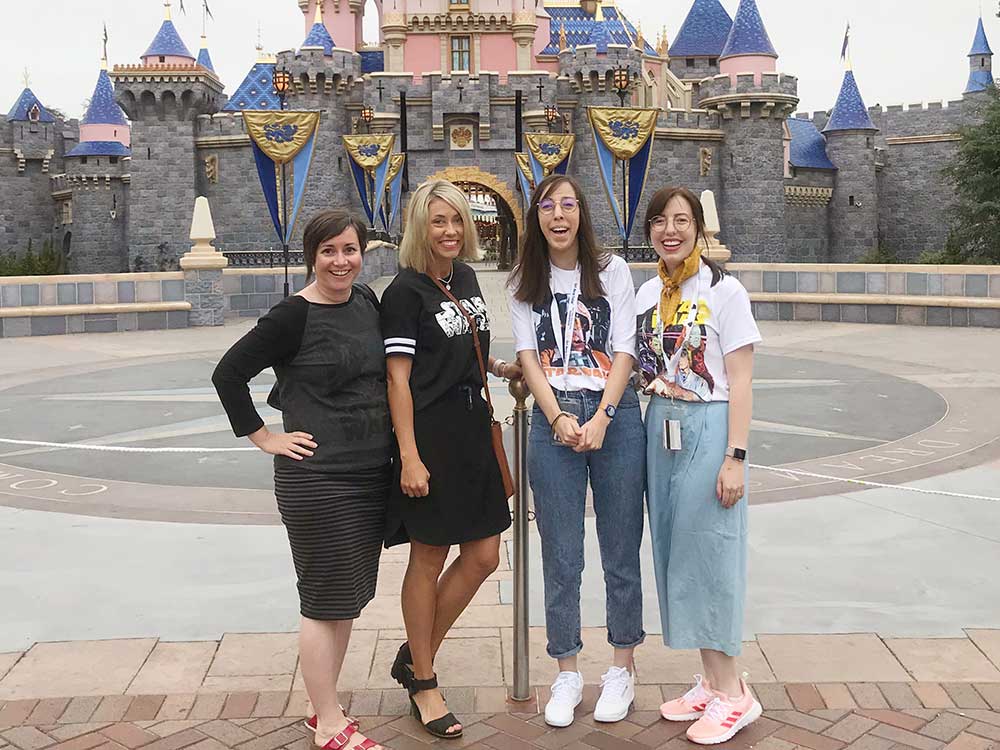 Review of Star Wars: Galaxy's Edge - What were your first impressions of Star Wars: Galaxy's Edge?
Kim: It was amazing. The scope of the land is super impressive. You really feel like you are someplace different. I forgot I was inside Disneyland.
Jen: I felt like I'd left the Disneyland Resort completely and entered a new world. I felt completely immersed in Batuu and was super impressed with the architecture, characters and overall story.
Jordan: WOW. As you are winding through Black Spire Outpost for the first time and the mysteries and architecture and magic start to be revealed, the wonderment filling your heart is overwhelming. Discovering and seeing what Star Wars: Galaxy's Edge actually is, can't be described with words - you have to feel and experience it for yourself. I was in constant and true astonishment at everything. A Stormtrooper stopped me in the street, and I was speechless, mouth agape, completely dumbfounded that is was all actually happening. But the moment that truly took my breath away - seeing the Millennium Falcon being slowly revealed from behind the twists and turns of the outpost. Something I will never forget.
Erin: It's hard to even put into words! We've waited almost five years for this land to open, which means we've had a lot of time for our imaginations to run wild. Jordan and I would have hour-long conversations, most of the time at an Arby's, about what our hopes and dreams were for this new land. Let me be the first to tell you, I was not at all disappointed. I'll never forget the feeling I had when I walked into Star Wars: Galaxy's Edge for the first time. It was substantial. Not only in size, but in how incredible it was as well. I don't know how Disney does it, but it was pure magic.
Review of Star Wars: Galaxy's Edge - What was your absolute favorite part of visiting Batuu?
Kim: My favorite part was the immersiveness of the whole experience. I loved trying the new foods. They just looked so different than anything I've had before, and I consider myself an adventurous eater. And, everything was delicious.
Jen: I loved being immersed in the story. I felt like I was a character and loved interacting with the resistance and first order.
Jordan: Just being there. Batuu lets all of us nerds experience Star Wars for real. We get to be a part of the story and history of this planet. These are childhood dreams coming true. How can you beat that? There is a certain feeling you get when you arrive. I'm not sure the best way to describe it - nostalgic for something you have never experienced? There is something completely new around every corner, yet it feels familiar. And, of course, getting to build our droid, BB-Karen will forever be a highlight.
Erin: While I loved everything about Star Wars: Galaxy's Edge, the Droid Depot was hands-down my favorite experience. That moment is when it really hit me. I'm actually creating my very own astromech droid (shout-out to BB-Karen). Which in turn, was the beginning of my own Star Wars story. To learn more about my in-depth experience at the Droid Depot, click here to read our Review of Shops at Star Wars: Galaxy's Edge.
Review of Star Wars: Galaxy's Edge - What did you think of Millennium Falcon: Smuggler's Run?
Kim: Smuggler's Run was really fun. In my opinion, it's the most realistic attraction at Disneyland. I was the Engineer twice and I got 100% the second time, which apparently, I thought was a big deal, because I kept talking about it. Ha! It was fun to try to improve my score and the ride was different each time I rode.
Jen: I had a chance to ride it 6 times!! I think that shows that I loved it. I usually experience motion sickness, but I didn't in this attraction. I love Toy Story Mania and felt this had a similar game feel. I liked trying to get better at my skills aboard the ship. I got stuck on the experience twice and really had a chance to check out the interior of the ride. It's beautifully crafted and looks so authentic!
Jordan: The fact that you actually get to not only see and board the actual Millennium Falcon, but FLY IT?! GET OUT OF TOWN! Probably one of the coolest moments of my life was riding this for the first time with Erin. It was slow motion - looking over as she pulled the lever to send the fastest hunk of junk in the galaxy into hyperspeed... tears. SO wild that this is real life. Each role is fun in its own way, but pilot is by far the most interactive experience. Millennium Falcon: Smuggler's Run is a blast for anyone, but as a Star Wars fan, you only wish you had more time to experience it all.
Erin: Jordan and I have been dreaming of this moment for years and it finally happened - WE PILOTED THE MILLENIUM FALCON. Even though we crashed the hunk of junk a couple of times, I just want to cry thinking about how fun that first ride was. While I wish that the roles of Gunner and Engineer were as immersive as being a Pilot, it is a genuinely FUN attraction. Smuggler's Run just makes me even more excited to ride Star Wars: Rise of the Resistance later this year.
Review of Star Wars: Galaxy's Edge - What was your overall impression of the food?
Kim: I really enjoyed trying all of the different foods. My favorite was the wrap from Ronto Roaster's. I didn't think I would like it, but it was so tasty.
Jen: I liked the idea of how themed the food is. I have so many favorite places to eat at the Disneyland Resort- this would be more of a try it once to be immersed in the story. I prefer other dining venues in the resort- and would prioritize them above it after my entire family had tried eating in Batuu at least once.
Jordan: The food at Star Wars: Galaxy's Edge is absolutely something everyone should at least try. It is tough competition for me to compare the food here to what you get at the rest of the Disneyland Resort (which has some of my favorite food options). We were only able to try one option from each location, but I would give it a score of good. Try it for yourself, see what you like - but it is nice to know you have some fantastic back-up options just steps outside of the land.
Erin: To put it simply, I don't branch out much when it comes to food. Once I find something I can eat, it's over for anything else. I know what I like, okay? So, when Disney announced the unique menu items for Star Wars: Galaxy's Edge, I was pretty nervous. However, I'm happy to report that I was delightfully surprised! Like Kim, the Ronto Wrap from Ronto Roasters was my favorite item I tried. But, it is also worth noting that I absolutely loved almost every drink I had. Whether it was the Blurrgfire from Oga's Cantina or the Moof Juice from Docking Bay 7 Food and Cargo – they were all delicious and refreshing.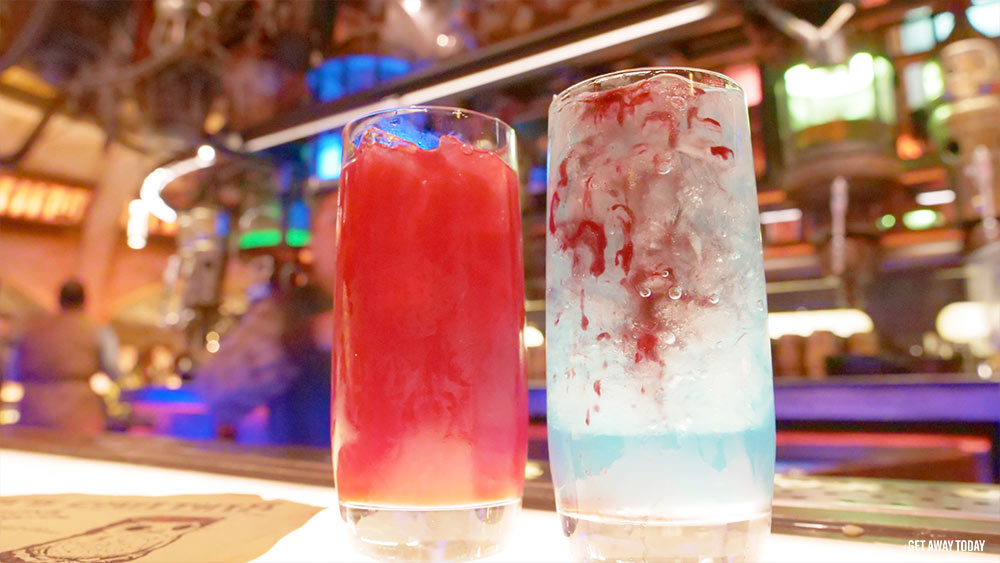 Review of Star Wars: Galaxy's Edge - What was your favorite souvenir?
Kim: My favorite souvenir is my awesome Coke bottle. It looks so cool – and the Coke was super refreshing.
Jen: I'm a sucker for the Mickey Ears or headbands and had to have a BB8 Headband. I was just as excited about the Diet Coke bottles and bought several of those (only $5.50) to bring back as souvenirs for my friends.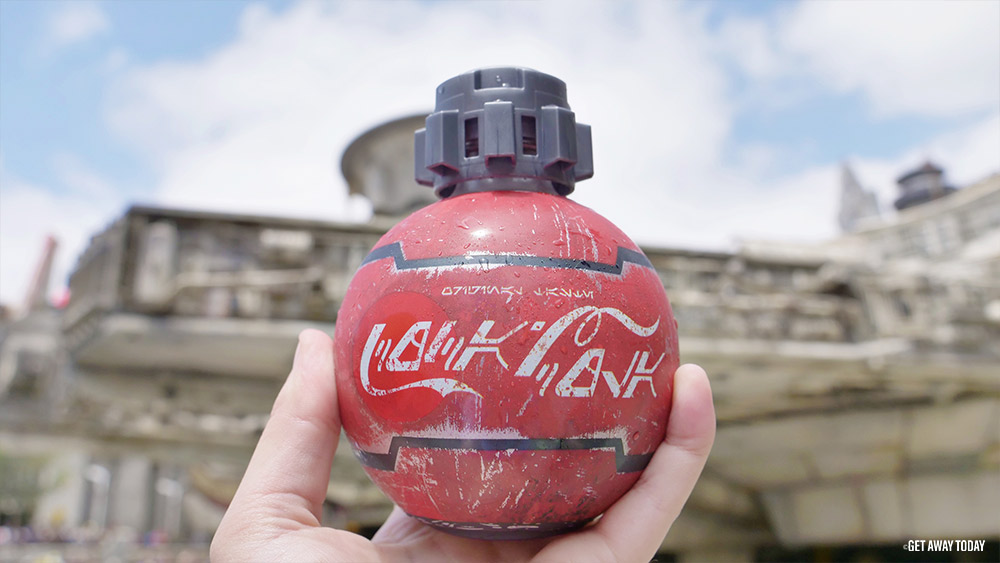 Jordan: Of course, the aforementioned BB-Karen has to be on the list. But to be fair, I consider her more of a pal than a souvenir. Beyond that, there are countless cool and unique items that feel like they are from this far away planet. At Toydarian Toymaker, I was able to find a wooden doll of sorts of my all-time favorite Star Wars character, Admiral Akbar. Come on! Kind of sealed the deal for my top choice.
Erin: I would literally do anything for BB-Karen.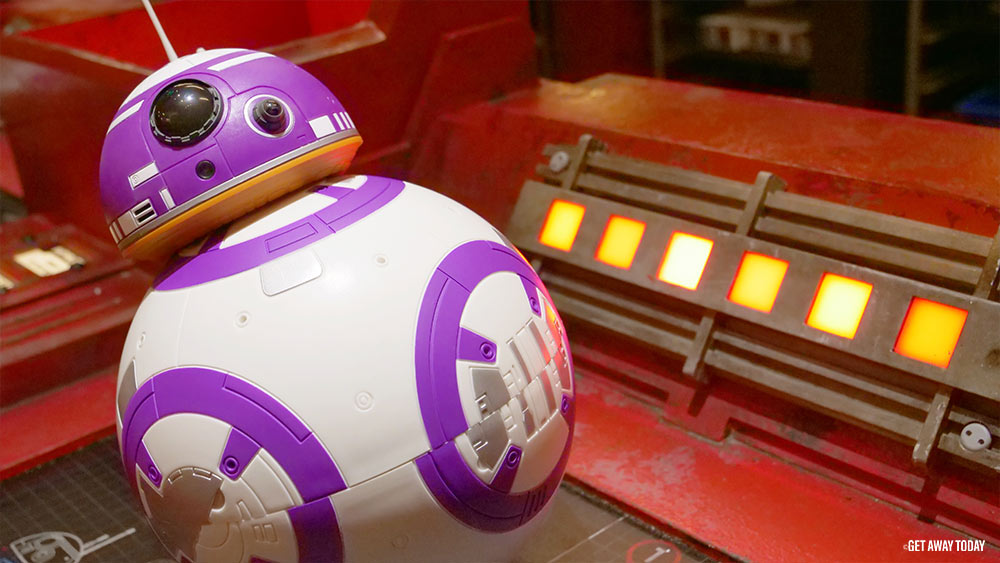 Review of Star Wars: Galaxy's Edge - Any tips you'd like to share to help guests make the most of their experience?
Kim: Just enjoy! Don't be super stressed about fitting everything in. Take the time to wander, interact with the characters and check out all of the shops. Do single rider if you don't want to wait long for Millennium Falcon: Smuggler's Run.
Jen: I especially loved Batuu in the evening. The lighting and overall ambiance was mystical and amazing! I also loved first visiting in the daylight so that I had my bearings of where everything was located. For sure have a 3-5 day Disneyland length of stay ticket so you can visit Batuu in both the day and evening.
Jordan: First, if you are traveling during the reservation period, as a fan it is pretty easy to get overwhelmed by the limited time you have in the land. But I think it is important to take some time and appreciate where you are and how wild it is to be interacting with the world of Star Wars in this way. Soak it in, savor every second. Along with that, go in pre-picking one or two must-do experiences for you and your family. Then, go to those first to help ensure you get to enjoy these adventures. Most of all, have fun. How cool is it we get to enjoy this innovative, mesmerizing, enchanting place? At the Happiest Place on Earth no less. This is a really neat, bonkers moment in time.
Erin: Enjoy it! I know it's tempting to start recording and taking pictures as soon as you enter, but my biggest tip would be to put your phone down and just live in the moment. YOU'RE IN STAR WARS: GALAXY'S EDGE, DIANE. YOU CAN LIVE WITHOUT YOUR PHONE FOR 1 MINUTE. I'm mostly kidding, but seriously, at least take one lap around the land before you start documenting your experience. Moments like these is what life is all about.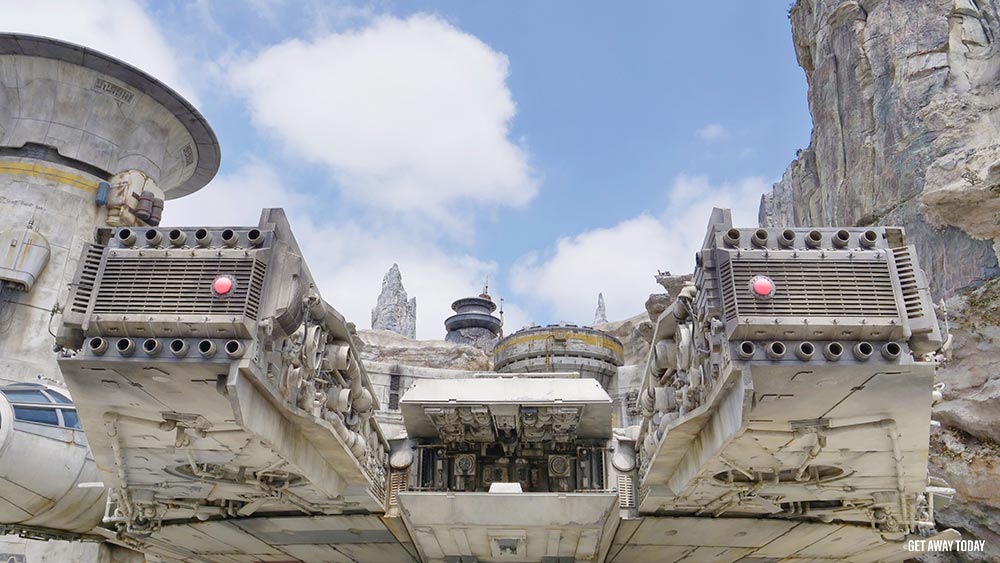 Review of Star Wars: Galaxy's Edge - What are your overall thoughts/feelings?
Kim: I was just super impressed with how well everything was done. I thought Disney handled everything really well and am glad to hear that they've implemented some smooth systems for Savi's and Oga's. I loved and am excited to take my kids.
Jen: Great job Disney- you never cease to amaze us!
Jordan: All I want to do is go back. The expectations I had for Star Wars: Galaxy's Edge were astronomical, and I was not disappointed. Was it different than I expected? Yes. But I don't intrinsically consider that a bad thing by any means. Batuu was so much more than you can imagine because being able to actually touch and feel and experience this story is incomparable. Any place where you can build a lightsaber, drink in a cantina, stumble upon the Millennium Falcon, watch Chewbacca work on an X-Wing (the list goes on and on), is a pretty ok place in my book. I can't shout this enough, you (yes, you reading this) HAVE to go to Star Wars: Galaxy's Edge. I loved it.
Erin: IT'S A TRAP! Mainly because all I want to do now is spend my life savings on droids and live in Batuu forever. Overall, I fell in love with Star Wars: Galaxy's Edge. 8 hours was NOT enough, which I think is a testament to how wondrous and unbelievable this new land is. Only 89 days until we're back again!

As you can see, our staff absolutely loved their time at Star Wars: Galaxy's Edge. While reading about it is helpful, we want you to actually experience it for yourself. We even have countdown calendars to help you pass the time until your trip! You can find all of our discount Disneyland Resort packages online or by calling 855-GET-AWAY to speak to an agent directly. "Til the Spire."