The force is strong with this new limited time event! Beginning November 16th, Season of the Force will make its galactic debut at the Disneyland Resort. Guests visiting Tomorrowland will be swept into a galaxy far, far away with special Star Wars experiences. Here are some of the highlights of what you can expect to see during this incredible Star Wars themed event: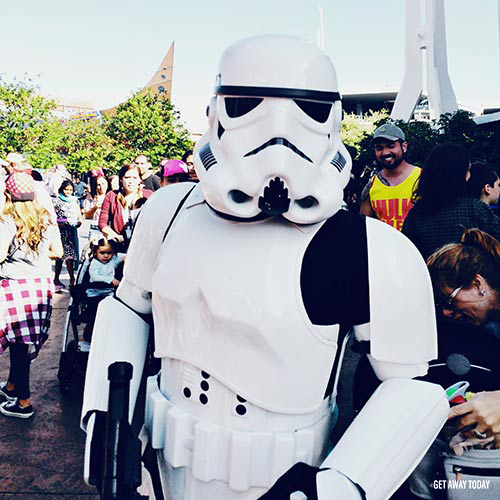 Star Wars Launch Bay:
Located in Innoventions, you will have unique Star Wars experiences from both the classic and upcoming films. For the first time ever you can meet with a hero from the light side, everyone's favorite Wookie, Chewbacca, or meet the most infamous villain of all time on the dark side, Darth Vader. Check out authentic costumes and weapons wielded by Jedi, Sith, aliens and stormtroopers alike. You can also catch a first ever look at some of the props used from the upcoming Star Wars: The Force Awakens. And if you have a
Disney Infinity
fan, guests can play the latest Star Wars expansions including multiple park-exclusive levels! 
Star Tours - The Adventures Continue: 
A completely new scene from the highly anticipated upcoming film, Star Wars: The Force Awakens will be added to the ever popular Star Tours. This will be one of our first looks into what the new movie could possibly be about. With everyone being so tight lipped about everything The Force Awakens, this will be an incredibly exciting sneak peak!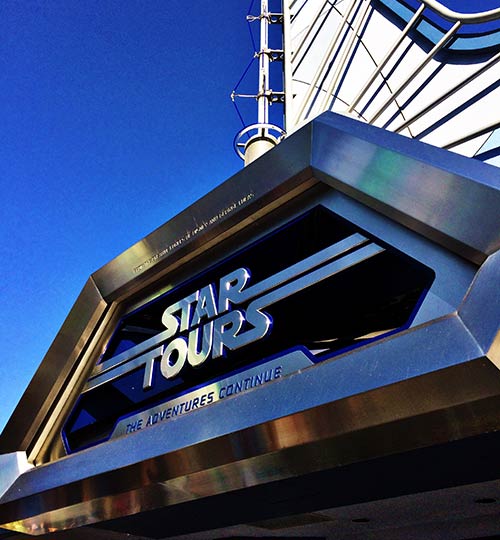 Jedi Training: Trials of the Temple: 
Experience a completely new Jedi Training coming some time in December. Based on the popular Star Wars Rebels TV series, little padawans will encounter all new characters and will learn the ways of the Jedi to take down the evil villain. 
Limited-Time Experiences: 
Also accompanying the Season of the Force event, will be multiple limited time specials you don't want to miss: 
Hyperspace Mountain - A new Star Wars themed overlay will be added to a Disneyland favorite Attraction, Space Mountain! Guests will join in an epic X-wing starfighter battle as they fly through space. 
Tomorrowland Theater - Enjoy your favorite clips from the classic Star Wars films at Tomorrowland Theater. 
Themed food and beverage - More information will be coming soon about all the fun Star Wars themed food and beverage options that will be available for fans. We can only imagine all of the delicious items they will come up with. I'm hoping for Wookie Cookies!
Closures for the new Star Wars themed land construction: 
Disneyland will begin breaking ground on the massive Star Wars themed expansion starting in 2016. To make way and begin work for the new 14 acre land, at the end of operations on January 10th, the following attractions will suspend operations indefinitely:
The Disneyland Railroad

"Fantasmic!" 

Mark Twain Riverboat and Sailing Ship Columbia

Pirate's Lair on Tom Sawyer Island

Davy Crockett Explorer Canoes
Along with these temporary closures, they are permanently closing Big Thunder Ranch Barbecue, Big Thunder Ranch Petting Farm and Big Thunder Ranch Jamboree also at the end of the day January 10th.
Get Away Today has out of this world deals for any family to experience Season of the Force. You don't want to miss this very limited time event. And, paired with the Diamond Celebration and Holidays at the Disneyland Resort, there is no better time to be at the Happiest Place on Earth. Check out our
Disneyland packages
online or call our travel experts at 855-GET-AWAY. 
Check out these great articles: