UPDATED JUNE 2019 Star Wars: Galaxy's Edge is now open at the Disneyland Resort and we have your Star Wars Land Visitor's Guide to make the most out of your trip.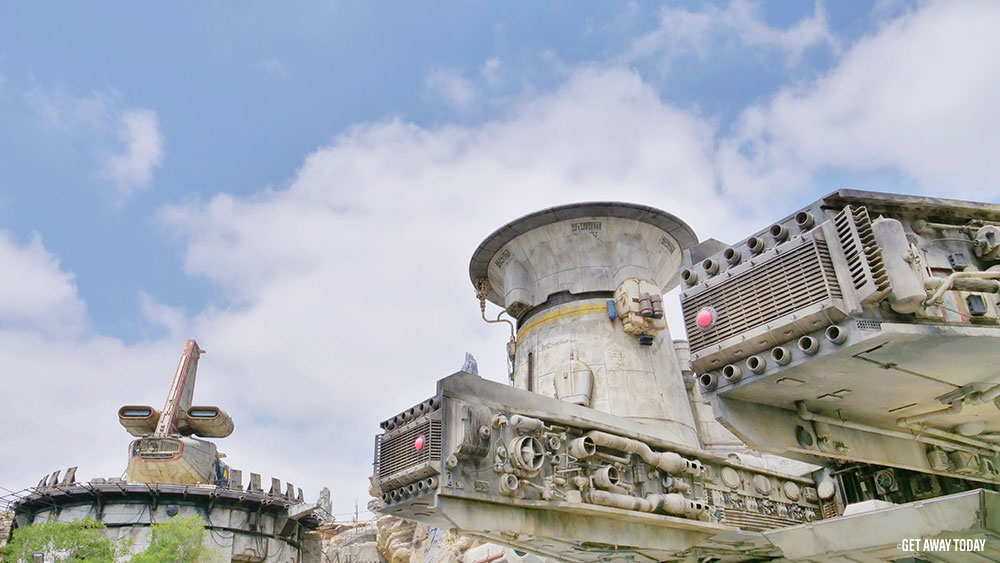 Star Wars Land Visitor's Guide
If you're anything like us, chances are you've been waiting a long time to visit Star Wars: Galaxy's Edge. You've been pumped for this day, but now that it's here, what do you do? We've put together our very own Star Wars Land Visitor's Guide to help you answer that question and more.

Star Wars Land Visitor's Guide - Pre-Prep
There are two things that will really make your visit to Batuu memorable. Dressing the part and speaking the language. Both of these take just a little bit of preparation. One thing that is unique to Star Wars: Galaxy's Edge is that there is no set uniform that the Cast Members must wear. Instead, there is a collection of costume pieces that Cast Members put together themselves to create their own work uniform. Because of that, it's pretty easy to "bound," or dress like a resident of Batuu. Dressing in layers with desert inspired colors and unique hairstyles will make you fit right in. You can even purchase name badges that look like those they were in the land. In fact, there were a few times when I thought for sure a park guest was a Cast Member. It's kind of fun to try to figure out who's who!
The next thing you can do to prepare, which is even easier than rounding up an outfit is learning a few key phrases. Galaxy's Edge does such a good job immersing you in the story that they have developed their own phrases you'll only find in Batuu. Here are some phrases you'll want to use while exploring:
Bright Suns = Good day/morning
Rising Moons = Good evening/night
Til the Spire = Farewell
It's also important to know two words that are quite different and should not be mixed up on Batuu:
Hydrator = Water Fountain
Refresher = Bathroom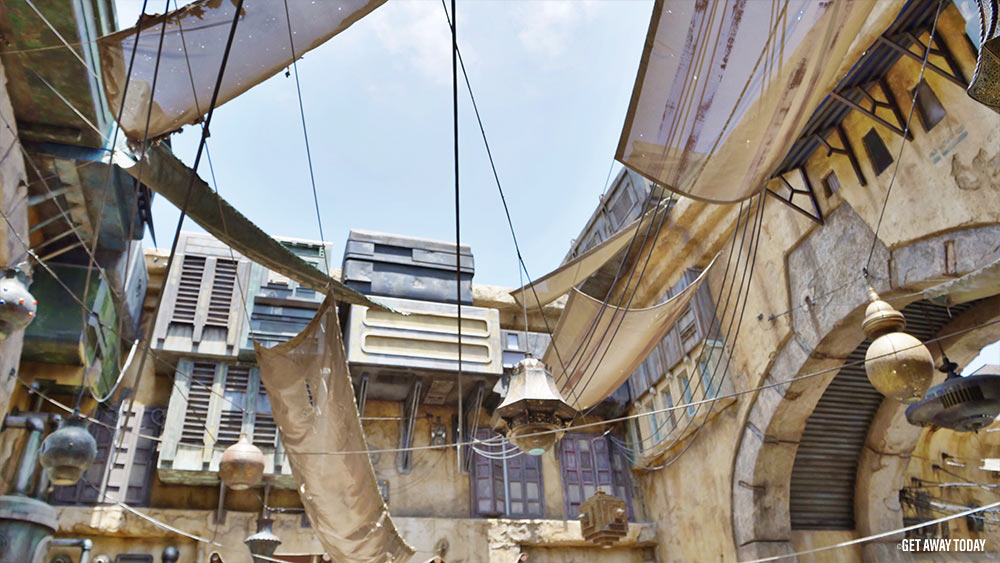 Star Wars Land Visitor's Guide - How to Get In
Once you get to Disneyland, how do you get in? We have a whole guide on How to Get Into Star Wars Land that covers both the reservation system (reservations were required for access May 31 - June 23, 2019) and the virtual queue system (beginning June 24, 2019). Read that if you want the nitty, gritty details. But, if you just want to know the general flow, read on below.
There are three entrances to Star Wars: Galaxy's Edge; one in Critter Country, another in Frontier Land, and one in Fantasyland. When you get your reservation time, whether it's the wristband for the reservation system, or the virtual queue, you'll also be given your entry point. When it's your time, you'll just head towards your entry point and show your credentials.

Star Wars Land Visitor's Guide - How Early to Get There
The hardest thing about getting your specific reservation time for Star Wars: Galaxy's Edge is counting down the minutes until you can actually go in. Disneyland has done an incredible job of making sure that crowd flow is good, so they do not allow you to line up early. If you're using the reservation system between now and June 23, 2019, you should arrive no more than 10-15 minutes before your reservation time. If you are using the virtual queue, you have two hours from when you receive your notification to enter. There truly is no rush from that time because you do not have a time limit on how long you can stay in Star Wars: Galaxy's Edge once the reservation period is over. Just remember that every time you exit the land, you will need to make another boarding pass request in order to re-enter.
Star Wars Land Visitor's Guide - Where to Go First
Now that you're in, where do you go first? The answer to that question is going to depend on what you want to do most. If you want to build a light saber at Savi's Workshop, you'll want to head there very first because it is the most limited capacity experiences at the park. Only 14 people are able to make a lightsaber at a time, and only one guest is permitted with each lightsaber builder. You'll put your name on a list and be given a general return time.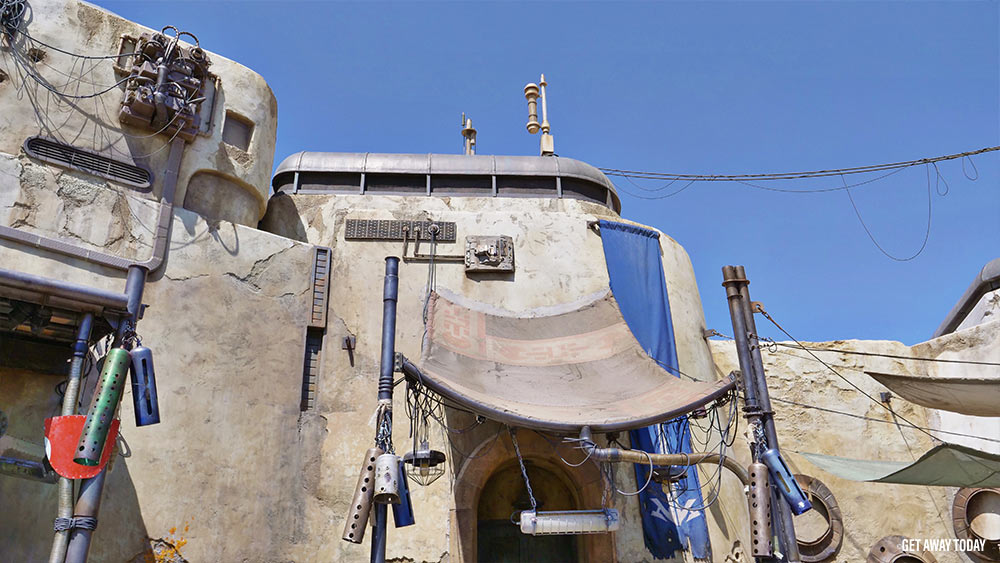 The same goes for Oga's Cantina. While space is not as limited as it is at Savi's Workshop, Oga's is small, which adds to its charm. Guests are limited to a 45 minute "session" in the bar, and it's mostly standing room only. There is a two drink max per person, so your toughest choice will be deciding which two drinks you must try.
Of course, Millennium Falcon: Smuggler's Run is the other attraction you'll want to visit, and may consider visiting first. If you're using the reservation system, you'll want to wait about 1 1/2 hours into your time slot for minimal wait times. However, once the virtual queue is implemented and guests aren't being asked to leave after a certain time, that rule will no longer apply. While FastPass is not available for the Falcon, a Single Rider line is an option. The Millennium Falcon: Smuggler's Run is by far the most interactive of all of the Disneyland attractions. When Rise of the Resistance opens later this year, we imagine that it will split the wait times between both of the major attractions.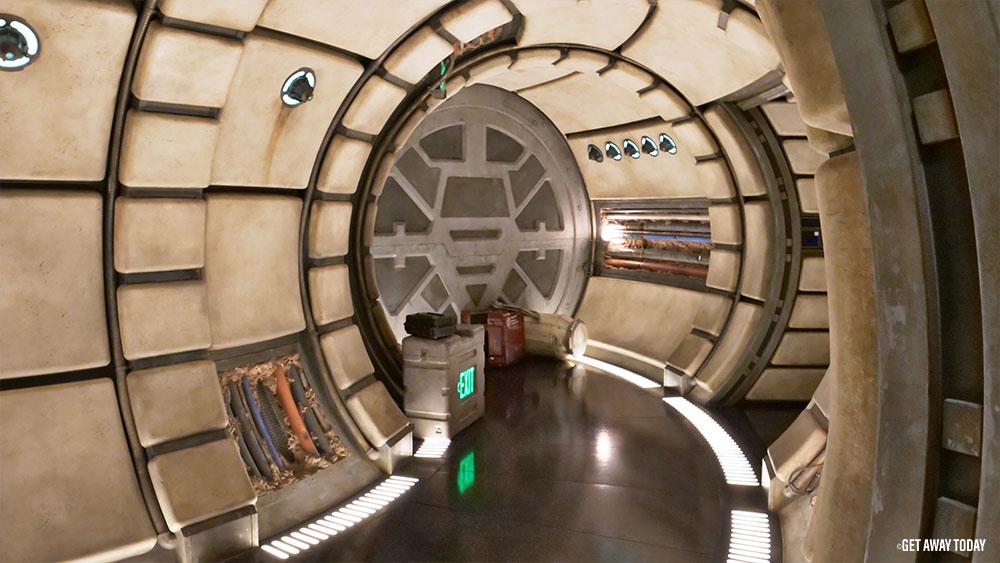 And finally, if you just want to really soak up everything that there is at Star Wars: Galaxy's Edge, you may just want to roam and not rush to anything when you arrive at the land. A huge draw to Star Wars: Galaxy's Edge is that you genuinely feel as though you've been transported to another planet. There is something to be said for simply wandering through the marketplace and listening to the sounds of Batuu.
Star Wars Land Visitor's Guide - What to Buy
Decisions, decisions... when it comes to shopping, you may really have to control yourself and not buy all the things at Star Wars: Galaxy's Edge. In our opinion, there are a few things that really stood out and cover all price ranges. So, I'm going to break it down into best souvenir by budget.
Best Souvenir Under $10: Aurebesh Coke Bottle
For just $5.50 (or 5.5 credits as they say on Batuu), you'll get a refreshing beverage in the coolest bottle. The round bottles have the soft drink name printed in Aurebesh, the official language of Batuu. They also have a really sturdy screw on cap that looks like it belongs to a legit canteen, making it something you'll want to hold onto.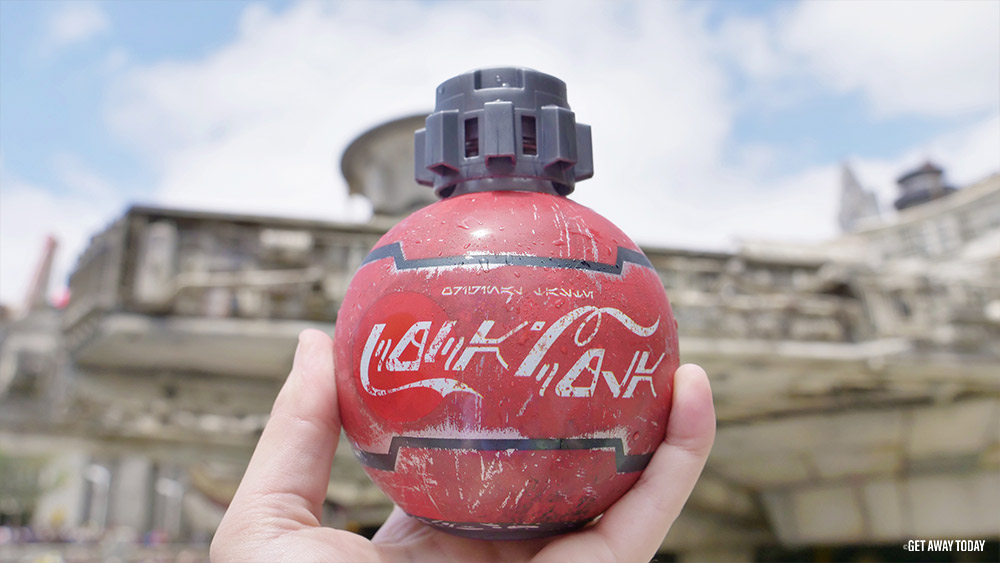 Best Souvenir $20: Handmade Toys
Toydarian Toymaker has some of the cutest take homes in all of Star Wars: Galaxy's Edge. You'll find handmade plushes of Characters from the First Order and the Resistance as well as some nods to the early days of Star Wars. There are wooden games and really fun collectibles, most around $20.
Best Souvenir Splurge: Droid
For $100, you can create your very own droid at the Droid Depot. Not only will you feel like you have a new bestie when you're done, the entire experience is incredibly immersive. It's as interactive as Savi's, but without the huge line. You'll be given a guide, then you can pick your custom pieces from a conveyor belt. When you have all of your pieces, you actually put your droid together, complete with its own personality. It truly is something you'll remember forever.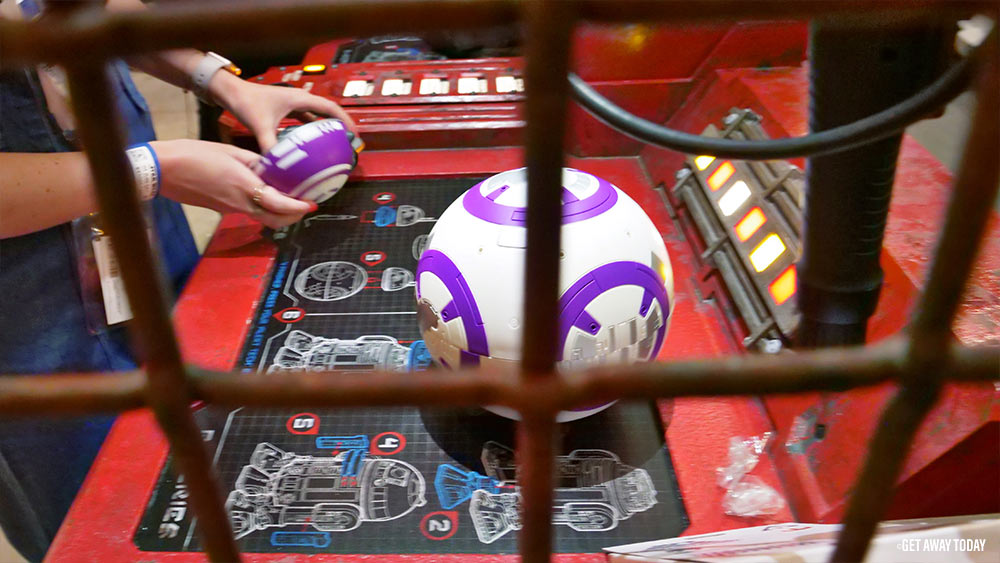 Star Wars Land Visitor's Guide - What to Eat
If you want the full breakdown of everything there is to eat at Star Wars: Galaxy's Edge, you'll want to read our complete Guide to Food at Star Wars: Galaxy's Edge. However, for a quick guide, here's what you should do if you want a little sample of everything:
Either Blue or Green Milk - You have to try one for the experience, it doesn't matter which. Choose Blue Milk if you prefer sweeter, tropical flavors. Pick Green Milk if tart, citrus is more your flavor.
Ronto Wrap - While unassuming, this was my favorite flavor by far out of everything I tried on Batuu. There is a savory version of the wrap for lunch or dinner, and a breakfast version in the morning.
Docking Bay 7 - Anything from Docking Bay 7 is going to be good, and it's going to be an experience. The only utensils available are metal sporks that serve as your fork, spoon and knife all in one. It's also the only place that serves dessert, so grab a Batuu-bon, aka chocolate cake.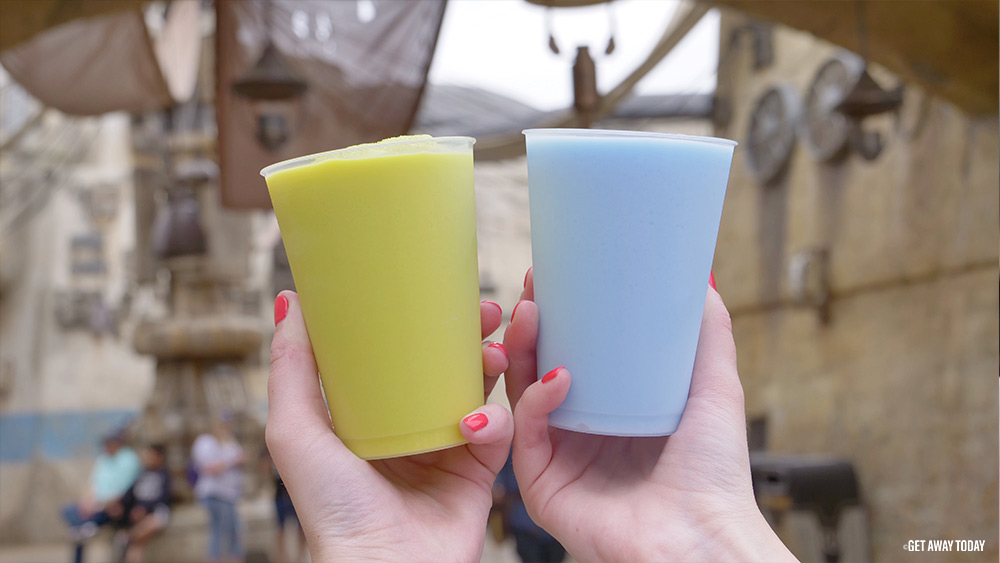 Star Wars Land Visitor's Guide - Disney Play App
In addition to the shopping, dining and ride (soon to be rides), there is so much to just explore throughout Star Wars: Galaxy's Edge. In addition to the incredible photo opps with the Millennium Falcon, Kylo Ren's Tie Fighter, numerous droids and more, you can interact with the land around you. Once you enter into Batuu, your smart phone becomes your "data pad." And if you have the Disney Play App already downloaded, you can be part of the story. You can translate languages, hack a droid and so much more. Using the Disney Play app will heighten your experience in Star Wars Land.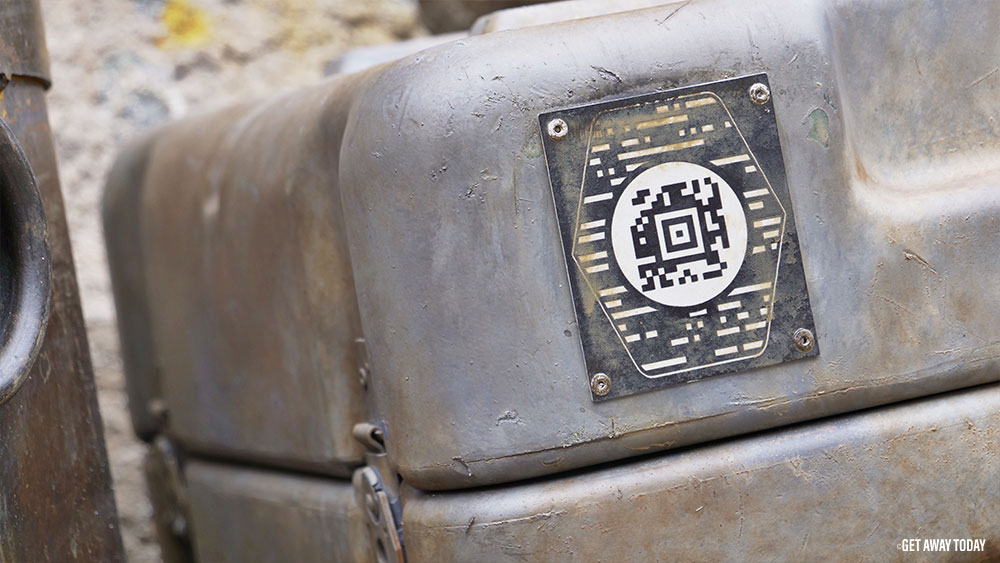 Star Wars Land Visitor's Guide - Planning Your Trip
We hope that this article gives you a good idea of what to expect and all that you can experience within the world of Star Wars: Galaxy's Edge. We'd love to help you get there! Not only do we give you all of the insider tips and tricks, we have the lowest prices and the best customer service available. You can find all of our Disneyland packages and discount Disneyland tickets on our website. You can also find those same deals by calling our agents directly at 855-GET-AWAY.