Jedis from all over the universe will be gathering at the Walt Disney World Resort when Star Wars™ Weekends returns to Disney's Hollywood Studios® May 16-June 15, 2014! This year's events bring over 50 Star Wars characters to the park for Q & A Sessions, a "star"-studded motorcade and autograph signings. Galactic guests will also enjoy the Jedi Training Academy, Behind the Force: Explore the Clone Wars, Star Tours and Padawan Mind Challenge.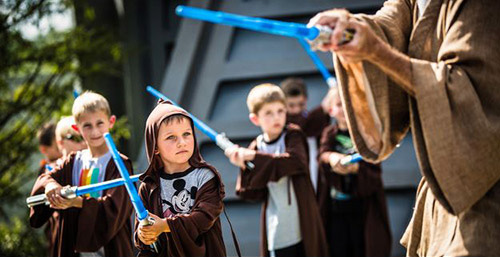 Image Credit: DisneyWorld.com ©Disney
And this year, there is scrumptious Star Wars fun for your family to enjoy with two new out-of-this-world Character dining experiences that are only available, May 4-June 15, 2014.
First,  feel the power of the force as you start your day with "Star Wars Dine-In Galactic Breakfast" at the Sci-Fi- Dine-In Theater Restaurant. Favorite Star Wars film characters from a galaxy far, far away are on-hand greeting guests while memorable movie moments from the Star Wars saga play on the big screen. The breakfast experience is $47.99 for adults and $29.99 for children, plus tax and gratuity. It includes your meal, personalized character interactions, and a digital photo of your experience.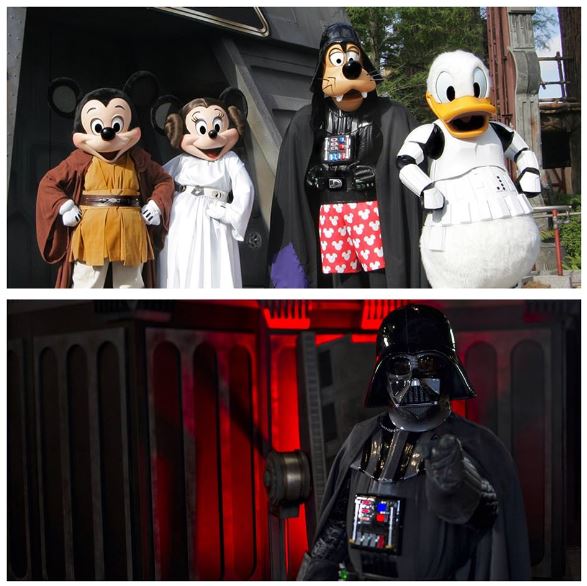 Then, for dinner, Mickey Mouse and his pals get dressed up as their favorite Star Wars characters for "Jedi Mickey's Star Wars Dine at Hollywood & Vine." It's an intergalactic celebration with music, interactive moments and a delectable dinner buffet.  The dinner experience alone is $55.99 for adults and $33.99 for children, or $59.99 for adults and $36.99 for children as part of the Fantasmic!" Dinner Package. Both experiences also include a digital photograph.
We'd love to help you book your galactic getaway for Star Wars Weekend or any other time of year at the Walt Disney World Resort. Our agents will help you find the perfect hotel and the best deal for your family.
Book your Walt Disney World Resort vacation by calling our Disney Experts at 855-GET-AWAY.
Everything is current at time of posting. 
Check out these other great articles:
Tips for Star Wars Weekend (from Allison at Tips for Family Trips)
Walt Disney World Resort: Best Eats for Cheap
Walt Disney World Resort: Tips for the First Time Visitor
New Fantasyland Photo Blog
MyMagic + at Walt Disney World