Planning a trip to the Universal Orlando Resort? With so much to see and do, you won't want to miss a thing. Check out our top planning tips for Universal Orlando, to guarantee your best trip yet!
Did you know that the Universal Orlando Resort is consistently rated within the top 10 theme parks of the world? The resort spans across more than 550 acres of land and consists of three theme parks, five (soon to be six) on-site hotels, and a huge shopping and dining district. Let's do a quick overview of what that entails.
Universal Studios Florida and Universal's Islands of Adventure are the two major theme parks that make up the resort, each offering its own assortment of attractions and entertainment. The Wizarding World of Harry Potter, one of the most popular reasons for visiting, is split between the two parks. You'll find Hogsmeade in Islands of Adventure and Diagon Alley in Universal Studios Florida. The third theme park is Universal's Volcano Bay, a year-round water park that opened in 2017 and has quickly become a staple to any Universal Orlando vacation.
You'll also find five on-site hotels at the Universal Orlando Resort. In August 2018, the Aventura Hotel will be joining the line up to make six on-site Universal hotels. Lastly, Universal CityWalk is the giant entertainment district that sprawls between the two anchor theme parks. You can find nearly hundreds of food, shopping and entertainment options here.
People don't always realize how large the Universal Orlando Resort is, especially if they've only visited Universal Studios Hollywood in California. With so much to see and do, it's easy to get lost in the movie magic and miss out on a few things. To make sure you make the most of your vacation, we've put together our top planning tips for Universal Orlando. We hope they help you plan the best Universal trip yet – enjoy!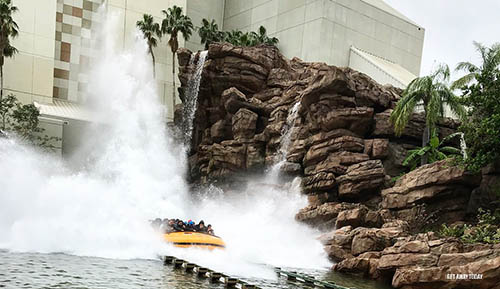 The 5 Best Planning Tips for Universal Orlando
Give yourself time.
If you couldn't tell from our overview above, the Universal Orlando Resort is pretty dang big. You'll want to give yourself enough time to not only experience the parks, but everything else offered at the resort. Because of this, I always recommend staying at least three days at the Universal Orlando Resort. You could visit in one or two days, but you'd be missing out on so much. Especially if you visit during busier times!
Some people may still consider Universal Orlando as an add-on destination – a stop to add to their Disney World or beach trip. However, the resort is easily its own destination, with more and more being added each season. Staying longer allows you to fully enjoy your vacation, with the ability to go at your own pace and not have to worry about missing anything. Planning three or more days at the resort means you'll want to stay close to the parks as well, which brings us to the next tip for Universal Orlando.
Stay on-site.
Staying on-site is such a game changer at Universal Orlando. Not only will you be close to the excitement, but you'll get exclusive perks for staying at one of the resort hotels. One of my favorite perks is getting into the Wizarding World of Harry Potter and Volcano Bay an hour before the parks open to the public. Other perks include complimentary transportation to the theme parks and CityWalk, merchandise delivery, and premium access to select CityWalk venues.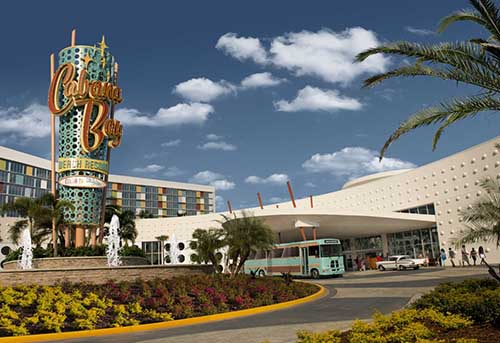 Photo courtesy of Cabana Bay
The best part of staying on-site at the Universal Orlando Resort is that the hotels range from value to premier, giving an option for every budget. Families typically love staying at the Cabana Bay Beach Resort as it offers suites and is the most cost friendly. The Loews Royal Pacific Resort and Loews Sapphire Falls Resort are also great picks as they fall under the preferred category and offer unique theming. The Loews Portofino Bay Hotel and Hard Rock Hotel are the premier properties available, offering a luxurious experience on top of the theme park fun. The new hotel, Aventure Hotel, will be opening in 2018 and focus on modern looks and great prices.
While you may automatically choose one of the prime value hotels, make sure to look at what's being offered with the preferred and premier properties before you do. For example, the Loews Royal Pacific Resort, Loews Portofino Bay Hotel and Hard Rock Hotel are all currently offering Universal Express Unlimited every single day for every single person in your party. The Universal Express Unlimited is valued at about $130 per person per day and allows you to get to the front of the line on almost every attraction between Universal Studios Florida and Universal's Islands of Adventure. Quick math shows that's a value of $520 per day for a family of four – so saving anything less than that per night may not be worth it if you're looking for the best park experience.
No matter which hotel you choose, you won't regret staying on-site on your next Universal Orlando vacation.
Know what's going on.
This may be one of the most important planning tips for Universal Orlando, but people tend to skim over it. Make sure you know what's going on during your visit! Visiting in the fall? It's likely that Universal Studios Florida has a few Halloween Horror Nights planned that may close parts of the park early. You'll want to know this in advance, so you can either purchase the event tickets or be prepared for shorter hours. Not all extra seasonal events happening at Universal Orlando require an additional ticket, so you don't want to miss any special events that are included with your normal ticket.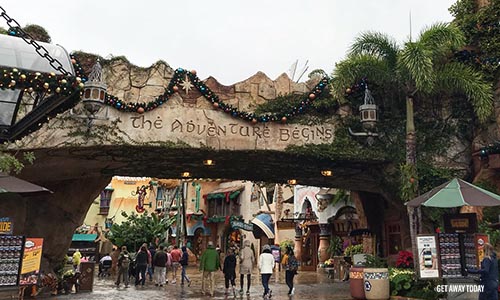 While these events are always subject to change, here's an idea of the biggest annual events at Universal Orlando:
January – April: A Celebration of Harry Potter, Mardi Gras
May – August: Grad Bash & Gradventure, Rock the Universe
September – October: Halloween Horror Nights
November – December: Holidays at Universal Orlando Resort
If you're interested in any of these events, you'll want to plan your trip accordingly. Even if you're not going with any one of these events in mind, keep an eye on if any are happening while you travel. The Holidays are an especially fun time to travel as you'll get to experience exclusive entertainment, merry décor and delicious food throughout the parks.
Buy ahead of time.
Another key tip for Universal Orlando is planning and buying ahead of time. There are a few reasons for this. The first is to obviously save money. When you buy your tickets ahead of time, you can save anywhere from $20-$60 per ticket versus buying them directly from the gate. The second is for peace of mind. Having your hotel and tickets purchased beforehand means you have less to worry about. Plus, booking sooner means you'll get to lock-in the lower rates. That means if ticket prices go up, you don't pay more. It's a win-win!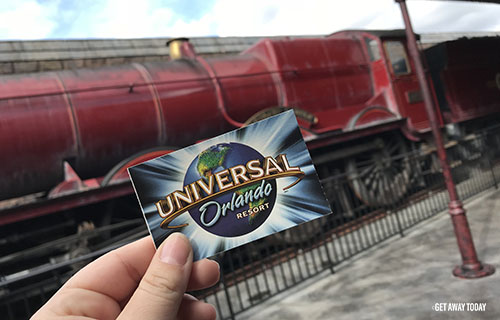 Budget.
Our last planning tip for Universal Orlando may seem silly – you're planning a vacation, of course you need to budget. But are you remembering to budget for everything? On top of the usual transportation, lodging and ticket expenses, there are quite a few expenses you can also budget for in preparation of your trip. Food is obviously a big one. With so many options both inside the parks and outside (CityWalk offers over twenty restaurants alone), it's a good idea to plan ahead for what you want to spend per day on eating.
It's also a great idea to budget for souvenirs ahead of time. You can find a lot of the souvenir prices on Universal Orlando's website, which greatly helps when deciding how much to bring for souvenirs. Or, you could even consider buying some in advance to save money versus buying at the park themselves!
There you have it, our top planning tips for Universal Orlando. Are there any you would add? Let us know in the comments below and stay tuned for next week's article, where we'll look at the best travel tips for once you're actually at Universal Orlando.
And if you're planning a trip to Universal Orlando, Get Away Today would love to help. On top of discounted park tickets, our travel experts can help you build an entire Universal Orlando vacation. Hotel, tickets, transportation, flights – we can help with it all! Book online now or give our agents a call at 855-GET-AWAY. Your next Universal Orlando trip is just around the corner.

Check out more vacation planning tips: