No one wants to have problems come up on their vacation, but it can happen. Which is why we've gathered a list of the 7 most common vacation problems and how to avoid them. You'll be ready for your most seamless vacation yet after reading this!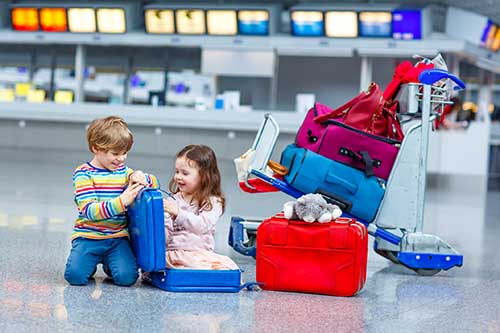 Vacations are meant to be a step away from the usual humdrum of day-to-day life – a chance to relax. As much as people plan their vacations to be just that, problems can arise. In fact, there are some things that happen so often to different travelers they've become known as common vacation problems.
Now, while others may shrug their shoulders and say, "Oh well, it happens," I'm not okay with that. I want everyone to be aware of these common issues and know that there are ways to avoid them and/or fix them. Which is why we've put together a list of the most common vacation problems and ideas for how to avoid them. Check it out below and you'll be a savvy travel pro in no time!
The 7 Most Common Vacation Problems:
Missing flights
Planning too much
Planning too little
Disliking the hotel
Getting sick
Bad weather
Hidden costs
How to Avoid These Vacation Problems on Your Next Trip:
Missing/Delayed Flights
Whether it's a missed flight or delayed flight, this is one of the most common vacation problems we hear about. To avoid missing your flight, it's important that you give yourself plenty of time to get to the airport and in between any layover connections. The TSA currently recommends arriving to the airport about two hours before your departure time for domestic travel and three hours before your departure time for international travel.
To help make this easier, I recommend having almost everything packed a day or so before you go. Obviously, some necessities like toiletries will have to be added last minute, but it will feel a lot less stressful if that's the only thing you're packing hours before you fly. It's also a good idea to plan on leaving earlier than you need to. Have to be there two hours early? Plan on leaving early enough to be there two and a half hours early. That way, if anything comes up, you'll have some breathing room without any panic of possibly missing your flight.
To avoid missing a connecting flight, you'll also want to give yourself enough time when scheduling flights. Does the flight with only a 30 minute layover seem too good to be true? That's because it likely is. If anything delays your flight by even a minute, or it takes 20 minutes to get off the plane, or if you can't run fast enough, etc., you'll be stuck waiting for another flight that hopefully has room for you. This is especially true if you're flying back to the U.S. from an international destination and need to go through Customs. I've had the experience of missing a connecting flight because Customs took too long. We had to spend the night on the airport floor while waiting for another flight home. While my family made the moment as fun as it could be, it's not really one I want to redo any time soon. I always recommend giving yourself at least two hours between flights if you need to go through Customs at all.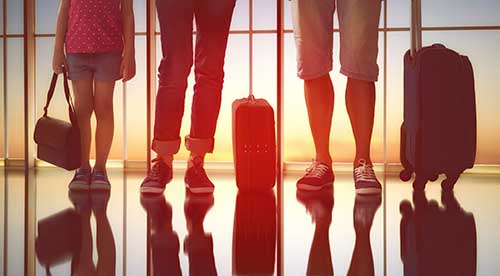 Now delayed flights are a little harder to avoid. Simply because things like weather and engine problems are out of anyone's control. However, you can try to avoid these by one, not booking flights that have you landing with barely enough time to get you to the first part of your vacation. And two, by booking flights through airlines with low delay percentages. When you browse flights through Google Flights (and many other flight comparison programs), it will show you how often the airline has delayed flights. If you want to have your best chance of avoiding a delayed flight, book with an airline that has a low percentage here.
Even when you do your best to avoid this vacation problem, you may still miss your flight or have one delayed. If you're met with a long security line and only have a small window of time before your plane boards, speak with the nearest TSA agent. While not guaranteed, I have had agents see how close we were to missing our flight and let us go through the faster priority time. It's always worth trying if you think you'll miss your flight! And don't forget to always contact the airline as soon as possible if you do have a missed or delayed flight. The agents at the desk will be able to help you as much as they can, whether that's giving updates on the delayed status or moving you to another available flight. Just don't forget to be nice, especially in the case of delayed flights. They likely have many upset customers who they're trying to work with and you'll always be surprised by how far an ounce of kindness can get you!
Planning Too Much
Another common vacation problem we hear about at Get Away Today involves planning too much. You only have a certain number of days at said destination and want to do everything you possibly can, filling your days up as much as possible. This might look great on paper, but it doesn't feel so great when you're hurrying from place to place and feeling like you're missing out on the actual "vacation" part.
There are a few things you can do to avoid this on your next trip. The first is to take as much time as you can. If you want to do a lot of things, then you need to give yourself enough time to do everything without burning anyone in your travel party out. No one will remember how much fun they had if everyone was exhausted and fighting back negative emotions. If possible, extend your trip a day or two. Doing so may just be the magic that allows you to do everything and have a smile on your face the entire time.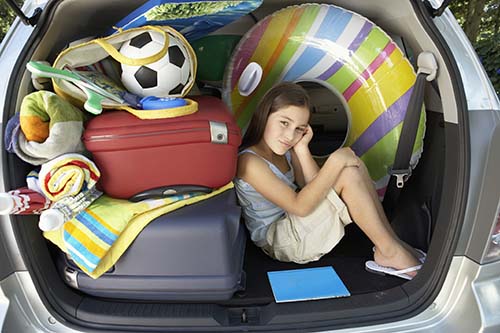 If you're not able to extend your trip, then be realistic. Can you really fit 10 park and museum visits into four days? No, but you could probably do four or five. Once you know how long you have, pick out one must-do thing for each day. If you're traveling with your family, this is a great time to include them in the planning. You'll be able to learn what's most important to them and plan accordingly.
If you end up having extra time, it may be just the downtime you need to rest between adventures. Then, if you find yourself bored, you can always keep a backup plan of those things you didn't think you would get to do. It's a win-win for everyone!
Planning Too Little
Speaking of being bored, another vacation problem that seems to come up is when people do the opposite and don't schedule enough to fill your vacation days. This can mean one of two most likely scenarios. Either you didn't give yourself enough time to research and plan, or you were being cautious in exactly how much you would want to do once on your vacation. Neither of these is necessarily a bad thing, but both can easily be avoided or fixed.
Obviously, you can avoid not having enough time to plan by trying to make your travel plans in advance. That isn't always possible though – especially if you have a job or lifestyle that comes with spontaneous days off here and there. In that case, try to plan as much as you can and give Get Away Today a call. Whether you're going in three weeks or next week, our agents know a ton and can really help tailor the trip to you and your wants as much as possible.
Now, planning too little because you're hesitant to overdo it can be a bit harder to avoid, so we'll call this more of a fix. The fix is easy: find something to do! That may sound silly, but no matter your destination, there's at least one source that will have a plethora of activities you can add on. If you're visiting Disneyland, that may mean calling us and adding another day to your ticket. Or you could visit an entirely different theme park. Even if you're visiting somewhere that doesn't have as many "typical" attractions, you won't be sorry asking your hotel's front desk or concierge services what there is to do. Just always remember what Charles F. Muntz said: "Adventure is out there!"
Disliking the Hotel
While we never want anyone to dislike their hotel or have an issue with it once they get there, it happens. It happens enough around the world that this could be considered one of the top vacation problems. Luckily, there are a few ways to avoid it and even some ways to fix it if you do end up in the situation.
To avoid disliking the hotel you pick, you'll want to first spend a bit more time researching it. Are you looking for specific things like free breakfast or a beautiful pool area? Great! Just make sure you check all of the hotels you are looking at for those exact things. Don't just look at the hotel's website – check out sites like TripAdvisor where you can read real reviews from guests. You can even look at guest reviews on all the hotels we offer throughout Southern California, just by scrolling to the review section of each hotel page. Also, be sure to talk to our agents. They tour all of our Southern California hotels on an annual basis and can give you firsthand experience from them all!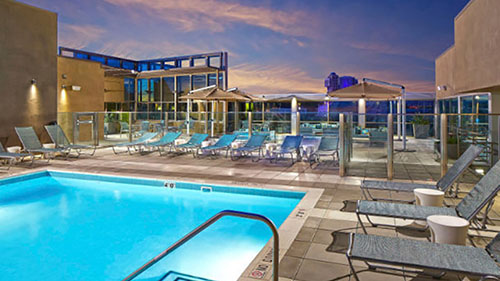 Photo courtesy of Springhill Suites Anaheim Resort Convention Center
Now, what happens if you do your research, pick a great hotel and get there to find out it still doesn't meet your expectations? That can definitely be a bummer, but it's not a total loss for you. If you booked with Get Away Today, the fix for this is easy. Give us a call! That's right, just give our agents a call. When you book with us, we become your advocate in all things. So if you ever have an issue with your hotel, we'll take care of it and work on coming up with a solution for you. The solution will vary depending on the situation, but sometimes means moving to a new hotel or some kind of upgrade or compensation.
If you didn't book with Get Away Today, you can still work with the hotel to fix the problem. First, try talking with the front desk and let them know what the problem is. They'll work with you as best they can. If for any reason you aren't happy with their proposed solutions, you can always consider moving to another hotel. Just keep in mind that you may lose your first night deposit, or your entire stay if you booked a non-refundable rate on another site. This again brings us to how important it is to do the research before your trip and have realistic expectations.
Getting Sick
Another frequent vacation problem that we hear about (and I seem to experience at least once every five vacations or so) is when people get sick while on vacation. Over the years of traveling and working with so many great guests here, I've gathered a few ways to help my family avoid getting sick before, during and after vacations.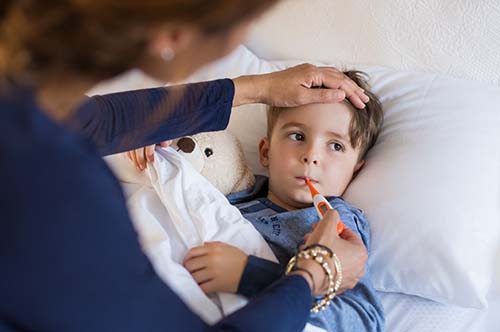 Staying hydrated has to be one of the best tips for avoiding getting sick. Not only will it help you avoid some not-so-great symptoms during vacation, but it will help flush your body of any bugs before and after your trip.
Hand sanitizer is the next big thing for avoiding illness while traveling. Airports make it easy to catch a bug or two, so you can protect yourself by sanitizing your hands as often as possible. The same goes for when you're visiting theme parks and other tourist spots.
It's also important to watch for signs of any encroaching illness while you get closer to your trip. You can start taking things like vitamin C or other immune system boosters before and during your vacation. If you start to feel sick, consider taking over-the-counter cold medicine. If it gets bad enough, don't hesitate to visit the doctor. They'll be able to identify if it's anything serious and help get you back to your healthy self as fast as they can.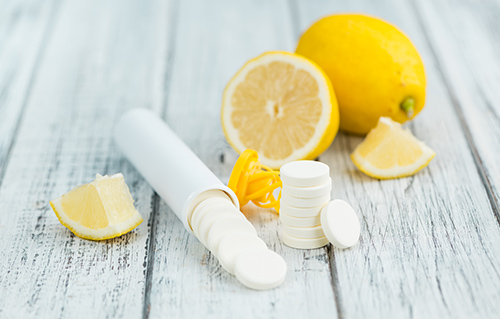 Even when you take these steps, there's a chance you could end up sick on your vacation. I actually ended up getting a cold on my trip to Disneyland just a few months ago. While it wasn't the best trip ever, it wasn't terrible. I made sure to continuously drink water, rest whenever it was too much and take cold medicine on a regular basis. These are all great things you can do if you or someone you're with ends up getting sick on vacation. It's also important to know where the closest medical station, First Aid center or even drug store is in these situations.
Lastly, make sure your health comes first. As much as you may not want to go home early, your body may need it. Plus, you don't want to get anyone else sick if you end up having something contagious. In the end, you need to listen to what your body needs.
Bad Weather
Another vacation problem that can be hard to control comes down to bad weather. Now, there's nothing I can really tell you that will help you become an all-powerful weather-controlling being. If there was, I'd be shouting it from the perpetually sunny mountaintops. But I can give you a few tips on how to avoid letting bad weather ruin your trip!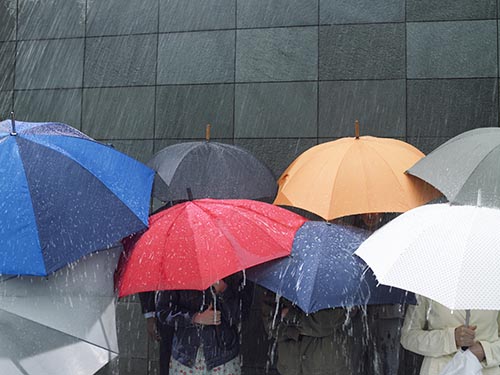 First, be prepared. This typically means packing in layers. That way you'll have a base for when the weather is warm and things to add if it starts to cool down. Another thing to add to your packing list is a poncho. No matter where you're visiting, you'll likely end up paying near five times for a poncho what you would pay for a pack of ponchos from your local store. Trust me on this one – I have a collection of ponchos from Disney Parks, Mexico and beyond because I can't bear to throw away such expensive pieces of plastic.
Second, start watching the weather predictions for your destination about a week or two ahead of time. You'll have a better idea of what to expect and can pack accordingly. It's also a great idea to look at weather averages around that time from previous years. You may just find that the month you'll be visiting tends to have some surprise rain storms and can bring an umbrella or two.
Third, bring a few "just-in-case" items. Last year I went on a Western Caribbean cruise that ended up being one of the rainiest weeks of the year in that area. While I did get to paddleboard in the ocean during a beautiful rainstorm, most of the other ports ended up cancelling excursions. Luckily, a cruise ship meant I had a lot of things to choose from and still had a great time. Even if we wouldn't have had so many activities, I had come prepared with things like a few books, deck of cards and even a portable trivia game or two. You probably won't want to fill an entire suitcase with these things, but it's never a bad idea to have a boredom buster or two with you.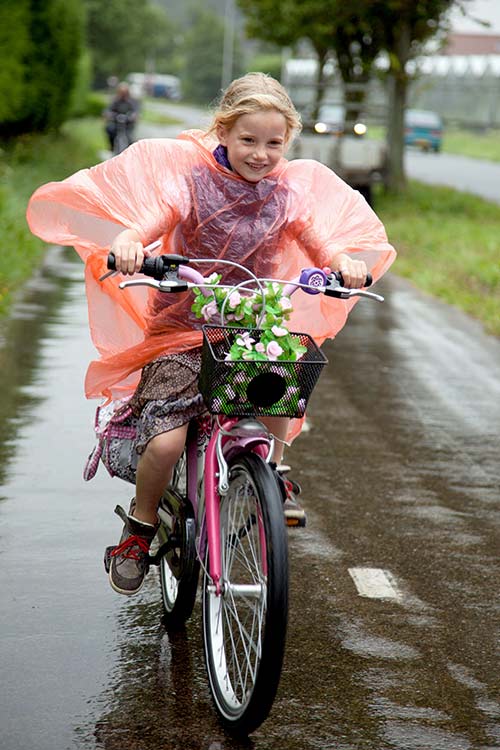 The last thing to remember is that bad weather doesn't mean your trip is automatically doomed. As long as it's safe, you can take advantage of still having fun on your vacation in the face of bad weather. If you're in Disneyland, rainstorms are some of the best times to visit. That's because most of the park clears out and you'll get to walk right onto rides. Just remember those ponchos! Even if you're somewhere like Mexico or the Caribbean, rain doesn't have to ruin the fun. On top of the paddle boarding memory I mentioned above, I also love the memory of my husband and I playing one of the most intense games of volleyball during a crazy rainstorm at Sandals Barbados. I couldn't imagine having just stayed in our rooms and not having made such great memories!
Hidden Costs
Hidden costs are probably one of the irritating vacation surprises people run into. Just think about having your vacation all paid for and then getting to your destination to realize there's still a ton to pay for. That's definitely not a great way to start your trip! Luckily, there's a way to avoid hidden costs on your next vacation.
The way to avoid this vacation problem is similar to how you avoid some of the others; research. Yep, that's right – you need to make sure you research the hotel you're staying at, what activities you're doing and the transportation mode you're taking. Most hotels have any cost like parking or resort fees listed under "Amenities" on their site. You don't have to worry about these being hidden when you book with Get Away Today. Any hotel costs (which are often reduced or waived) will be listed plainly on online bookings or explained to you by an agent on over-the-phone bookings.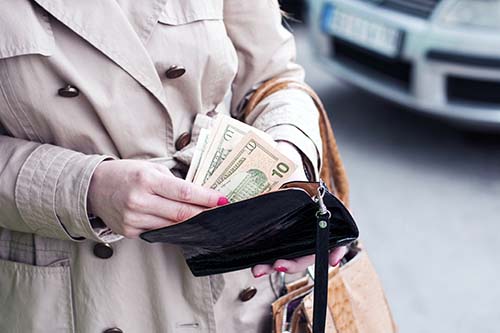 Excursions and tours are some of the top activities you'll want to research as they sometimes have a gratuity or tax that isn't included in the base price. However, everyone is legally obligated to list these extras, so you'll usually be able to find it in the "More Details" section or somewhere similar. The same goes for airfare or rental cars – anything besides the base price must be detailed somewhere on the site. Again, I recommend calling Get Away Today and letting us help with this part. All of our costs are clearly stated on our site and agents will explain anything additional if ever booking excursions or tours with our partner companies. If you're heading to Disneyland, you can check out this article detailing how much to budget for Disney so you aren't forgetting any costs that could come up!
By doing just a bit more research when planning your vacation, you'll be able to save yourself the vacation problem of hidden costs popping up. What happens if you swear you did your research and a hidden cost is popping up out of nowhere, though? First, let the hotel (or whichever company it was) know that you were unaware and hadn't seen this listed anywhere. They may be able to point the cost out, so you don't miss it the next time. Or, if they're unable to show where exactly it is listed, they may be able to compromise and reduce the fee or even waive it as a one-time courtesy.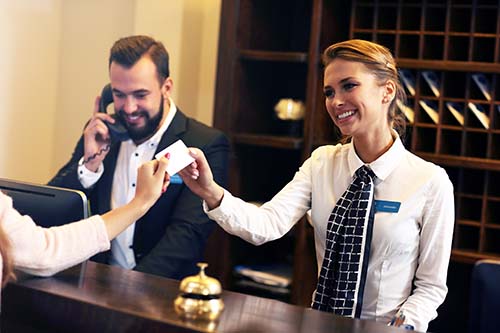 Are you feeling like a vacation pro now that you know what the most common vacation problems are and how to avoid them? Don't forget to share your own tips or experiences below. We love hearing all about how our readers are becoming traveling pros!
If you're ready to start planning your next vacation, let Get Away Today help. Our agents are equipped with expert knowledge and all the best tips to make sure your vacation is the best it can be. Plus, like we mentioned above, we'll be your advocate if a problem ever does arise and you need help fixing it. Our low prices and guaranteed excellent customer service are just icing on the cake! You can book online now or give our travel agents a call at 855-GET-AWAY.

Check out more vacation tips below: