While Disneyland may be the main reason many people take a Southern California vacation, there are a lot of other things to see and do in the Anaheim area! If you are looking for things to do in Anaheim, and beyond, for your next family vacation, we have some ideas for you.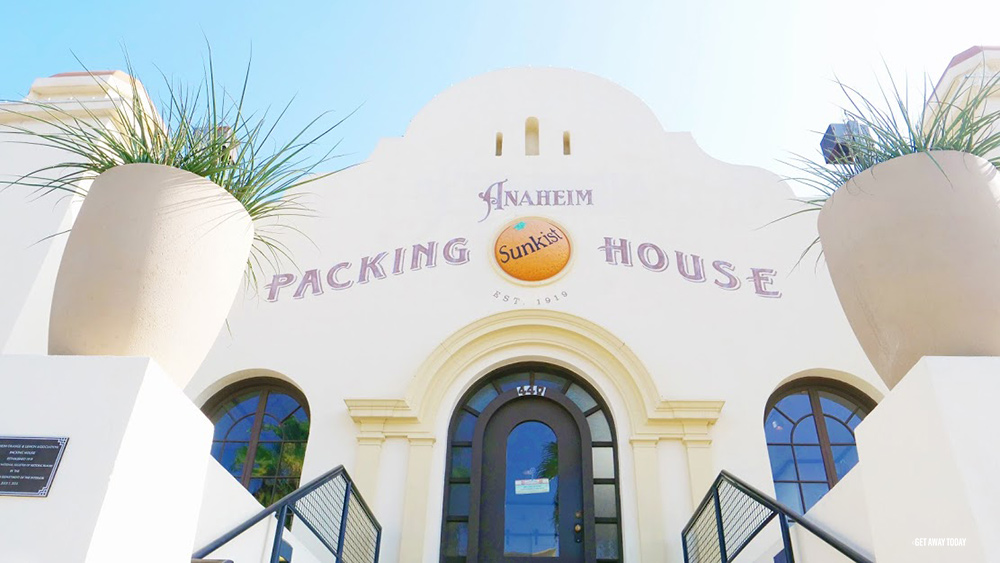 Things to Do In Anaheim
With a 5-day Park Hopper or 5-day 1-Park per Day Disneyland Ticket, you can pretty much see and do all your heart desires at the Disneyland Resort. But what happens when you are done with all the excitement Disney has to offer? What if *gasp* you just want to spend a couple of days at Disneyland and spend the rest of your vacation in other areas of Southern California? It may be hard to believe, but it happens to some people! Well, we have some suggestions for things to do in Anaheim, and the surrounding areas, besides Disneyland.
Things to Do In Anaheim - Explore the Outdoors
There are a lot of ways to experience Anaheim and its surrounding areas, but we recommend getting outdoors as much as you can! Slather on the sunscreen, fill your water bottle, and set off on an adventure! Here are some suggestions for things to do in Anaheim that involve the great outdoors:
Catalina Express to Catalina Island
Catalina Island is located off the coast of California, and it is only about one square mile in size. While Catalina Island may seem small, it has a lot to offer! You will feel like you are in the Mediterranean when in reality you just took at 60 minute ferry ride out into the Pacific Ocean with Catalina Express. Catalina Express services don't stop at the ferry ride though; with Get Away Today you can book a number of Catalina Express adventures once you are on the Island. If you love history, you can learn all about the Island while on the 50 minute Avalon City Tour. For some adventure, you can book ziplining experiences, semi-submersive water tours, bike rentals or paddle board rentals. You will save big when you book Catalina Express with Get Away Today. You can read more about the Catalina Express options in our blog post "Catalina Express on Catalina Island." The Long Beach port for Catalina Express is about 25 miles from Anaheim.
Photo courtesy of Catalina Island
Crystal Cove State Park
A happy Get Away Today guest actually recommended Crystal Cove State Park to us. She and her family enjoyed exploring the tide pools here on a day off from Disneyland. This hands-on experience will cultivate curiosity about sea life and satisfy a child's natural desire to get messy! In all seriousness, this is a great activity for kids and adults alike. Be sure to check local tide charts to ensure you visit Crystal Cove State Park at low tide. Other tips for visiting the tide pools are to wear shoes with grip and wear layers in the event the weather changes abruptly during your exploration. Also, keep in mind that the treasures found in the tide pools are not meant to be souvenirs, and should be left in their natural habitat. You can find out more about the tide pools on the Crystal Cove website. Crystal Cove State Park is about 26 miles from Anaheim.
Oak Canyon Nature Center
The Oak Canyon Nature Center is 58 acres of nature that appeals to novice and experienced explorers alike. It is comprised of three canyons, four miles of trails and lots of wildlife. There is also a small museum with live and natural history exhibits. Oak Canyon Nature Center is less than 10 miles from Anaheim.
Things to Do In Anaheim - The Beach
A trip to California wouldn't be right without a trip to the beach! Luckily there are quite a few options of beaches near Anaheim. Here are four Orange County beaches we love:
Long Beach
Long Beach is described as urban paradise, boasting not just coastline but entertainment, museums and Queen Mary tours. It is also a port for Catalina Express, which will take you across the water to Catalina Island. Long Beach is about 25 miles from Anaheim.
Newport Beach
About 20 miles from Anaheim city center, Newport Beach offers ten miles of access to water activities such as swimming, surfing, fishing and more. Take part in the Balboa Artwalk at Newport Beach or catch a movie during the film festival. If you prefer to just hunker down under an umbrella on the sand, that's definitely an option at one of Newport's 13 beaches. Newport is about 20 miles from Anaheim.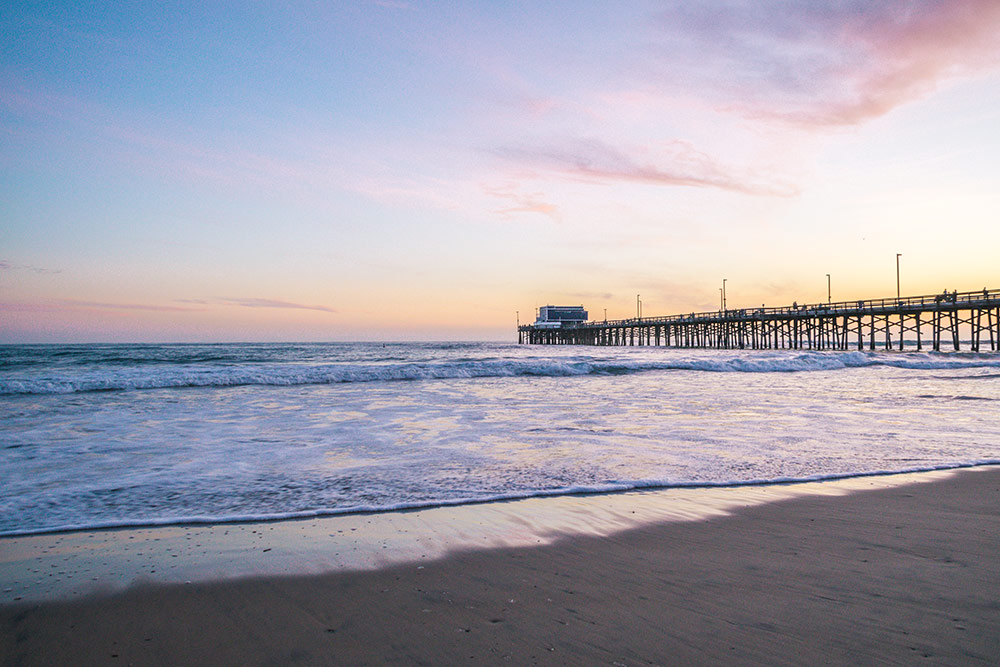 Huntington Beach
Get Away Today offers Huntington Beach vacation packages so you can enjoy the sun, surf and sand in this classic beach town. The Hyatt Regency Huntington Beach Hotel offers luxury accommodations overlooking the water. This resort boasts a spa, a pedestrian walkway to the beach and so much more. Enjoy aquatic recreation, shopping and fresh seafood in Huntington Beach. Huntington Beach is about 23 miles from Anaheim.
Laguna Beach
This Southern California beach offers about seven miles of coastline, peppered with coves and canyons to explore. In addition to the beach it boasts, Laguna is also a hot spot for community events featurings artists and musicians. Laguna Beach is about 26 miles from Anaheim.
Things to Do In Anaheim - Museums
There's nothing wrong with a little learning while on vacation, right? Museums can be one of the fun things to do in Southern California, especially when you choose one of the ones we recommend below.
Marconi Automotive Museum
This museum houses exotic and historic cars, and is open to the public for touring. They ask for a suggested donation in exchange for a visit, so this is a very budget-friendly option of something to do in Anaheim. Check out both street cars and race cars in this high-octane hotspot. Marconi Automotive Museum is about 13 miles from Anaheim.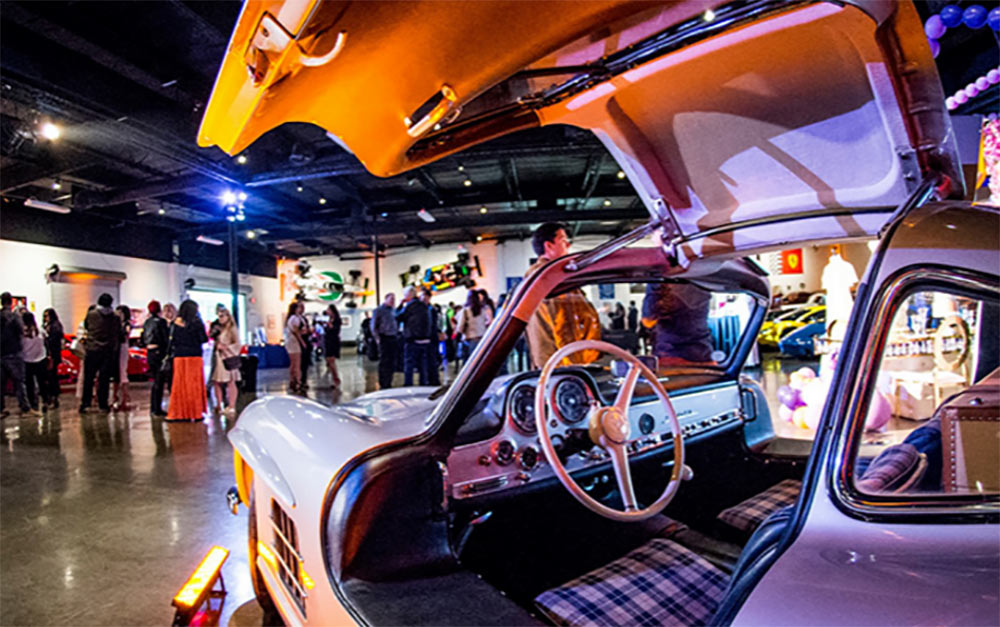 Photo courtesy of Marconi Automotive Museum
Muzeo Museum and Cultural Center
This the Muzeo museum, you can learn about Anaheim's history, or check out a current exhibit from a visiting artist. The building itself is quite historic, as it is the last standing Andrew Carnegie library in Orange County. Depending on when you visit, you might be able to participate in a cultural celebration or a children's festival. Muzeo Museum is located in Anaheim, near the intersection of Anaheim Boulevard and Broadway.
California Science Museum
Space Shuttle Endeavour was recommended to us by a Get Away Today guest. When looking for things to do in Anaheim, she and her family made the decision to visit the California Science Museum. What an out of this world adventure they found! At the Space Shuttle Endeavor experience, you will learn about the orbiters that were built in California, and the parts that comprise the shuttle. Guests can also see the Endeavour up close and personal in the Samuel Oschin Pavilion. For those who love space and adventure, this is a great choice. The California Science Museum is about 37 miles from Anaheim.
Things to Do in Anaheim - Shopping
Anaheim GardenWalk
This is a one-stop shop for shopping, dining and outdoor entertainment in Anaheim. For things to do in Anaheim, visit the GardenWalk and play arcade games, catch street performers live or grab a bite at House of Blues. Keep your eyes peeled for murals, as well as art for sale on the GardenWalk; they make the perfect backdrop for your photos!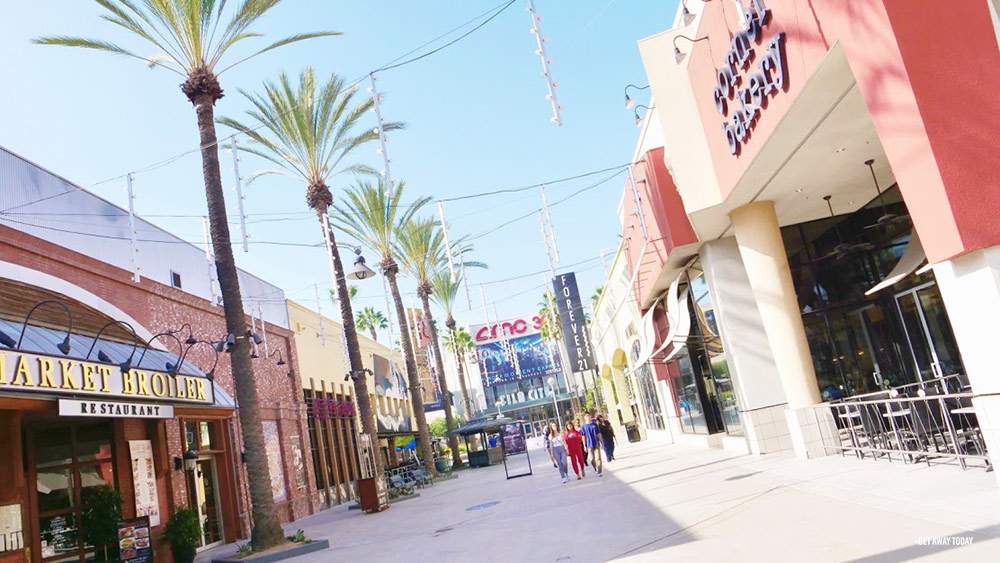 Things to Do In Anaheim - Sports
Other things to do near Disneyland include sporting events. Lucky for you, Anaheim features two sport venues to choose from.
Tour Angel Stadium
Remember the movie Angels in the Outfield? Parts of it were filmed in Anaheim's Angel Stadium! For movies and sports buffs, a tour of the Stadium is a great activity. You could also just attend a game on a sunny California day. Public tours are available March - September, and they last about 75 minutes. You could have a chance to walk the field, visit the dugout and see some of the exclusive suites at the stadium. At $6 - $8 per person, this is a very affordable option among the many things to do in Anaheim. Angels Stadium is in Anaheim, less than four miles from the Disneyland Resort.
Anaheim Ducks at the Honda Center
The mighty Ducks have their home at the Honda Center in Orange County, so you can catch a hockey game while in Anaheim. No public tours are available at the Honda Center, so if you want to be able to see the arena in action, check the game schedule before you book your Southern California vacation. The Honda Center is about four miles from Disneyland.
Things to Do in Anaheim - Dining
If you are looking for a family friendly dinner in Anaheim, we have you covered! See what we recommend below:
Medieval Times
This dinner includes a show that will transport you back in time. Medieval Times is a family friendly dinner that boasts a four course meal. You can select vegetarian options as well as the traditional medieval fare. There is also a museum you can tour before your meal. Medieval Times can be booked with Get Away Today. Medieval Times is less than eight miles from Disneyland in Anaheim.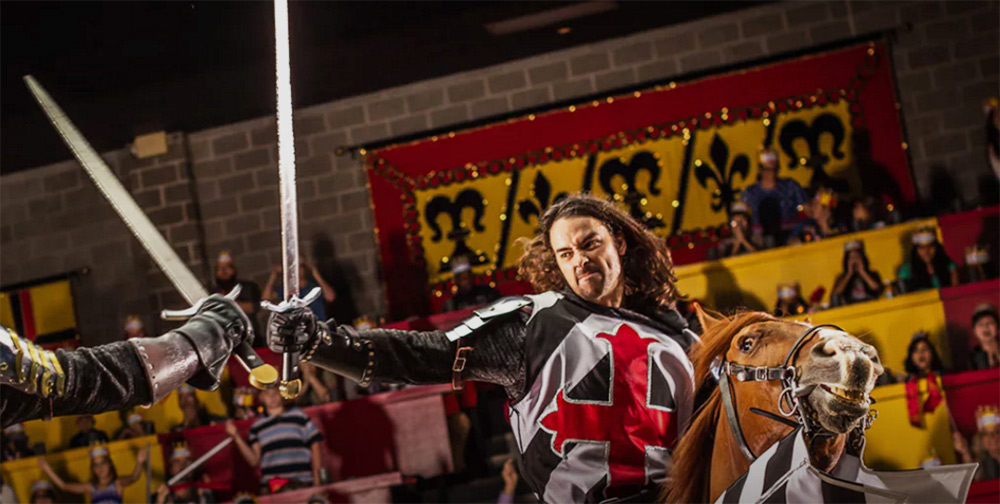 Photo courtesy of Medieval Times
Pirates Dinner Adventure
Another themed family friendly dinner can be found at Pirates Dinner Adventure. Special effects and swordplay will be sure to captivate the whole family while dining on delicious dishes. Ear plugs are recommended for those who may be sensitive to the noise of the pyrotechnics and other sensational effects. Pirates Dinner Adventure can be booked with Get Away Today and is located about eight miles from Disneyland.
Black Tap Craft Burgers & Brews
For over the top shakes (literally!) and mouthwatering burgers, look no further than Black Tap. It's so good, we have a copycat recipe for Black Tap shakes on our blog! A new Black Tap location just barely opened in Downtown Disney and we couldn't be more excited. Because it is a popular spot, we recommend heading over to the restaurant a little early to beat the rush.
Joe's Italian Ice and Ice Cream
For authentic Italian and delicious soft serve ice cream, stop by Joe's Italian Ice in Anaheim. With flavors like Mango Tango, Joe-Conut Cream and Tropical Rush, it's like a little slice of California itself in your dish. Joe's is located on Harbor Boulevard, about two miles from the Disneyland Resort.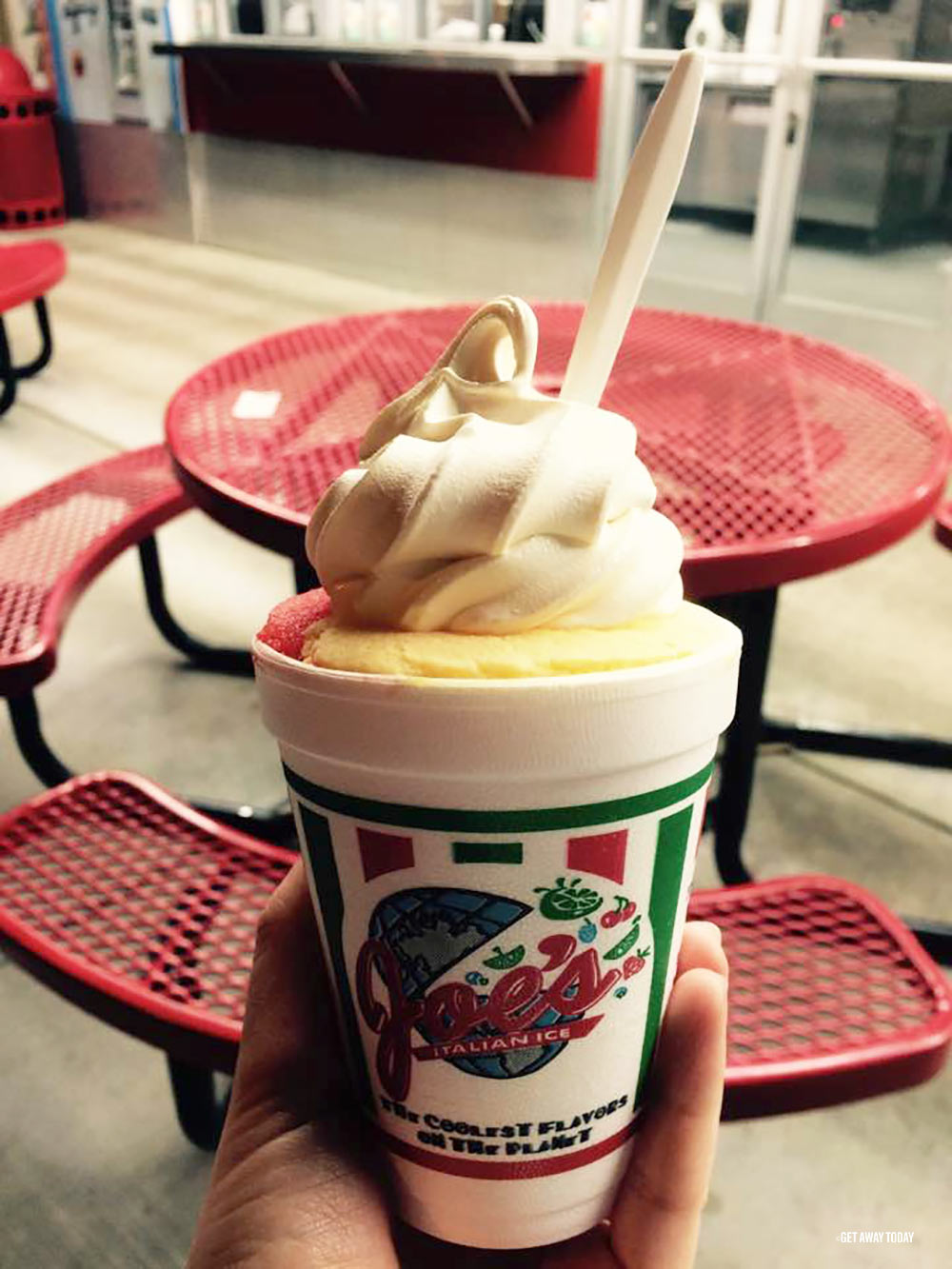 Splitsville
Splitsville Luxury Lanes isn't just a bowling alley. And they don't serve typical dishes you would expect to find at any old bowling alley. Located in Downtown Disney, Splitsville offers everything from cocktails to Icees, pizza to sushi and so much in between. Enjoy grilled avocado and ahi tuna, cheeseburgers sliders or a fresh salad. You don't even have to bowl in order to dine here! Find a family friendly dinner at Splitsville, and don't forget to top it off with a sundae or root beer float.
Anaheim Packing District
This repurposed citrus packing plant is now home to dozens of food vendors. In the Anaheim Packing District, you will also find entertainment in the form of live music and cooking classes. This historic destination is in downtown Anaheim, less than four miles from Disneyland.
As you can see, things to do in Anaheim include a wide array of options! Whether you're looking for sunshine or air-conditioned activities indoors, we have you covered. Our website includes vacation packages for a number of options, and our travel experts have personal experience with many of the attractions listed above. If you have questions, feel free to give us a call at 855-GET-AWAY and we'll help steer you in the right direction on your Southern California vacation. Happy travels!