We've talked about how much adventure awaits at Universal Orlando Resort, but did you know there are a number of things you can
only
experience in Orlando? That's right! And since we recently made a trip to tour the Resort's three theme parks and
onsite hotels
, we have details on things unique to Universal Orlando Resort.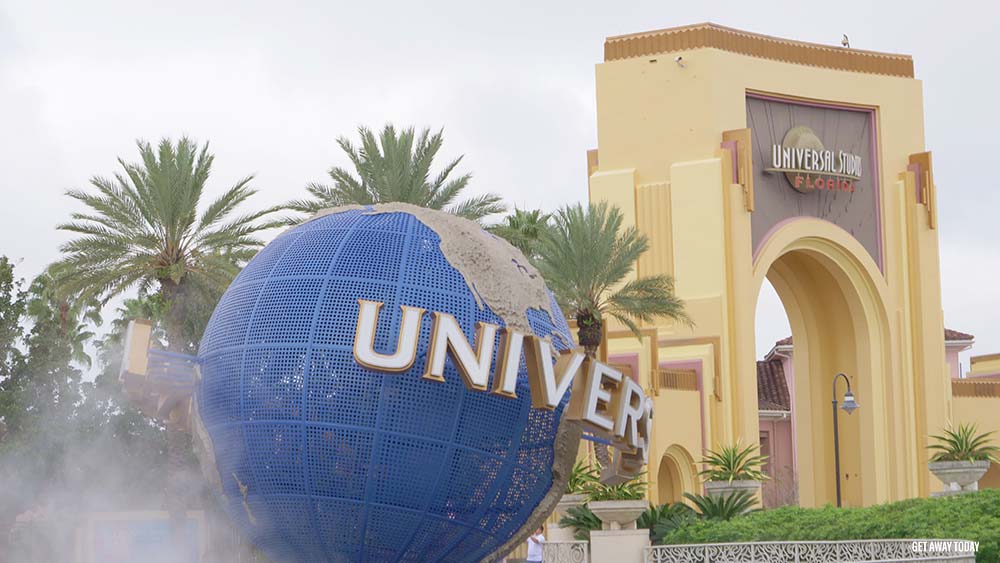 Things Unique to Universal Orlando Resort
In addition to delicious food, thrilling rides and great spots for kids to explore, Universal Orlando has some unique rides and experiences you'll only find at Universal Studios Florida, Universal's Islands of Adventure and Universal's Volcano Bay Water Park.

Things Unique to Universal Orlando Resort - Universal Studios Florida
As you may know, Universal Studios Florida is the first of the three theme parks Universal offered in Orlando. It's home to film-based adventures that are fun for the whole family. But did you know this park is home to some things that are unique to Universal Orlando Resort? There are rides that you can only find on the east coast, so be sure to make them part of your vacation when you visit Universal Orlando Resort!
Things Unique To Universal Studios Florida
A Day in the Park with Barney - Barney and friends can adventure together in the indoor, air-conditioned Barney's Backyard playground that's perfect for little Universal Orlando guests. Whether you plan to attend the live show or not, Barney's Backyard is a great spot to visit that is unique to Universal Orlando. With tree trunk slides, stationary vehicles for pretend play and even water and sand areas. All five senses are stimulated in this play area, so be sure to check it out when you're ready for a shady spot to sit and watch the kids play.
Curious George Goes to Town - For outdoor fun in the sun, head to the Curious George splash area in Universal Studios. Look out for crashed cars, fountains and the Man in the Yellow Hat! Be just as curious as George himself, exploring this enclosure that invites guests to cool off and enjoy a day on the town. In addition to the water pumps and hoses, there's a play area where guests can collect softballs to either throw or launch at each other. Under the bright circus tent, little monkeys can climb and slide on the playground while parents stay cool under the shade of the mature trees.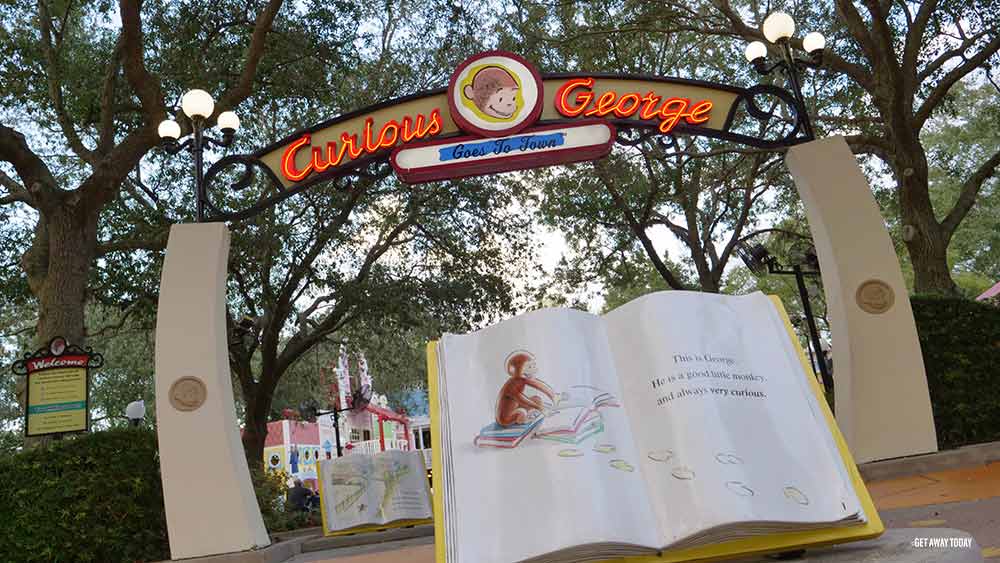 Diagon Alley - Also unique to Universal Studios Florida is Diagon Alley. This shopping district is where Hagrid takes Harry to purchase school supplies before he attends Hogwarts School of Witchcraft and Wizardry. Some muggles have a little trouble finding Diagon Alley because it is purposefully hidden from plain view. However, we know how you can find it without any floo powder or magic wands! When you're walking down the street in front of King's Cross Station, keep going a few paces toward a water feature on the right. Double back behind a wall and you'll discover an opening in the bricks: Diagon Alley! Listen closely for the sounds of the bricks scraping against each other as the wall opens. Walkthrough and find yourself in the magical little alcove that is Diagon Alley.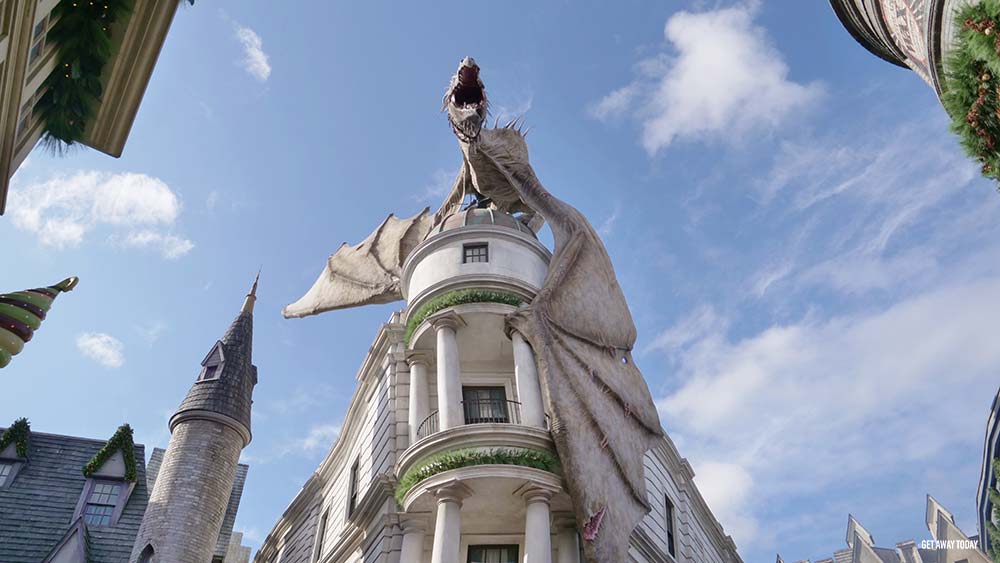 Once in this hidden shopping area, you're well on your way to experiencing the thrilling ride Harry Potter and the Escape from Gringotts and dining in restaurants such as The Leaky Cauldron. Although not unique to Universal Orlando Resort, Diagon Alley is also home to Ollivanders wand shop and other wizarding fun such as interactive wand play.
Hogwarts Express - If you visit Universal Studios on the west coast in California, you won't find a working Hogwarts Express! This magical train ride is only available in Universal Orlando Resort. If you have Park-to-Park Tickets, you can hop aboard Hogwarts Express at King's Cross Station in London and ride all the way to Hogsmeade Station (which is located in Universal's Islands of Adventure). Once aboard, you'll take a seat in a cabin modeled after the ones you see in the Harry Potter films and read about in the books. Through your window, you'll see scenes of bustling London give way to the beautiful English countryside. While no treat cart makes its way down the train cars, you will catch a glimpse of Harry Potter characters' shadows while sitting in your cabin.
Hogwarts Express is included in Universal Express, which is an optional upgrade for Universal Orlando Guests. Universal Express gives priority boarding privileges to guests, so wait times are shortened.
E.T. The Ride - E.T. The Ride is the only original ride left in Universal Studios Florida. It is truly a treasure and such a fun throwback for grown-up guests! This ride is eligible for Universal Express, which you can purchase as an add-on with your tickets or receive as a perk when you book certain Universal Orlando Resort Hotels during your vacation. Open to riders 34 inches and taller, E.T. is a kid-friendly motion simulation ride that puts each guest on the bike ride of a lifetime. Join E.T. as he attempts to get home, avoiding obstacles, bad guys and more as you try to get away from the city. Enjoy 80s nostalgia on this unique ride in Universal Studios Florida.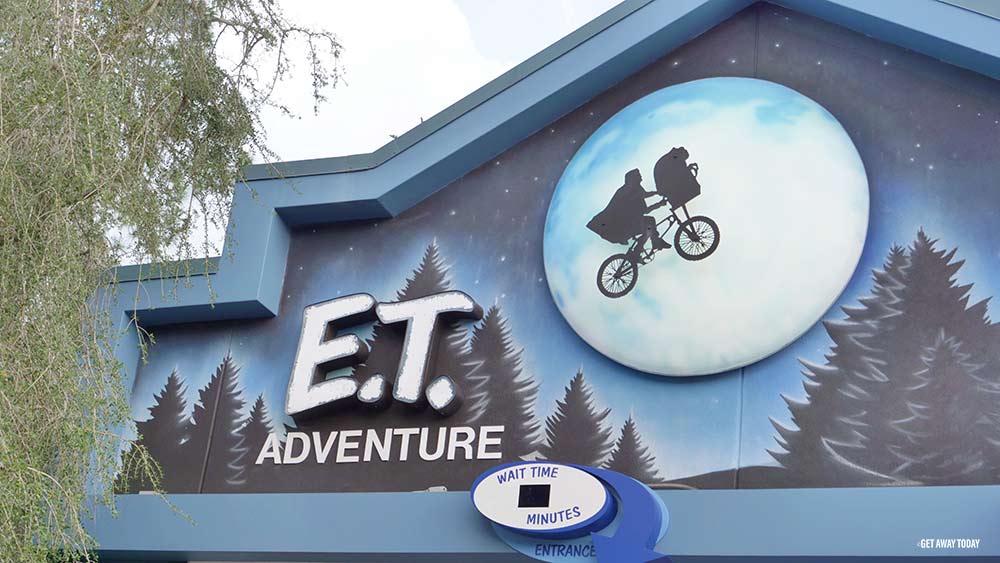 Race Through New York Starring Jimmy Fallon - This multi-sensory, 3D experience begins with an entertaining queue. You feel you're entering 30 Rockefeller Center in New York when you get in line, and there is a lot to keep you busy until it's your turn to ride. Walk the halls of 30 Rock and see NBC logos from decades past, as well as previous hosts of The Tonight Show. When you queue, you receive a color card for boarding Race Through New York, and the attraction itself will let you know when it's time to ride with chimes and color accents. Additionally, the Ragtime Gals will take a break from their live performance to mention which color is currently boarding the ride.
Speaking of the Ragtime Gals, they can be found in one of the queue areas of Race Through New York Starring Jimmy Fallon. Take a sit in the lobby and enjoy their comical riffs on popular culture in the form of Barbershop A Capella. The Ragtime Gals interact with the "audience" and help make the ride feel like you're really headed to a viewing of The Tonight Show with Jimmy.
The ride itself sits audience members in a studio seat with expansive views of Jimmy on stage. Don your 3D glasses for the race against Jimmy and be prepared for what he throws at you, literally!
Rip Ride Rockit Coaster - Unique to Universal Orlando Resort are the stomach-dropping roller coasters! Rip Ride Rockit is a blast for music lovers. Before you take off, you choose the music that will become the theme song for your coaster ride. Rip Ride Rockit features a 90-degree climb toward the sky - and what goes up must come down! Hopefully, you'll still be able to hear the music you choose when you're screaming your way through the air at speeds up to 65 miles per hour.

Things Unique to Universal Orlando Resort - Universal's Islands of Adventure
The second theme park presented by Universal Orlando Resort is Universal's Islands of Adventure. This destination offers comic book-inspired rides and attractions for the whole family. Your favorite storybook heroes and tales come to life in one of the "islands" of this theme park, which has been voted the number one amusement park in the world five years running by TripAdvisor.
Things Unique to Universal's Islands of Adventure
Hogwarts Express - As mentioned, Hogwarts Express makes a stop in Universal's Islands of Adventure. The Hogsmeade Station is located opposite Hogwarts Castle. Be sure to have Park-to-Park Tickets in order to ride the train either way between both of the Wizarding Worlds of Harry Potter in Universal Orlando Resort. The journey from Hogsmeade back to London offers a different experience as students head back to regular life after a school year at Hogwarts.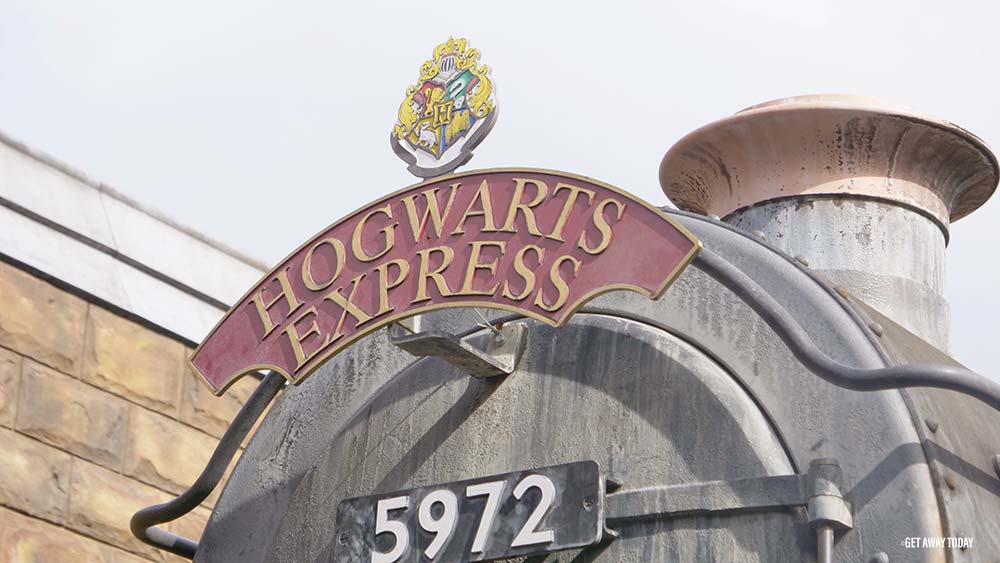 Hagrid's Magical Creatures Motorbike Adventure - The newest addition to Islands of Adventure is Hagrid's Magical Creatures Motorbike Adventure. And we can say from experience that it is an incredible ride that brings the Wizarding World to life! This thrilling roller coaster includes over one mile of track and reaches speeds up to 50 miles per hour. And did we mention you ride an actual motorbike? Yes! Taller guests will most-likely board the motorbike, while shorter guests will tuck into the attached sidecar. Lap bars secure both riders and then you're off at high speeds to encounter magical creatures in Hagrid's care. Hold on tight through daring turns and a sudden stop on the track. There may even be a drop, but we won't spoil the surprise as to where it is. As you race along on Hagrid's motorbike, be sure to listen to his instructions; there's a purple button between the handles on the bike and you'll need to push it at some point. This outdoor roller coaster is designed for riders 48 inches and taller.
You'll find the queue for this ride near the model Hogwarts Express engine in Hogsmeade. Since it's a brand-new ride, it is not eligible for Universal Express just yet. We promise it's well worth the wait, though!
The Incredible Hulk Coaster - You know how Hulk often hurtles through the air toward his intended target? This roller coaster is a bit like that. You're blasted along the track at speeds up to 67 miles per hour, on a mission from General Thaddeus Ross. Experience upside-down turns and rolls, all in the name of science!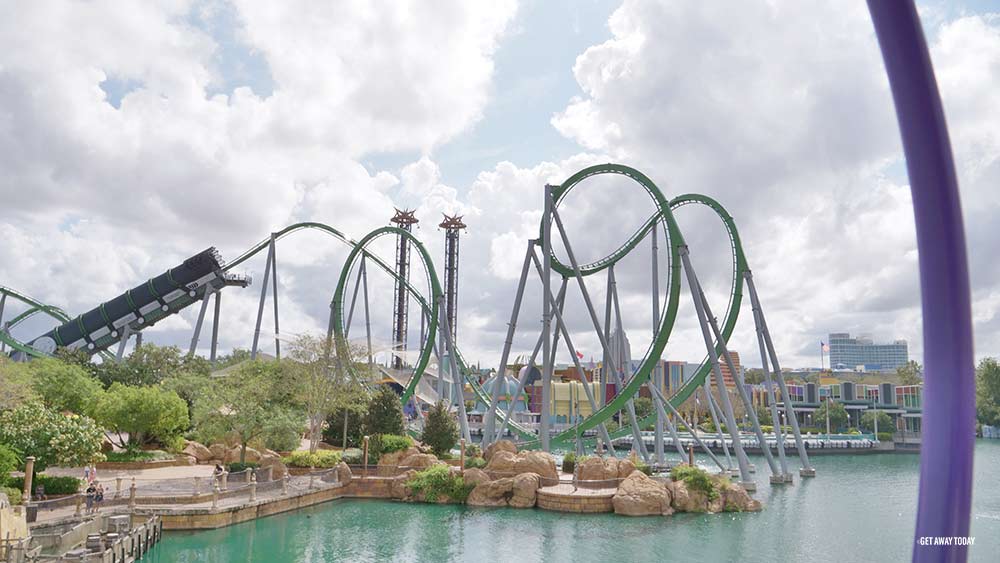 Skull Island: Reign of Kong - Another thing unique to Universal Orlando Resort is the indoor Skull Island ride. Combing 3D effects and motion simulation, this immersive journey takes you through a dangerous jungle journey! Eligible for Universal Express and suitable for riders 36 inches and taller, it's a heart-pounding ride for adventurers. Watch out for dangerous dinosaurs, creepy crawlies and Kong himself as your tour guide attempts to safely navigate the jungle. One tip: keep your mouth closed! You never know what might spray your way before Kong appears and begins battling some larger-than-life creatures.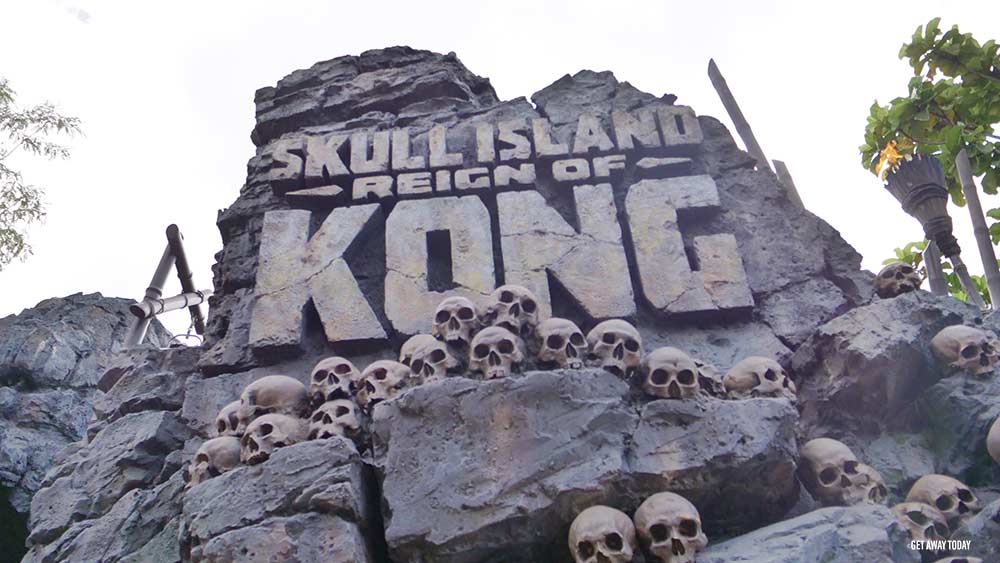 Seuss Landing - While Grinchmas Who-liday celebrations can be found in Universal Studios Hollywood, Seuss Landing is unique to Universal Orlando Resort. This candy-smelling land features beloved Dr. Seuss character meet and greets, kid-friendly coasters and nary a straight line in sight! Even the trees are whimsical, with many being rescues from natural disasters that were replanted at Universal in all their crooked glory. In Seuss Landing, you can enjoy Seuss-themed treats, a birds' eye view of the park on The High in the Sky Seuss Trolley Train Ride and even get a meal in a Green Eggs and Ham shaped restaurant.
Things Unique to Universal Orlando Resort - Universal's Volcano Bay
Volcano Bay Water Park is unlike any other in Orlando. Universal created a complete oasis right near the Interstate, but you feel worlds away once you enter. The fictional Waturi people reside in Volcano Bay, and you're invited to enter their world for lounging, swimming, splashing and adventure.
Volcano Bay features a towering man-made volcano at its center, around which all other rides, dining and activities revolve. The whole park is designed as a big circle, making it convenient to navigate. The volcano is home to a number or water rides, including Krakatau Aqua Coaster. This unique water coaster sits up to four people and is a daring journey down, around and through the volcano.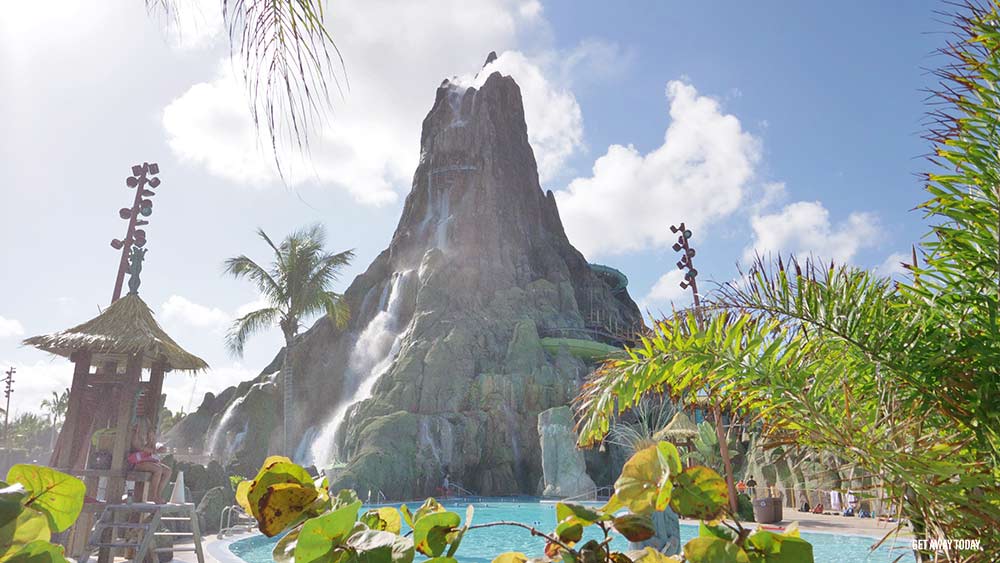 Other notable things unique to Volcano Bay are the TapuTapu bands, which make storage lockers, dining and rides more accessible than ever. You can learn more about TapuTapu bands and their function in the following blog article: Universal's Volcano Bay - 3rd Park FREE. These waterproof wristbands make your experience at Volcano Bay much more enjoyable since they take the hassle out of queuing for popular rides, among other things.
Universal's Volcano Bay is a unique water park because it is designed with amenities conveniently located throughout. There are four designated locker areas with bathroom, showers and changing rooms. You won't have to trek through the island paradise to access one main dining spot, either. You'll find snack stands and restaurants in numerous locations around the park's perimeter. And since TapuTapu bands can be linked with a credit card, you don't have to return to the lockers for your wallet every time someone needs a snack. Simply use your TapuTapu band to pay without the hassle!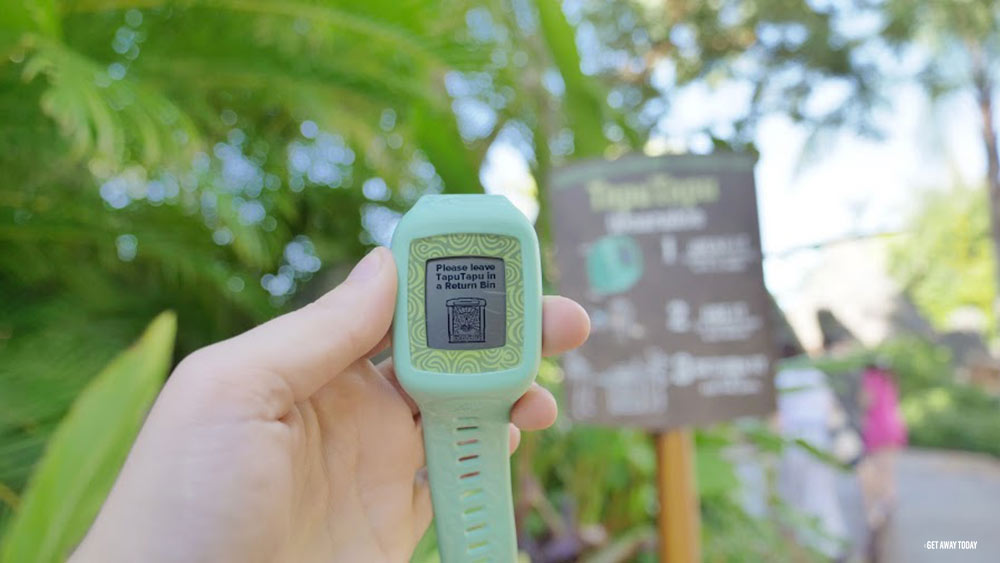 Whether you're visiting Volcano Bay for thrills or leisure, you'll find it all! With both a lazy river and a fearless river, family-friendly tube slides and body plunge drop-off slides, there's something for everyone.
Book with Get Away Today and Save
We are proud to partner with Universal Orlando Resort and its onsite hotels. Our relationships with destinations such as this allow us to provide the best deals and perks when you book your vacation package! You can view all discount Universal Orlando Resort options HERE or get information from a friendly travel expert by calling 855-GET-AWAY.