Traveling overseas is truly an experience of a lifetime. Europe is an incredibly beautiful place filled with such an abundantly rich history and so much to see and do. Packing for such a trip can seem like an overwhelming task, but it doesn't have to be! Here are our best tips and tricks to make packing a breeze:

Pack Light
It really can be done! Remember you'll walk with your luggage more than you think. Even if you rent a car, the trunk may be much smaller than you're used to. Ask yourself; do I want to haul around a lot of bags? Or, can I condense and fit everything into one carry-on size suitcase? The seasoned travelers will swear by packing light and taking only one suitcase or travel backpack. Having less luggage is so much easier to manage on trains, planes and long walks to hotels. Take a good look at your plans and itinerary and that should help you decide what you will need and how many bags to take.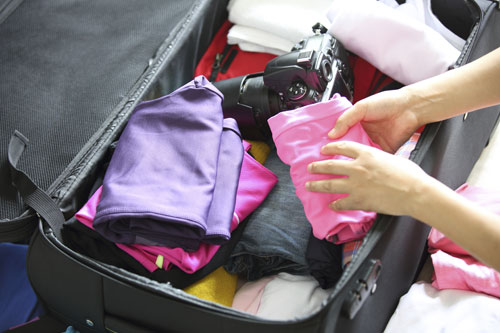 Luggage
It's important to begin with the right tools for the job. Invest in a really good suitcase. Get one that is durable, lightweight, and has excellent wheels. Get Away Today offers the perfect luggage for traveling! In addition to your suitcase, you'll need a really great tote or sleek backpack. I found this backpack on Amazon that was perfect and I really liked. This backpack is perfect for your purse / personal items, and it can become your market bag - perfect for those souvenir items you purchase. It can also act as a camera bag, a place for maps, a bottle of water and some snacks. You may even want to consider packing some basic essentials in this bag on your flight over (clean underwear, medications, etc.) in case your checked luggage is delayed. It is also good to consider a money belt to keep your cash, credit cards and passports secure at all times. And make sure to have bright colored luggage tags to make your bags stand out at the airport!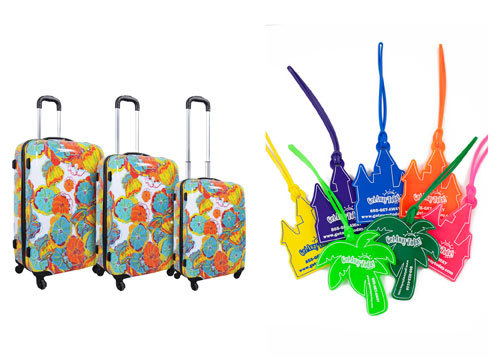 Packing Organization
I recommend packing in travel cubes or large zip lock bags. Packing this way helps keep your suitcases organized and protects your clothes from getting wet just in case your suitcase does. Cubes can help you keep your clean and dirty clothes separated as your trip progresses. Also, by removing excess air, you can compress your items and free up a lot of space.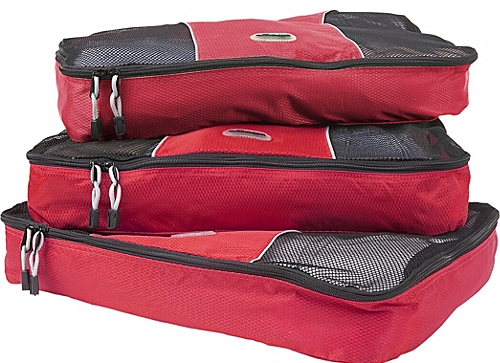 Photo courtesy of E-bags



Bathroom Items
Keep in mind that most hotels provide clothes irons and hairdryers. If you're like me and can't live without a curling iron or straightening iron, make sure the ones you take are dual voltage and compact, like this straightener I used. Buy small sizes of your shower supplies, or fill up little travel sized plastic bottles. Take only what you'll need for your trip. Your toiletries can take up a lot of space and weight, so only take what you can't live without. If you forget or run out of something you need, Europe has wonderful pharmacies and you can purchase anything you might need. Of course you should bring any prescription medications you might need, and it is also a good idea to bring a few doses of your most used over the counter medications. When you are feeling unwell, it is helpful to have something you are familiar with.

Converters and Adapters
Europe uses 220v electrical, so it is important that you have the right converter if your electrical items are not dual voltage. For dual voltage items, you will still need the correct adapters. We took these OREI adapters on our Europe trip and they worked perfectly! Remember to take adapters for each country you'll be visiting!
Photo courtesy of OREI



Clothing Care
It is important if you don't want to spend precious time at a laundry facility, that you bring supplies to wash clothing items in your hotel sink. I recommend a travel clothesline that will stretch and hang anywhere. This is perfect for drying clothes after you've washed them in the sink. Small travel size laundry soap and a sink stopper are also a must if you plan to wash clothes in the sink.

Clothing
Aim to dress like a local and not a tourist, but mostly plan your clothing to be neat, comfortable and appropriate for the culture and the environment you'll be in. Remember as you plan your wardrobe that some churches and cathedrals expect tourists to have knees and/or shoulders covered up. Check the weather and plan accordingly. A cardigan sweater is a must for chilly airplanes rides and cool evenings. A rain jacket is also a good idea, and you may consider bringing a collapsible umbrella.

Try color coordination when planning your outfits. Choosing a color scheme for the trip allows to you do more with less. Your clothing choices should mix and match with other items. Build your wardrobe around layers. You can mix and match various pieces and layer up or down based on the weather and the situation. Plan to wear each piece of clothing several times. Some basic clothing items can be transformed into evening looks with a sprinkling of stylish accessories. It is smart to pack wrinkle free fabrics, or fabrics with patterns that can hide wrinkles easily. Light weight, synthetic blend fabrics are great, and will most often dry overnight.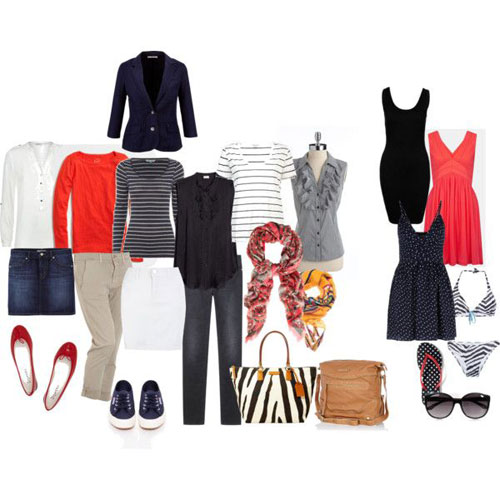 Photo courtesy of Polyvore




Shoes
Shoes are so important! Plan to take three pairs (including the ones you are wearing on the plane). Make sure your shoes are well broken in, comfortable and in good condition. You don't have to give up your style to be comfortable. There are a lot of good options for comfort and style that are not sneakers, like Ecco. Try to trade off which ones you wear, so your feet have something different each day. It's always a good idea to have some Band-Aids on hand, just in case of blisters. Flip-flops are a good idea to wear in the bathrooms and showers.

Sample Europe Packing Checklist (based on a 10 day trip to Europe)

- Underwear and socks for every day
- 3 pairs of comfortable shoes
- 3 bottoms (1 pair of shorts, 1 pair of lightweight cotton pants, 1 pair of jeans)
- 6 tops (long and short sleeve options, depending on your location and the time of year you are traveling)
- Pajamas / lounge wear
- Lightweight athletic wear (if you are planning to be adventurous)
- 1 jacket with hood
- 1 scarf for women and/or 1 tie for men
- 1 cardigan sweater
- 1 dressy outfit
- 1 swimsuit, cover-up & flip flops
- Accessories – belt, jewelry, hat
- Money belt
- Money and debit/credit cards
- Documents – ID, passports, itinerary and confirmation numbers
- Electronic device for music, entertainment, reading, journaling, emails, mapping software, alarm clock, etc. Remember the charging cord too.
- Adapters
- Headphones
- GPS system
- Bathroom and personal items
- Sunscreen
- Freshen up kit for airplane: travel toothbrush & paste, deodorant, make-up refresher kit (good for those long flights)
- Protein bars, nuts and healthy snacks
- Energy drink packets
- Laundry soap, sink stopper and clothes line
- Bathroom towel and washcloth
- Medications, vitamins and small first aid items
- Hand sanitizer and sanitizing wipes
- Chewing gum, mints, chap stick, lotion, tissues, nail clippers
- Ear plugs, eye mask and neck pillow
- Contacts, eyeglasses and sunglasses
- Ziploc bags
- Camera, extra memory cards, batteries and charger
- Water bottle, and possibly a washable plate, fork and knife
- Sheet and pillow case (depending on your accommodations)

Keep in mind this list is just an example of things to take. It will be up to you to customize it based on your needs, locations and season.

We are the travel experts for wherever you want a vacation to take you. We specialize in guided tours and would love to help you plan your European adventure! You can piece together your Europe trip online or call us at 855-GET-AWAY and let us share our insider secrets and knowledge with you. We are excited to help you plan the trip of a lifetime!

Check out these other great articles: