There's no question that vacations are a ton of fun whether you're exploring a new place for the first time, or revisiting a favorite vacation destination, like Disneyland. No matter how many times you've visited a destination, it's nice to have some insider tips from a local to really experience the area. You can travel like a local with these helpful travel apps for your smart phone. You will never have to worry about taking a wrong turn, finding a gas station, locating a tasty restaurant, or waiting in long lines at the theme park. The right apps on your phone will give you the confidence you need to really experience the best of the place you are visiting. I put together a list of some of the most popular apps for road trips, so you can transform yourself from a tourist to a local with the touch of a button!
iEXIT
This app is the perfect companion for driving on a road trip. You will never have to wonder what exit to take off the freeway for lunch, gas or a bathroom break. The app tracks where you are on the freeway and lets you know what is coming up on the next exit. You can program it to be pretty specific. For example, if you are looking for a certain restaurant or kind of gasoline, just let the app know and you will be notified what exit to take. It is sort of like a GPS, but way cooler. Consumer Reports said, "iExit helps take the guesswork out of road trip pit stops."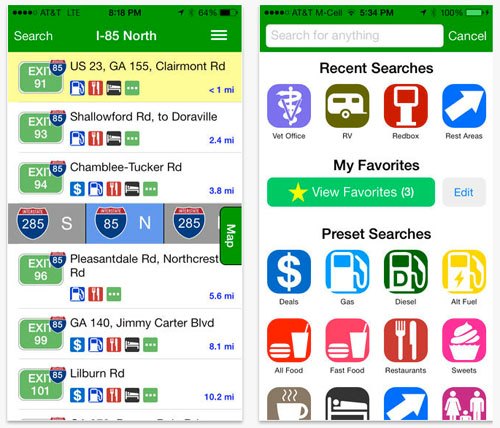 Image Credit: Apple App Store
Roadtrippers
If you are interested in making your drive more informative and entertaining, then the Roadtrippers app is the one for you. It will give you ideas for places to stop that are along your route or it may suggest an alternate way to get to your destination that includes more exciting roadside attractions. You would be surprised at the fascinating things that are part of a great American Road Trip. You might end up visiting an abandoned theme park or snapping a family photo in front of the world biggest ball of yarn. Life isn't always about the destination. Make the journey part of your fun.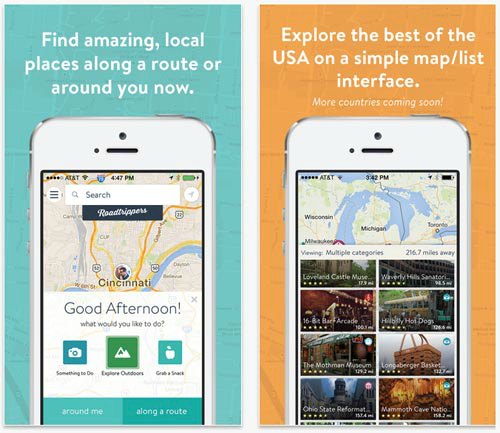 Image Credit: Apple App Store
OPEN TABLE
Since traveling makes everyone hungry, it is nice to have advice on where to eat. If you want to step off the beaten path and try some local restaurants, then Open Table is a great app to put to use. You can browse local restaurant menus to see food options and pricing, and even make a reservation right from your phone. When you make a reservation with Open Table, you can earn points that can be redeemed for restaurant gift checks. It's awesome. Yelp and Trip Advisor will have more local reviews, but don't offer a rewards system or tie directly into the featured restaurants reservation system. You don't have to be nervous picking a place to eat when you are armed with menu photos and open, honest customer reviews.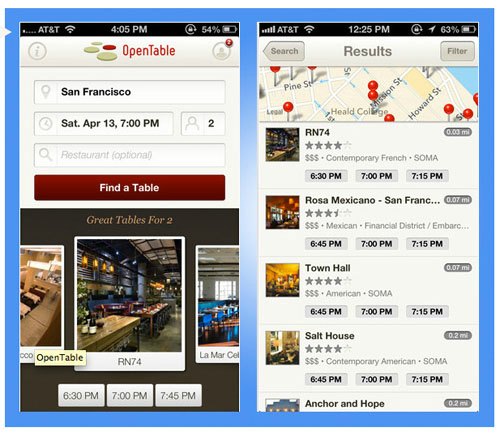 Image Credit: Apple App Store
Trip Advisor Offline
One of my favorite resources for planning a vacation is Trip Advisor. The app is just as helpful as the website. It will tell you the most popular attractions (and restaurants) for the area you are visiting. There are links to websites and thousands of customer reviews. The nice thing about Trip Advisor Offline is that you can use the maps and driving directions even when you are out of your service area, just save them to your account before you head out.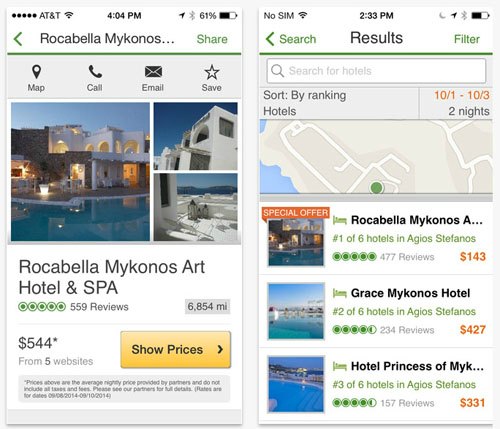 Image Credit: Apple App Store
Trip-o-matic
Trip-o-matic is like having a mini travel agent in your back pocket. You can build a customized trip for any major travel destination. Plug in a little information about yourself and the app will generate a perfect customized trip for your situation. Of course, we like to think that we're kind of like a mini travel agent in your back pocket as well, so always be sure to ask your agent for personalized advice and recommendations.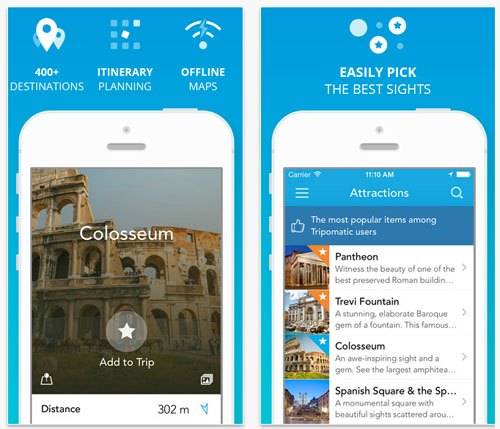 Image Credit: Apple App Store
Post a Gram
It is fun to share your vacation memories with family and friends back home. Post a Gram takes virtual images from your phone's camera and creates an actual postcard that is printed and mailed to wherever you want it to go. It makes a perfect souvenir and is a great way to include other people on your travel adventures. You can even send one to yourself as a welcome home present when you return! Besides, if you're making your own postcards, you're not shopping for them like a tourist - and that's very local.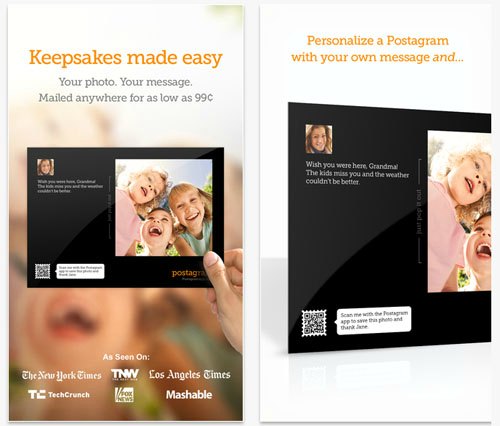 Image Credit: Apple App Store
Sleep Pillow
Sometimes it is hard to get proper sleep in new places, and if you were a local, you'd of course be sleeping in your own bed. The Sleep Pillow App is the next best thing and rated extremely high in the white noise category. There is a huge selection of ambient sounds to choose from to help you have a restful night. A good night's sleep is important to help you get the most out of your vacation. It is a perfect app to have on hand for families with small children that need to take a nap during the day or go to bed earlier than the rest of the group at night. Happy kids make happy parents!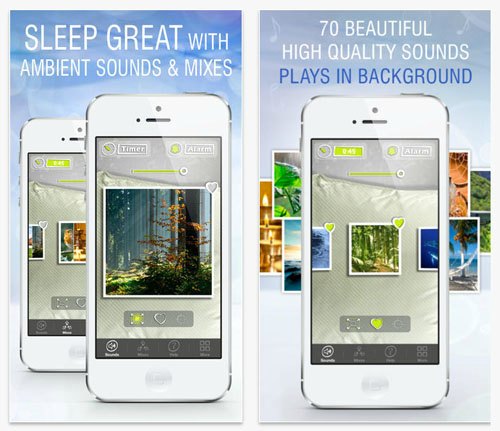 Image Credit: Apple App Store
Walkee iGuide to Disneyland & Hidden Mickey
If you are traveling to Disneyland, it might be wise to download the Walkee iGuide to Disneyland, especially if you are a first timer. You will be able to plan a route through the park, find dining spots and get alerts on the best wait times on popular attractions just like the pros. My favorite feature is the Hidden Mickey guide. There are hundreds of hidden Mickeys throughout the Disney parks. If you have been to Disneyland many times, searching for Hidden Mickeys is a fun way to find something new each time you go.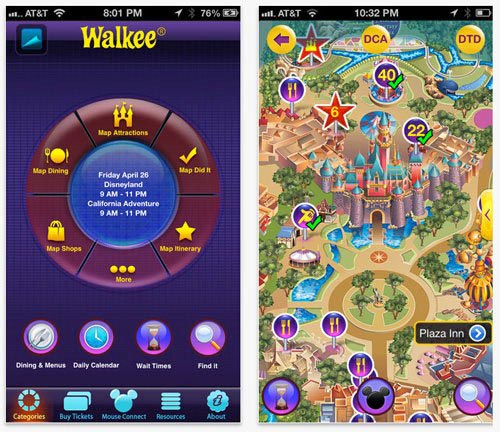 Image Credit: Apple App Store
There are many apps that can make your vacation a breeze, but even the best apps can't replace the benefit of a knowledgeable travel agent. We visit the Disneyland Resort and other top vacation destinations like the Caribbean, Mexico and cruises regularly so we can give you our first-hand recommendations. We are always happy to help plan and reserve the perfect
Disneyland package
or vacation destination. Our staff is waiting to help you prepare for your family vacation! Book online or give us a call at 855-GET-AWAY.
Check out these other great articles: