Best Western PLUS Anaheim Orange County Hotel in Placentia - Great accommodations, great price
"Stayed here for 6 nights to go to Disneyland, Knott's Berry Farm and Universal Studios. The quality and price were great. The breakfast was a hit for the kids and saved some eating out money. The staff were very friendly and helpful. I would definitely stay here again. It is close to all Anaheim parks but you will need a car as there is no shuttle or bus transit to Disneyland. It is about a 15 minute drive to the Anaheim parks which was great for my family. Get Away Today is a great deal all the way around and I will definitely use them again to plan my next vacation."
-Brian P.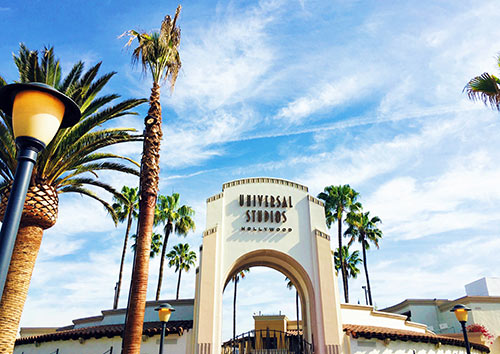 The Tropicana Inn & Suites - Perfect location.
"The hotel was clean and everyone that works there that we encountered were very helpful and friendly. We would stay there again without hesitation. We also like that there were lots of restaurants close to chose from."
-Shannon P.
Fairfield Inn Anaheim Resort - Great family hotel.
"Before I booked this hotel, I contacted the hotel directly. They DO allow 6 in the 2 Queen and sofa bed room as long they were young children. The hotel was actually trying to book my family for that room at a much higher price than I could get from Get Away Today. We weren't in the room much, but when we were it was quiet and comfortable.The beds had a soft pad that made them more cozy! A huge shoutout to the cleaning crew! They were amazing!! We had a room on the first floor right across from the pool and I was worried it would be loud at night, but they cleared out the pool at 10 pm on the dot every night. It's very close to the Disneyland Resort and had an awesome view of the fireworks! We would definitely return and suggest this hotel! Dad, Mom, children ages 10, 8, 3 and 20 months. Thanks Get Away Today for helping us make this dream vacation a reality for our family!!!"
-Ilene M.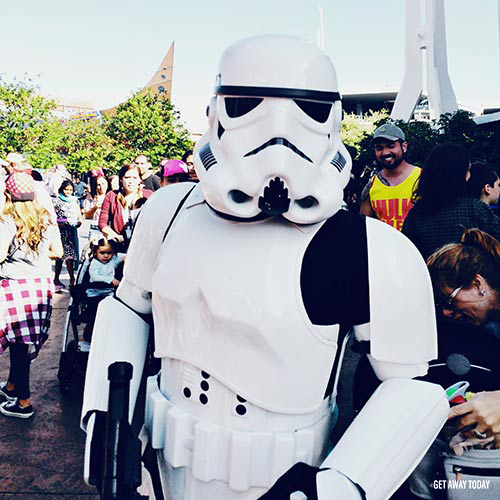 Castle Inn & Suites - Perfect location!
"I love this hotel! It's inexpensive, but of high quality. It's a 5 minute walk to the park. The staff is very friendly and helpful and they do a great job at keeping the rooms clean. The outside looks a little outdated, but the rooms are very nice. I stay here every time I go!"
-Baylee J.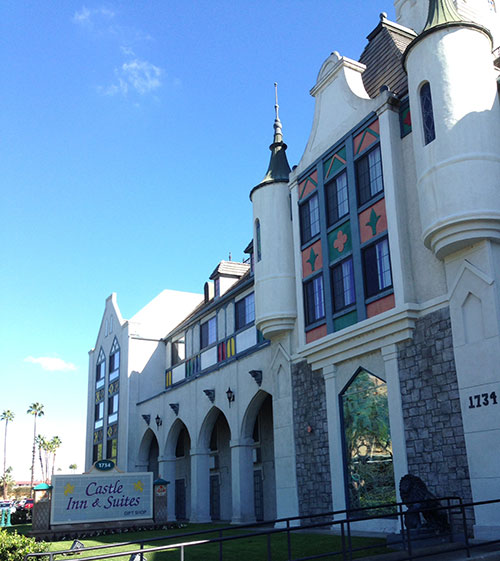 Howard Johnson Plaza Hotel - Best value!
"We were in building 2 on the 3rd floor. It was very quiet and my kids loved the pool. My kids are 7 and 10 so we didn't spend much time in the kids water play ground. It's more for toddlers to maybe 6 years old, so my 10 year old was over it quickly. The hotel room had a fridge where we were able to store our waters and snacks in which was nice. Also, other than one stain on the floor, the room seemed clean. I'm not that picky and this hotel delivered. I was comfy. We walked to Disneyland and it wasn't horrendously far. After a long day walking around Disneyland I did want a closer hotel, but we made it and the kids didn't think it was that far. They are much more resilient than I am. I do think that this is the nicest closest hotel there is for the best price. All around best value! Yes you can get a cheaper, closer hotel but it won't be as nice. And yes, you can get a nicer closer hotel but it won't be as cheap. Good Job HOJO!"
- Arcelia R.
At Get Away Today we pride ourselves on being Anaheim area hotel experts. We tour our hotels annually as part of our staff training, we stay at them when we visit Disneyland personally, and we regularly check-in with our guests to get their feedback during their trips and when they return. We love hearing about how much our guests loved their stay at our Anaheim area hotels!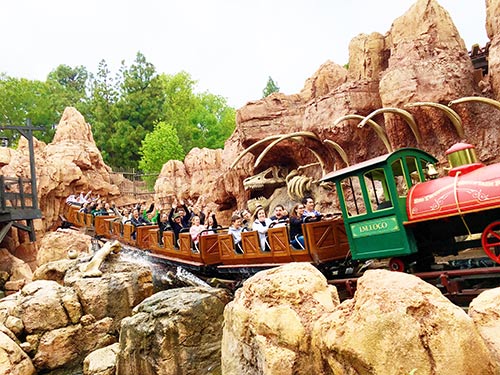 Let Get Away Today find the perfect hotel for your Disneyland vacation! You can book any of our Disneyland packages online, or you can call our agents for personalized recommendations at 855-GET-AWAY.