Airports are an exciting place! There is a certain energy that comes alive with the hustle and bustle of people coming and going. Air travel is a fast and convenient way to get to some of our favorite family vacation destinations. Kids love to fly. The rush of the airport can be quickly diminished, however, when the word "delayed" is displayed on the screen or announced over the intercom.
When flights are delayed, wiggles and whines can be hard to manage. Help the time fly by with these classic paper and pencil games. No electronic devices are necessary to provide lift-off from airport boredom.
There are a lot of games that you can play with your kids. These are four of our family favorites. You've probably played most of them, but it's amazing how quickly we forget the basics when we're bombarded by every day life! You can pack a clipboard and paper, or just grab a couple of cheap notebooks. Even if your flight isn't delayed, these make great in-flight games and you'll be glad you came prepared!
The Grid Game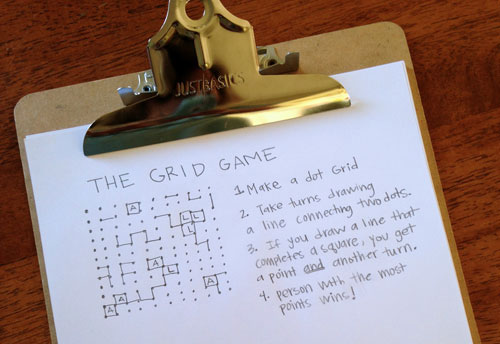 1. Create a dot grid on a piece of paper. You can make the grid as big or little as you would like. Let your kids make the dots. This is part of the fun!
2. Alternate taking turns drawing a line from one dot to another. The lines should either be horizontal or perpendicular. No diagonals.
3. If your line is the fourth line in a square, forming a box, then you get to put your initial in the box and claim a point. And, you get to take another turn.
4. The person who has formed the most boxes at the end of the game wins!
The Crazy Animal Zoo Game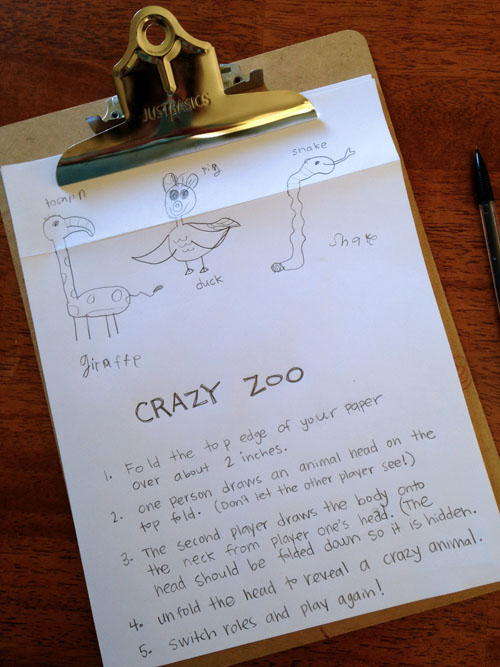 1. Fold the top edge of your paper down. (About 2 inches)
2. One person secretly draws an animal head onto the folded piece of paper. It can be any animal. Make sure to make the neck connect where the paper is folded.
3. Fold the head under, so that only the neck is visible.
4. The second player draws an animal body onto the neck.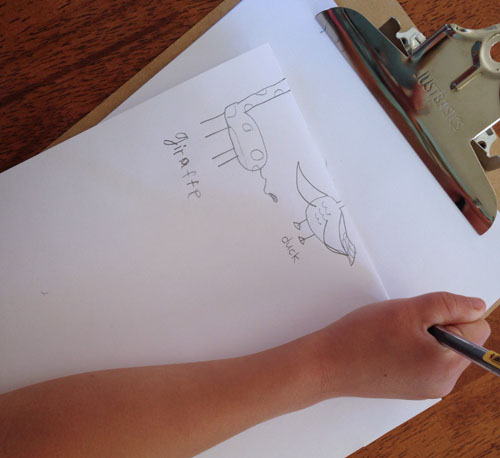 5. Unfold the paper to reveal a crazy animal!
6. Take turns alternating between drawing heads and bodies.
Hangman
1. Draw the hangman platform and think of a word or phrase for the other players to guess. Draw the letter space markers onto the paper. Use words or phrases that have to do with your vacation to make it more fun!
2. The other players guess letters, one at a time. Correct letters are placed in their spot in the word or phrase. Incorrect letters go under the platform and cause a "body part" to go on the hangman.
3. The "it" person wins if the hangman is hung - if he gets a head, body, two arm and two legs. If the word or phrase is guessed before the hangman gets all his parts, then the other players win!
Tic Tac Toe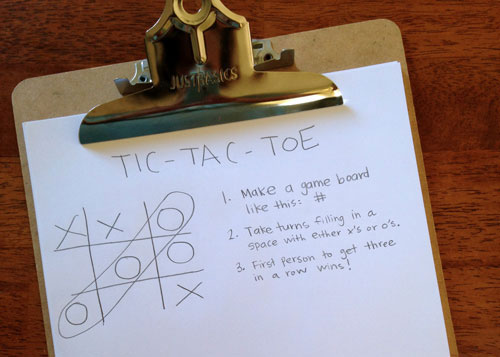 1. Make a game board. It looks like the number symbol (or hashtag to tech-savvy kids).
2. Take turns filling in a space with either an X or an O.
3. The first person to get three in a row wins! If nobody gets three in a row, then it's a tie game and you get to play again.
These classic games have entertained children for generations. When you are finished playing with your sheets of paper, you can use them to make paper airplanes. Just because your plane is delayed, doesn't mean you can't have fun flying!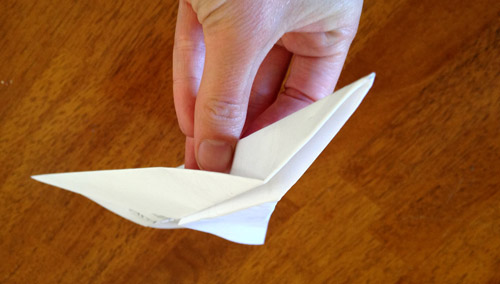 At Get Away Today, we love making vacation dreams come true - before, during and after your vacation! We do this by offering the lowest rates, sharing our best travel tips and following up with you during and after your trip. We'd love to help you plan your next vacation.
Book online or call any of our vacation experts at 855-GET-AWAY.

Check out these other great articles:
How to Never Pay a Checked Bag Fee
Traveling With Kids: Easy Packing Tip
Top 10 Road Trip Tips for Happy Families