It is officially road trip season! Spring breaks are here and warmer weather is on the horizon. When you are traveling with kids it is always nice to have a few games up your sleeve to help the miles on the road pass quickly. I put together a list of 6 No Prep Road Trip Disney Games for Families. These games are completely free and don't require any advance crafting or planning. I gave them a Disney spin, because most of our guests are headed to the Happiest Place on Earth. But you can customize them to fit any vacation destination!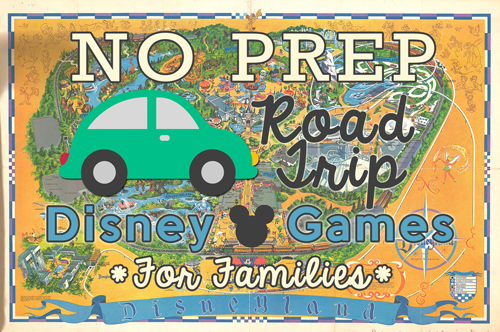 Name That Tune
In this musical game, the players have to guess the Disney song. One player thinks of a song from a Disney movie then they hum the tune aloud. (Don't sing the words, just hum.) The rest of the group has to race to shout out the name of the song. The first person to guess correctly gets to pick the next song and perform it for the group.
Disneyland Packing List A TO Z
This game is a memory building game for the whole family. To start, the first player says, "I am going to Disneyland and I am packing a..." then they insert an item that starts with "A" that they would pack for Disneyland. For example: "I am going to Disneyland and I am packing an Anna Doll." Then the next person in line adds on something that starts with the letter "B." They would say, "I am going to Disneyland and I am bringing an Anna Doll, and a Backpack." The play continues and each player has to add an additional item to the list in alphabetical order. The trick is to remember what everyone has already started packing. You will be surprised how well even young children can do at this game.

A variation would be to say, "I am going to Disneyland and I hope to meet.." Then, state a Disney character. There are so many to choose from! (I couldn't find a character that starts with the letter X, so you can skip that one.) For example, "I am going to Disneyland and I hope to meet Anna, Beast, Captain Hook, Dumbo, Elsa, Flik, Giselle..." Keep adding characters, taking turns, until you are through the entire alphabet.
Ride Swap
This game will get you excited to ride all your favorite attractions at the Disney parks! It will take some serious thinking though. To play, have a player say the name of a ride at Disneyland or Disney California Adventure. Then, the next player has to think of a ride that starts with the ending letter of the ride stated. For example: If the player says, "Big Thunder Mountain Railroad." Then, the next player in line has to think of a ride that starts with the letter D. They could say, "Dumbo the Flying Elephant." Then the next person would have to think of a ride that starts with T because the word elephant ends with a T. My favorite ride at California Adventure starts with T, "Toy Story Mania!" If you have younger kids, it might be best to play this game as a group instead of as individuals.
If you get stuck, you can do a quick cheat using this awesome alphabetical list of rides that Disney provides on their website. The list also includes rider heights and ride descriptions so you can figure out what attractions will be best for your family situation.
Letter Search
When we are traveling I sometimes tell my kids to find the letters in their name using billboards, store signs, semi truck advertisements, or anything that has letters on it! They love spelling their names, and sometimes we even make it a race. You can do a variation of this concept by spelling a Disney name or item. Let one person pick the object-- maybe it is Mickey Mouse, Disneyland, or magic wand. Then, race to find all of the letters to spell it. You can make the rule that you have to find the letters in order if you want to make it extra challenging. If you have younger kids, it is OK to play as a group instead of individually.
Plate Collection
One thing that most road trips don't lack is a view of other cars. Put those cars to use with this license plate collection game. This activity is an ongoing game to play during your whole road trip. See how many states you can find by looking at other travelers' license plates. It is fun to see if you can find someone from each state in the USA. You will most likely need to keep a list on a piece of paper or on your phone to remember what you have found. One of my favorite things to do is look while you are in the Disneyland parking lot. I wouldn't be surprised if you could play this game and win just walking through the cars parked at Disneyland!
Who Said It?
Have your kids watched the same Disney movies over and over again? I bet they can almost quote them line by line! Put them to the test with this "Who Said It" game. State a line from a Disney movie and then let them guess who is the character that said it.
For example:
"I've always wanted a nose!" - Olaf
"Do you trust me?" - Aladdin
"On a scale of one to ten, how would you rate your pain?" - Baymax
"They just can't get my nose right." - Flynn Rider
There are a ton of great quote lists online if you need help remembering some of the best ones! Just make sure you have cell service if you need your smartphone for this one. I can't believe how inspiring most of the Disney characters are. They have some wise words of advice to give.

I hope these simple and fun No Prep Road Trip Disney Games for Families will help make your upcoming Disney vacation a little bit more magical. The best tip of all for a carefree road trip is booking with Get Away Today. We have everything you need to make your vacation the ultimate getaway! From the best deals to our best tips for experiencing the Happiest Place on Earth and everything in between, Get Away Today is your one stop shop for all things Disney. Book your
Disneyland package
online or call our travel experts at 855-GET-AWAY.

0