UPDATED MARCH 2019 Changes are coming to the Walt Disney World Resort. Check out everything we know about the upcoming Disney World changes, including several new ride announcements.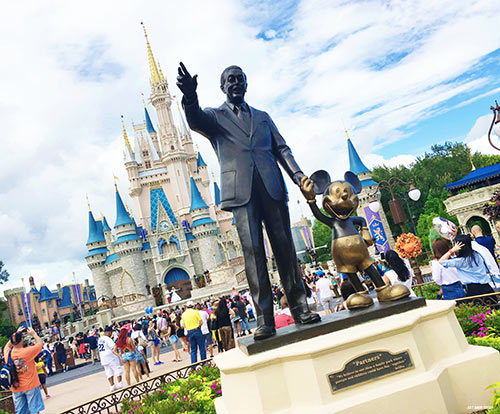 Disney World, and Disney Parks in general, have always focused on evolving to provide the most magic for their guests. The 2017 D23 Expo reinforced that concept of evolution, by announcing some massive Disney World changes. We're more than excited to share all of those changes with you today. We've broken the changes down by the year they are occurring, with an added section for Disney World changes that currently have no confirmed completion date.
This article is focused only on the changes coming to the Walt Disney World Resort. If you're looking for information on D23 announcements about the Disneyland Resort, head over to our article detailing the changes coming to Disneyland. We recommend reading both so that you know everything there is to know about what's coming to both Disney Parks!
Without further ado, here are all of the upcoming Disney World changes:
2017 Disney World Changes
New missions at Mission: SPACE in Epcot. Mission: SPACE will re-open on August 13, 2017. The ride has been under refurbishment to add brand-new missions. The new Orange Mission, for the bravest of the brave, will let you experience the force of a space launch to Mars. If you prefer a less intense mission, try the new Green Mission. This family-friendly experience will take you on an exciting journey orbiting around Earth. On top of the new missions, younger astronauts can now ride. New booster seats have been added to allow children 40 – 44" to ride.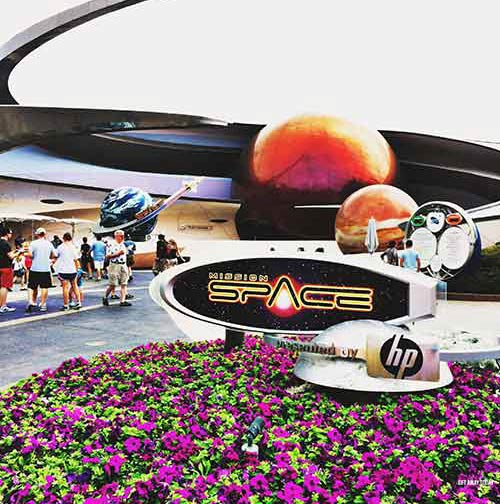 Universe of Energy closing in Epcot. Currently home to Ellen's Energy Adventure, the Universe of Energy will be closing on August 13, 2017. We are sad that the lights will be going out on Ellen's Energy Adventure, but know that the future of Universe of Energy will be bright. That's right, the area will be re-opening with a brand-new theme! Read on to find out about the 2021 Disney World changes, including what the Universe of Energy will become.
The Great Movie Ride closing in Disney's Hollywood Studios. The iconic ride will be closing on August 13, 2017 to make room for a new attraction. While we will miss all of our favorite movie scenes on the Great Movie Ride, we're excited for the building's future. Check out the 2021 Disney World changes below to see what attraction will be replacing the Great Movie Ride.
Point-to-point transportation system across the resort. Those staying at Disney's BoardWalk Resort and Disney's Yacht & Beach Club Resorts can now take advantage of Minnie Vans. The Minnie Vans will take you anywhere you need to go in the Walt Disney World Resort at the cost of $20 per trip. Each van fits up to six guests and has car seats available for the littlest of guests. While this is currently only available for guests staying at the BoardWalk and Yacht & Beach Club Resorts, we're excited to see what other transportation changes come to Disney World.
2018 Disney World Changes
Toy Story Land in Disney's Hollywood Studios. Walt Disney World continues to add more and more fun to their parks. Toy Story Land in Disney's Hollywood Studios is no exception. The park, opening in summer of 2018, will include two new attractions. The first will be the Slinky Dog Dash, a family coaster that will have you zipping and dodging around like a slinky toy. The second will be the Alien Swirling Saucers. The themed attraction will feature aliens in flying saucers trying to catch your own rocket toy vehicle with "The Claw." The concept art looks amazing – in fact, this is one of the Disney World changes we are most excited for!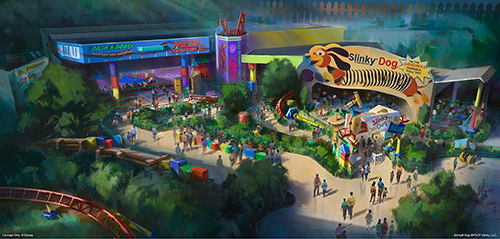 Photo Courtesy of the Disney Parks Blog
2019 Disney World Changes
Star Wars: Galaxy's Edge in Disney's Hollywood Studios. This may be one of the most popular Disney World changes of all. We've all known that Star Wars Land is coming to Disneyland May 31, 2019 and Disney World August 29, 2019. D23 revealed that the official name of the immersive lands will be Star Wars: Galaxy's Edge. They also shared even more about what the land will entail for guests. You can check out our article detailing those here: Everything We Know About Star Wars Land in Disneyland. While the article does feature Disneyland, Star Wars Land in Disney World will be identical, just with a different park location and opening.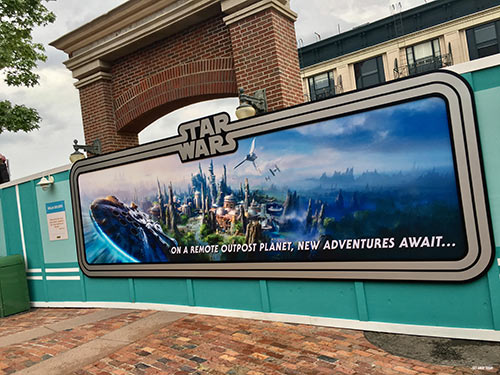 2021 Disney World Changes
It's important to note that the following changes may be seen sooner than 2021. No dates were announced at D23, but Disney did share that these Disney World changes would be complete for the park's 50th anniversary in 2021. As always, we'll update you as soon as we know official dates.
Guardians of the Galaxy attraction in Epcot. Remember how the Universe of Energy attraction at Epcot is closing this year? It's because the attraction will become the first Guardians of the Galaxy ride in Disney World! Based on the success with Guardians of the Galaxy – Mission: BREAKOUT!, we are pretty confident this new ride will be a hit. No details have been released about what the ride will entail, except that the Guardians have chosen to land in the park since Peter Quill visited Epcot as a kid. We're sure families will enjoy this ride and consider it one of the most anticipated Disney World changes to come.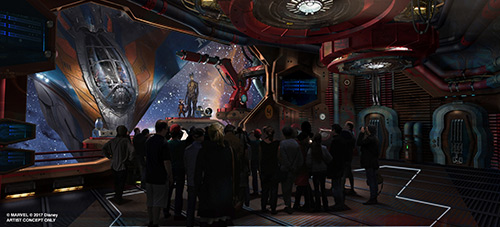 Photo Courtesy of the Disney Parks Blog
First ever Mickey-centered attraction in Disney's Hollywood Studios. The first ever Mickey Mouse-themed attraction will be opening in Disney's Hollywood Studios where the Great Movie Ride currently stands. Once the Great Movie Ride closes - August 13, 2017 - the construction will begin on Mickey and Minnie's Runaway Railway. The attraction will feature a new experience called "2 ½ D" where no glasses will be required, but the flat world of cartoons will be no more. We're so excited to see Mickey and his pals come to life at Mickey and Minnie's Runaway Railway!
Ratatouille attraction in Epcot. Epcot will be getting two new attractions by 2021. In addition to the Guardians of the Galaxy Ride, Epcot will also be adding a Ratatouille attraction to its France pavilion in the World Showcase. The ride will be modeled after the Ratatouille attraction in Disneyland Paris that guests have loved opening in 2014. Disney hasn't released much more, but we do know we'll be able to shrink to Remy's size and experience Gusteau's restaurant like never before.
Photo Courtesy of the Disney Parks Blog
New film at the China pavilion in Epcot. Guests have always loved the 360-degree film showcasing China at the World Showcase pavilion in Epcot. Disney is currently working on a brand-new film that will feature new technology. Guests will be able to appreciate the majestic country even more when the new seamless Circle-Vision show is revealed. We love the current show, but can't wait to see the beauty of the country reflected in the new footage.
Tron attraction in Magic Kingdom. Talk about big Disney World changes! D23 confirmed the whispers we've been hearing for quite some time; a Tron attraction is really coming to Magic Kingdom. The Tron attraction at Shanghai Disneyland is the highest-rated attraction out of all the Disney Parks, which is why we were so thrilled to hear it's coming to Florida. Disney also shared that the ride will be placed next to Space Mountain, meaning no other rides will be closed to make room for it. Gaining a new ride without losing one is always a plus!
Photo Courtesy of the Disney Parks Blog
Future Disney World Changes
The following Disney World changes were announced without mention of specific dates, or that they would be open in time for the resort's 50th anniversary. We hope these Disney World changes come sooner rather than later, but will make sure to update the article as soon as we hear more.
Star Wars-inspired immersive hotel experience. We definitely felt The Force when plans were revealed for a Star Wars-inspired resort in Disney World. The property will not only be themed, but will include an immersive experience like no other. Disney hinted at the Star Wars story touching every minute of your day, including opportunities to dress in galactic attire and take part in adventures unfolding around you. This is just the beginning of the new Disney 360 vacation concept, which we hope brings even more Disney World changes down the line. After all, there's so many Disney stories that deserve their own immersive hotel!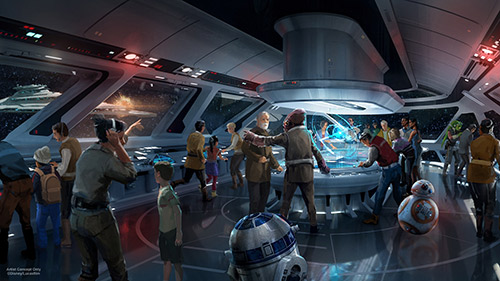 Photo Courtesy of the Disney Parks Blog
Willis Theater in Magic Kingdom. Do you love Frozen – Live at the Hyperion in Disneyland? You should be excited for this future change at the Magic Kingdom then! A new theater, inspired by the Willis Wood Theater in Kansas City, will be built in the coming years. While no shows have been announced, Disney did mention it was the perfect venue to pursue world-class entertainment similar to the Frozen show in California. We can't wait to hear more about this theater and the shows it will feature.
Disney Skyliner transportation system. Disney World transportation options are continuing to expand, with the ultimate goal of guests being able to travel between parks as quickly as possible. This new transportation system, known as the Disney Skyliner, will be one of those expansions. The gondola-like system will have character-themed cars and provide a bird's-eye view of the resort. It is currently set to connect Disney's Art of Animation, Pop Century, Caribbean Beach resorts and more with both Disney's Hollywood Studios and the International Gateway at Epcot.
Photo Courtesy of the Disney Parks Blog
As you can see, there are so many changes coming to the Walt Disney World Resort. We are so excited for all of them, but especially to see so many new attractions and experiences coming. Make sure to check back frequently as we will continue to update this article with new information like opening dates or even more changes. Which of the Disney World changes are you most excited for? Let us know in the comments below.
You can book your 2017 or 2018 Disney World trip right now! Book an of our Disney World packages online or give our Disney experts a call at 855-GET-AWAY. A trip to Disney World is always a treat, especially with all the fun changes coming.

Check out these other great articles: