Beauty and the Beast is a classic Disney tale that everybody loves. Your kids will surely love it even more when you surprise them with a trip to Disney with our adorable Beauty and the Beast printable!
The story of Beauty and the Beast is a tale as old as time. It has adventure, comedy, and of course a little bit of romance! When the last petal of the enchanted rose begins to fall, it seems that all hope is lost for the Beast. True love proves to be more powerful than even the strongest of spells and Belle is able to save her prince. Celebrate their happily ever after with this Beauty and the Beast printable and a Disney vacation surprise!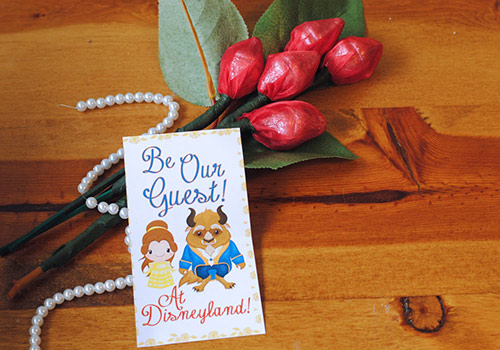 You can create your own happily ever after moment for your family with this Beauty and the Beast printable to announce your Disneyland vacation. Make enchanted memories and find adventure in the great wide somewhere at the Disneyland parks. You can watch Beauty and the Beast perform their delightful story live on stage at the Royal Theatre in Fantasy Faire. Belle and the Beast can also be met in the Royal Hall. Get your autographs books ready, because they aren't the only famous couple you will run into during your visit.
We also have a version of our Beauty and the Beast printable that can be used to announce your Disney World vacation surprise. You can dine in the Beast's castle at the Be Our Guest restauarant and even meet him after your extravagant meal. Stop by Belle's cottage to help her re-tell the classic story or go to Gaston's Tavern for a taste of Lefou's Brew. Keep your eyes open and autograph books ready in this provincial town of Fantasyland!
Creating an enchanted rose doesn't require fancy spells or fairy magic. It just takes a few minutes to transform a tasty chocolate treat into a sweet floral Disneyland or Disney World vacation announcement. Add the Beauty and the Beast printable and you'll be sure to enchant your little prince or princess with this simple and fun surprise!
You wil need:
Hershey's Kisses
Red Sheer Fabric
Floral Tape
Green Floral Sticks
Scotch Tape
OR
Tape two Hershey's Kisses together by placing a rolled piece of scotch tape between them.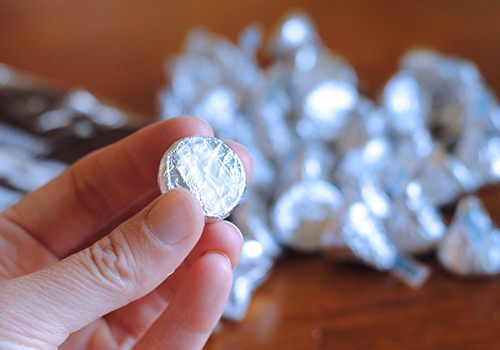 Cut the red fabric into 5x5 inch squares. Wrap the fabric around the kiss, placing the point of the candy kiss in the center of the square. I found this sheer red fabric at the fabric store in the fancy dress section. You will only need a small amount for this project. 1/4 yard will be sufficient!
Place the green wooden floral stick into the twisted ends of the fabric. Then, wrap them tightly together using the green floral tape. Florist tape gets sticky when you stretch it. So, make sure to pull tightly when you wrap.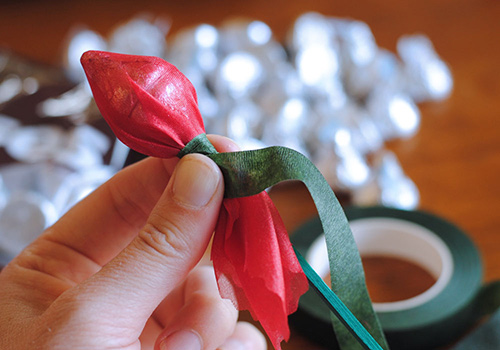 Continue wrapping the stick until all of the fabric is covered. Rip the tape off of the roll and stick the edge down onto the floral stick to finish it off nicely.
You can leave your creations as beautiful single enchanted roses, or combine the chocolate flowers in groups with plastic leaves to make a bouquet. I added a few stems of leaves and connected them together with the florist tape.
Next, print the Be Our Guest! printable from the file given in the list of materials. Make sure to print the front and back onto the same paper so that when it is folded, it makes a card. Each page has four cards. Cut them out and then fold the cards in half. There is a Beauty and the Beast printable version for Disneyland and an option for Disney World as well. Choose the appropriate file for your destination.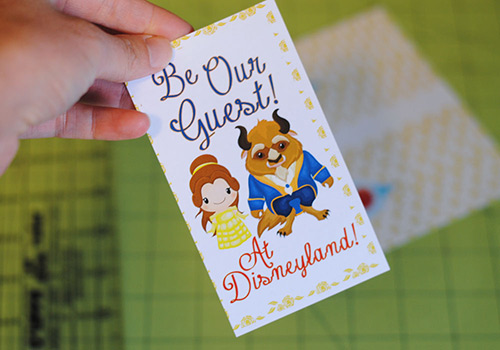 Yon can present your enchanted rose to your child in person. Or, leave it on their pillow. Or, hide it in their lunchbox! Best yet, save it for Christmas morning for a stocking surprise or enchanting gift under the tree. It is sure to be a magical moment no matter how the rose and Beauty and the Beast printable are given.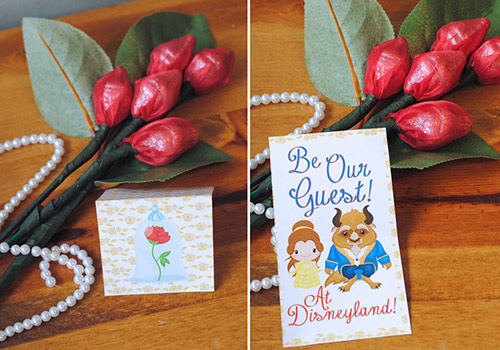 I hope you have fun making these Beauty and the Beast printable vacation announcements! Be sure to find Belle and Beast on your Disney vacation to say bonjour! After all, you are their special guests. And, watch for the upcoming live action Beauty and the Beast film that is being produced by Disney in 2017. There are a few trailers online and it looks like it is going to be every bit as enchanting as the animated version.
There's no better way to get excited for the new film than to book your Disneyland or Disney World vacation! It's also the perfect Christmas gift for the prince and princesses in your life. If you want the best savings for your enchanting Disney vacation, check out getawaytoday.com or call their travel experts at 855-GET-AWAY for personalized help.

Check out these other great articles: