Today marks the actual anniversary of Disneyland opening. Since that time millions of memories have been made at the Disneyland Resort. In this special edition of Fan Friday, we've collected Disneyland memories from Charlene, who was able to visit Disneyland every year as a child since its opening in 1955. We hope you enjoy her memories as much as we did!

I was only four years old when Disneyland opened and we went a few weeks after opening day. We were standing in line to go into the Mickey Mouse Theater right inside the main gate. It was free, but we were going in and on everything and didn't miss a thing. They have had several shows in there since then, like the Abraham Lincoln exhibit (which was awesome). As we were standing there, my dad recognized the voice of a man talking behind us and realized it was Walt Disney! He visited with us for a while, shook our hands and wished us well. He was walking all over Disneyland that day meeting and greeting the guests and answering all sorts of questions.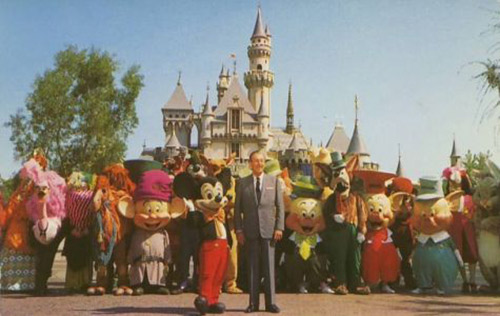 Photo courtesy of Disney Blog

My earliest memory of being at Disneyland was when I was really young. This could have been my first time, but I'm not sure. We went on the Rocket Ship to the Moon where you walked into a rocket ship and found yourself in a round theater with a movie screen in the middle on the floor like you were looking out the back thrusters of the rocket ship. As you were sitting there, you could see the bottom of the launch pad. We all sat in these theater seats in the round and each row was up higher than the one in front of you so everyone had a good seat (like stadium seating now). When we "took off," the rocket shook (your seats were the only thing that actually moved) and it got warm in there like you were feeling the flames from the engines. When we "broke through the sound barrier" I started to whimper. My mom asked me what was wrong and I answered "We broke the moon!" I was sure we had just jumped into outerspace and had broken the moon. It took quite a bit of convincing before I finally realized we didn't actually break the moon. It was still up in the sky.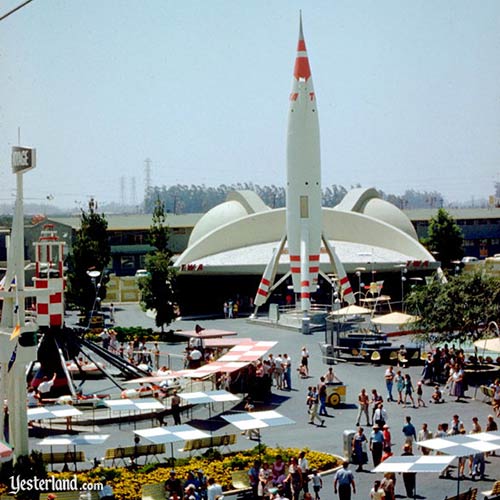 Photo Courtesy of Yesterland

We went to Disneyland at least once every year while I was growing up. In fact, my father's employer (Douglas Aircraft) rented out the park for the employees to have an evening at Disneyland. Disneyland would close at 6 p.m. that day and then our time at Disneyland started and would end about midnight. It was great to go during these events because you just had an all-ride pass like they do now.

When Disneyland opened and for many years until well after I was an adult, you bought a book of tickets, with one to several tickets in each category A, B, C, D, and E, depending upon how much you wanted to spend. Each ride was given a letter category with A being the cheapest rides and only getting one or two A tickets for things like the carriages, taxis, double-decker bus, etc. B rides were the next step up and I think we got two or three of them and those were for the railroad that went around the park, carousel, paddlewheel boats, and things that had large audiences or capacities. C rides were mostly those in Fantasyland like Snow White, Peter Pan, Pinocchio, Tea Cups, Swiss Family Robinson Tree House, rocket ships, rocket to the moon, rafts to Tom Sawyer's Island, etc., You got several of those in a book. D rides were the sky ride, canoes to Tom Sawyer's Island, and others and you probably got about four of those.



Photo Courtesy of Mickey Visit

E rides were the best, like the monorail, Autopia, the Matterhorn bobsleds, the submarine ride, etc. Those always had the longest lines. I think we got like four or five E tickets in a book, at least the one my parents always bought. They had little kiosks all over the park where you could buy extra tickets if you ran out.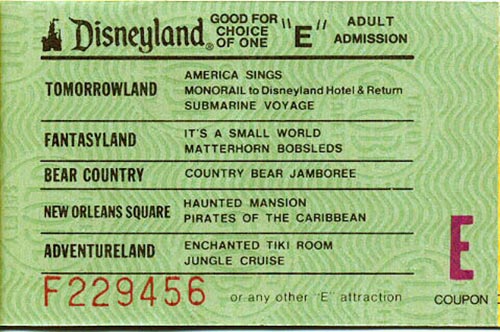 Photo Courtesy of Wikipedia

My parents would take turns standing in line while the other parent took the kids to go on the quickie rides (those that you didn't stand in line for a couple of hours). That's right, the lines were long way back then too. We would stand in line for two hours to ride the Matterhorn and then get off and get right back in line to do it again!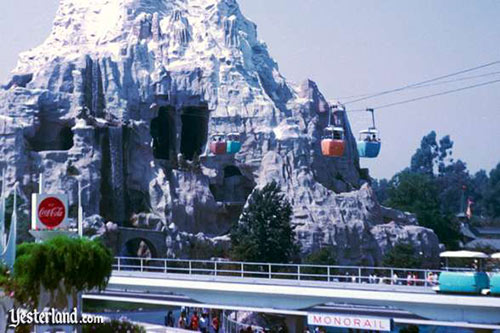 Photo Courtesy of Yesterland

Your book of tickets had only so many E tickets so you planned out your day the day before. The new rides were always E tickets. We got to Disneyland when the gates opened and made a bee-line for the E ticket ride we wanted to ride first, usually the one with the longest line, but it was early enough so we didn't have to wait as long. The Matterhorn was the winner for many years until Space Mountain, Splash Mountain, Indiana Jones, or Thunder Mountain won out. We stayed until the park closed, which was usually midnight if you went during the summer months, which we did, because we wanted to get the most for our money.

We had a saying in southern California when I was growing up. When something was a lot of fun, we would say "WOW, that was a real E-ticket." When I say that now, no one knows what I am talking about.

My parents always packed a lunch and left it in a cooler in the car. We parked in the parking lot there at Disneyland. Since we got there first thing in the morning, we usually had a parking place pretty close to the gate. So when it came time for lunch, my dad would take a head start and go to the car to get the cooler and then we would meet him out at the picnic tables outside the gate after getting our hand stamped. We would eat our lunch very quickly because "time was a wasting." Dad would take the cooler back and he would meet up with us in line for the next ride on our agenda. For dinner, my parents would "splurge" and we would eat at one of the many hamburger places, our favorite was the Carnation Cafe just outside of Frontierland.



Photo Courtesy of Dave Land Web

My parents always had a rule that if we found ourselves "lost," that we stopped right where we were and didn't move because my parents would backtrack to the last place they remember seeing us and find us waiting right there for them. In addition, my dad could whistle really loud and he had a certain whistle that called us back to him from wherever we were. He would whistle out loud as they were backtracking until we finally heard him and followed his whistle to him. I'm sure he got lots of weird looks from people when he did that, but he didn't care.

One year when I was in my early teens, we went on the Haunted Mansion. This wasn't our first time on the ride, but my dad made it quite memorable. When the floor drops down and the ceiling goes up and all of a sudden reveals someone hanging from the ceiling after hanging himself, my dad screamed out this blood-curdling scream and it freaked everyone out in the room, more so than they already were. We laughed about that for years. I did it once when I took my kids, but it didn't have the same effect on everyone like my dad's scream did, at least not that I could tell.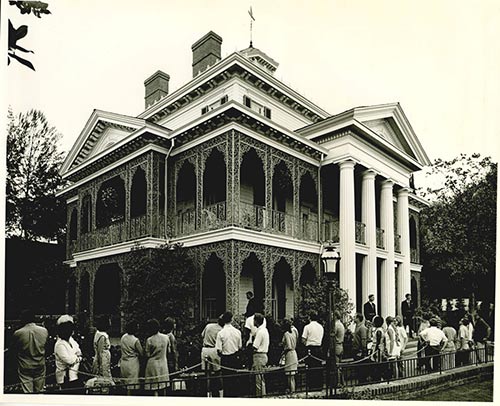 Photo Courtesy of Dad Logic

Over the years, new rides were added. One of them that we really liked was the GE Carousel theater where the audience moved around the stage and watched animated figures talk and move around and show how electricity progressed through the years. This was actually an exhibit at the New York World's Fair that Disney put together and then moved back to Disneyland after the fair was over.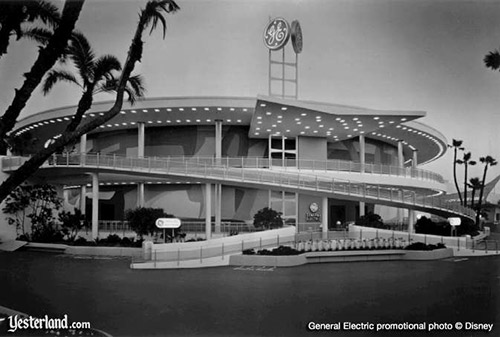 Photo Courtesy of Yesterland

When I graduated from high school, we had our graduation party at Disneyland. A lot of schools did it at the same time so it was quite crowded with excited teenagers that just graduated from high school. We went straight from graduation onto the buses that took us to Disneyland. This is how they kept us off the streets and out of trouble. Each school had to provide a certain number of parents to chaperone. My parents volunteered. They had to sit by the phone booths for two hours just in case someone needed to call home or needed help. After that (and before that), they could do whatever they wanted. I remember them telling me when we got back on the buses at 6 a.m. that they had spent the last few hours riding It's A Small World. They never got that tune out of their head after that!

Disneyland had hired several very famous bands to perform that night. I remember that Jefferson Airplane was one of them and I think so were the Beach Boys. We had a lot of fun and it was very memorable. I'm not sure if they still do that now, but I know they did it for at least 20 years. The park would not stay open past 6 p.m. when the regular guests would go home. The next 12 hours were for the high school graduates! It was just a one-time charge for the pass to get in and we didn't have to worry about using up our E tickets too soon.

Nothing ever could compare with Disneyland. We had lots of theme parks in Southern California, like Pacific Ocean Park (POP), Knott's Berry Farm (great chicken dinners and boysenberry pie and jam), Magic Mountain, the Long Beach Pike, etc. But Disneyland was always the best, cleanest and the most fun. The employees were always well-behaved and polite and clean and knew what they were doing. Everyone was friendly and it was just a different atmosphere than any other place. I have been to Disney World in Florida, but it doesn't even compare to Disneyland. It truly is the Happiest Place on Earth!

When I moved to Utah we took our children to Disneyland several times and they loved it just as much as I did. We went during UEA and always ran into people we knew from Utah. I know they have gone back several times themselves and have taken their families. There will never be another Disneyland. That's where your dreams come true!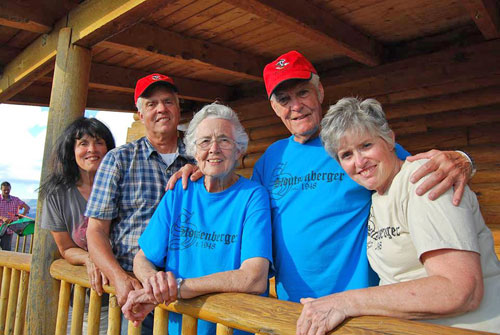 Charlene is on the far right with her family.

We agree with Charlene! And when you're ready to book your Disneyland vacation, let us know. We would love to be a small part of your Disneyland memories.
Check out these other great articles: