Whip up a batch of Oreo tire cookies for a special Cars movie treat that is sure to win the Piston Cup! This recipe is fully equipped with photos and instructions to make assembly easy.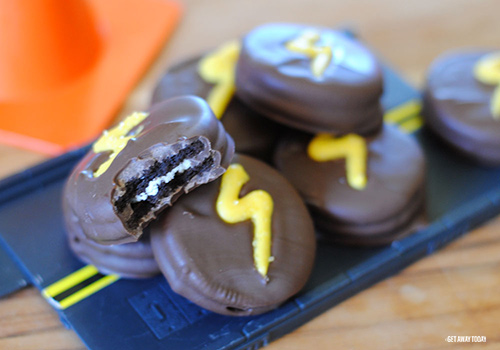 The new Pixar Cars 3 movie is racing to the top of the box office charts! Reviews are out, highlighting that the story has a lot of heart andincredible animation. Some are even saying it is one of the best Pixar films yet. It is not just the same "tired" story. Pixar has designed a new sleek breed of race cars and I hear there is a new champion that proves to be quite the match for Lightning McQueen. Is our hero going to fade from the spotlight, or go down with his wheels blazing? Lightning has his best friend Mater rooting for him and me too! I have a feeling tissues might be necessary, especially if you are prone to leaky parts.
This cute Cars movie treat is inspired by the Cars 3 movie. Lightning McQueen can't go far without his trusty Lightyear tires. Whip up a batch of your own chocolate dipped Oreo tires and see what kind of trophies you get from your pit crew. These Cars movie treats are easy to make, cute and really good. It's a total win!
Cars Movie Treat Recipe:
12 Oreo cookies
Start by prepping your space. Cover two cookie sheets with parchment non-stick paper and set them aside.
Place about 1/2 cup of yellow melting chocolate into a bowl. Microwave it on medium heat for about 30 seconds. Stir the chips and then return the bowl to the microwave for another 30 seconds. The chips won't be completely melted when the time is over. That's ok. Stir the chocolate and it will continue to melt until the texture is smooth and silky. The key to working with melting chocolate is to melt it slowly and not too much. Too much heat can cause it to burn - something that should only be for rubber, not your Cars movie treats.
Note: If you do not have yellow melting chocolate, you can use white almond bark as a substitute. Just add several drops of yellow food coloring to the melted almond bark to make it yellow! You want it bright yellow to match the lightning bolt on the famous Lightning McQueen, so be generous with the food coloring.
Place a small round frosting tip on the end of a plastic piping bag. Fill the bag with the melted yellow chocolate.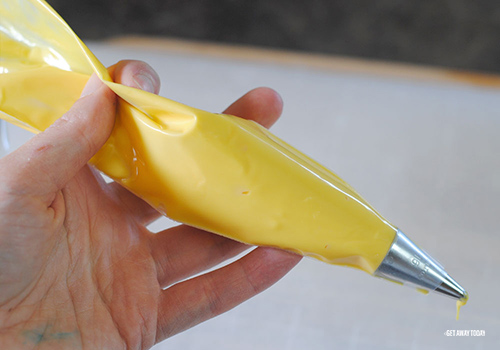 Pipe the chocolate onto one of the parchment covered baking sheets. Make it into the shape of a lightening bolt. You won't have to squeeze very hard for the chocolate to come out of the tip. Make the shapes carefully. You will need about 12-14 good ones for the Cars movie treats. After each design is made, sprinkle some yellow sugar crystals on top to make them shimmer. Don't wait until you are finished piping them all or else the chocolate will set and the sprinkles won't stick.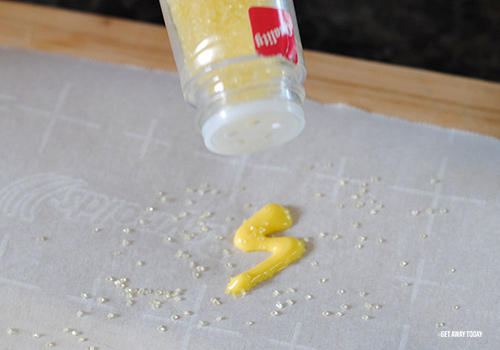 Place the finished candy bolts in the fridge to get firm. Open your Oreo cookies and select the best 12-14 cookies from the batch. I had quite a few cracked and broken pieces. But, there were enough good ones for the Cars movie treats. I didn't have any trouble getting rid of the scraps. My pit crew took care of those quickly!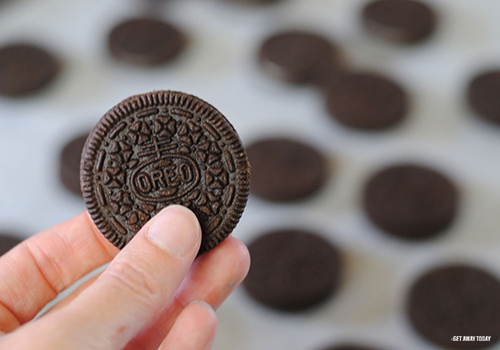 Set the good cookies aside and fill a small bowl with about 2/3 cup of Ghirardelli dark chocolate melting wafers. This chocolate is award winning. It is seriously so good you could drink it. But, we are just dipping in it today! Melt the chocolate in the same fashion as before; slowly and in 30 second increments.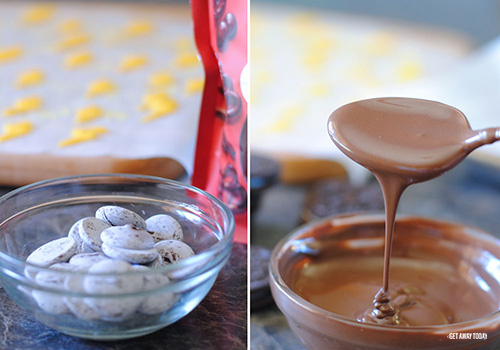 Dip the Oreo cookies into the chocolate, one at a time. Cover the cookie, completely, in chocolate and then place it onto the second pan covered in parchment paper. I used two sturdy skewer sticks to lift the cookie from the bowl of melted chocolate. They worked great!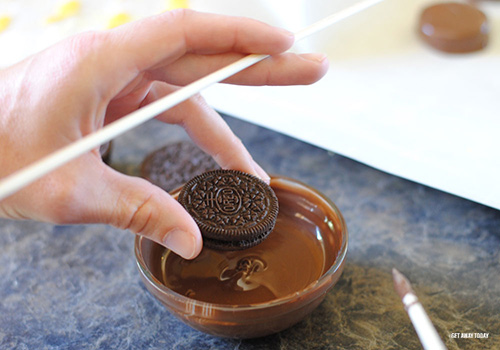 Place one of the chilled lightning bolt candies onto the top of each Cars movie treat tire. This gives it the Ka-Chow factor! Continue to dip until all of your chocolate is used up. You may need to melt additional chocolate to cover all of your cookies. I did two batches that covered six cookies each time. It is easier to work in small quantities as it prevents too much waste because you can use a small bowl.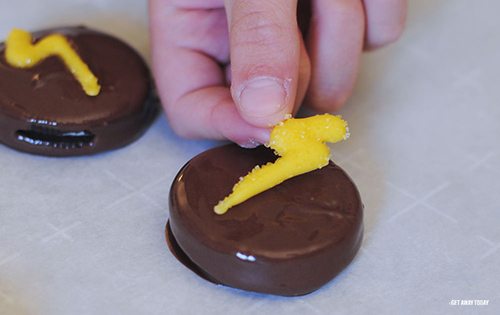 After just a few minutes, your Cars movie treat tires will be ready to roll. Take them for a test drive and see what you think. I am pretty confident you will agree with my claims that they are "wheely" good!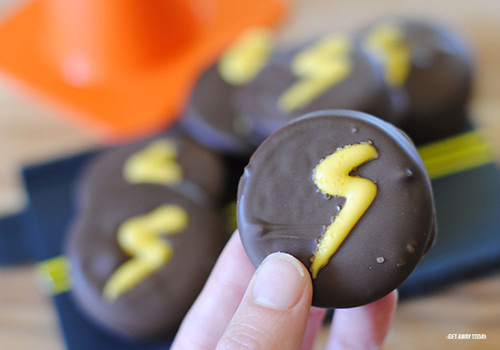 These Cars movie treats are perfect for seeing the new Cars 3 movie. Or, you can use the cookies to surprise your family with a trip to Disneyland. They'll be so excited when they realize they will get to visit Cars Land for themselves in Disney California Adventure. On top of meeting Lightning McQueen and Mater, guests will also have the chance to meet a brand-new character from Cars 3; Cruz Ramirez. It's shaping up to be one hot summer at the Disneyland Resort!
Luckily, we can help you get there faster than a lap around the track. Well, maybe not - but it will feel that way when you book both your discount Disneyland tickets and reduced hotel rates in minutes. Book your Disneyland package online or by calling our travel crew at 855-GET-AWAY. We can't wait to help you book your most magical sumer vacation yet!

Check out these other great articles: