Cool off with these copycat Disneyland Bifrosties, inspired by the Summer of Heroes at Disney California Adventure. The free printable Bifrosties recipe card makes it easy to create the perfect blend of flavors for any size super hero.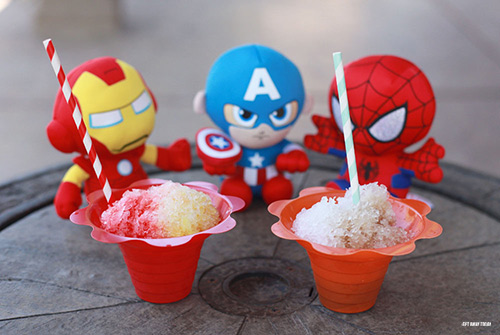 Summertime at Disneyland is always magical. With the Summer of Heroes event in full swing at Disney California Adventure, there is even more action and adventure than before. Disney is calling it a blockbuster event - I'm calling it totally awesome!
If you are looking for a way to cool off while enjoying the world famous California sunshine, then Disneyland created the perfect super treat for you. The cool shaved ice and yummy blend of flavors will rescue you from the summer heat and refresh your little squad so you can play all day in the parks.
You can find Bifrosties behind Schmoozies in Hollywood Land at Disney California Adventure Park. The super hero shaved ice menu is pretty epic and represents most of our favorite super heroes! I picked the most popular flavors to add to our own at-home printable Bifrosties menu. What is your favorite flavor?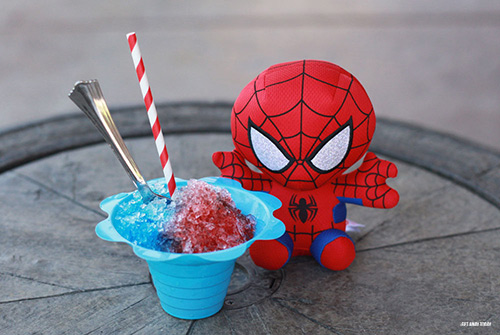 Copycat Disneyland Bifrosties Shopping List: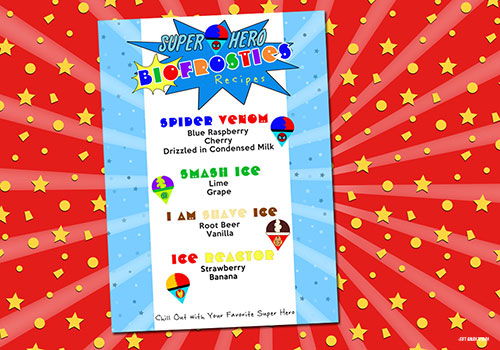 Disneyland Bifrosties: Spider Venom
The first super flavor is Spider Venom. It is made to represent the amazing Spider Man. You won't be stuck with any leftovers of this classic flavor combo. The Blue Raspberry and Cherry mix is always a fan favorite. Drizzle some condensed milk or snow cone glaze over the top of the ice to finish things off in style.
Disneyland Bifrosties: Smash Ice
The Hulk inspired shaved ice is a total hit! Smashed ice, grape and lime are mixed together to create a lime ricky flavor. Fans of the green hero will love this copycat version of Disneyland Bifrosties.
Disneyland Bifrosties: I Am Shave Ice
Groot may only know how to say three words, but he can make a killer frozen treat! It's not a root beer float, but it sure tastes like one. Combine root beer and vanilla syrup for this out-of-the-galaxy flavored shaved ice treat. You can add a scoop of vanilla ice cream to the top to really make it newsworthy.
Disneyland Bifrosties: Ice Reactor
This sweet treat combines strawberry and banana flavors! It is totally good for you because of the fruit right? I'll tell you what is good for you; eating one of these Disneyland Bifrosties. That, my fellow adventurers, is good for the body and the soul.
Don't these fun flavor combinations sound good?
Making super hero shaved ice at home is really quite easy! You can order the snow cone syrup online from Amazon. They have a huge variety of flavors. And, with Prime shipping you get it delivered right to your door, for free, in a matter of 48 hours. Amazon is definitely one of my favorites heroes.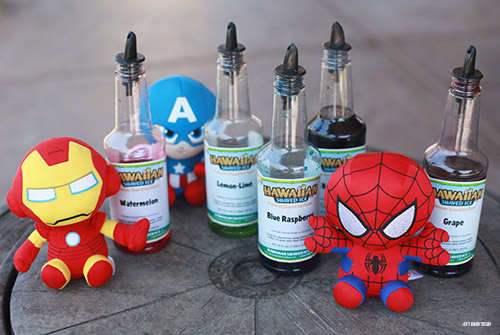 If you don't have a fancy little snow cone maker, you can chip ice in a regular blender. Just pop the ice in the blender and chop away. I have found that it is best to use only about 1 to 1.5 cups of ice at a time. Don't fill the blender too full, or it is hard to get the ice chipped evenly.
Scoop the shaved ice into serving dishes and then let the little super hero customers choose what flavor combination looks best! They can choose from the Disneyland Bifrosties menu or create their own mixture.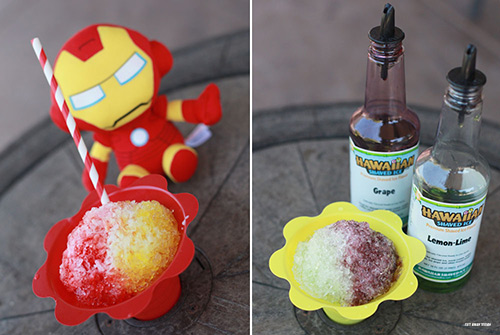 Pour the syrup over the ice. Don't oversaturate with syrup or you will probably have some sugar-filled kids flying off the walls.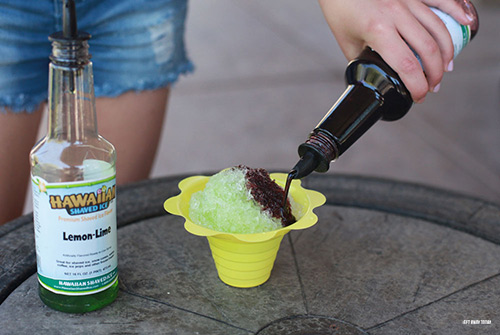 You can add a little bit of condensed milk or snow cone glaze to the top of these copycat Disneyland Bifrosties to add a touch of creamy goodness.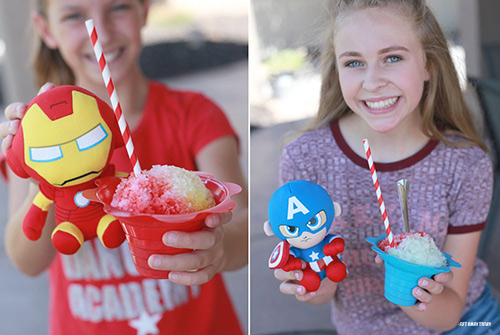 I hope you have fun cooling off this summer with these refreshing copycat Disneyland Bifrosties recipes! Make sure to stop by the sweet Bifrosties kiosk in Hollywood Land to grab your own icy treat during the Summer of Heroes event. You only have until September 10th to experience these cool flavors and all the super hero experiences.
Be the hero of your family and book a Disneyland vacation to experience the magic of this blockbuster event! You'll be your wallet's favorite hero when you save on your vacation with our discount Disneyland tickets and reduced hotel rates, too. Book online or give one of our travel heroes a call at 855-GET-AWAY.

Check out these other super articles:
Create Your Own Super Hero Training Camp