The Heart of Te Fiti makes everything beautiful. These Disney Moana cupcakes showcase the heart of Te Fiti on top of a lush green buttercream island, right where it belongs. Until, of course, you decide to eat it up!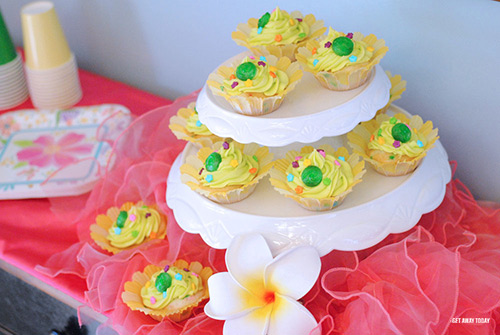 Have you experienced the adventure of Disney's animated movie Moana? It is an absolute delight to watch! Moana is a brave island princess with a quest to fulfill. The ocean chooses her to return the mystical Heart of Te Fiti to its proper place. Moana will stop at nothing to meet her task, even when it means partnering with the moody demigod Maui. The characters are full of life, the soundtrack is beautiful and the scenery is almost as dreamy as actually being in paradise. I laughed and cried and loved every minute. You will too!
You can bring some of that Disney island magic to your home with these Heart of Te Fiti Moana cupcakes. They combine the bright colors and flora of the Hawaiian Islands with the iconic Heart of Te Fiti. If you are a Moana fan, you will love making these Moana cupcakes and they are simple enough to create that even little helpers will be able to lend a hand.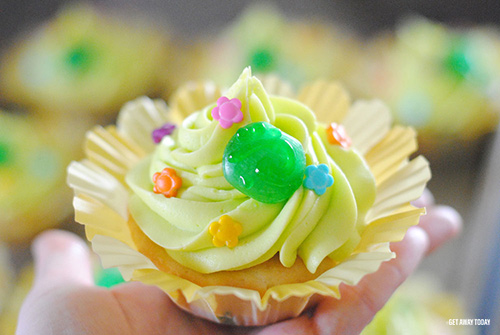 What You Will Need for Your Moana Cupcakes:
Baked Cupcakes
Buttercream Frosting
Start by whipping up a batch of your favorite cupcakes. My daughter and I made these cupcakes for a very special Moana themed birthday party, so she got to choose the flavor. My kids always want the sprinkle cake. Do yours?
I found some adorable
Hawaiian petal baking cups
on Amazon. I chose yellow, because it is my daughter's favorite color. They have a variety of colors that would be perfect for these Moana cupcakes as well.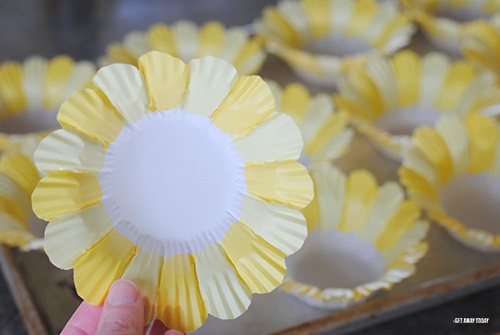 Once your cupcakes have cooled, make the buttercream frosting. I love homemade frosting. It is really easy to make too. If you don't already have a go-to recipe, you can use mine. Add two sticks of soft butter to one 8-ounce package of cream cheese. Blend them together well in a mixer and then add one teaspoon of vanilla and a small dash of salt. Add four cups of confectioners' sugar. Mix it together until all of the sugar is incorporated and the texture is smooth and creamy. Taste a sample.
Frosting can vary by sweetness. I like my frosting pretty rich and not too sweet. But, you might want to add another cup or two of sugar to match your preference. The good thing about frosting is that you can keep adding sugar and sampling until it is just right for your Moana cupcakes. I've never complained about that job. Once the frosting is perfect, add several heavy drops of green food coloring. I used florescent green, but I think regular green might be a little more vibrant. You want your frosting island to look alive.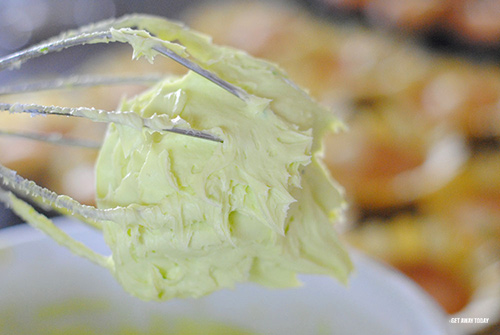 Fill a decorating bag with frosting fit with a large star tip. Then, swirl a green frosting island onto each of your Moana cupcakes. Make them nice and tall.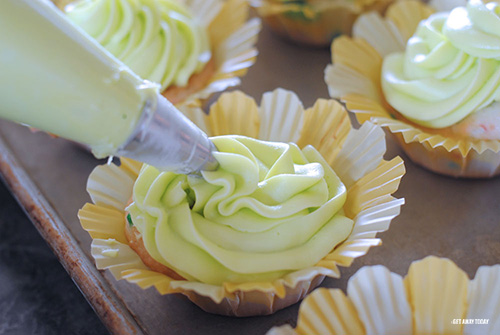 Next, place candy island flowers on top. This is the perfect job for any little helpers you have.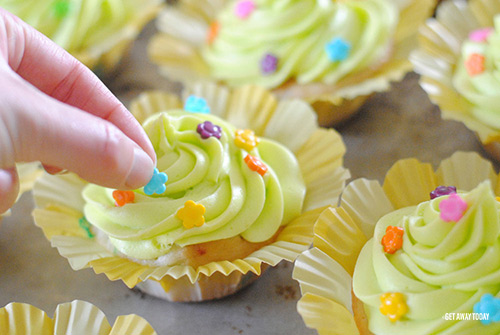 The final touch is to add the special emerald Heart of Te Fiti to the top. I found a bag of
Brach's hard candies
on Amazon. It was a multi-colored bag and I picked out the green ones for decorating. They were just the right color and size to do the job!
Use green edible decorating gel to make the fancy magical swoosh marks on the top. I looked at a picture from the movie to guide me.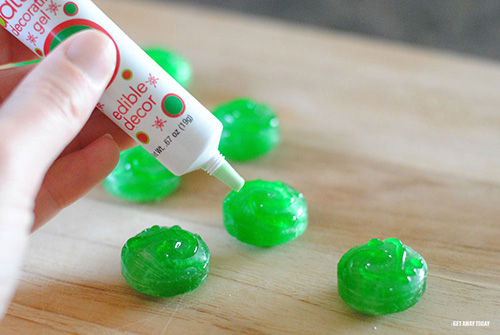 Then, put the Heart of Te Fiti at the top of the island where it belongs. Your mission is complete, just like Moana's! Don't your Moana cupcakes look beautiful? I hope they add a perfect Hawaiian touch to your Moana party or event. They were sure a hit at our Moana birthday bash!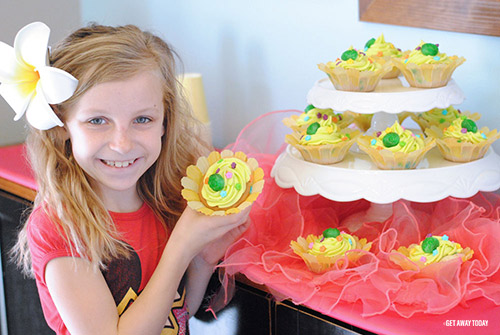 The best part is that you can meet Moana on your next Disney vacation! She can currently be found at Aulani, a Disney Resort and Spa in Hawaii, Disney's Hollywood Studios in Walt Disney World or Adventureland in Disneyland. No one knows how long her appearances will last at the parks, so book your Disney vacation now! You can always count on the best prices when you book with Get Away Today. Book any of our Disney packages online or by giving our travel experts a call at 855-GET-AWAY.

Check out these other great articles: