Halloween Time at Disneyland is a spooky good time, especially with all the tasty treats exclusive to this time of year! We put together a chilling good copycat recipe of the Disneyland Poison Apple drink you don't want to miss! Even the Evil Queen would approve.
My family and I had a chance to sample the delicious and enchanting Disneyland Poison Apple drink on our recent Disneyland vacation. It was easily one of our favorite treats of the trip! The Disneyland Poison Apple drink is cool and refreshing after all of the thrills, chills and fun at you have during Halloween Time at Disneyland. The flavor is a the perfect spooky combination of apple sweet and lemon sour. You can find this tasty frosty beverage right next to the Fantasyland Theater at Troubadour Tavern in Fantasyland.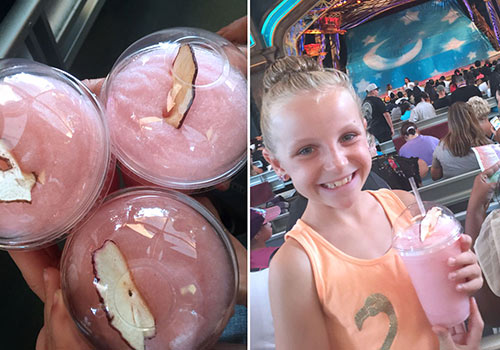 If you would like to blend up a little 'ear'ie Disney Magic in your own kitchen, then we have the best copycat recipe for the Disneyland Poison Apple Drink. I have to say it - It might even be better than the Disney version! I hope you enjoy it.
Disneyland Poison Apple Drink (Copycat Recipe)
1 Cup Simply Raspberry Lemonade
1/3 Cup Raspberry Apple Juice Concentrate
1/2 Cup Simply Lemonade Apple Juice
2 Cups Ice Cubes
Apple Chips for Garnish
The best recipes always start with quality ingredients. I recommend buying the pink Simply Lemonade with Raspberry drink as the base for this recipe. Shake it well and then pour one cup into the blender.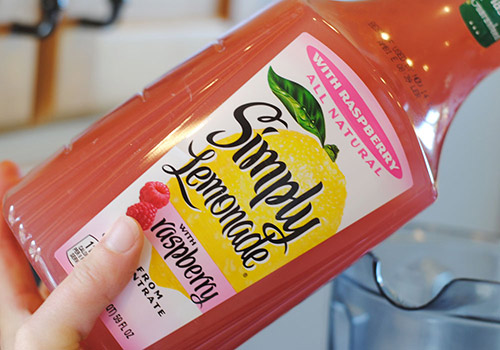 Add, a scoop of Raspberry Apple juice concentrate (about 1/3 cup).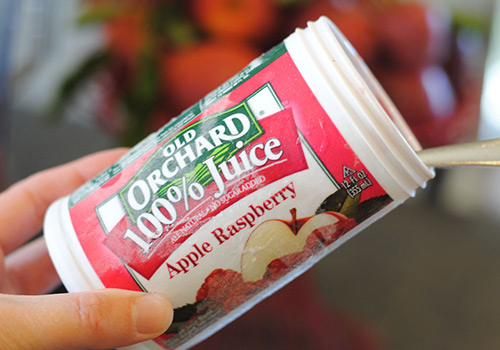 Shake and pour 1/2 cup of Simply Apple juice into the blender. This apple juice is the best! Then, carefully place 2 cups of ice into the blender. If you dump them in too fast, the ingredients will splash up at you.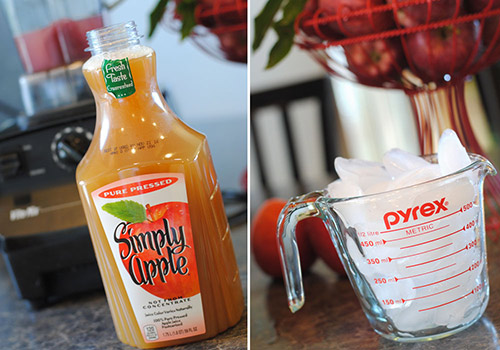 Cover the top of the blender and then turn on the power. I started at a low level and then worked up to a nice high speed. If the contents stop blending because the ice is freezing up around the blade, turn off the power, stir it with a spoon or a blender stick, and then resume. The final product should be smooth, icy and chilling - just like the Evil Queen from Snow White.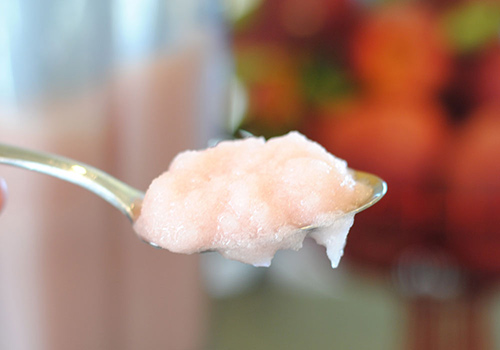 Spoon the Poison Apple drink into serving cups and garnish the top with an apple chip. They are actually pretty tasty. My daughter ate all of them off our drinks at Disneyland!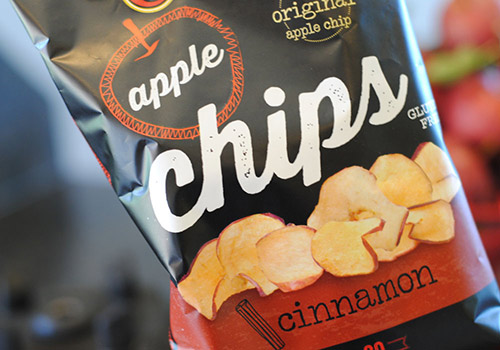 I have a feeling that your Disneyland Poison Apple drink will last about as long as mine did. I had enough time to capture a quick picture before I saw a tiny hand reaching for the glass. Good things sure are hard to resist. Enjoy!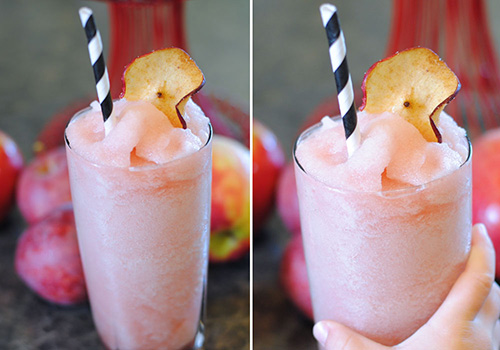 And the good things don't need to end there! There truly is nothing quite like Halloween Time at the Disneyland Resort. With Haunted Mansion Holiday, Space Mountain Ghost Galaxy, the iconic Pumpkin Festival, scary good treats (like this Disneyland Poison Apple drink) and so much more, the thrills never end! There is a reason Halloween Time is so many guests favorite time of the year. Check out our
One Minute Guide to Halloween Time at Disneyland
for just a glimpse into all the ghostly fun. Then find out for yourself what happens when the grim grinning ghosts come out to socialize at the Disneyland Resort.
You really don't want to miss the spooktacular magic of Disneyland during Halloween Time! We still have limited availability on our 2016 packages. Or, get a great head start and book for 2017! Lock in your savings with our thrilling deals. Book our
Disneyland packages
online or call our travel experts at 855-GET-AWAY.