Mickey Mummy Crispy Treats are a seasonal treat offered during Halloween Time at the Disneyland Resort. Now, you can make a batch at home with this easy copycat recipe!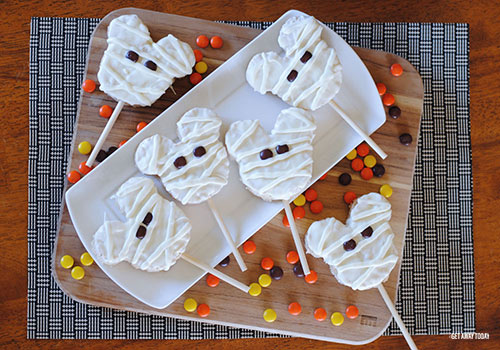 Sweet treats are a big part of the Halloween Time celebrations at Disneyland. A sample of the eerie edibles up for grabs in past years include Candy Apples, Bat Cookies, Green Apple Spell Lemonade, Monstermallow Donuts, Pumpkin Fudge and Bat Wing Raspberry Sundaes.
The delicious lineup could inspire someone to rise from the dead! If you like getting wrapped up in festive desserts, then you might enjoy making one of the creepy culinary creations at home: Mickey Mummy Crispy Treats. These simple treats have just the right combination of sweetness and spookiness that every boy and ghoul will enjoy.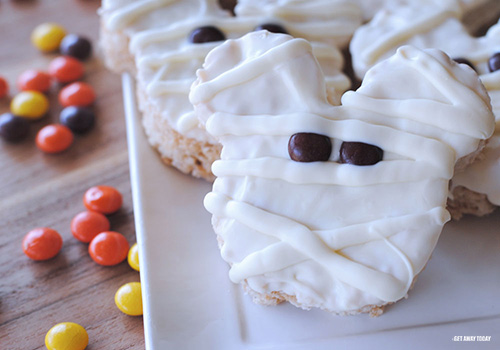 Mickey Mummy Crispy Treats:
6 Cups Rice Krispies Cereal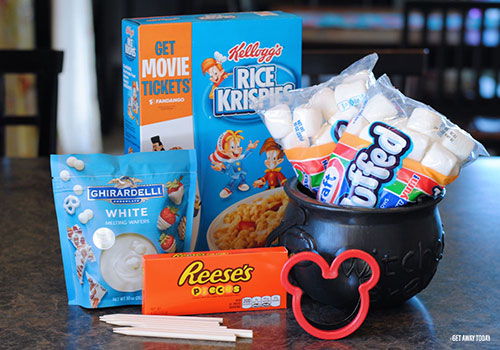 Start by whipping up a batch of Rice Krispies Treats. I typically make my treats in the microwave. To do this, melt a stick of butter in a large microwave safe bowl. Then, add the marshmallows to the bowl. Let the marshmallows melt in the bowl for about two minutes. Make sure to stir after the first minute.
Add about six cups of Rice Krispies cereal to the melted marshmallows and combine the ingredients until they are coated evenly.
After this, grease a 9x10 inch glass baking dish with butter. You will then want to scoop the beginning of your Mickey Mummy Crispy Treats into the dish. Press the mixture firmly into the dish and smooth out the top. You may need to rub a little bit of butter on your fingers to prevent the marshmallow from sticking to your hands as you press. If you happen to have some of the yummy sticky treat on your fingers when you are finished, feel free to lick them clean.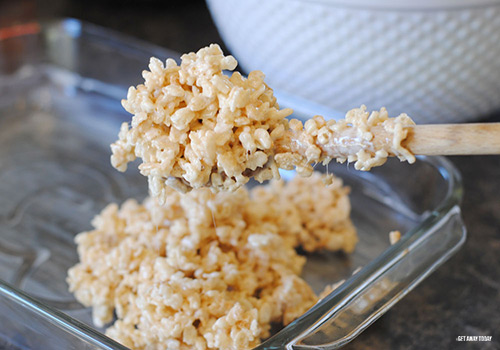 Place the dish in the fridge for about 30 minutes to let the Rice Krispies and marshmallow mixture cool and set up. While you wait, cover a cookie sheet pan with parchment paper.
Once the treats are cool, pull them from the fridge. Then, cut the Mickey Mouse shape out with a Mickey Mouse cookie cutter. I got mine at Disneyland, but you can also order them online on Amazon. This is definitely my most used cookie cutter. We have found so many fun ways to use it!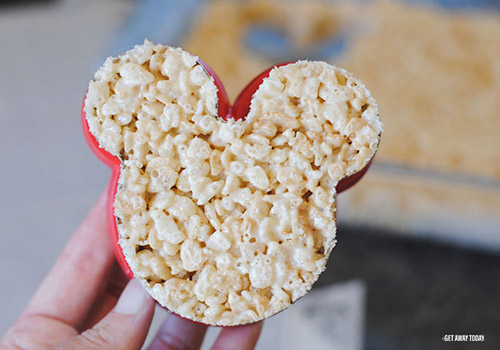 You will now want to put the Mickey shaped treats onto the parchment paper. When you have cut as many Mickey Mummy Crispy Treats from the dish as you can fit, stick them with the caramel apple sticks. Then, return them to the fridge for another 10 minutes.
Just as a heads up, you can also make these cute treats without sticks. They serve them at Disneyland with a stick to make it easier to eat on the go. But, I think they are just as cute without them. It is up to you!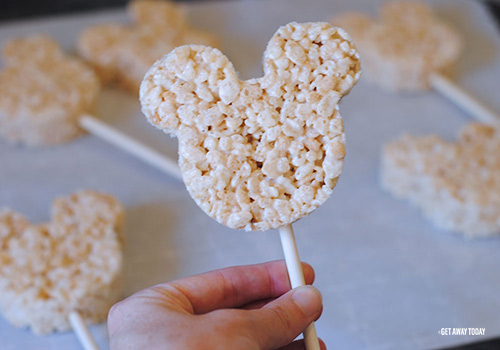 Place 3/4 of the white melting chocolate in a microwave safe bowl. Then, set the power to 50 percent and melt it for one minute. Stir and then repeat the process for an additional minute. Make sure to stir the chocolate until it is smooth and creamy.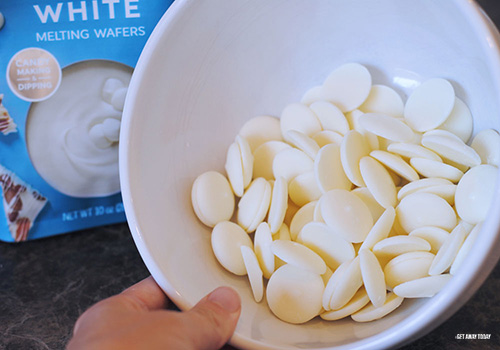 You will now want to pour the chocolate onto a small plate. Dip each Mickey Mummy Crispy Treat into the chocolate until it coats Mickey's entire face.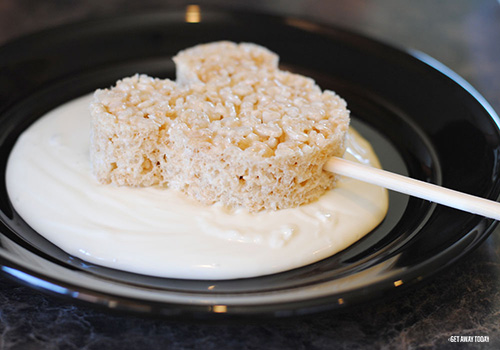 After each Mickey is dipped, quickly place the treat back on the parchment paper and add two brown Reese's Pieces eyes. You want to do this before the chocolate hardens so they stick.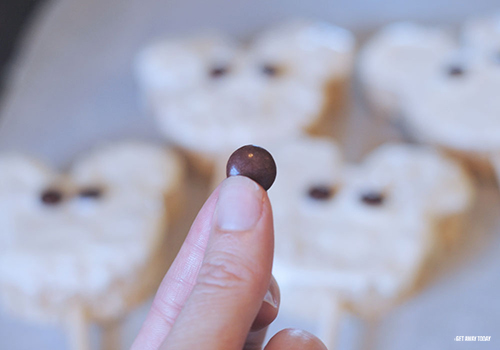 Melt the last 1/4 of the white chocolate in the microwave and place it in a plastic frosting bag. Cut a small hole at the tip of the bag. Then, spread the chocolate over the Mickey Mouse face to create the Mummy wraps. I used the same wrap pattern on all of the faces.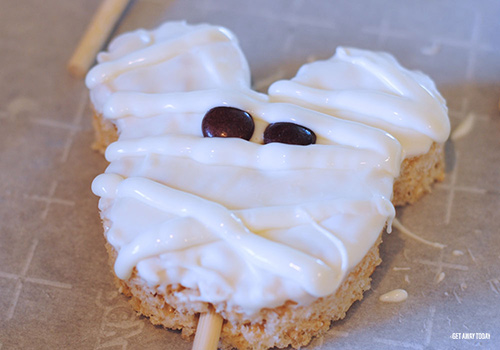 It doesn't take long for the chocolate on the Mickey Mummy Crispy Treats to harden. Once the white chocolate is solid, you can serve them to your little monsters. If you want to store them, place them in a sealed container. Just don't stack them.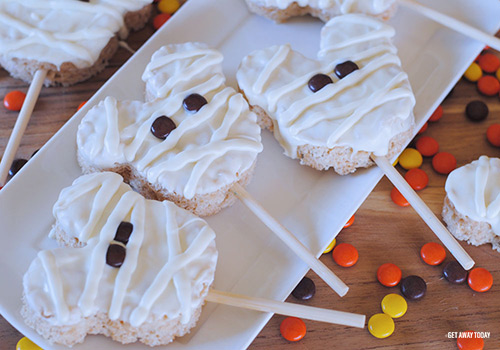 I hope you have fun making your own Mickey Mummy Crispy Treats at home! You'll bring some of the Halloween Time magic to your own kitchen with this spook-tacular recipe from the Disneyland Confectioners.
If you want to experience the Mickey Mummy Crispy Treats in Disneyland, you have until October 31st to visit. With fall decor, ride overlays, not-so-spooky characters and sweet treats, it's a Halloween celebration you won't want to miss. You can save on the frightful fun with our discount Disneyland tickets and reduced hotel rates. Book any of our Halloween Disneyland packages online or give our agents a call at 855-GET-AWAY.

Check out these other spooky crafts and recipes: