For a limited time you can find Disneyland s'mores caramel apples and other s'mores treats throughout the Disneyland Resort. We're celebrating National S'mores Day by sharing our copycat recipe for Disneyland s'mores caramel apples.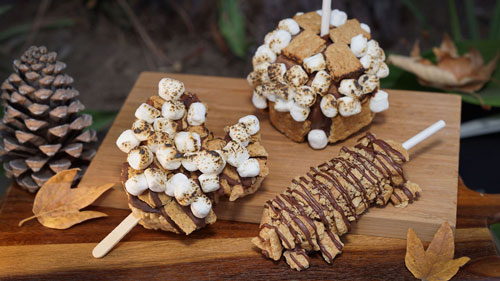 Image credit: Disney Blog ©Disney
Nothing makes a summer night better than s'mores! The traditional campfire treat combines a perfect trio of chocolate, toasted marshmallows, and graham crackers. S'mores are fun to make and even more fun to eat! This August in celebration of National S'mores Day you can get the classic s'mores ingredients combined with famous Disney gourmet caramel apples throughout the Disneyland Resort.
You can find these Disneyland s'mores caramel apples and other s'mores treats in two places inside Disneyland park; Candy Palace on Main Street, U.S.A., and Hunny Spot in Critter Country. You can also find them in Trolley Treats in Disney California Adventure Park and Marceline's Confectionery in the Downtown Disney District. No fire necessary. There is always s'more fun to be had at the Disneyland Resort.
To celebrate National S'mores Day on August 10th, I thought it would be fun to recreate these amazing treats at home. So, whether you are camped out under the stars in your own backyard, or meeting stars at Disneyland, you can enjoy a sweet slice of a Disneyland s'mores caramel apple.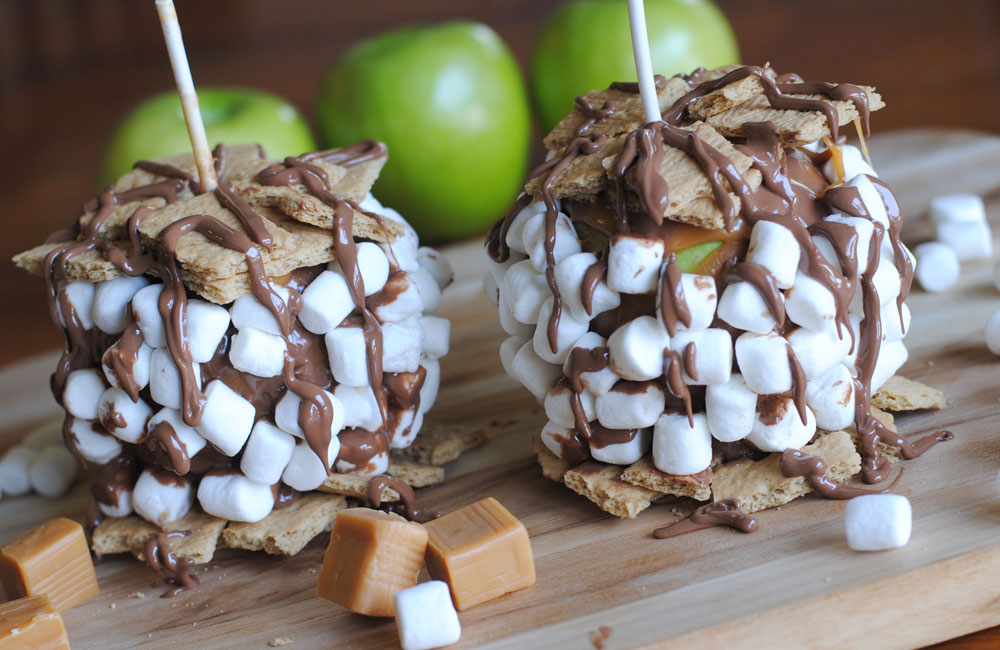 Disneyland S'mores Caramel Apples:
6 Small Granny Smith Apples
1 Package Caramel Squares Candies
2 Tbs Water
2 Cups High Quality Chocolate Chips
1 Package Graham Crackers
1 Bag Mini Marshmallows
Wooden or Paper Sticks
Parchment Paper
There is quite a bit of prep work for this project. It is nice to have everything ready to go before you start dipping because, once the caramel and chocolate are melted, things move very quickly. And...it's a bit sticky.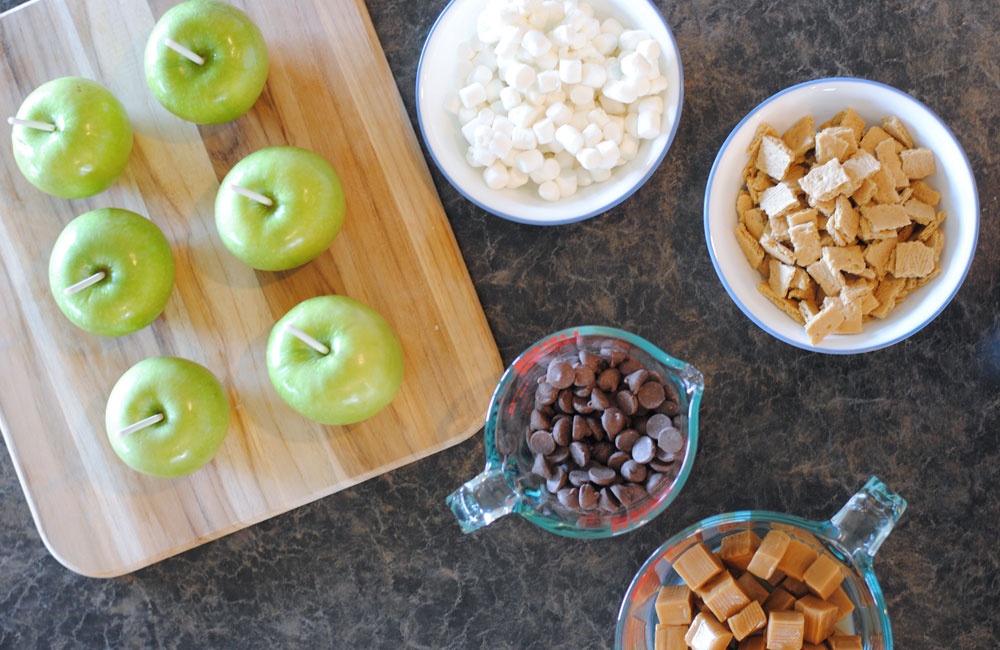 Start by washing the apples and then remove the stems. Press the sticks into the apples. As an expert tip, you can do this step the night before and keep the apples in the freezer overnight. This will help the ingredients cool quickly when you start to dip them.
Break one package of the graham crackers into small squares. Then, break three of the full graham crackers in half to make six regular s'more size pieces.
Open the mini marshmallows and have them ready to go. Place a sheet of parchment paper onto a cookie sheet. Unwrap the caramel candies and put them in a microwave safe bowl. Add 2 T of water. Melt it in the microwave in 45 second increments, stirring between each cycle, until the caramel is soft and runny.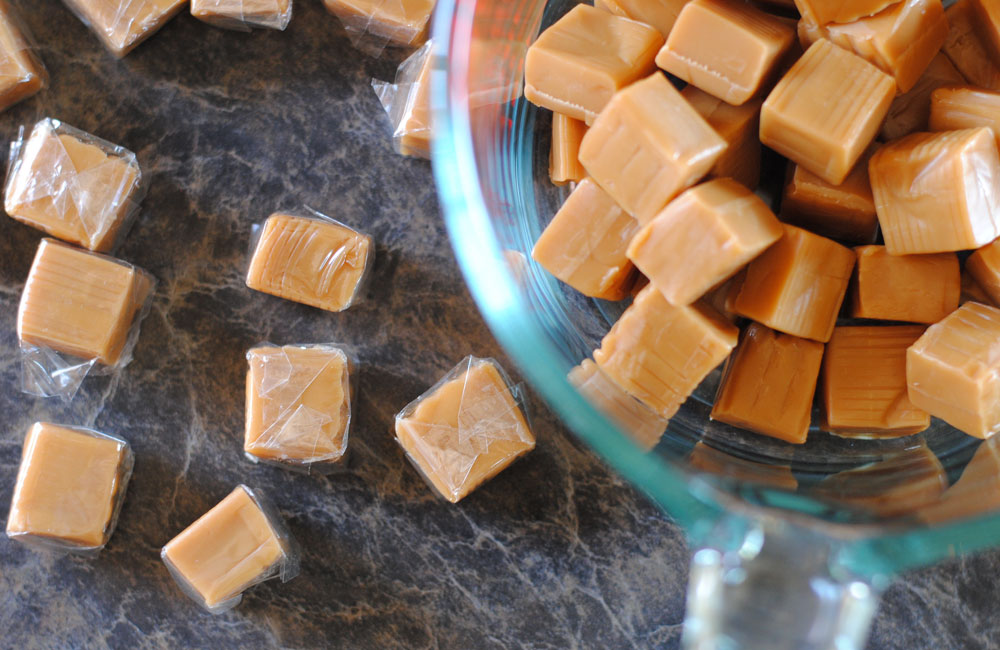 Place 2 cups of chocolate chips into a microwave safe dish. Melt it in the microwave, just like the caramel, until it is soft and runny. It melts pretty fast. Do not over cook.
Roll an apple in caramel. You can tip the bowl so that the caramel moves to one side and then tilt the apple while you spin it around. Let the excess caramel drip off. Then, repeat this process with the chocolate.
Now, another cheat if you want to really get a head start on the apples, you can purchase a plain caramel apples from your favorite candy shop or grocery store. Then, start with the chocolate dipping steps.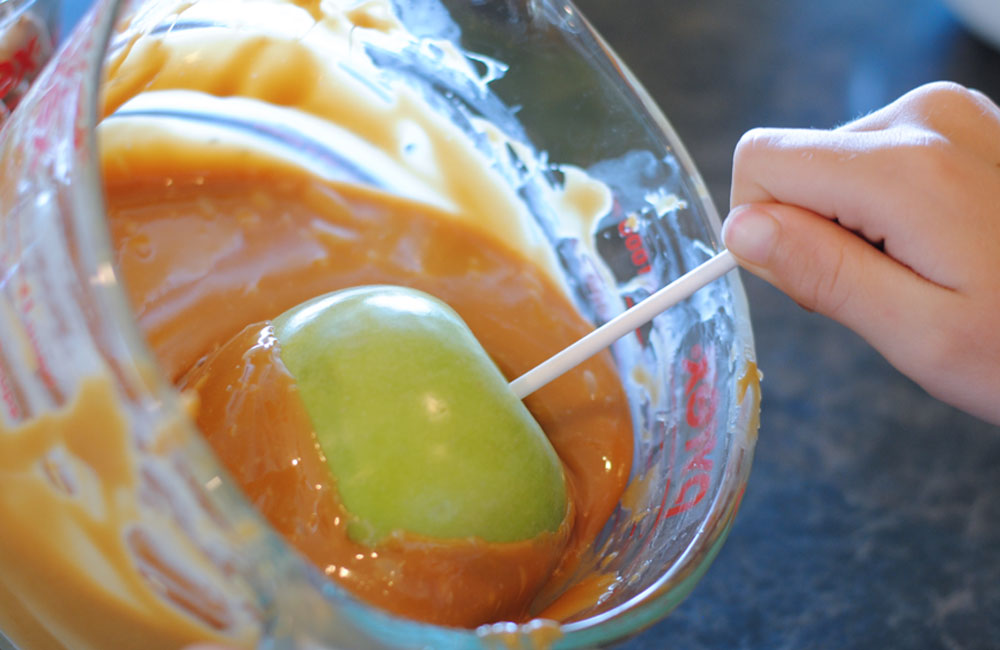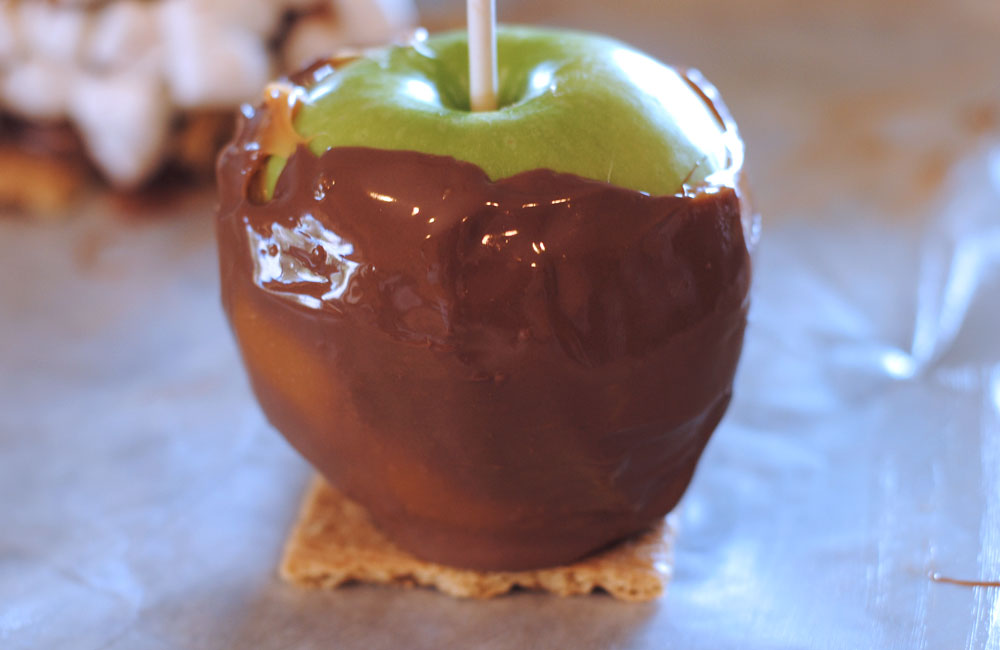 Place the first dipped apple onto one of the big graham cracker squares. Quickly, add the mini marshmallows to the center of the apple. Press them firmly into place. You might need to hold them in their spots for a few minutes while the chocolate sets.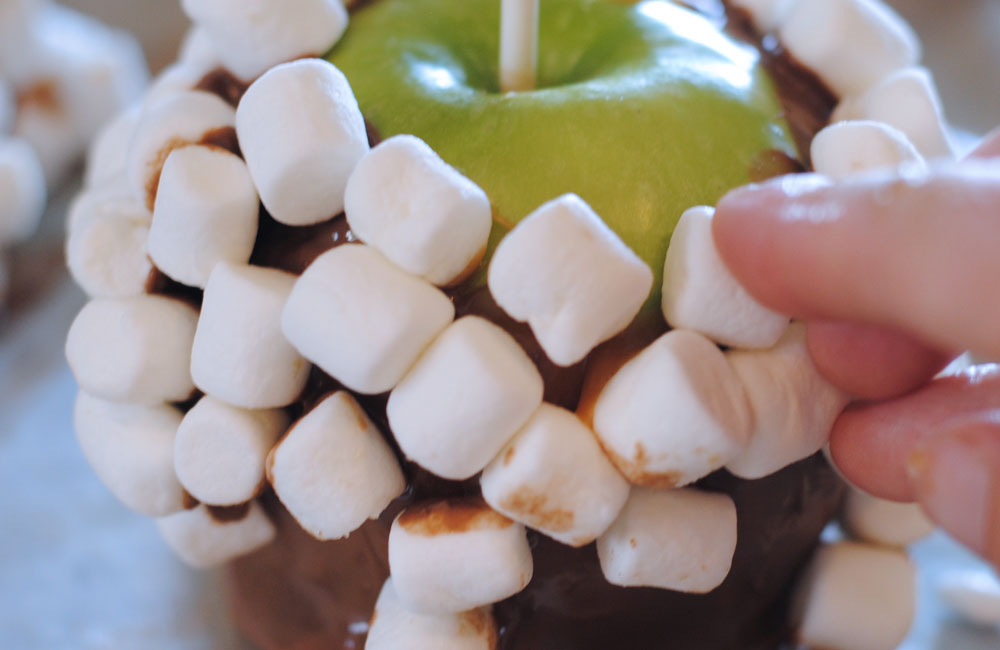 Use a spoon to add a layer of caramel to the top of the apple and place the broken graham cracker pieces onto the top. I added a few layers with caramel, chocolate, and then the crackers. Place a few broken graham cracker pieces around the bottom of the apple.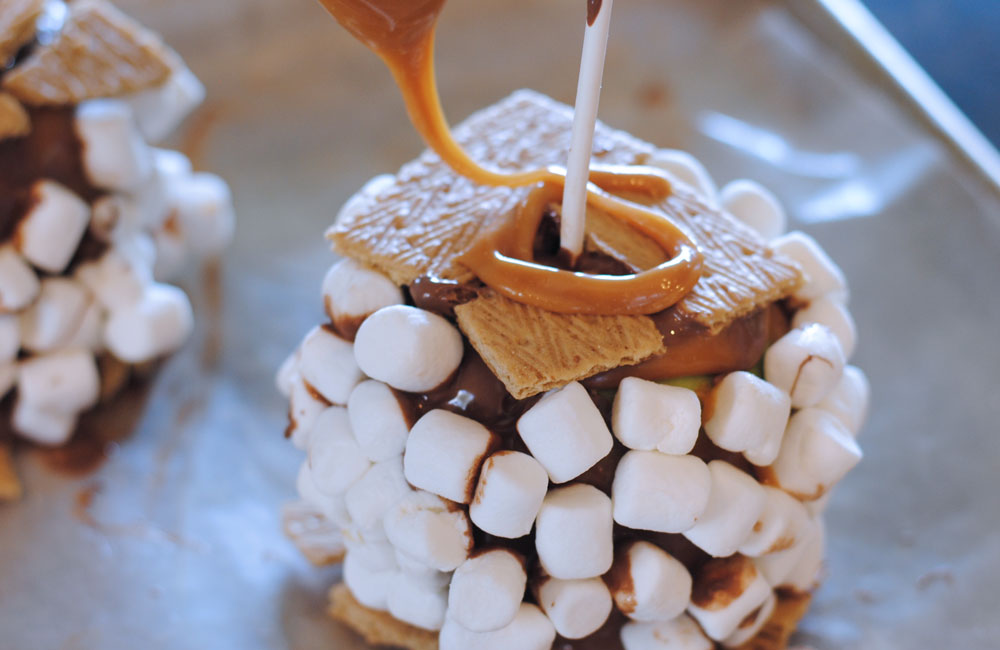 Now, it is time to make "s'more" of them. Repeat the steps until all of the apples have been covered. I had to warm my caramel up again in the microwave two times during the process. It needs to be pretty runny to stick to the apple. Let the ingredients set up before serving. It will take about 30 minutes once you have all of the ingredients on each apple. I hope you enjoy this fun summer treat!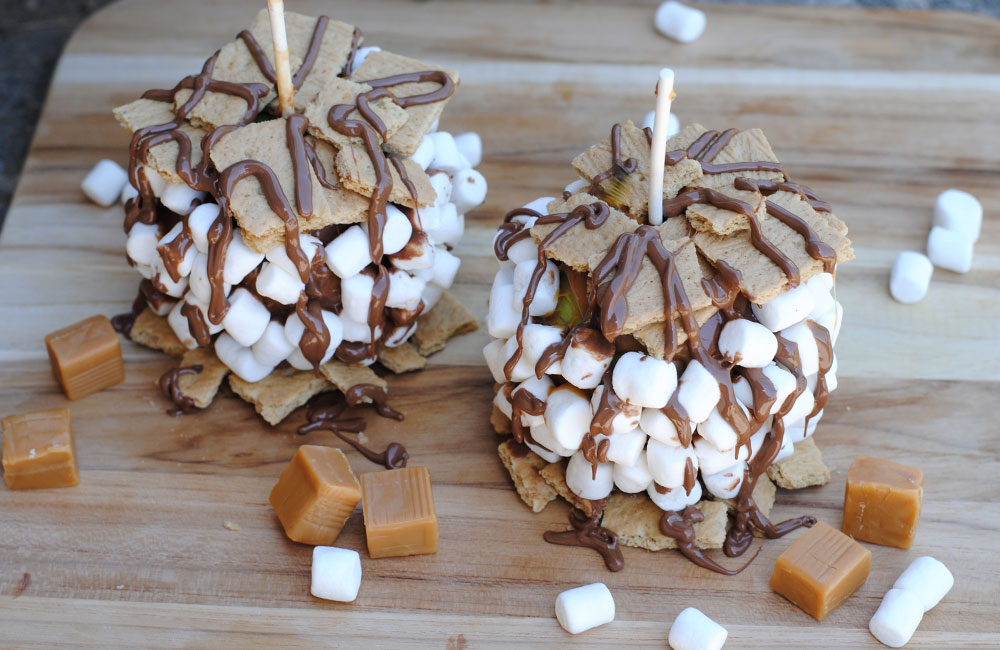 If you want to taste one of the Disneyland s'mores caramel apples in person, there's still time! Not only will you get the chance to try one of summer's best treats, you'll get to experience the finale of the Disneyland Resort Diamond Celebration! Don't miss your last chance to see the Disneyland Forever fireworks, World of Color - Celebrate! and Paint the Night Parade. Book any of our Disneyland packages online or call our Disney Experts at 855-GET-AWAY.

Check out these other great articles: