At Get Away Today we LOVE helping families book their Disneyland packages. A huge part of the fun of a vacation is in the planning and anticipation. We loved this idea that parents can put together for each of their kids to get them excited for their family Disneyland trip so much that we decided to share it with you!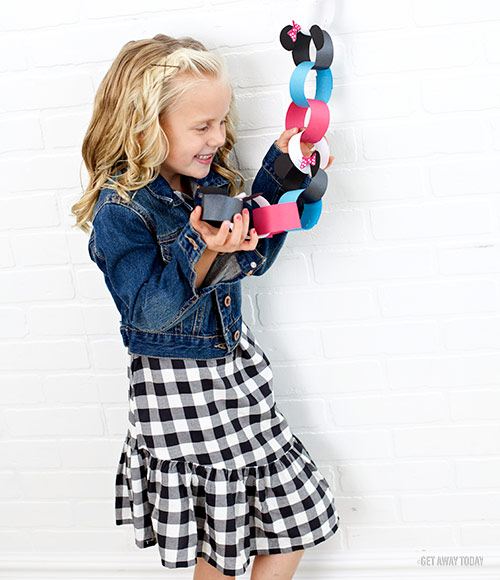 This creative Disneyland vacation countdown paper chain started with a little poem at the top, then alternated Mickey Mouse themed rings. Add Mickey ears to the black rings and white buttons to the red rings to look like Mickey's pants and rotate plain yellow rings and white rings. You can do the same thing for Minnie with a few color adjustments and adding a bow. Both the Mickey and Minnie chains have white rings that each have a fun Disney themed idea that you can do as a family that day to get the kids excited for their trip. We've put together a sheet of 15 ideas that you can use with things like:
Write a letter to your favorite Disney Character to let them know you're coming.
What is your favorite Disney treat? Let's try to make it today!
Hop around like Tigger.
Decorate your own pair of Mickey Mouse ears for your vacation.
Pretend to be your favorite Disney Character.
Have Mickey Mouse pancakes for dinner.
Pack your bags—we leave tomorrow!
Feel free to use any of the ideas that we've created, or come up with your own! The can be simple. Sometimes the simplest things are the most memorable. Your countdown can be any length you wish and will vary from family to family. If you've booked months out, you could do one chain link a week until you get closer to really stretch out the fun. Check out the details up close to get a better idea of how you can recreate this Disneyland vacation countdown: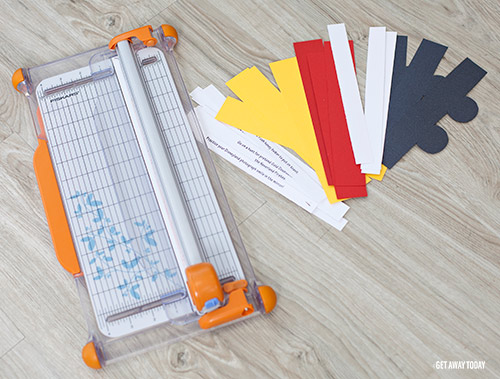 Begin with a simple poem: Grab your ears, it's time for Cheers!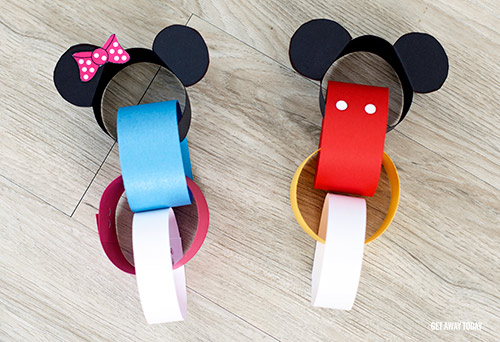 These paper strips were simply stapled together to create the links.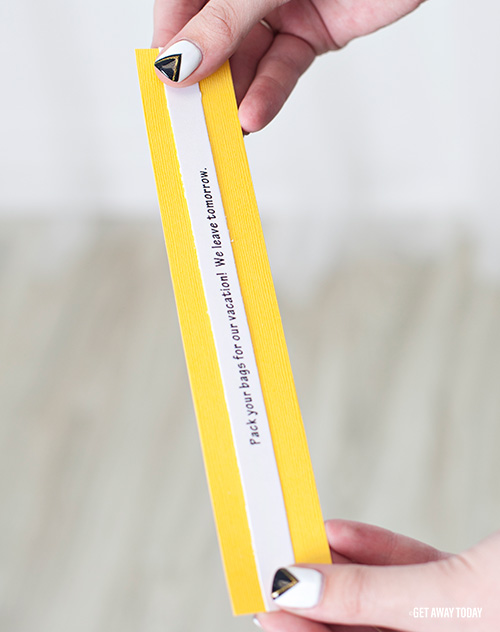 Here you can see the "assignment" inside the yellow paper chain links.

These countdown chains were so popular that we made all of the printables available and we made a version for Disneyland, Disney World and even a Disney Cruise! You can download everything you need here:

Chain Pattern: (download)
Circle Header for your destination:
(Disneyland download)
(Disney World download)
(Disney Cruise download)
Daily Activities: (download)


No matter how you get your family enthused about your vacation, a Disneyland vacation is an exciting and special opportunity! We hope you make the most of it - and remember, when you book with Get Away Today, we have Customer Service available 365 days a year to make sure that your vacation goes as seamlessly as possible. If you haven't set up one of our Disneyland packages yet, book today and let your Disneyland vacation countdown begin!

Check out these other great blog articles:

Happy, Smooth Disneyland Vacation Experiences from Get Away Today Guests
Detailed Photos of Goofy's Kitchen inside the Disneyland Hotel
Top 10 Reasons to Stay at the Disneyland Hotel
Disneyland Vacations Starting at $73 per Person per Day!
Disney's Halloween Time and Mickey's Halloween Party Dates Released for 2012