Children across the country are sharpening pencils, lacing up shoes, strapping on backpacks and heading back to school! I still remember how I felt watching my daughter enter the schoolhouse for the first time. She practically skipped away--wearing a backpack bigger than she was and a smile to match. My eyes pooled with tears and I realized a piece of my heart was heading to class with her.

I decided to think of a way to make sure she felt special and loved, even when I couldn't be there to tell her how much I cared! So, our Disney Lunch Box Notes were born. What a fun surprise it will be for your child to open their lunchbox and find a Disney themed lunch and a special note from his or her favorite Disney Character! It is a sure way to brighten their day and let them know that they are extra special.




To add a cute Disney Character note to my child's lunch, I just download some clip art and made some little cards. You can make your own cards with clip art, Disney stickers, scrapbook supplies or anything else you want to use. If you'd like, I included my personal cards in files at the bottom of this post. You can download my file, print it on standard printer paper and cut around the messages. It's very simple.




Here are some ideas on what to pack in your child's Disney lunch:

• Mickey Mouse Sandwich
• Disney Character Fruit Snacks
• Character Juice Bottle
• Mickey's Cheese
• A Disney Lunch Box Note (make your own, or download mine for free)

It only takes a few minutes to transform a typical lunch into a magical one.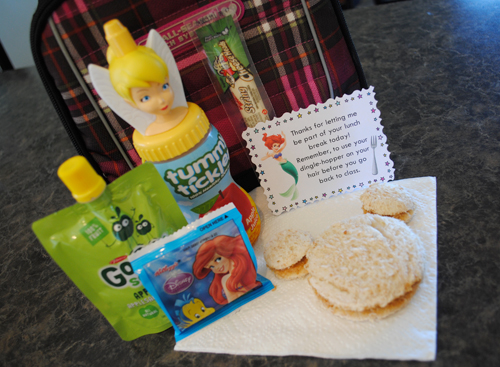 To make the Mickey Mouse Sandwich, cut out one big circle and two small circles with anything round you can find in your kitchen. I used a jam bottle for Mickey's face and a baby bottle to cut the ears. If you are handy with a knife, you could also cut the shape with that. Feel free to eat the scraps so they don't get wasted.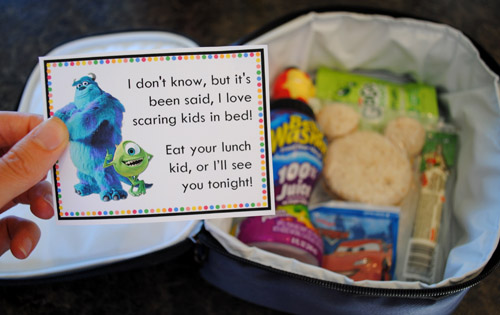 Imagine the surprise on your child's face when they discover the Disney Fun inside their own lunchbox at school.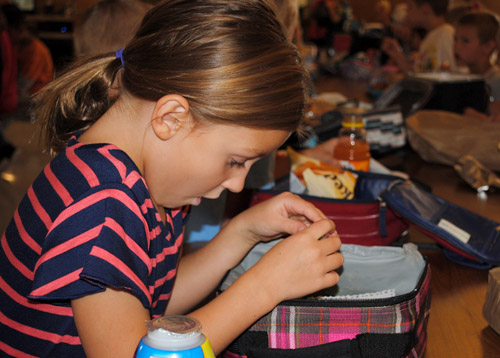 FREE DOWNLOADS:
BOY Lunch Box Notes
GIRL Lunch Box Notes
You of course can also use this idea to get your children excited before your trip to Disneyland and to remind them of all of the fun you had when you return!

Get Away Today has the best deals on Disneyland vacations with everything from free night hotel specials and discounted tickets with exclusive extras. We even have fun discounted merchandise you can use to surprise your kids with a Disneyland trip! We are your Disneyland vacation experts and we'd love to help you make your next vacation (like your child's lunch) just a little more magical.





Check out these other fun vacation ideas:

Mike and Sulley Cupcakes
Adventureland Inspired DIY Snake Souvenirs
Disneyland Vacation: "Are We There Yet?" Map and Activity
Disneyland Vacation Countdown Paper Chain