In my family, we love road trips! And, I'm always looking for fun ideas and ways to make our road trips better. I came across this awesome idea for road trip pillowcases on Amazing Mae's Blog and I loved the idea! I couldn't wait to make them with my girls for our upcoming road trip to Disneyland. We made a few adjustments and I wanted to share it with you.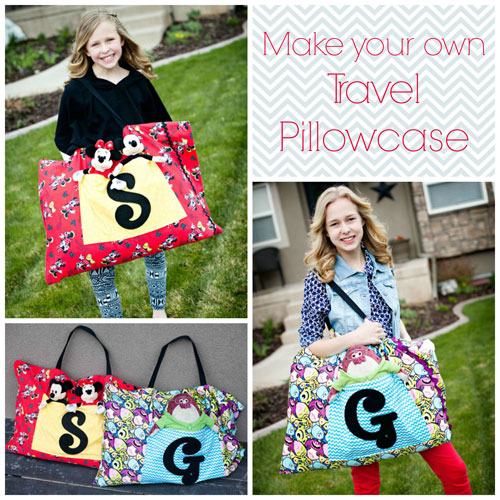 We took a trip to the fabric store, and each of my girls picked out their fabric and supplies. Since it's for a trip to Disneyland, we chose Monsters University and Minnie Mouse.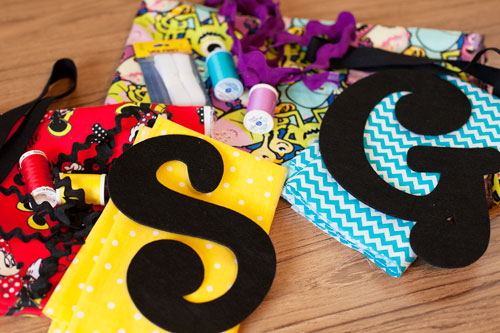 Here's what you'll need for each pillowcase:
1 yard of fabric (42 inches wide)
22 inches of cotton webbing (for the handle)
2 – 16x12 pieces of fabric (for the pocket)
3-inch piece of Velcro
45 inches of rickrack
1 craft felt letter
Matching thread

Here's what to do:

Layout your fabric so it is 36 inches wide (1 yard) and 42 inches tall (folded). We had to trim our Monsters University fabric because it was more than 42 inches. This will become your pillowcase.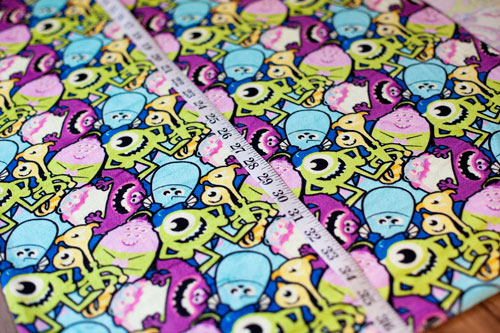 Measure and cut your fabric for your pocket. I wanted to make sure my felt letters would fit nicely before I cut, and they did.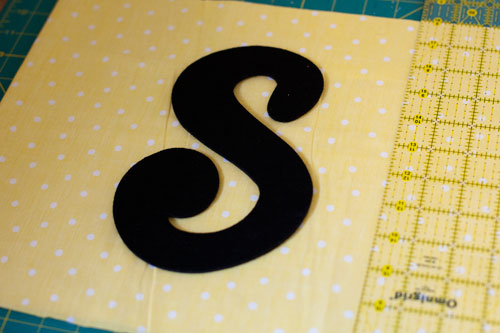 The pocket is double fabric, so we pinned the 3 open sides, and sewed them closed, wrong sides together, leaving a small opening to turn in right side out.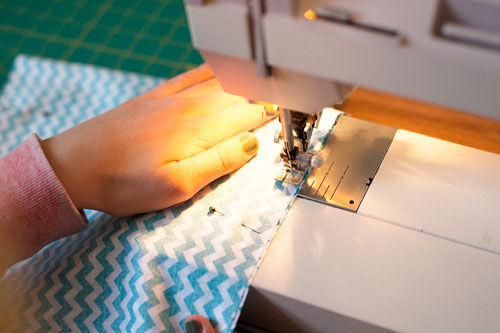 Turn your pocket right side out and use a pencil to help turn out the corners.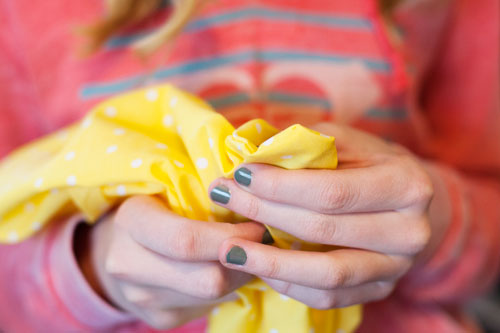 Iron your pocket so it is nice and smooth. Once your pocket is ironed, you are ready to sew on your initial. Make sure that the little opening you used to turn your pocket right side out is on the bottom. It will get sewn closed when you sew your pocket on to your pillowcase.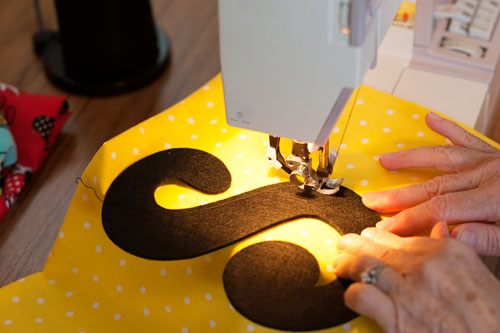 When your letter is attached, you are ready to attach your pocket to your pillow case fabric. It is helpful to pin your pocket in place, so you can keep it straight while you sew. This is where your small opening in your pocket will be sewn closed, as you sew the pocket onto the pillowcase.

Now it is time to sew your pillowcase. Pin the strap at the top. When you are sewing along that edge, make sure to reinforce your stitching as you pass the straps. Now all you have left to finish is the opening of the pillowcase. We surged around the opening on the unfinished edge, just to give it a nice finish. Then, we turned the pillowcase inside out. Fold your opening 4 inches to make a cuff (see photo) and sew it down to create your finished pillowcase opening.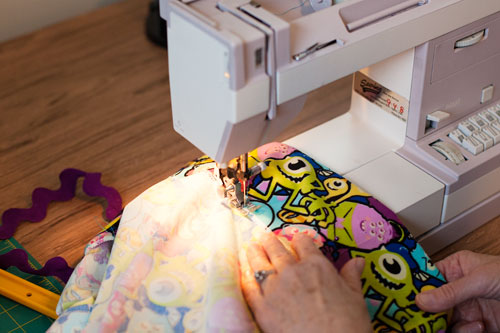 Turn your pillow case right side out again, and sew your rickrack on to the same sew line as your cuff. When your rickrack meets up, just fold the raw edge under, match it up with the starting design, cut the extra off, and finish sewing it down securely.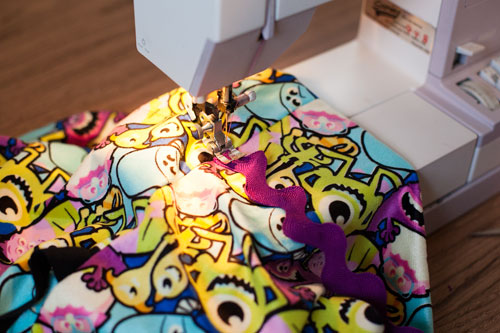 You can add a piece of Velcro to the pocket if you'd like, and then ta-da! You have a darling travel pillowcase for your next road trip! It's perfect for keeping your kids' pillows and blankets clean during the travel, and the pocket is a great organizer for electronics, sunglasses, stuffed friends and more. It also is a great way to keep your kids comfortable on the road and set a clear limit on what each traveler can bring along for the journey.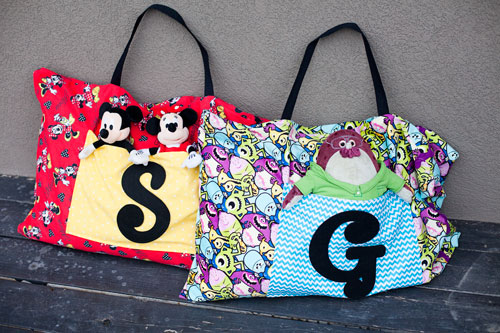 We'd love to help you plan your next road trip to the Disneyland Resort! Check out our discount tickets and 3rd, 4th or 5th night free specials for the most savings. Book online or call our Disney Experts at 855-GET-AWAY. Happy road-tripping!


Check out these other articles:

Top 10 Road Trip Tips for Happy Families
Rock Your Disney Side for 24 Hours
20 Things To Make the Most of a Summer Day at Disneyland