Make your own amazing Thor Hammer DIY Valentine Box in less than 30 minutes! Round up a few basic household supplies and get crafting.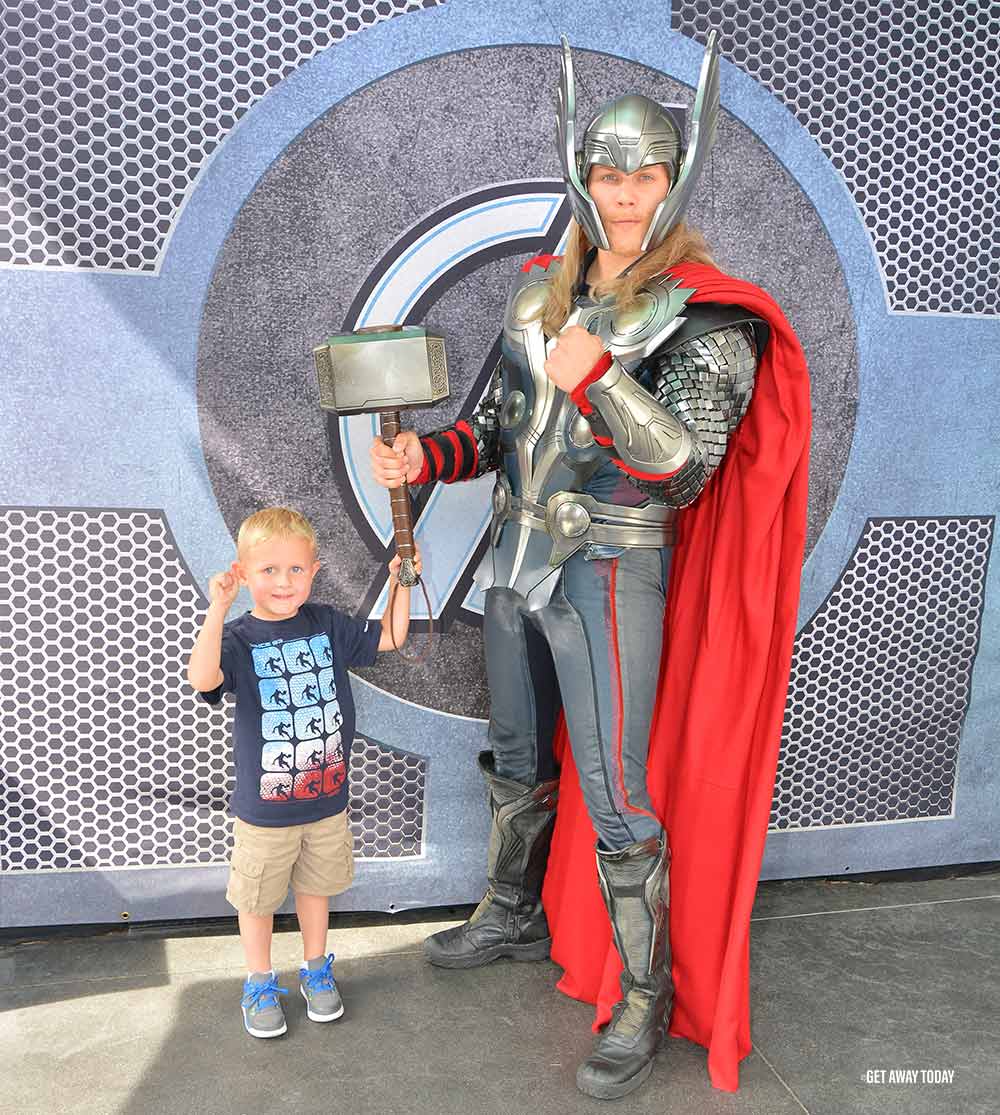 I love the Avengers. Love is the general theme for February so I suppose it's ok to be a little obsessed with the characters right?! Disney has done an incredible job making the super heroes funny, powerful, cool and totally crush worthy. Am I right?! It is almost impossible to pick a favorite. The Guardians of the Galaxy are hilarious and chill. Captain America is just so clean cut and good. Iron Man has enough bad boy edge to stay unpredictable and he is totally rich which is also a bonus. Ant man has the best smile and sense of humor. Thor has that swoon worthy accent and pretty awesome hair. Happy Valentines Day to us!
Thor DIY Valentine Box
I'm sure kids like the Avengers for totally different reasons. One is because of their amazing fighting skills! Another reason is their fancy weapons...like Thor's hammer. It is awesome. My little super hero was so excited to make a Thor Hammer Valentine Box for his kindergarten class party. He wanted something cool and I wanted something easy! We came up with this! I think your little Avenger will enjoy this easy Thor DIY Valentine Box as much as mine does.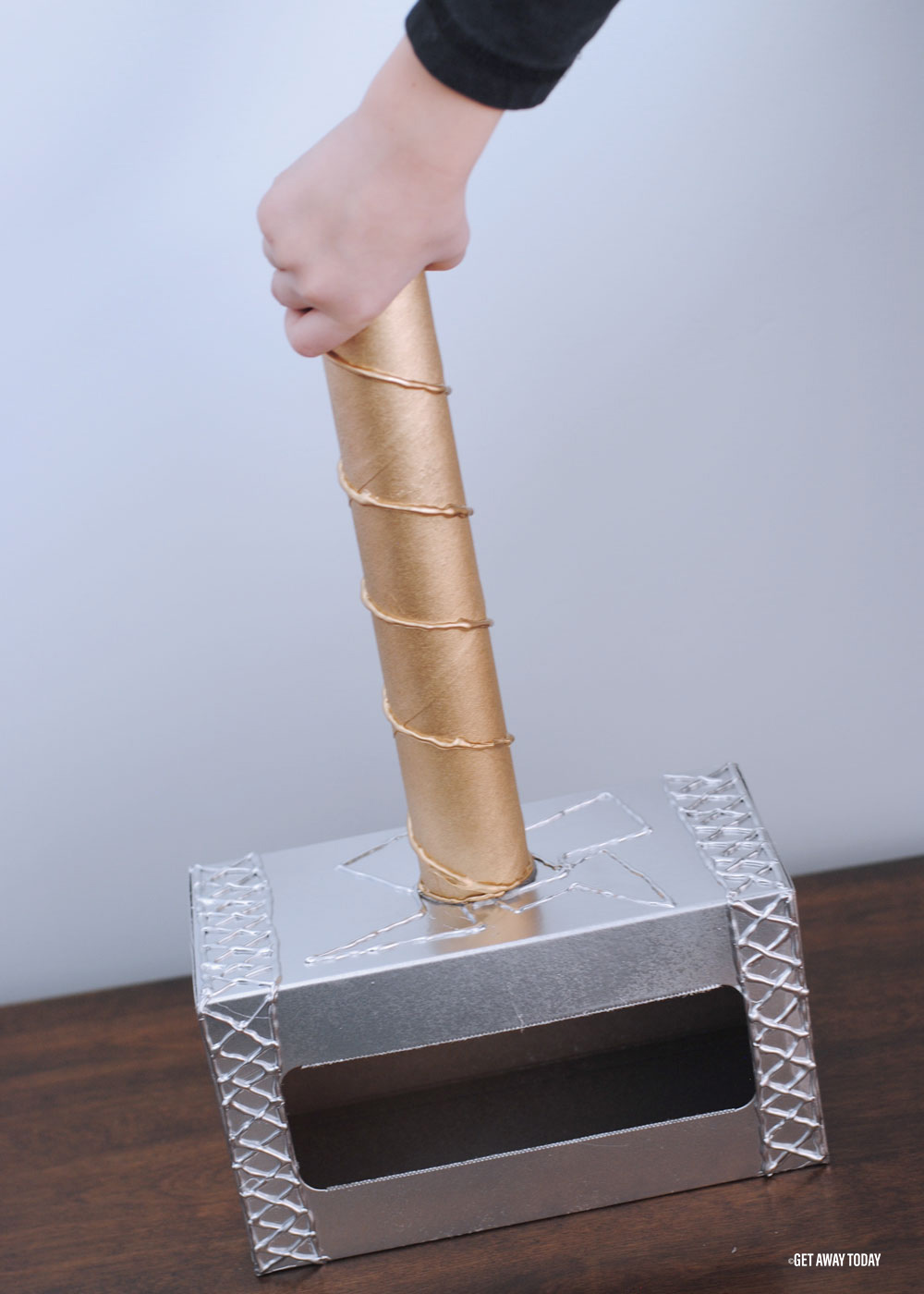 DIY Valentine Box Supplies You Will Need:
Empty Tissue Box
Paper Towel Roll
Hot Glue
Card Stock
Silver Spray Paint
Gold Spray Paint
Scissors
I tried to make this Valentine box with materials that are easy to find and that are most likely already in your house! Start with an empty tissue box. Take the plastic lining part from the opening at the top.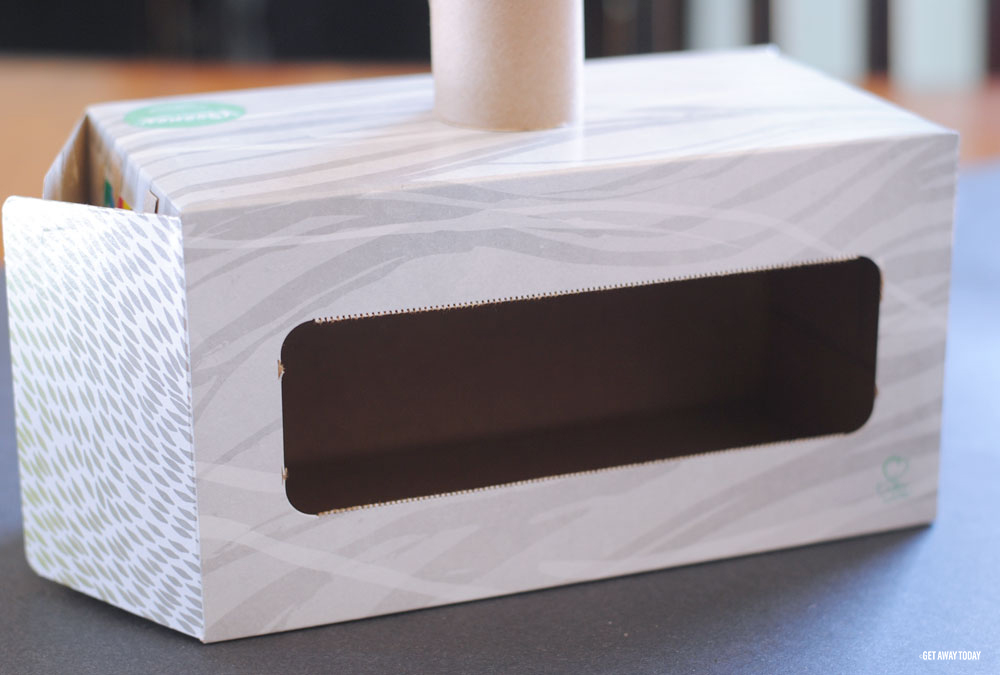 Next, plug in your hot glue gun and and get it ready for decorating. Then, trace the top of the paper towel tube onto a sheet of card stock paper.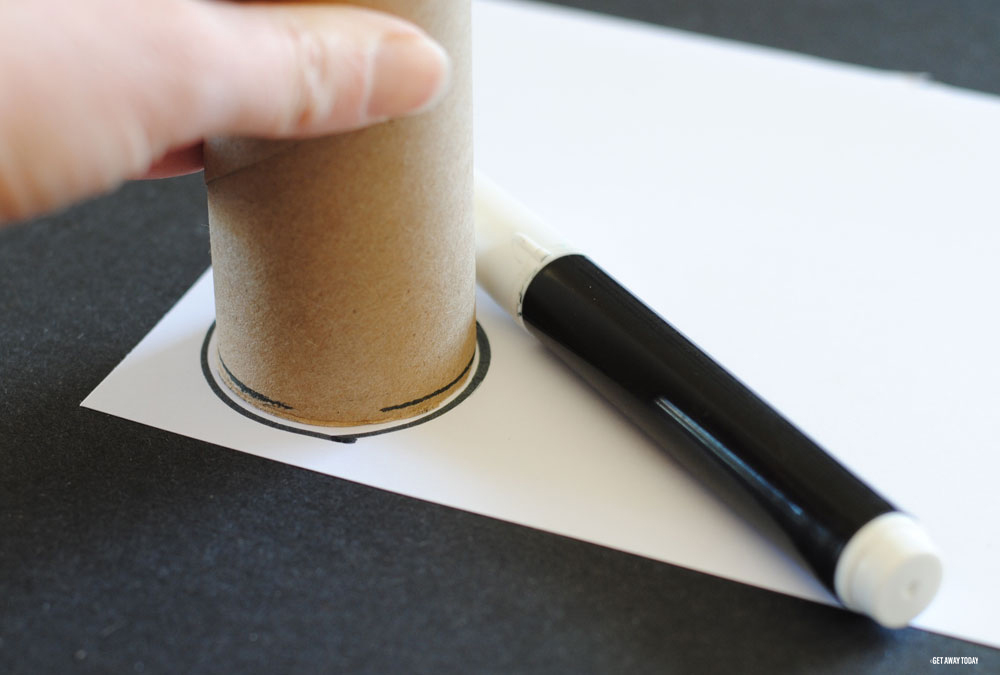 Cut the circle and glue it to the top end of the cardboard roll. Just run the hot glue around the rim of the tube and then set the paper circle on top.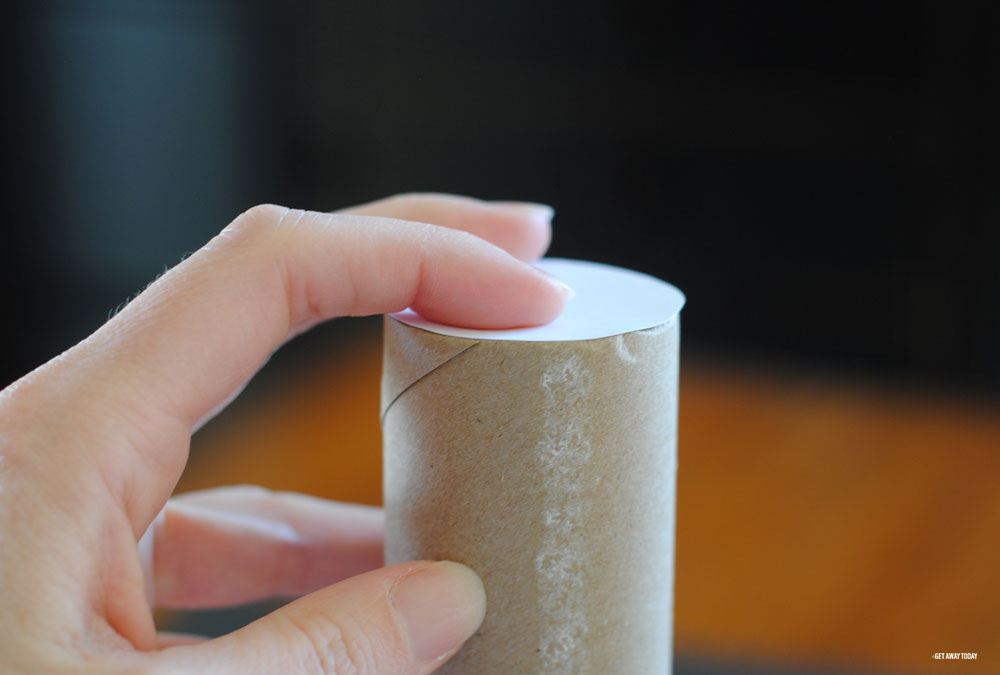 Assembling Your Thor DIY Valentine Box
Now for the fun part! This idea came from making Harry Potter wands. If you have ever decorated a Harry Potter wand with hot glue, then you are going to be a pro at this project. Don't fret if it's your first time. This is easy stuff, folks.
Pipe a line of glue down the entire cardboard paper towel tube. Travel in a circular motion around the tube so you end up with a nice spiral pattern. It should be one continuous line of glue. Let it dry.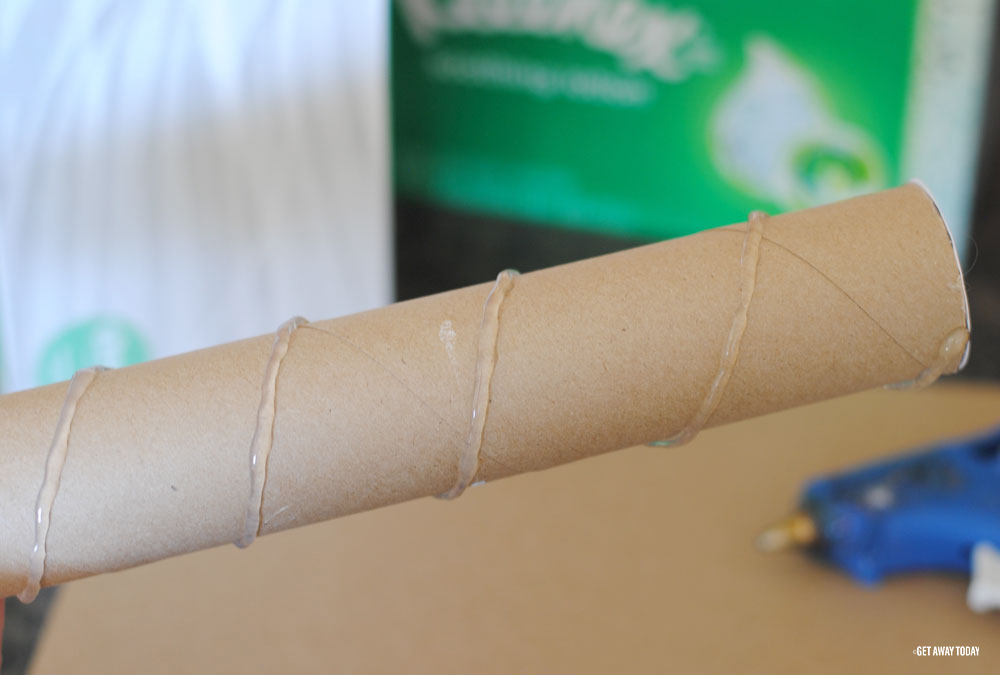 Then, put a little decoration on the paper top of the cardboard roll. I did a spiral. You could do a lightning bolt or a big "T" for Thor. Whatever sounds fun to you is great! I didn't take a photo of my spiral until it was already painted, but you get the idea.
Now, decorate the hammer part of the Thor Valentine Day Box. I decided to decorate the edges to make the hammer look like it had some shape. Draw lines along the outside edge of the box and then a parallel line about 1 inch in from the edges. Then make x's of glue in between the lines. Like this...
Continue the pattern around both sides of the your Thor DIY Valentine box. You have to turn the box so the section you are gluing is facing up. That way, the glue doesn't slide and drip during the decorating process. Let each side dry a bit before rotating the box to continue.
I added some lighting bolts to the top of the box to make it look a little more fancy. You can draw a pattern onto the box before you use glue to make sure you love it before it's permanent.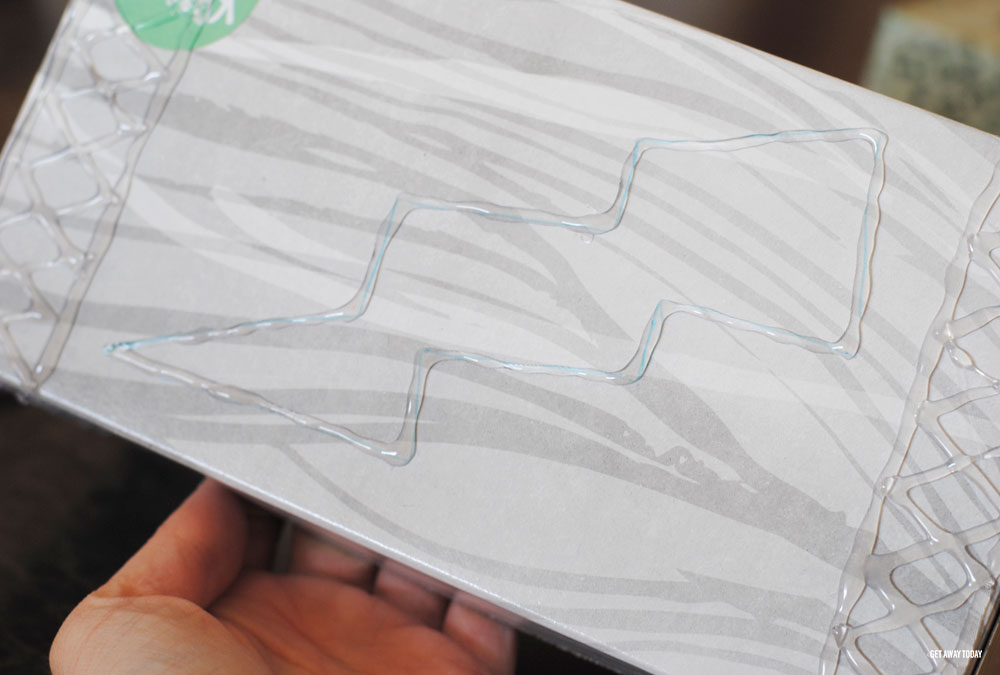 Painting Your Thor DIY Valentine Box
Head outside to add the paint! I had metallic spray paint on hand. But, you can usually buy silver and gold spray paint at the dollar store. Or even at Walmart. Shake the paint really well and place something under your items so you don't get overspray on your cement.
Just as a heads up- try to remove the glue stringy things that get left behind from hot glue. They show up when you paint. I saw a few after I had added the spray that I didn't notice before!
Add a thin layer of gold paint to the Thor hammer handle.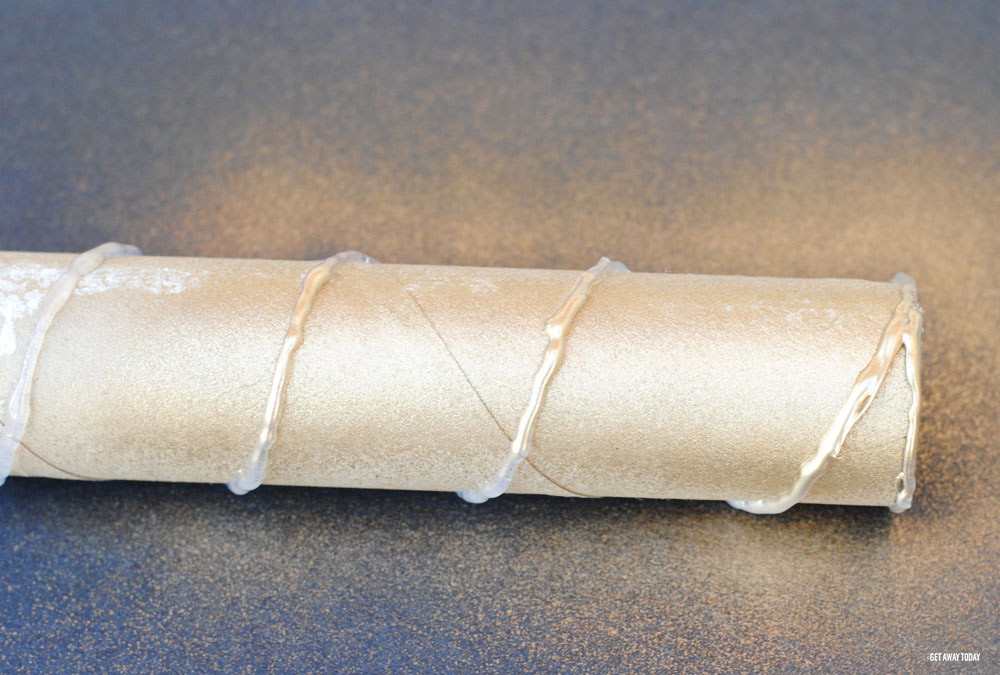 You can see the spiral on the top of the handle in the photo here.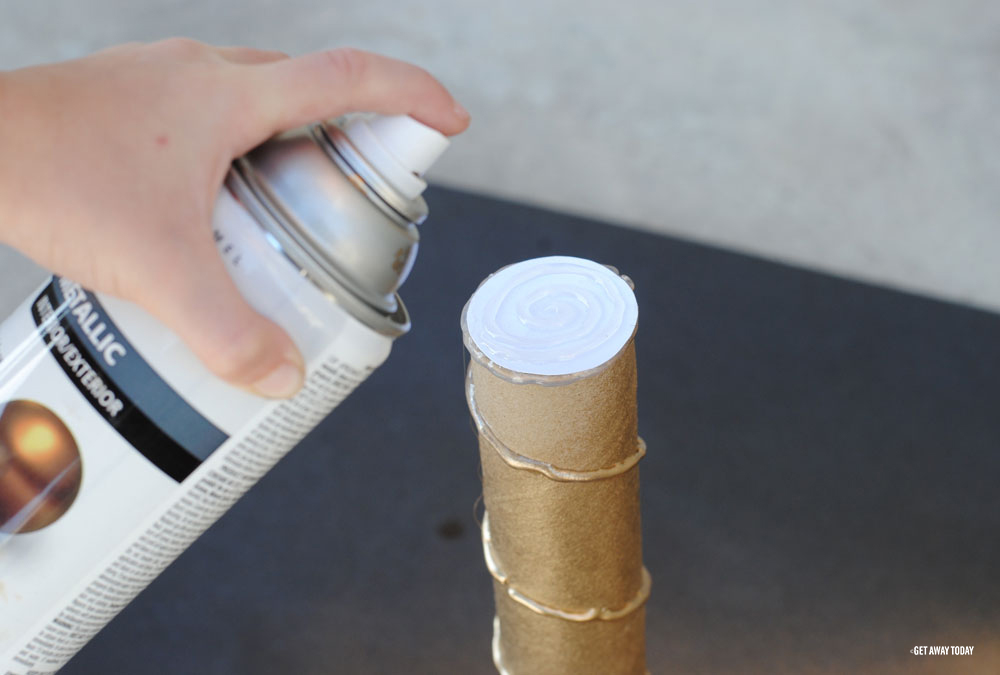 Keep adding thin coats of paint until all of the handle is covered in gold. It makes the hot glue look cool!
Repeat the painting process on the tissue box. Use silver paint.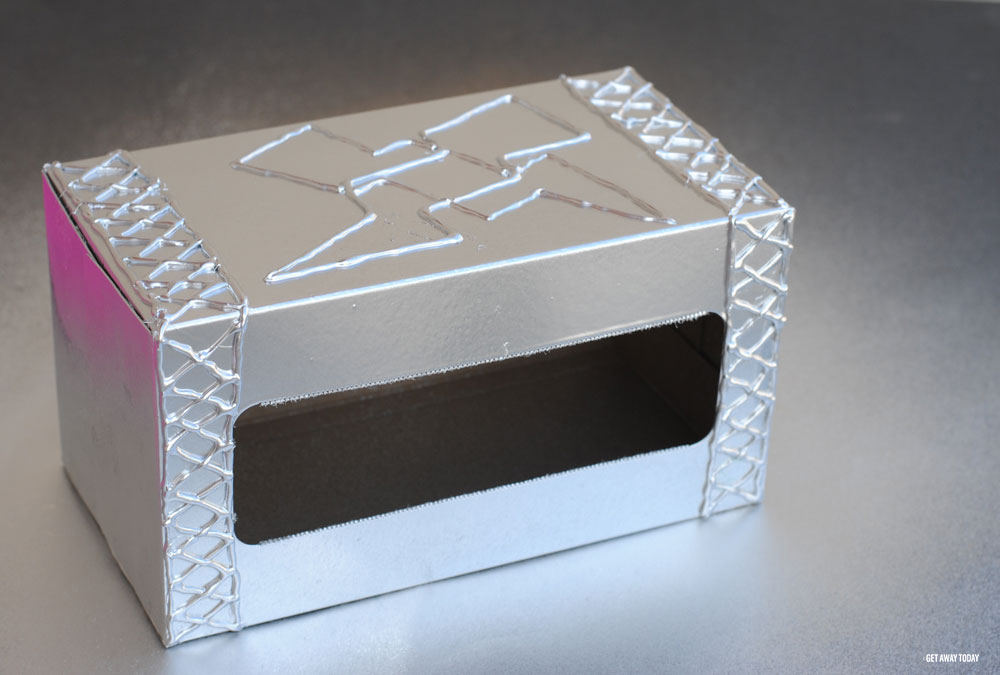 When the paint is dry, bring the two items back inside. Place a layer of hot glue along the bottom of the paper towel roll. Stick it to the center of the Thor Hammer Valentine box. Hold it in place while the glue sets up.
The slot for adding Valentines is on the front of the Thor hammer. You can fit quite a few treasures inside!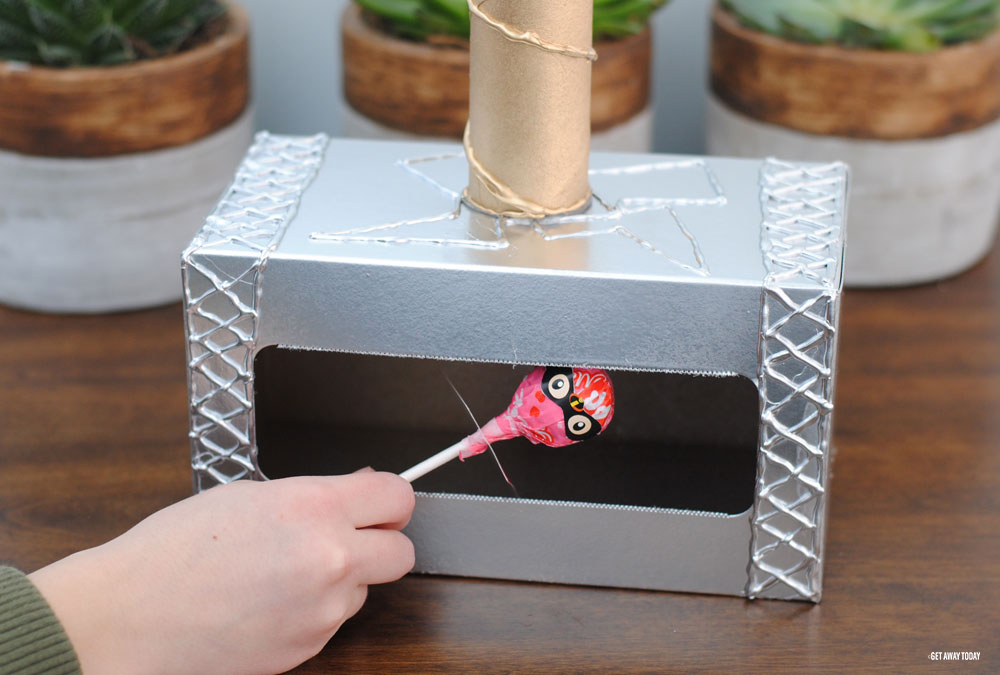 Doesn't it look cool? My son is totally excited to show his buddies at school.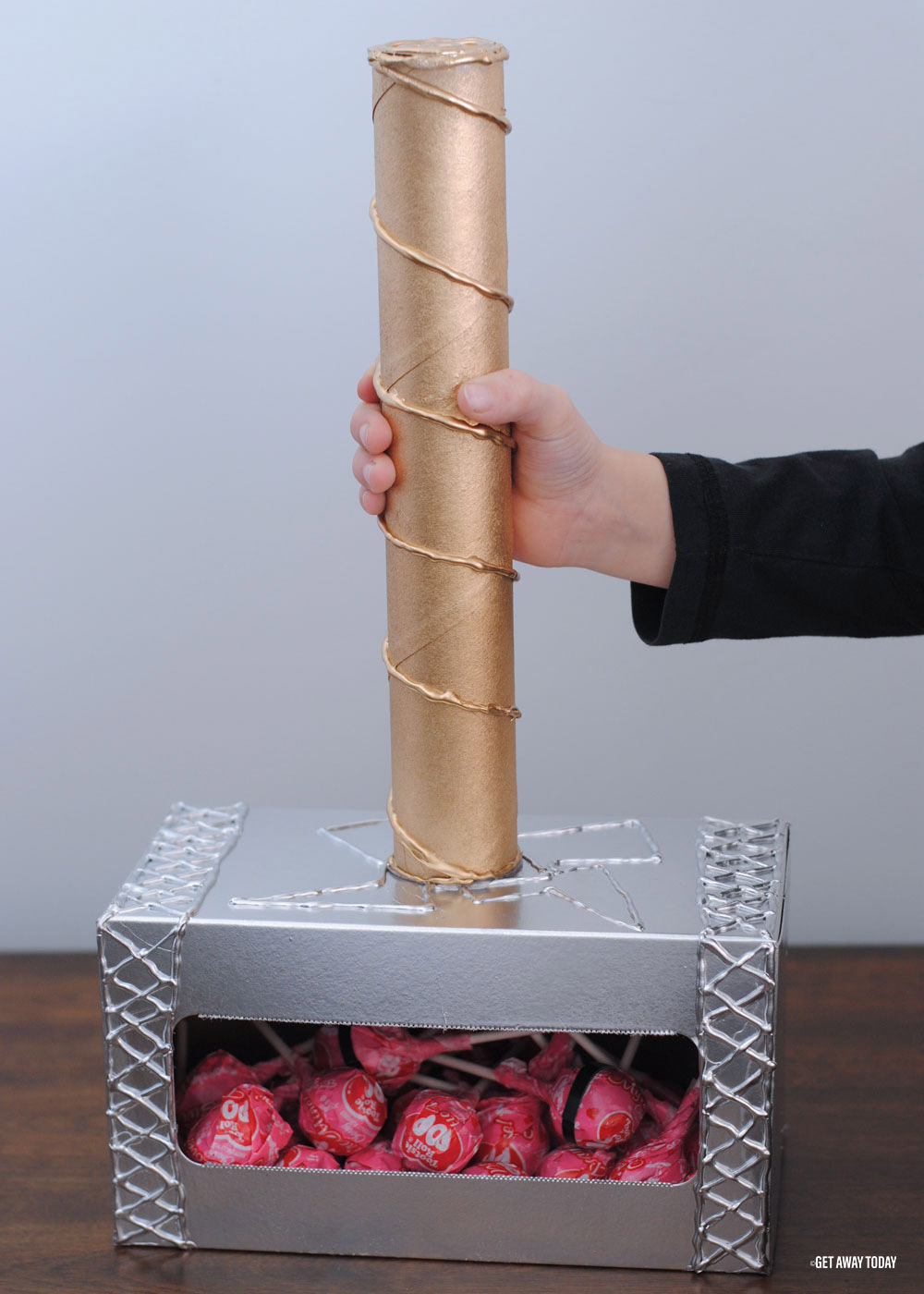 If you would LOVE to meet the Avengers at the Disney Parks, then make sure to head over to Disney California Adventure park. Marvel land is currently under construction. I'm so excited for the grand opening sometime in 2020. In the meantime, the Avengers come out for meet and greet sessions near the Guardians of the Galaxy - Mission: BREAKOUT! ride. On our last visit, I got to rub shoulders with Captain America and Thor! Wahoo! Next time I see Thor, I'll have to let him know he inspired our DIY Valentine box.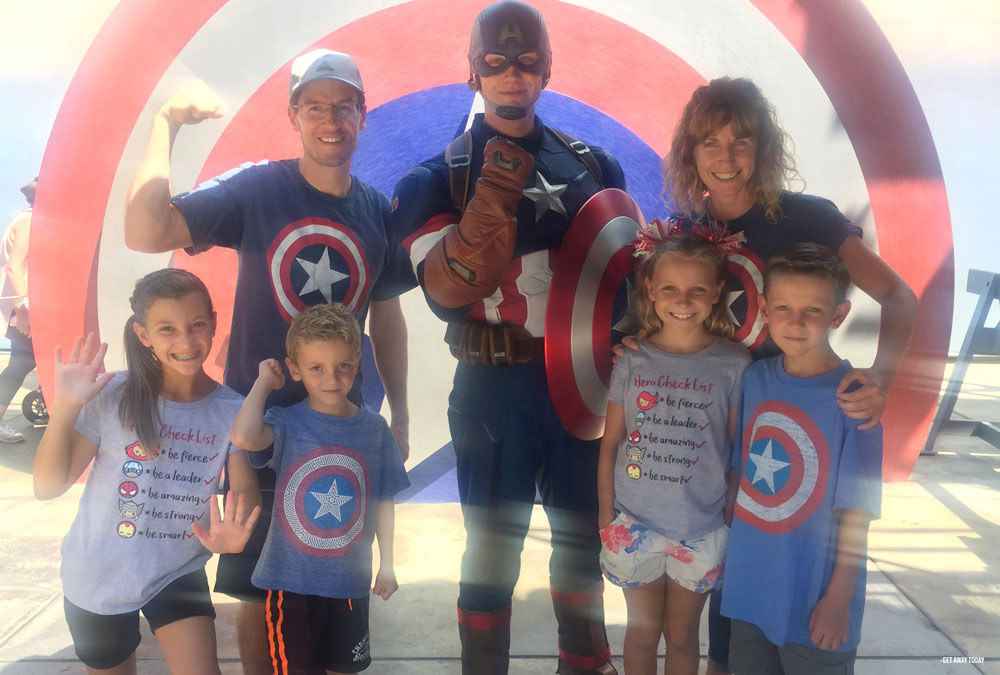 The super heroes did a great job interacting with my kids. Captain America checked their muscles and showed them how to flex! It was really a fun conversation.
Have a happy Valentines Day and enjoy your Thor Hammer Valentine Box!
If you'd like to plan your next Disney vacation, contact the travel experts at Get Away Today. They can answer all your Disney questions and help you get the most savings on your trip. Visit all vacation packages online at www.getawaytoday.com, or speak to an agent at 855-GET-AWAY.