Make a batch of Jack Skellington Oreo Pops with this easy recipe and tutorial. With only four ingredients, you can create a cute and festive party treat that is to die for!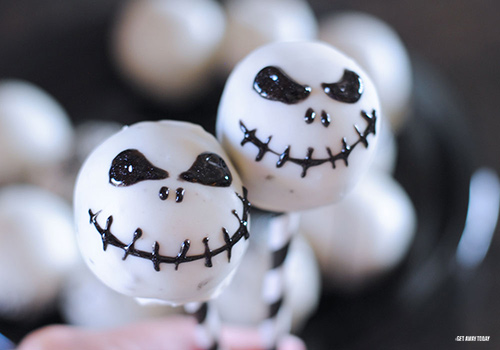 Did you know that Halloween Time at the Disneyland Resort is full of not-so-scary fun? It is one of the most popular times of the year to visit. With festive fall decorations, haunted entertainment, and rocking Halloween parties, Disney boys and ghouls are guaranteed to have a spooktacular time.
It is the time of year when the villains and haunting characters get their turn in the spotlight. Jack Skellington is always a crowd favorite. He and his Nightmare Before Christmas friends take over the Haunted Mansion with a whimsically frightful transformation during Halloween Time. You can transform your own Halloween time at home to include Nightmare Before Christmas with these easy Jack Skellington Oreo Pops. They will have all of your friends and family screaming for more!
Jack Skellington Oreo Pops:
1 8 oz Package Cream Cheese
My favorite thing about these Oreo Pops is how easy they are to make. Well actually, my favorite thing is how they taste. But, my next favorite thing is how quick and simple they are! If you are looking for a recipe that is good for kids, this one should be at the top of your list.
To start your Jack Skellington Oreo Pops, put half of the Oreo cookies into a blender or food processor. Chop the cookies until they are smooth and fine. Empty the cookie crumbles into a bowl and then chop up the second half of the cookies until they are nice and small too!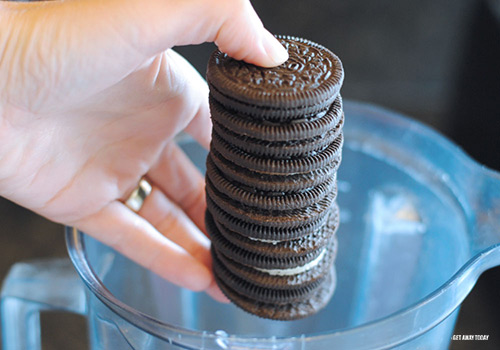 Cut the cream cheese into one inch blocks. Then toss them into the cookie crumbs. Use your hands to combine the two ingredients until they are nice and smooth and all of the cream cheese is spread out. You don't want any clumps.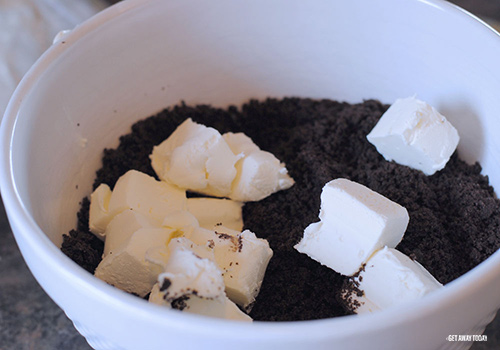 Cover a cookie sheet with parchment paper. Roll the Jack Skellington Oreo Pops batter into one inch balls. Place them onto the parchment paper. When all of the balls are formed, place the cookie sheet into the freezer for about one hour.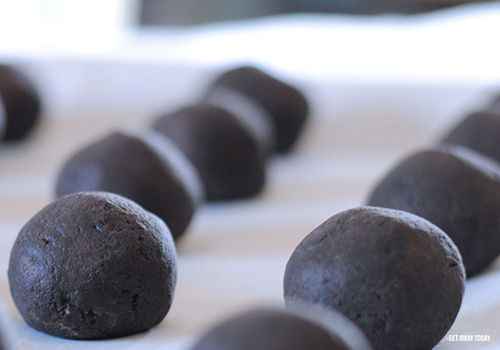 Now comes the fun part...the chocolate coating. First, cover a second baking sheet with parchment paper. Then take half of the Jack Skellington Oreo Pops out of the freezer.
Place half of the white chocolate melting chips into a microwave safe dish. Melt them in the microwave on 50% power for 30 seconds. Stir. Then do an additional 30 seconds at half power. Stir again. If they aren't nice and melty you can do another 30 seconds. Do not over cook the chocolate or it will ruin the consistency.
Just as a side note, I originally bought "off-brand" white chocolate melting chips. They were pretty inexpensive and I thought they would be fine. I was wrong. Do not buy cheap chocolate. It is hard to work with, too thick and didn't coat the truffles evenly. When I switched to using the Ghirardelli White Chocolate it was heavenly. It stayed smooth for the entire process and the flavor is way better too. So, if you can find the "good stuff" then make sure to get it!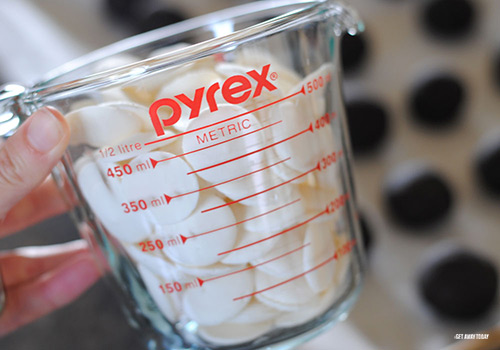 Dip the Oreo and cream cheese balls into the melted chocolate one at a time. Use two forks to handle them. Wiggle and shake the balls gently to get the excess chocolate to drip off. Place the coated Jack Skellington Oreo Pops onto the parchment paper to set up. The chocolate starts to harden really fast since the Oreo Pops have been in the freezer.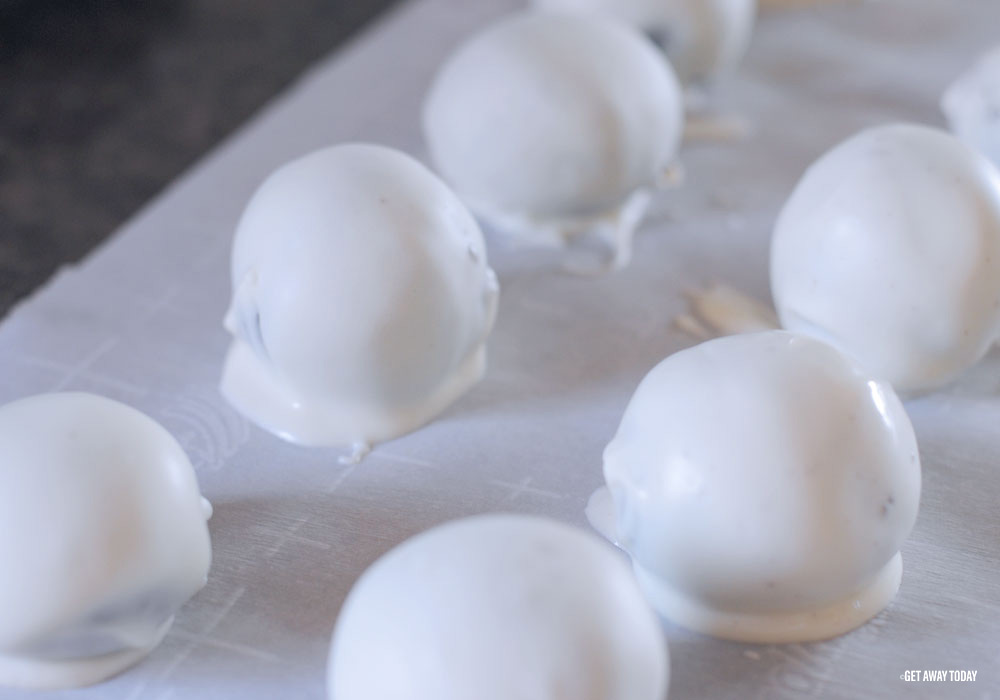 Melt the second half of the chocolate and then cover the second half of the Oreo Pops.
When the chocolate is hard you can add the Jack Skellington face. You will need black decorating gel. I got mine in the cake section of the grocery store, but you can also find it on Amazon here. Draw the face onto the truffle with the gel. I used a toothpick to add the lines onto his creepy smile. Just put a dab of gel on the toothpick and then slide it across the chocolate. It sticks pretty easily.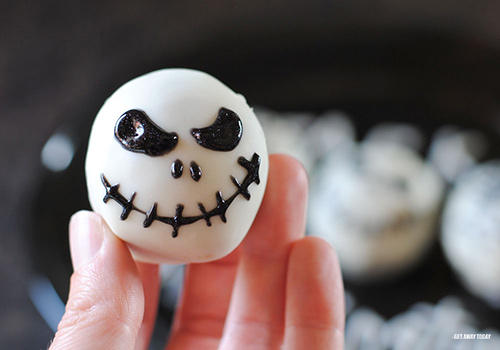 You can serve your Jack Skellington Oreo Pops immediately, or save them in the fridge for a party later in the day. Aren't they fun?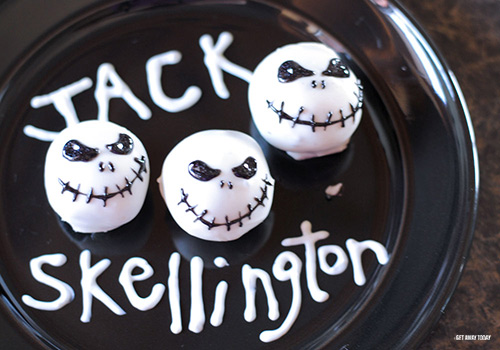 I hope you have fun dipping and decorating your Jack Skellington Oreo Pops. Make sure to watch for Jack at the Disneyland Resort this Halloween Time season. You can see him in Haunted Mansion Holiday or stop for a picture with him across from the mansion. Check the entertainment guide or with a Cast Member to find out when Jack Skellington will be meeting guests. Don't forget to have your camera ready!
If you haven't booked your Disneyland Halloween vacation, there's still time. You'll find spooky savings when you take advantage of our discount Disneyland tickets and reduced hotel rates. Book online or give our Disney experts a call at 855-GET-AWAY.

Check out these other "boo"tiful Halloween Time crafts and recipes: