UPDATED MARCH 2019 Star Wars Land in Disneyland is slated to be the most interactive and immersive experience Disney has ever created within their parks. Find out everything we currently know about the new land, including its new name, ride details and when it's coming.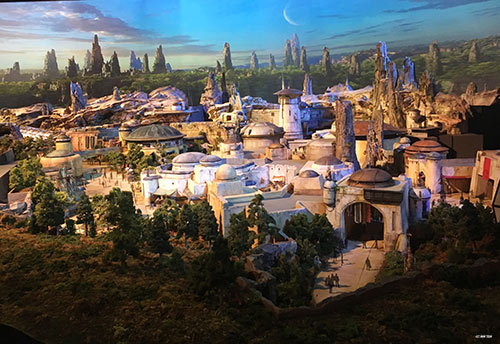 Soon, you won't have to travel to a galaxy far, far away to visit the world of Star Wars. That's right, Star Wars Land Disneyland is just a few years away. Opening May 31, 2019, up until now Disney has been sharing information bit by bit. Disney recently shared the most information yet at this year's D23 Expo. We were so excited to be there and hear the information first-hand from Bob Chapek. We know that you are just as excited for the out-of-this-world project, so here's everything we know about Star Wars Land in Disneyland:

An official name. Star Wars Land in Disneyland will be known as Star Wars: Galaxy's Edge. We think the official name is a perfect fit for the land and its featured planet.
A never before seen planet. Star Wars: Galaxy's Edge will encompass a planet we have not seen in any of the Star Wars movies. The land is set represent a planet on the very edge of the Unknown Regions in the Outer Rim, hence the newly-released name of Star Wars Land in Disneyland. As you can see, the concept art for this unknown planet is breathtaking. We can't wait to explore it for the first time!
Two e-ticket attractions. Star Wars Land in Disneyland will include not one, but two e-ticket attractions. The first attraction will put you in the middle of the fight between the First Order and Resistance, inside your very own Star Destroyer. The second attraction will give you the chance to fly the Millenium Falcon. Yes, you will be able to actually pilot the renowned ship when Star Wars Land in Disneyland opens! Whether you're piloting, preparing for hyperspace or shooting blasters, you'll want to do your very best to complete your mission.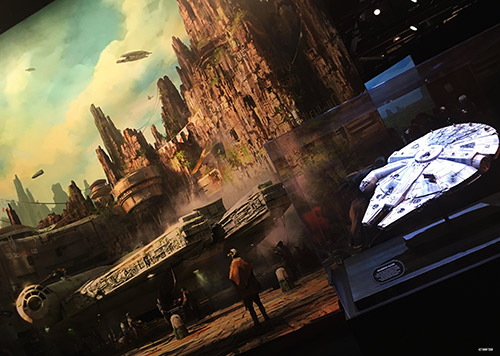 Choices will matter. Star Wars Land in Disneyland is set to be one of the most immersive experiences throughout all of the Disney Parks. For the first time ever, your choices and actions will have an effect on the rest of your day within the galactic universe. Disney has alluded to things like piloting the Millenium Falcon extremely well may lead to offers from Cast Members to join the Resistance. Or, fly the ship badly and you could end up on a bounty hunter's list. Just try and avoid ending up on Harkos' list – this extreme bounty hunter is rumored to haunt the local cantina and WILL find you.
A few of our favorite characters. Speaking of Harkos, we now know several more favorite characters that will be making appearances at Star Wars Land in Disneyland. For those supporting the First Order, you'll be delighted to know Kylo Ren will be a key character in Star Wars: Galaxy's Edge. If you prefer to lend your aid to the Resistance, you'll be happy to find characters like BB-8, Chewbacca and Han-Do. Rex, the troublesome droid, will also be at Star Wars Land in Disneyland. You'll find him in the local cantina, where he will be acting as a DJ. We're sure nothing could go wrong with him at the music helm!
Unique food and souvenir options. We've mentioned the local cantina several times and for good reason. On top of finding all sorts of space travelers here, you'll be able to taste dishes from around the galaxy. No official menu has been released, but Disney did confirm you will be able to taste blue milk for the first time. There will also be options for unique souvenirs throughout Star Wars Land in Disneyland, including items from renowned trader Dak Andar. Just remember that purchasing an item from a rogue trader may create an interaction with a bounty hunter or First Order member later.

There are two distinct areas. The expansive model of Star Wars Land in Disneyland that debuted at the D23 Expo revealed a few more details. We've known for a while now that Star Wars Land in Disneyland is going to be big - 14 acres in fact. However, we're even more excited now that we know how that space is going to be used. The Resistance rules the left while the First Order controls the right. The model showcases a Resistance base to the left of the land with an X-wing and A-wing nearby. To the right of the land, a First Order flag flies above with TIE fighter parked nearby. For those looking to openly support one cause or another, you may want to take heed of which side you choose to visit. These details only hint at how immersive Star Wars: Galaxy's Edge will truly be.
Three entrances. This is another observation made from the detailed D23 Expo model of Star Wars Land in Disneyland. There will be three entrances to Star Wars: Galaxy's Edge. The first enters near Critter Country and takes you directly into Resistance territory. The second enters between Fantasyland and Frontierland, leading you into First Order territory. The last entrance stems from Frontierland and appears to lead into the neutral territory in the middle of the land.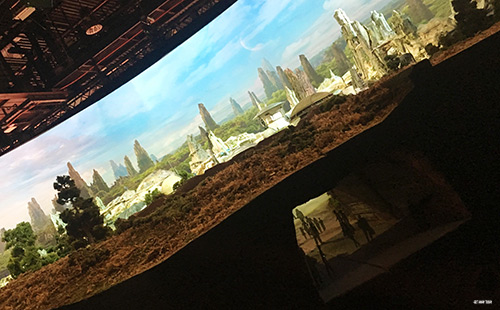 Opens 2019. While we still do not have an opening date for Stars Wars Land in Disneyland, we do know it will open in 2019. It's also been confirmed that Star Wars: Galaxy's Edge in Disneyland will open in summer of 2019 while Stars Wars Land in Disney World will open in late fall of 2019. UPDATED MARCH 2019: We now know Star Wars land Disneyland opens May 31, 2019, while Star Wars Land Walt Disney World opens August 29, 2019.
All of these details - even the tiniest - have us so excited for Star Wars Land! We can tell it's going to be unlike anything Disney has done before. We will make sure to let you know as soon as an opening date and/or season has been announced. Be sure to follow us on Facebook to keep up with our most current announcements.
If you're hoping to visit the park before Star Wars Land opens, we can help! Your family can experience Star Wars in Disneyland right now. Meet your favorite characters at the Star Wars Launch Bay or become a true Jedi during the Jedi Training Academy. Either way, you'll feel the Force! Our 2017 and 2018 Disneyland packages are available to book now. From discount Disneyland tickets and reduced hotel rates to travel tips and tricks, we've got your upcoming Disneyland trip covered. Book online or give our Disney experts a call at 855-GET-AWAY.

Check out these other great articles: