Make a Star Wars Chewbacca Savings Bank to help save money for a Disney Vacation! This simple Star Wars Craft is a great way to get excited about planning a visit to the Disney Parks.
For someone who doesn't even speak a real language, Chewbacca is a pretty popular guy! He is by far the favorite Star Wars character at my house! We have a whole collection of Chewbacca gear...pillows, plush characters, action figures, t-shirts and more! Chewy is just pretty darn cool.
If you also have some pretty serious Chewbacca fans at your house, then this information is going to make your day! Disney park guests can meet Chewy in person. He is available to give out the best Wookiee hugs in the galaxy daily at the Star Wars Launch Bay in Tomorrow Land. You can check your Disneyland app for details and meet and greet times during your visit.
Even more exciting?! With the opening of the brand new Star Wars: Galaxy's Edge at Disneyland, Chewbacca is making friends at Batuu! Chewy agreed to do a few smuggling runs for Hondo Ohnaka in exchange for parts to fix the Millennium Falcon. So, he is hanging around Batuu for awhile! You can find Chewbacca at the Millennium Falcon: Smugglers Run and at the Resistance Encampment.

Chewbacca Savings Bank Craft
If you are planning a trip to visit the Disney Parks (and Chewbacca!) but are still working on saving up funds for the trip, then this the perfect Star Wars Craft to do as a family! Make a Chewbacca Savings Bank. It is furry and festive and incredibly easy to decorate.
Chewbacca Savings Bank - Supplies
Chewbacca Savings Bank - Getting Started
Gather up your supplies from the craft and fabric stores! I found these awesome plastic mason jars that I loved because they are light weight and a really nice size. You can find the furry Chewbacca fur fabric online, as well as big packages of foam craft paper. Stock up for future projects!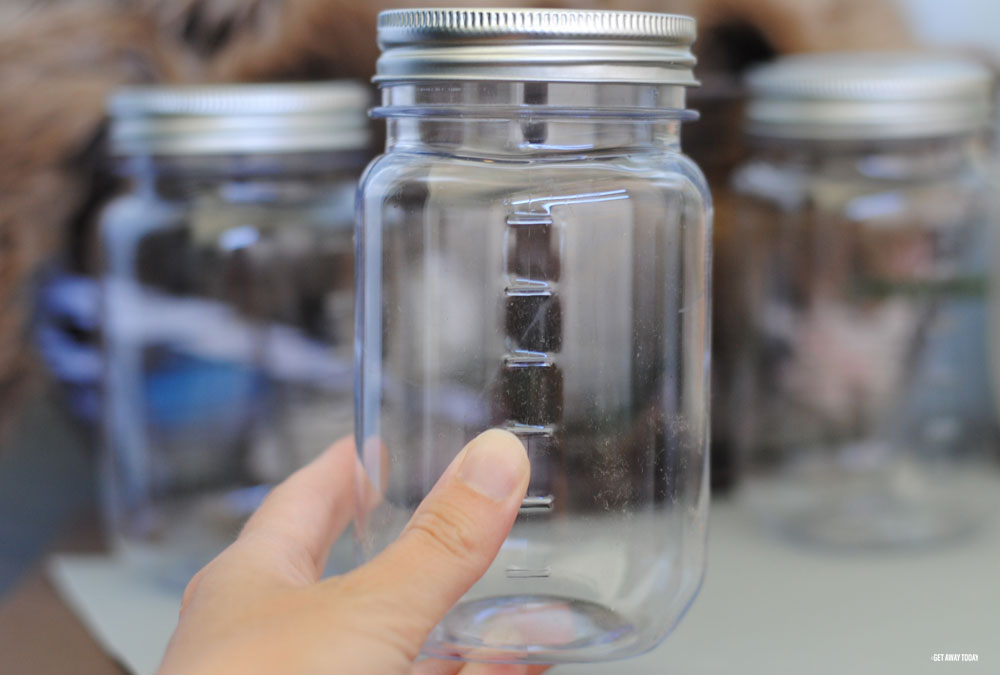 Measure the length of your jar. You want to be sure to cut the fabric wide enough to cover the entire jar. Mine was just over 4 inches tall.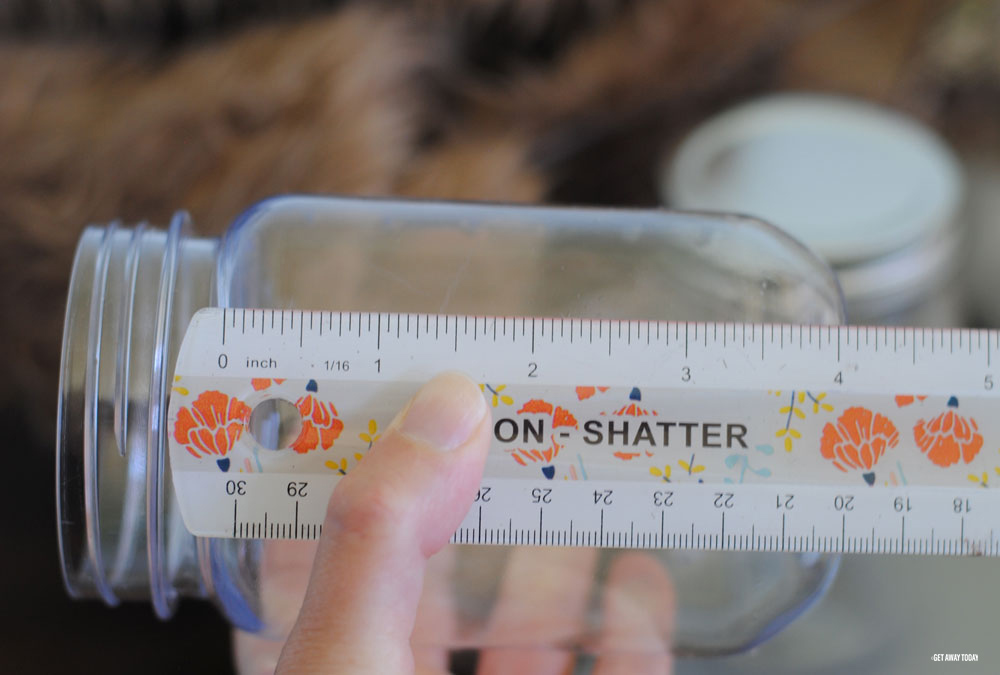 I added an extra 1/2 inch to my measurement just to make sure it was long enough to cover the curves in the jar. Lay the furry Chewbacca fabric flat on a table with the backside of the fabric facing up. Mark the measurement along the fabric with dots and then cut along the line.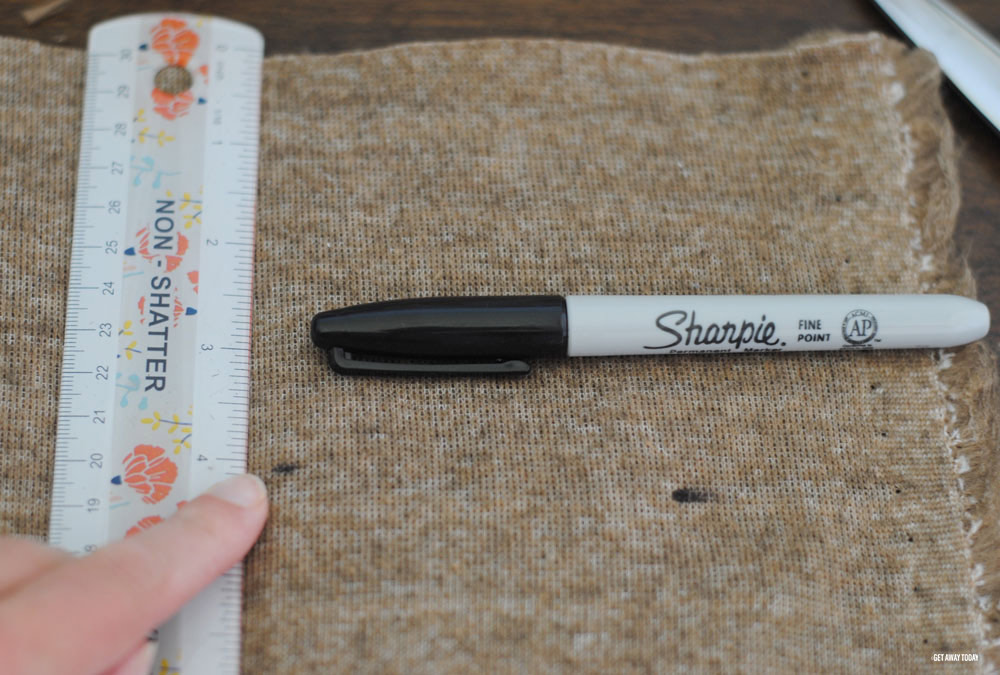 Wrap the fabric around the jar to make sure it is a good fit.
Then use a hot glue gun to secure it in place. Add a line of hot glue right along the rim of the jar and stick the fabric to the glue. I did this process in short one to two inch segments to make sure the glue stayed hot as I worked.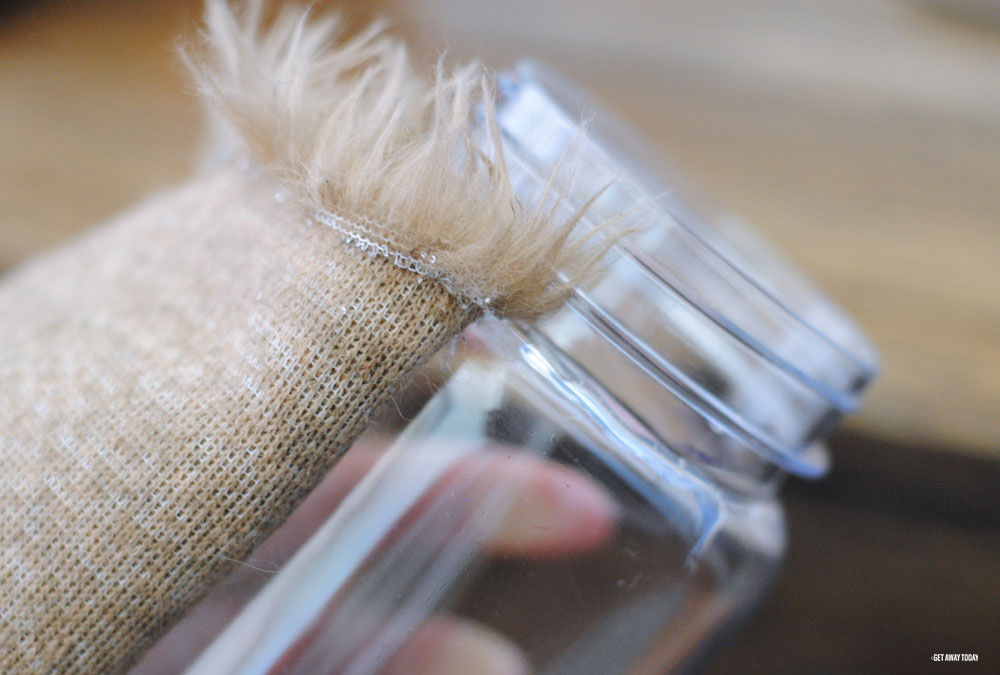 Then, repeat the gluing process along the bottom part of the jar. Then add a line of glue to the edge of the fabric that wraps around the jar. It's super quick and easy. The hot glue dries almost instantly! I love that there isn't any waiting involved.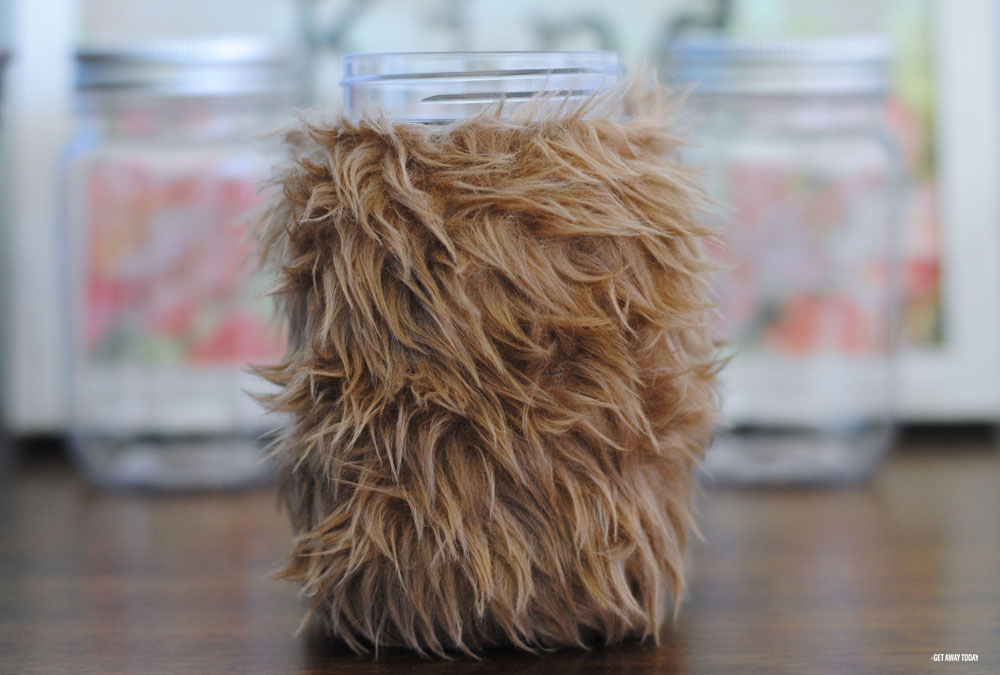 Chewbacca Savings Bank - The Details
Next, add the bandolier. What in the world is a bandolier you ask?! It is a utility belt. Chewbacca doesn't really need a regular belt because he has no pants! HA! To make the bandolier you will need a brown and a grey foamy sheet. Cut one 3/4 inch strip from the brown sheet. Wrap it around the Chewbacca Savings Jar starting at the top and then have it curve around to the bottom of the jar. Kind of like it would look hanging around a body from one shoulder to the opposite hip.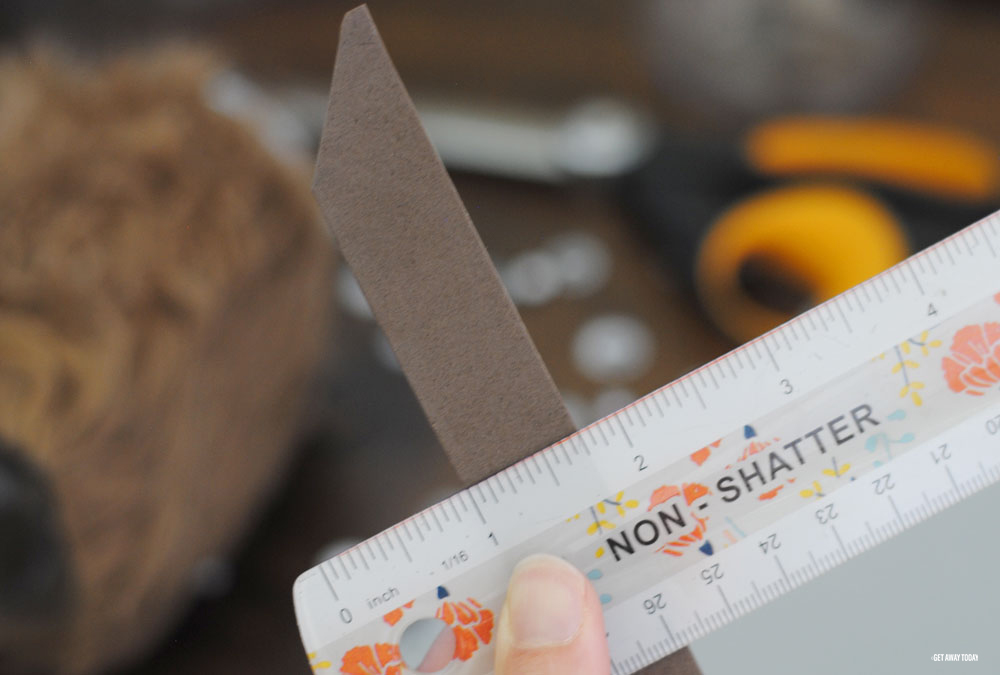 Then snip the top and bottom of the strip at an angle so it has a nice flat finish with the edge of the jar. Glue it in place with hot glue.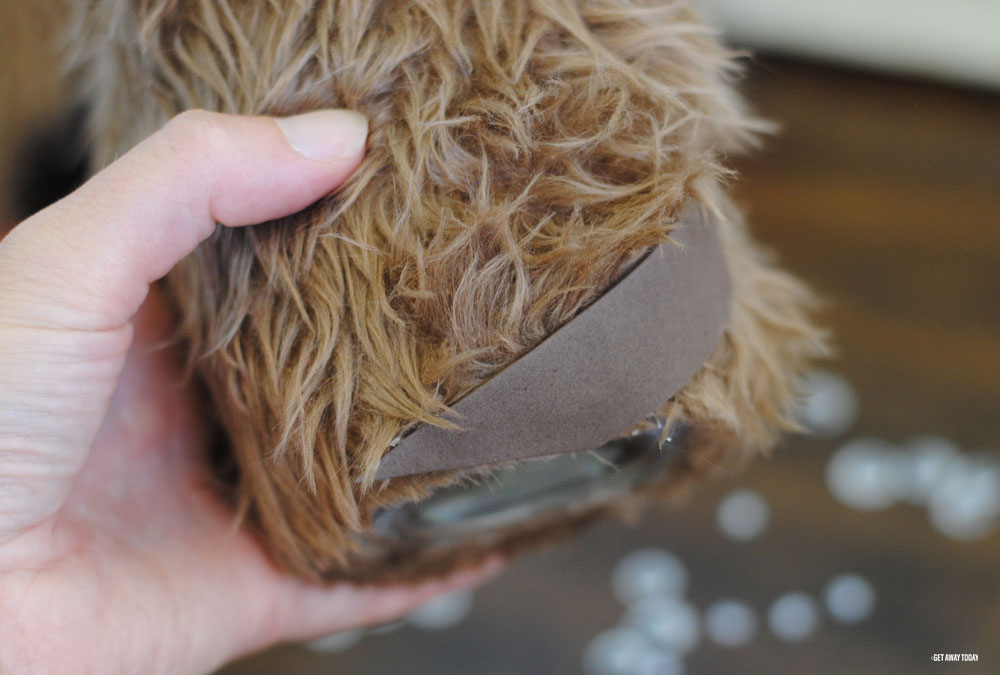 Cut a strip of the grey foam sheet into a 1/2 inch strip. Then cut the strip into 1/2 inch wide squares. I made one square as my template and moved it along the strip as I cut.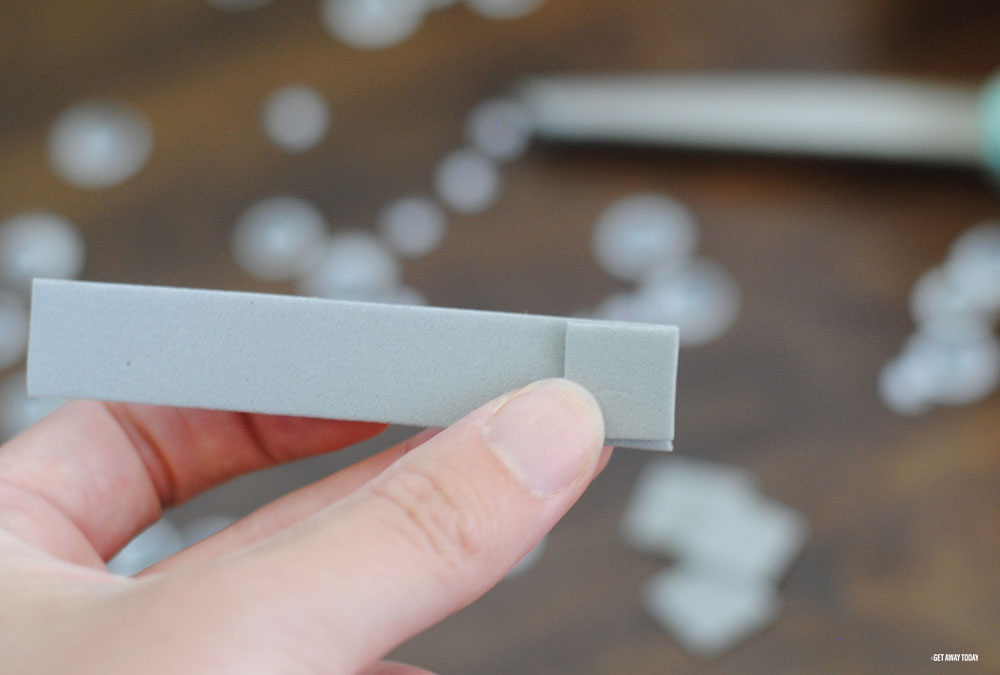 Glue the little grey squares onto the bandolier at equal intervals.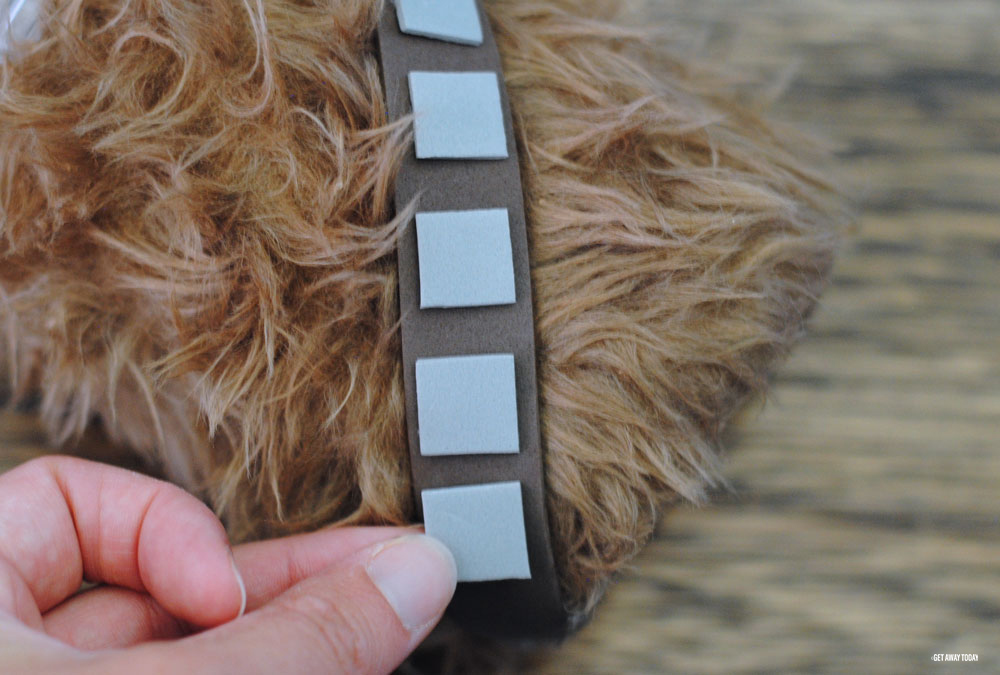 Just like that your awesome Chewbacca Savings Bank is ready to be stuffed with cash!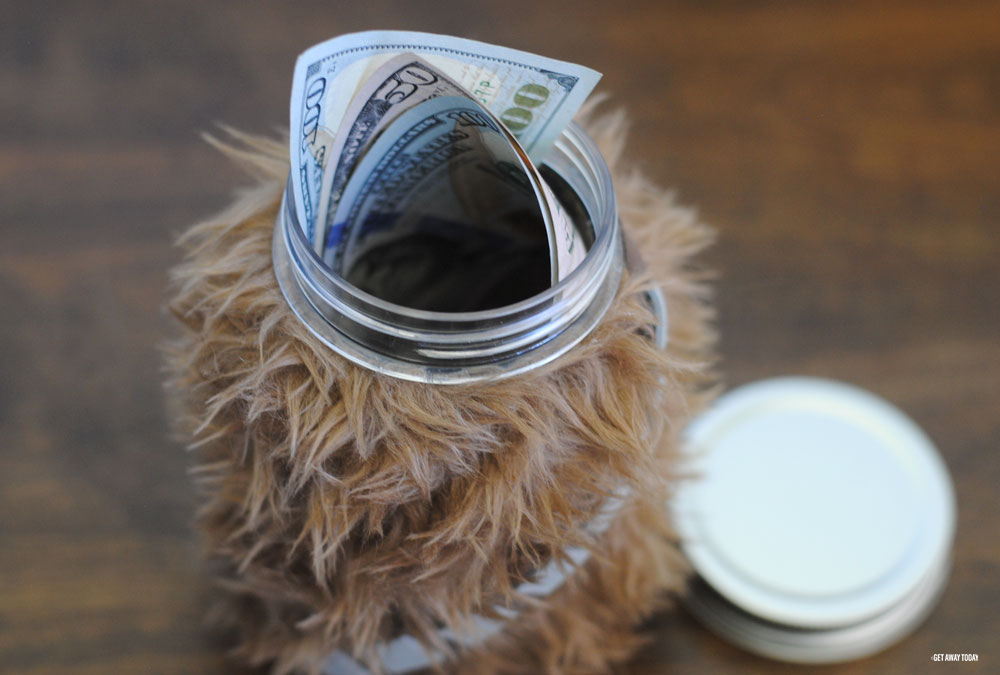 Saving for an awesome Disney Vacation can be a family effort. Kids love helping out with chores and other odd jobs to contribute to the fund. My kids have loved earning money for their souvenirs and Disney snack fund too. It gets the whole family excited about the vacation and also adds a level of appreciation that just isn't present when they don't have to contribute.
Make sure to stop by and visit Chewbacca when you are at the parks! Check your Disneyland app for times to be sure you don't miss him. To plan you Disneyland trip, check out our discount Disneyland vacation packages online or call one of our travel agents at 855-GET-AWAY. We're happy to help!