One of the proven benefits of family travel is improved family communications and bonding. When you take a family vacation, your family suddenly becomes a team. You work together to solve problems, you rely on each other, your success and happiness becomes a joint effort. This increased connectivity is one of the main reasons why group travel is so important to our guests. The enduring connections away from ordinary activities are like glue that bonds families together.

A great way to drive this point home is to make family vacation shirts. There are a lot of fun ways to design "travel team shirts." You can use vinyl and iron transfers, you can order custom designs from online screen printing companies, or you can simply color coordinate. It also helps to spot each other at the parks when you have themed shirts. Since family vacations are all about spending time together, I thought it would be fun to create shirts together. This tutorial will show you how to use a simple bleach pen to transform ordinary t-shirts into family vacation team shirts!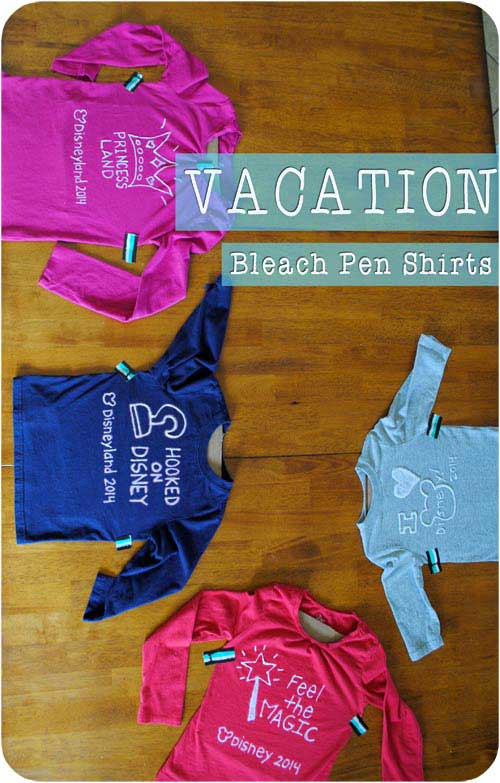 What you will need:
Cotton shirts
Clorox Bleach Pen for Whites
Cardboard
Tape
Vinegar (optional)

Start by washing and drying the shirts.

Place a piece of cardboard inside the shirt to keep the bleach from bleeding onto the back and onto your table. I also used a bit of tape on each side to hold the fabric in place.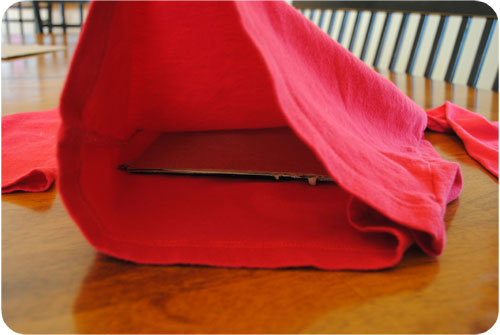 Practice your design on a piece of paper. Bleach is permanent. Once you start, there is no going back! It is good to use basic shapes. Too much detail is tricky because the bleach bleeds. Keep things simple and you will be happy with the results.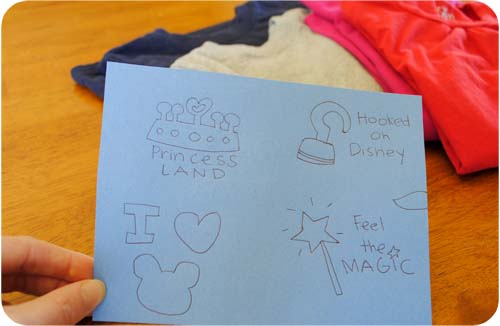 Using the fine tip side of the bleach pen, begin drawing your design onto the shirt. You can find bleach pens at any grocery store. I used one pen for all four designs and there was enough left to do at least one more. I was happy to find that the bleach has a gel-like texture. It glides onto the fabric quite well.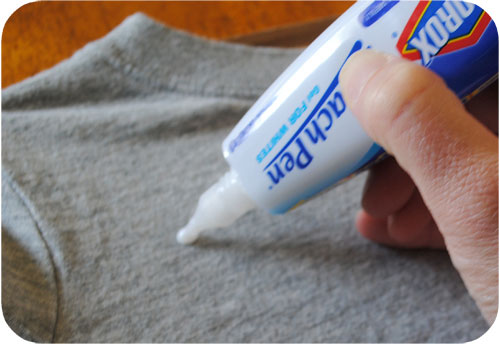 Occasionally, bubbles would form. You want to pop them as soon as possible because they cause bleeding. Just use the tip of a pencil or something pointed to pop them away.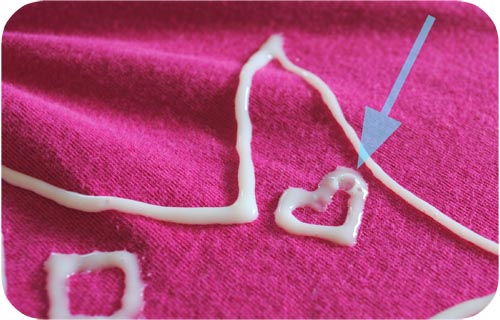 Once the design is complete, it takes about 40 minutes for the bleach to process. It was fun to watch the colors lighten as time passed.




Feel free to peek inside the shirt to see how the process is coming along. It will give you a good idea about when the shirt is ready to be rinsed.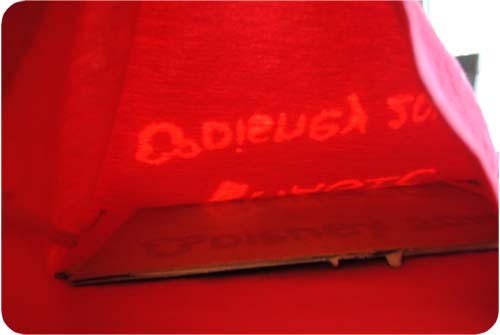 Once you are happy with the color change, carefully slide the cardboard out of the shirt, and rinse your shirts in cold water. Make sure to rinse all of the bleach off and don't let it get stuck on the shirt anywhere. If you spray the shirt with a mix of half vinegar and half water, it is supposed to stop the bleaching process completely. This will prevent tiny holes from forming in the bleached areas.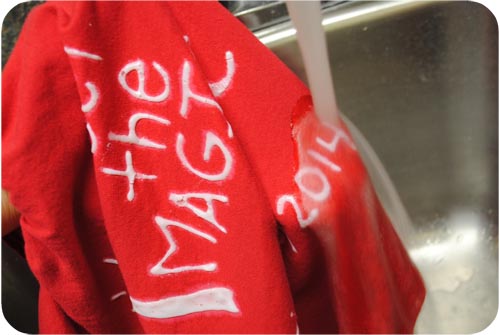 Wash and dry the shirts. You are done! Take note the difference in bleached color on each shirt. The blue shirt has a bit of a red tint to the finished areas, the grey shirt has an orange tint, and the red and pink shirts are slightly pinkish white. It is something to keep in mind when you are choosing colors for your family. I would not recommend leaving the bleach on for more than an hour. The longer you process the bleach, the lighter the finished color will be. However, you run the risk of tiny holes forming in your fabric.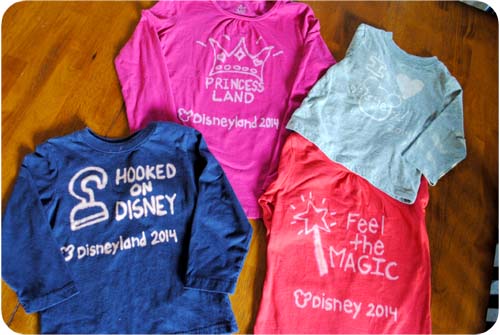 I would recommend this activity for kids 6 and older. Think of how much fun it will be to see what creative designs your family comes up with! Having a physical representation of your family team as you vacation through Disneyland or from port to port on a cruise will increase the bond you feel as a family and also serve as a reminder of fantastic memories after your vacation has come to an end.

If you need help planning your family team vacation, you can book any of our Disneyland packages or alternate destinations online or call our Reservation Specialists at 855-GET-AWAY! We'd love to help make your dreams of a family gathering vacation a reality.

Check out these other great family gathering articles:

How to Plan a Perfect Family Gathering Disneyland Itinerary
Family Gathering Vacation Tips (from "Or So She Says")
More Family, More Memories, More Savings! on Good Things Utah