Our Finding Dory Disneyland Vacation Countdown makes the days until your Disneyland vacation sail by! Use our free printable to surprise your family or at least make the days until you leave more fun.
Finding fun at the Disneyland Resort is a pretty easy task. The best rides, incredible entertainment, yummy treats and more are all events to anticipate. Because there is so much to look forward to, the days leading up to your Disneyland vacation can be a bit of a drag. So, Dory and I found a creative way to make the days before your trip sail by with Dory, Nemo, and their ocean friends.
Start by downloading the free Finding Dory Disneyland Vacation Countdown template sheets here:
Finding Dory Disneyland Vacation Countdown Tank Printable
Finding Dory Disneyland Vacation Countdown Friends Printable
Once your free printables are downloaded, print them in color onto cardstock.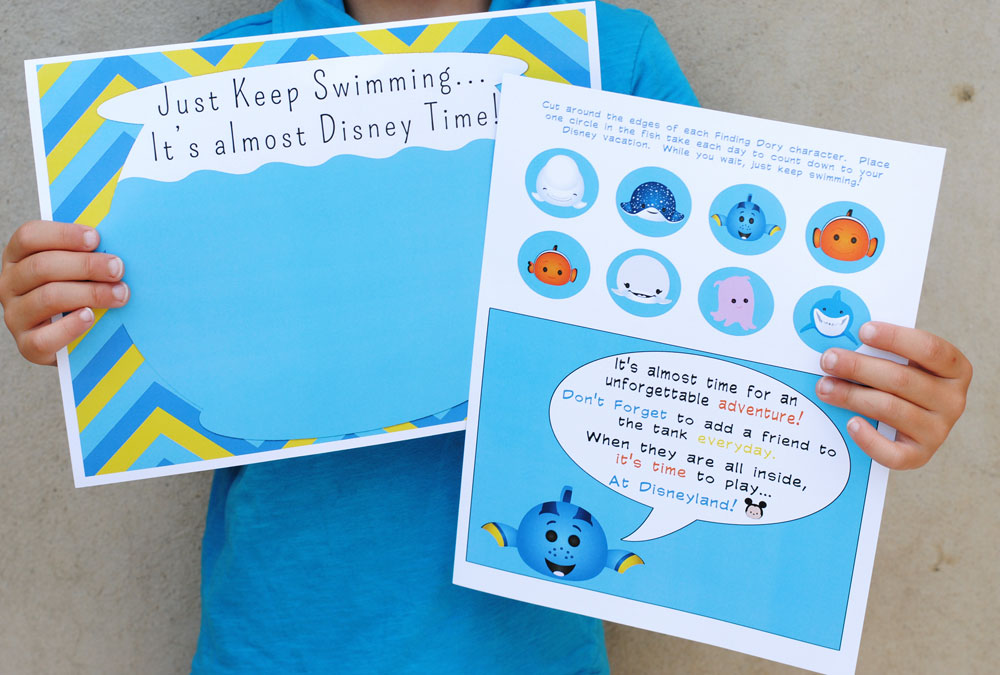 Then, cut around the edges of the blue fish circles and then cut out the talking Dory square. This vacation countdown can be used as a Disneyland vacation announcement to your family, or as a countdown activity before your big trip!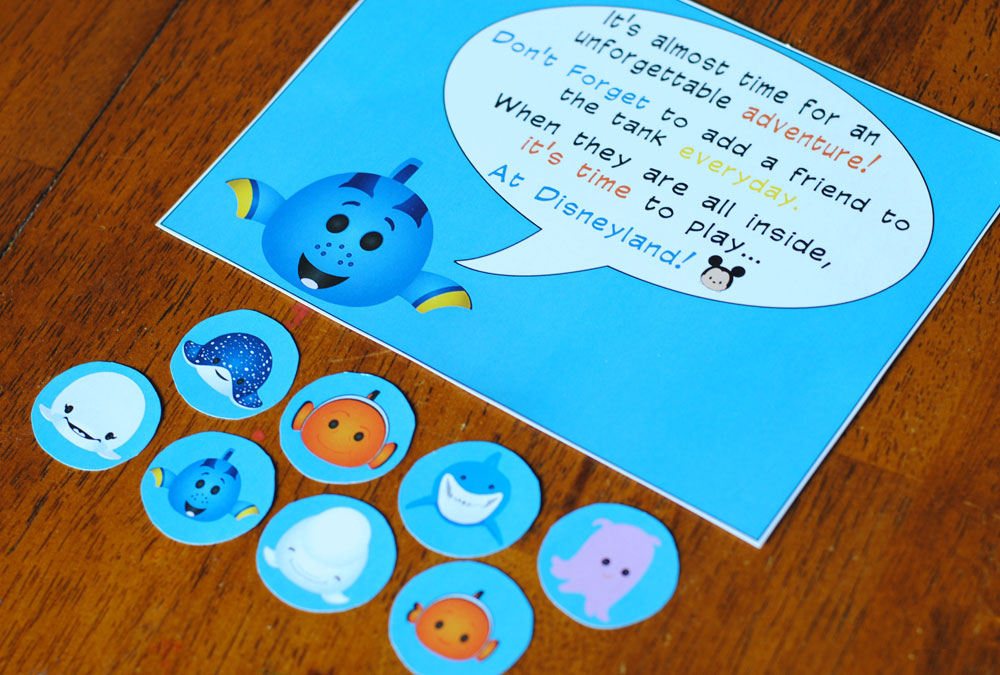 Once all of your pieces are cut out, you're ready to display your Finding Dory Disneyland vacation countdown. Pin the fish bowl up on a cork board, hang it on the wall, or stick it to your fridge. No matter where you decide to hang it, your countdown should be in a prominent place where your kids can see it often!
Then, each day before your Disneyland vacation, add one of Dory's fishy friends to the bowl. Don't forget! When the fish bowl is full, it's time to ride the East Australian Current to the Happiest Place on Earth! Or, you could always drive or fly to get there instead, you know, to make sure your luggage stays dry.
I hope this activity makes a splash in your home and that you can make unforgettable memories together during your time at the Disneyland Resort!
While you are at Disney California Adventure Park, make sure to stop by the Animation Building where you can visit with the whole underwater gang from Finding Nemo and Finding Dory at the interactive attraction, Turtle Talk with Crush. You can ask Crush questions about sea life and he will answer back using magical hydrophones. Get your brain ready, because he is going ask you questions about the human world too! It is a fun and silly experience for the whole family. And because it's live and interactive, you'll never see the exact same show twice. If your kids are huge fans of Finding Nemo and Finding Dory, you may find yourself at Turtle Talk with Crush more than once!
Then, over in Disneyland, be sure to head over to the Finding Nemo Submarine Voyage. You'll love joining Nemo and pals for an actual underwater adventure. It is fun for the whole family!
If you haven't already booked your Disneyland vacation, we'd love to help. Take advantage of our swimming good deals like extra night free hotel specials at select Anaheim area hotels, extra day free Disneyland tickets and more. For the most magic, stay at one of the three Disneyland Resort Hotels and get extra perks like early entry each day of your stay and a private entrance into Disney California Adventure Park. You can book any of our Disneyland packages online, or you can call our Disney Experts at 855-GET-AWAY.

Check out these other great articles: