Finding Dory and Nemo at Disneyland is easy this summer with Pixar Fest in full swing. This fun Finding Dory game will entertain your kids in the car or on the plane while you are finding your way to the Happiest Place on Earth.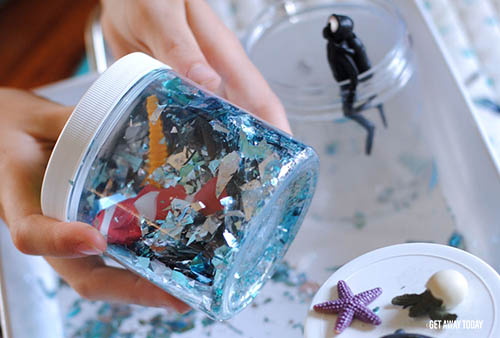 Do you just love Nemo and Dory? I sure do. Who wouldn't want to be part of their happy school of fish? This summer, the Disneyland Resort is hosting Pixar Fest. Pixar Fest is a celebration of friendship and Dory and Nemo fit right in with their amazing friendship. Dory crossed an entire ocean with Marlin to find Nemo when he was lost. Nemo returned the favor when Dory needed to be rescued at the Aquarium. They are a great example of true friendship.
Finding Dory I Spy Game
You can join the rescue crew and find Dory and Nemo in this fun Finding Dory I-Spy game. Make your own mini aquarium with fake fish and sparkly confetti water. Find the different sea life creatures hiding in the confetti. It's the perfect way to pass the time on your way to Pixar Fest at the Disneyland Resort this summer. You could even use it to keep the family occupied while in line at the parks!
Finding Dory I-Spy Game Tutorial
For this Finding Dory I-Spy game, you will need a few supplies. I got my whole bag of loot at the craft store, but you can also find these on Amazon. Isn't two-day shipping the best thing when you don't have time to run to the store? As with most crafty tutorials, you can substitute items you have at home for the supplies on the list. Make it easy!
Finding Dory Game Supplies needed
I let my children build their own Finding Dory aquariums. We started with a bunch of fun underwater sea creatures. I got a few different sets of the animals from the store. Some are big, and some are pretty small. I liked the variety.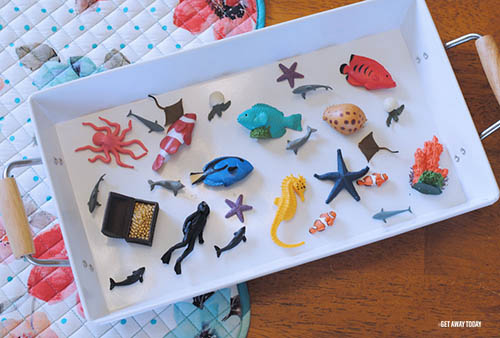 Let each person pick their favorite creatures for their jar. I just love turtles. The turtles in the Finding Nemo movie were the best. They are totally righteous! In fact, I like them so much, I bought a little stuffed turtle at Disneyland as my souvenir one year. Disneyland magic isn't just for kids!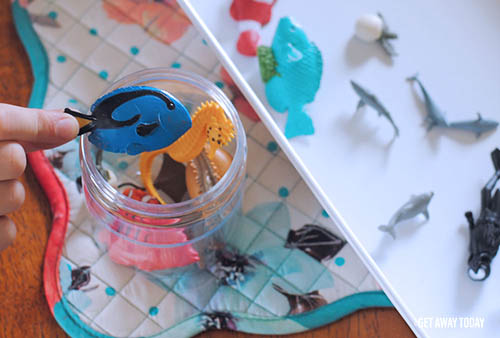 Once the jars have a nice amount of fish and creatures add the sparkly confetti! I love that the confetti looks like nice clean ocean water, but is not actually wet. Total bonus for a travel game.
Pour confetti until about 3/4 of the jar is filled. I found that if you use too much, then the I-spy game is really hard to play. The fish hide too well.
Screw on the lid and your Finding Dory I-Spy game is ready to play.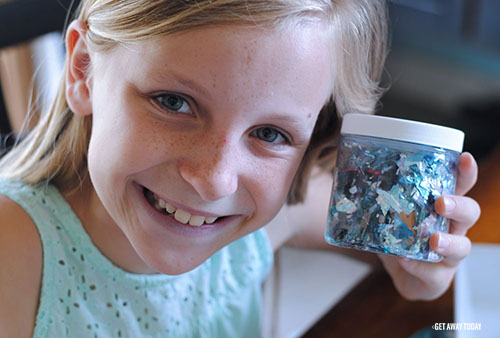 There are a few ways to play with the jar. Some of the sea creatures my kids put in their jars were duplicates. So, they like to race to see who can find the miniature killer whale first. Or, who can find the little Nemo fish first!
You can also just shake and spin the jar and see what you can find inside. Every time the jar shakes, the fish move around and show up differently from the outside. For older kids you can have one person spy a fish and then they give the jar to another player and ask them to find that specific fish. Be creative and have fun finding Dory and Nemo and all their friends.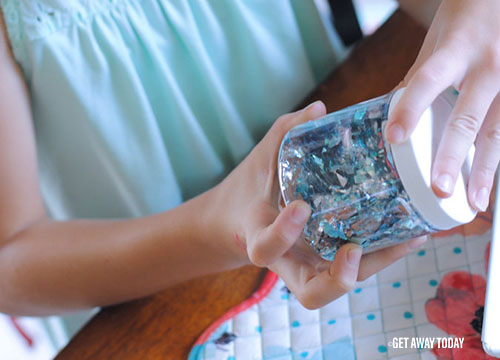 Watch for Nemo and Dory at Pixar Fest this summer at Disneyland. You can spy their fishy faces on cake pops, caramel apples, Mickey ears, flags and more! It is fun to see our favorite aquatic Pixar pals all over the park. I hope you enjoy your own little Finding Dory I-Spy game, whether you're at home, on the way to Disneyland or in Disneyland itself.
To have the best time – and save the most money – on your Pixar Fest vacation, let Get Away Today help. Our discount Disneyland packages and tickets will keep your wallet happy while our expert tips and tricks make sure you have an amazing trip. Book online now or give our travel agents a call at 855-GET-AWAY. Here's to an incredible summer of travel!

Check out more Pixar inspired crafts and recipes: