A super easy Finding Nemo glitter slime recipe for families. Make your own aqua sparkle slime and use your imagination and a touch of Disney magic to travel under the sea with Dory and Nemo!
Making slime is on the very top of my children's summer fun list. It truly never gets old. They continue to discover new variations and combinations of ingredients that makes the process exciting with each new batch. Have your kids caught the slime fever yet?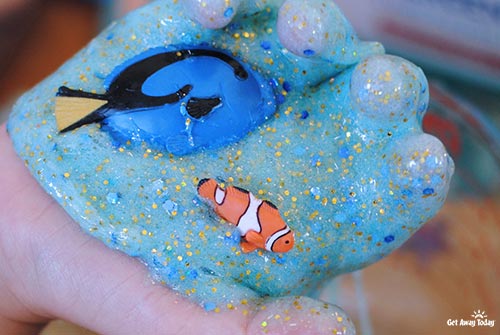 Slime fever or not, it is pretty hot around these parts! Unfortunately, we live too far away from the coast to visit the ocean. So, we decided to create our very own slime ocean instead. Mary Poppins makes magic happen with just a spoonful of sugar. We found that a spoonful of Borax can be pretty spectacular as well. Especially, when it is combined with glitter! You can invite your favorite ocean friends like Dory and Nemo along to be part of the fun.
Finding Nemo Glitter Slime Recipe:
Glitter Slime Ingredients:
Glitter Slime Instructions:
This glitter slime recipe is really basic. So, be sure to let your little ones do the work. It is a great activity to teach them science! Just don't let on that you are doing school-like stuff in the summer.
To start, empty the blue sparkly Elmer's Glue into a glass bowl. Squeeze the glue bottle until all of the contents are in the bowl. I think the glue is so pretty!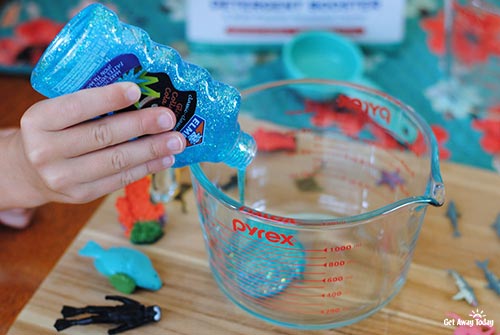 Then measure about teaspoon of gold glitter and turquoise glitter and sprinkle them into the bowl. Tell me this doesn't feel like magic?!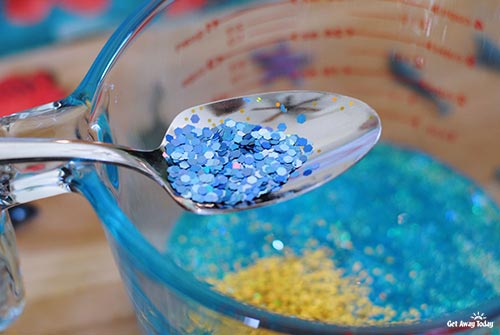 I think the glitter looks like fish scales.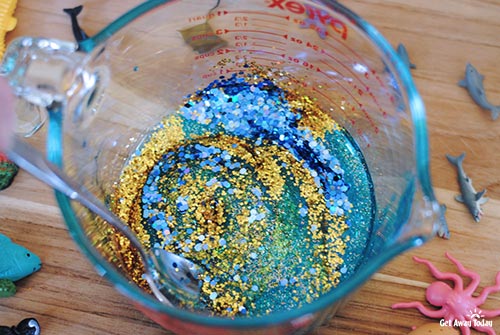 Stir them together.
Glitter Slime Instructions - Heat the Water
Get two cups of really hot water. Add 2/3 tsp of Borax powder to the water. Stir until the powder dissolves.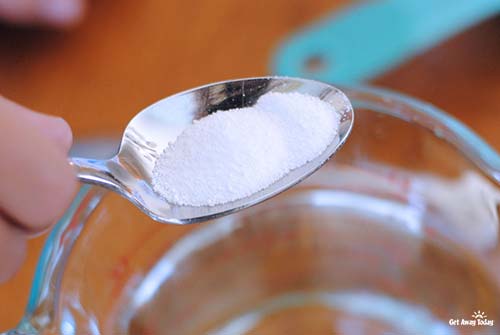 If you have a measuring syringe handy, then use that for the next step. You can get them from the Amazon link I shared above. Draw a few mL of the Borax solution into the syringe and then squirt it into the glue bowl. Stir.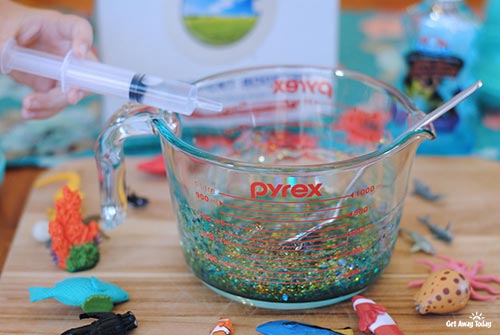 Continue adding about 5-8 mL of the solution into the slime at a time. Stir between each addition. You will notice that the glue starts to change consistency. It will pull away from the edges of the bowl and start to form a mound. That is good!
Mixing Glitter Slime - Adding Borax
The tricky part is to not overdo it with the Borax solution. You want the slime to be firm, but still soft and stretchy. We used approximately 35 mL of the solution for this batch. Depending on the potency of your Borax water, you may use just a little more or a little bit less.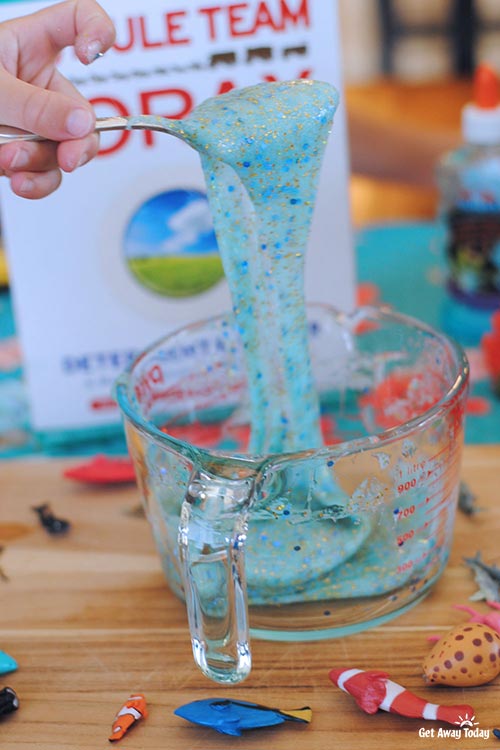 Just test the slime after you add each bit of liquid!
Ocean Figurines Glittler Slime
When the Finding Nemo glitter slime recipe is finished, you will have some pretty amazing slime to play with. We got out our plastic fish friends to play with in the slime ocean. You can stretch them out of the slime and then goo them back in again. Parents are welcome to join in the on the fun.
If you make the glitter slime correctly, if should clean of hands (and plastic fish) quite easily. Just roll the slime into a ball. The slime will collect itself up in the process.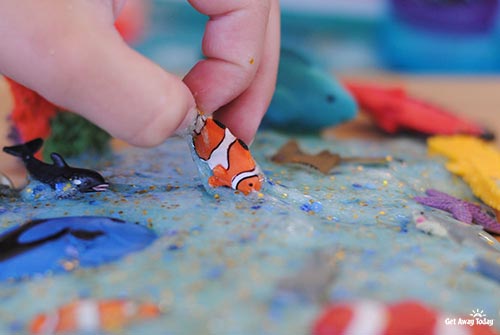 This sparkle slime recipe and activity is a great way to keep your kids entertained this summer. Disney just happens to be doing some amazing things to entertain this summer as well! You can find the Pixar Fest celebration and brand-new Pixar Pier at the Disneyland Resort. Or, travel to Walt Disney World to experience the brand-new Toy Story Land and Pixar summer celebration. Either way, be sure to say hi to all the Pixar pals like Dory and Nemo. It is a splash of a good time!
Get Away Today would love to help you plan your next Disneyland or Disney World vacation. Our trained reservation specialists have all the insider tips and recommendations for the best trip ever. Plus, you'll save the most with our discount tickets and reduced hotel rates. Book any of our packages online or give our office a call at 855-GET-AWAY.

Check out more Pixar inspired crafts and recipes: