This DIY Disney Vacation Savings Box will help your kids get involved in saving for a Disneyland or Disney World family vacation. The free Mickey Mouse money box template is cute and easy to construct.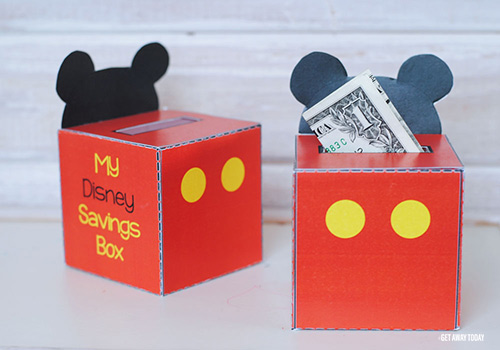 January is my favorite time of the year to plan a family vacation. The busy hustle and bustle of the Holiday season is over. Cold temperatures and snowy days make me dream of warm tropical sunny weather. Although, Disneyland and Walt Disney World are always on my mind, this time of the year makes the desire to head to the Happiest Place on Earth even stronger!
If you are planning a Disney vacation this year, then it is never too early to get excited... or to get saving! In my experience, Disneyland and Walt Disney World is worth every penny. And if you start saving your pennies now, it will help make your Disney dreams come true for your family. Get your kids involved in the saving process with this simple and cute Mickey Mouse Disney Vacation Savings Box.
You can help your children earn and save money for the vacation in a variety of ways. Offer to pay them for extra chores. Give them coins for reading or for doing homework without complaining! Ask if Grandma or Grandpa have any odd jobs that they would be willing to pay the kids to complete. Instead of going out to eat, make a meal together at home and put the cost savings in the Disney Vacation Savings Box! Sell good quality old toys or clothes on a digital yard sale sight. Let your kids decide what gets to be sold.
You can decide what works best for your family. I think you will be surprised how much money can be earned and saved when there is a specific goal in mind. Especially, when the goal is a Disney vacation. What could be better?
Get started today. Making a Disney Vacation Savings Box is the first step in the right direction.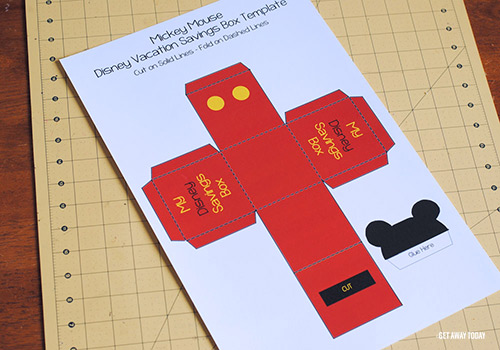 Cut along the solid lines of the Disney Vacation Savings Box. The dashed lines will be used for folding. Do not cut them. Also, cut along the outsides of the Mickey Mouse cap.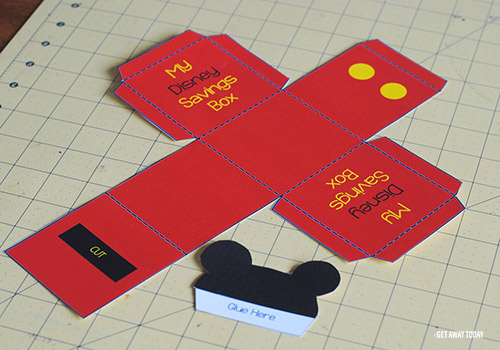 Cut out the money insert square that is labeled with the word "cut". This will be the hole that you will slide the money through. Hopefully this slot will be used often! I used my Exacto knife.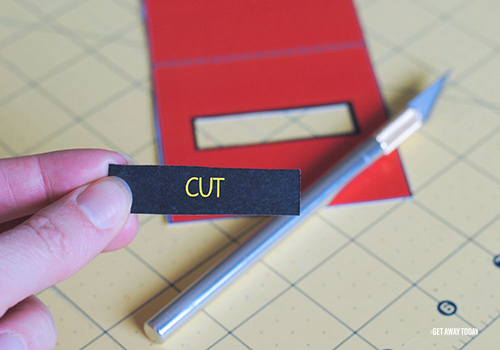 Fold along all of the dashed lines. Then crease the edges so they are sharp.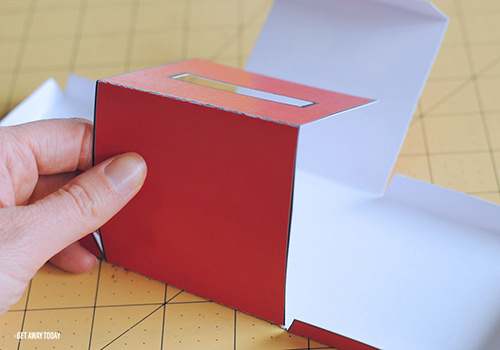 Now it is time to make it into a box. The little tab sections will be used to hook all of the sides together. I used double-sided tape for this part. You could also use a glue stick. Put the adhesive onto the tab and then attach it to the square edge that is closest to it. Continue this process until all of the sides are connected.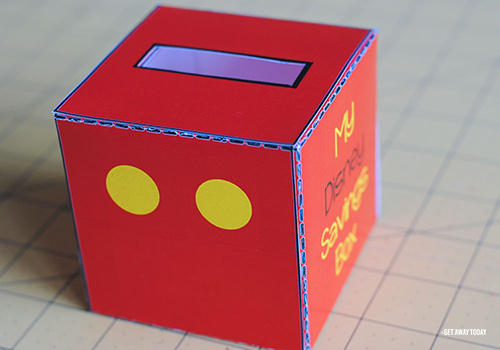 You should have a Mickey cube! It just needs a few finishing touches. Place some tape along the front of the white tab that is situated just below the Mickey cap. Then, tape it to the back of the Disney Vacation Savings Box.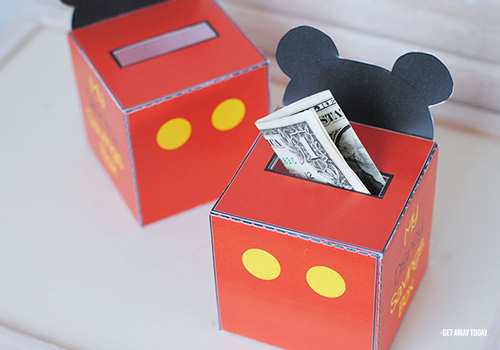 Now, the only thing left to do is fill the box with money! When my little three-year-old boy saw this project, he exclaimed, "Mom! It's a Mickey Bank." He wanted to put coins in the top slot immediately. So, we did. I hope your kids are excited about the idea of a Mickey bank too. Make one for each of your children. They are small enough that they won't take up too much space!
Luckily, at Get Away Today, we have amazing deals for helping families get the very best value for their money on Disney vacations. So, you won't have to save quite as many pennies as you might have thought to take your crew to the Happiest Place on Earth. Let us help you create the perfect vacation plan for you. Book our
Disneyland packages
online or call our travel experts at 855-GET-AWAY.

Check out these other great articles: