Vacation season is here and that means it's road trip time! There is nothing more exciting than piling everyone in the car and heading to the Happiest Place on Earth. But, we've all been there – everyone starts out cheerful at first, but as the miles start to pass by, your kids start to feel tired and bored. Then comes the dreaded question: "Are we there yet?!" A few months ago we posted a free downloadable ROAD TRIP FUN MAP from Salt Lake City to Disneyland. It was such a hit that we've created one for our guests making the trip from Arizona as well. Our Road Trip Fun Map is a great way to make your road trip more enjoyable for everyone, and never hear those words again!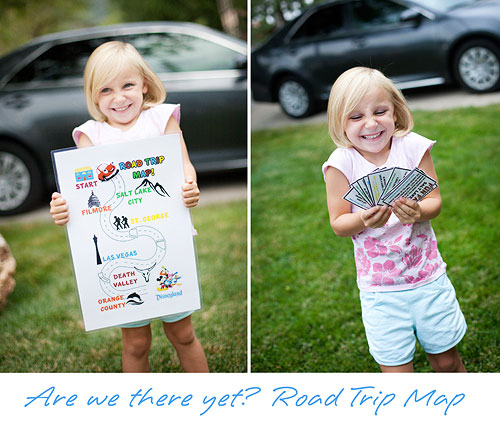 We've created these fun printables for you to use for your road trip. Here are all of the downloads you'll need:
Arizona Map
Arizona Fun Facts Cards
Utah Map
Utah Fun Facts Cards
The Car
After you have printed out your three files, have them laminated. We had ours printed and laminated at FedEx Office.
Now you are ready to cut. Choose which size car you'd like to use. We chose the smallest one. Cut it out, and also cut out your Fun Facts Cards.
Put a piece of heavy-duty tape or poster putty on the back of your car and stick it to the road map. Now you're ready to go!
As you are traveling, there are many places along the road that are fascinating to talk about. Our map has some landmarks along your route to Disneyland that are easily identified by even the youngest of kids. When you reach the next landmark on the map, your child will move the car to that spot. Each landmark has a Fun Fact Card that goes along with it. The Fun Fact Card gives a fact about that particular place, and then asks a thought-provoking question to get a conversation started. This provides some meaningful and educational discussions during the trip and often time leads to learning more about each other, and laughing a lot!
No matter the length of your trip, our map will keep everyone engaged and entertained. Instead of asking "Are we there yet?" your kids will become the navigators, and stay busy being absorbed in watching for the next landmark!
We'd love to help you map out your next road trip to the Disneyland Resort! No one gives you more for your Disneyland vacation for less with our discount
Disneyland packages
. Book online or call our Disney Experts at 855-GET-AWAY.

Check out these other great articles:

Disneyland Vacation Countdown Chain Printables
Disneyland: Meet Iron Man, Thor and Captain America
Tips to Get the Most Out of 2 Days at the Disneyland Resort