Recipe for a frozen strawberry horchata shake just like the one served at Disneyland. With just a few simple ingredients, you can create some Disney magic in your own kitchen.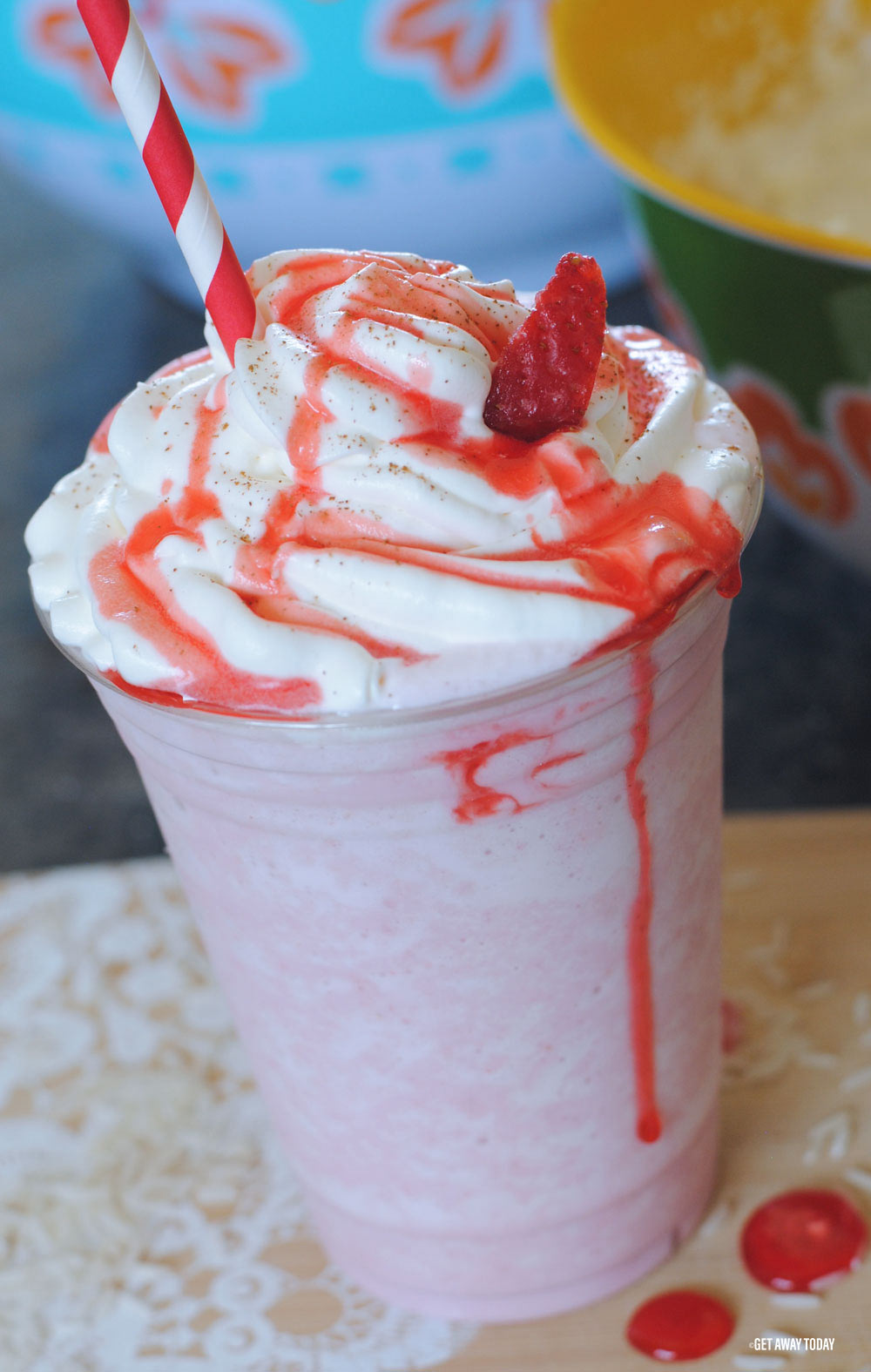 Do you ever wish you could be a fly on the wall at a Disney food and drink planning meeting? Think of how hungry everyone gets while talking about introducing things like Mickey hamburgers with sliders for ears and ice cream sundaes topped with warm churros and hot fudge! It would be an ironic mix of pleasure and torture. Luckily, we get to reap all the benefits of their masterminds. Disneyland has created so many delicious offerings for 2019. It is almost worth visiting the park just to eat all the goodies.
One item that caught my eye is the Frozen Strawberry Horchata. Not sure why it looked so yummy? Maybe it reminds me of Summer! But, when I saw it on the lineup for the Get Your Ears On: A Mickey and Minnie Celebration, it made me want to get in the kitchen and start testing out recipes. This copycat version might not be as good as the real thing, but I think it's pretty darn close! Let me know what you think of my version of strawberry horchata.
Frozen Strawberry Horchata Shake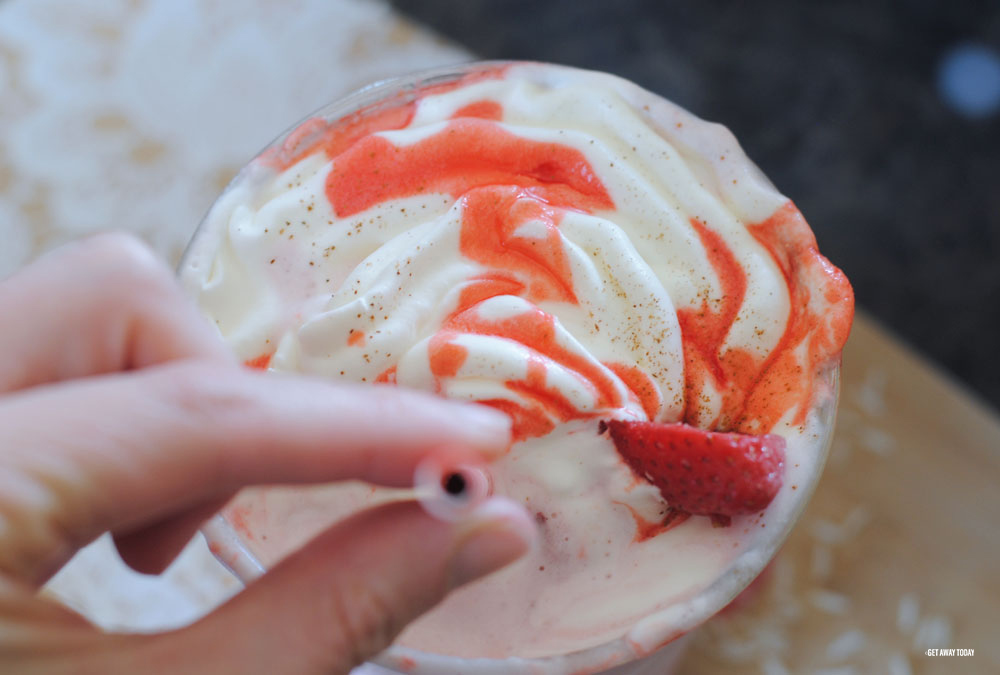 Disney Copycat Strawberry Horchata Recipe:
2 cups Milk
2 T Strawberry Horchata Mix
1 Cup Frozen Strawberries
1.5 Cups Ice
Whipped Cream
Strawberry Ice Cream Topping
Cinnamon
Frozen Strawberry Horchata Shake - Getting Started
Start by adding 2 cups of milk to the blender. I like whole milk. It has a yummy creamy flavor that you just don't get when you take all the fat out for those other "percent" kinds of milk. But, feel free to use what you have.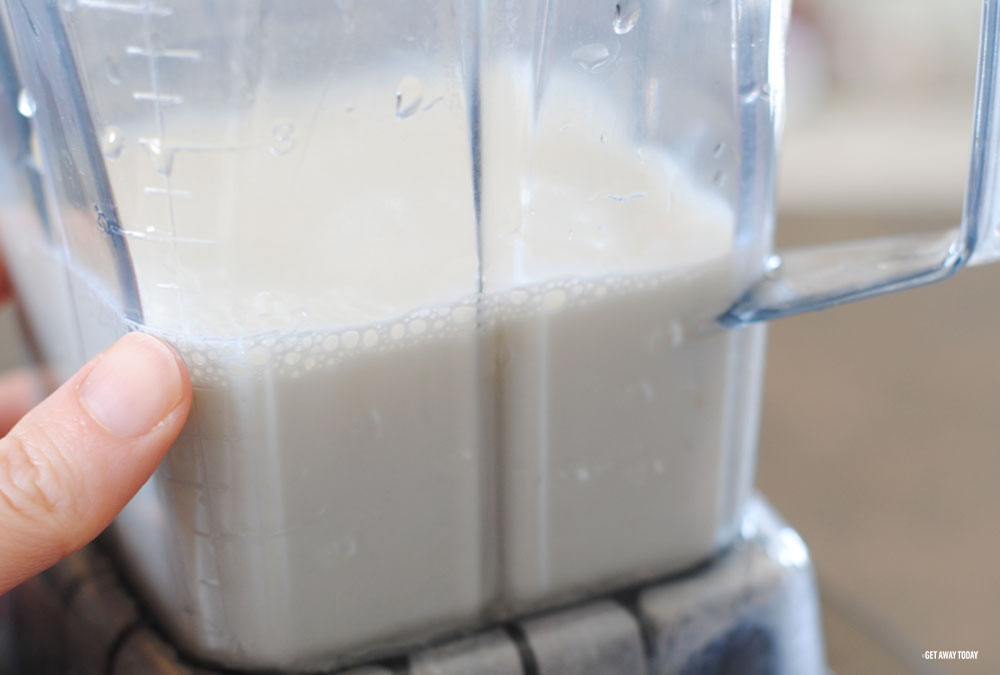 Frozen Strawberry Horchata Shake - Shortcut!
Warning: This is the total cheater version for making horchata. But, really, who has time to cook and strain rice? I wasn't even going to go there! No worries though... the cheater version is still totally delicious.
Next, add two tablespoons of Klass Strawberry Horchata. I asked my sister in law (who is from Mexico!) what the best brand for Horchata is, and she told me Klass. Her family mails it to her from Mexico. I discovered that Amazon will mail it to you as well...with free Prime 2-day shipping. Score!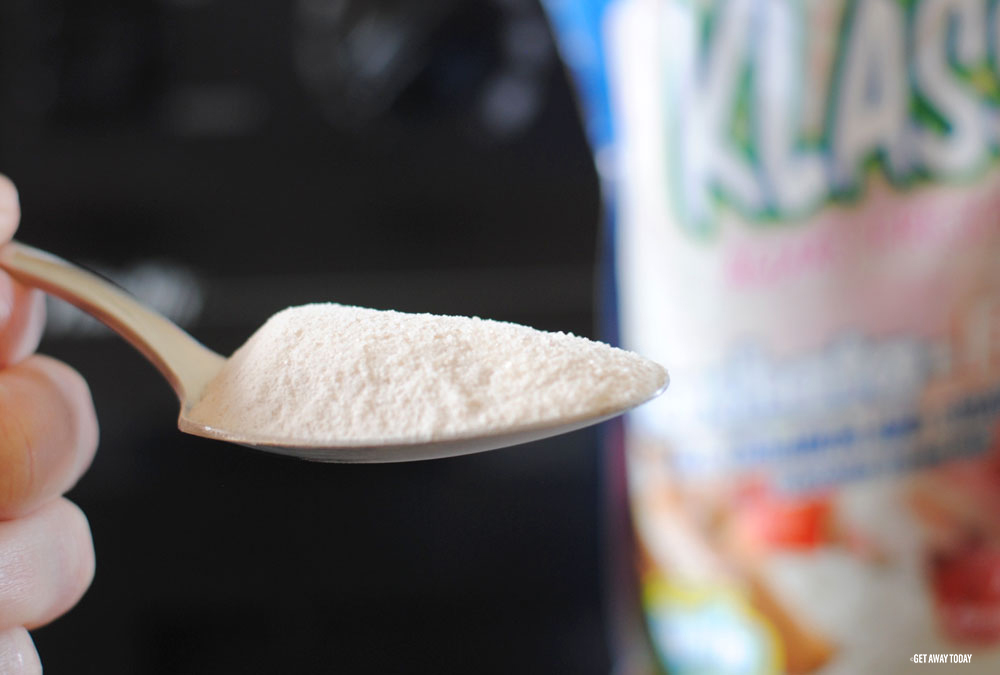 Next, add a cup of frozen strawberries. You can estimate with the strawberries, because, they don't smash down well in the measuring cup.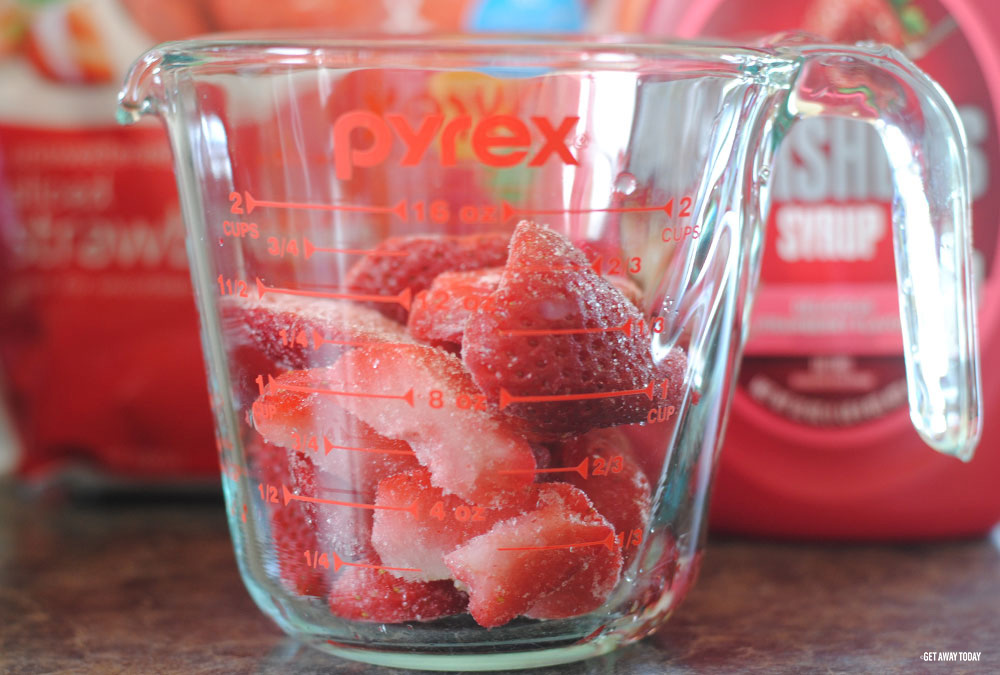 Pour in a cup or a cup and a half of ice. If you have a good blender, do the full cup and a half. If your blender isn't so awesome, stick with a cup.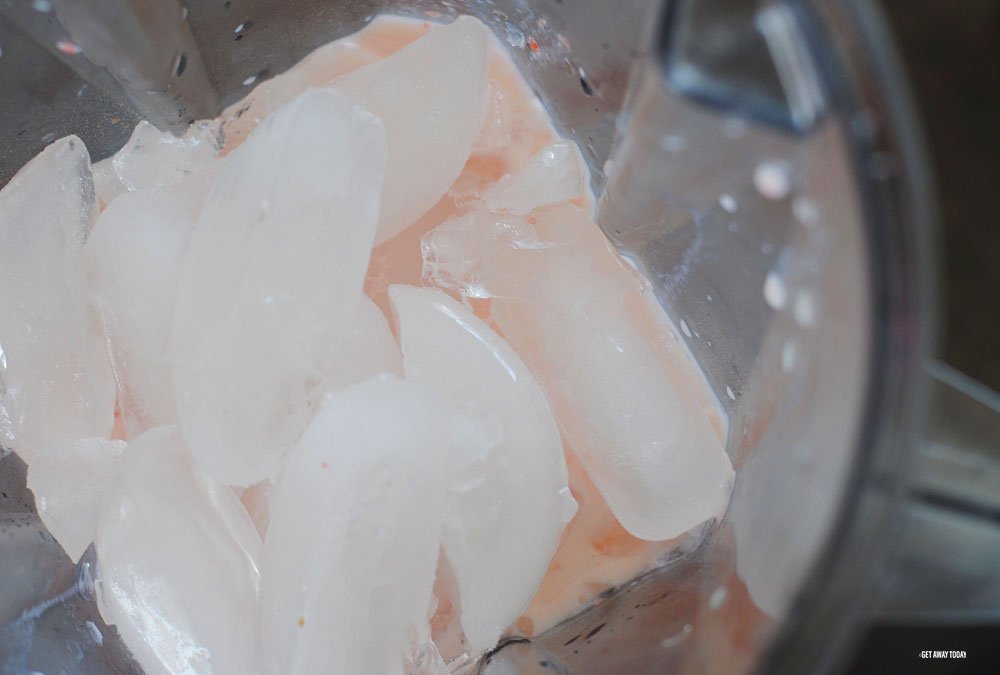 Then, put the lid on and give it a good chopping. Make sure your strawberries and ice are completely incorporated.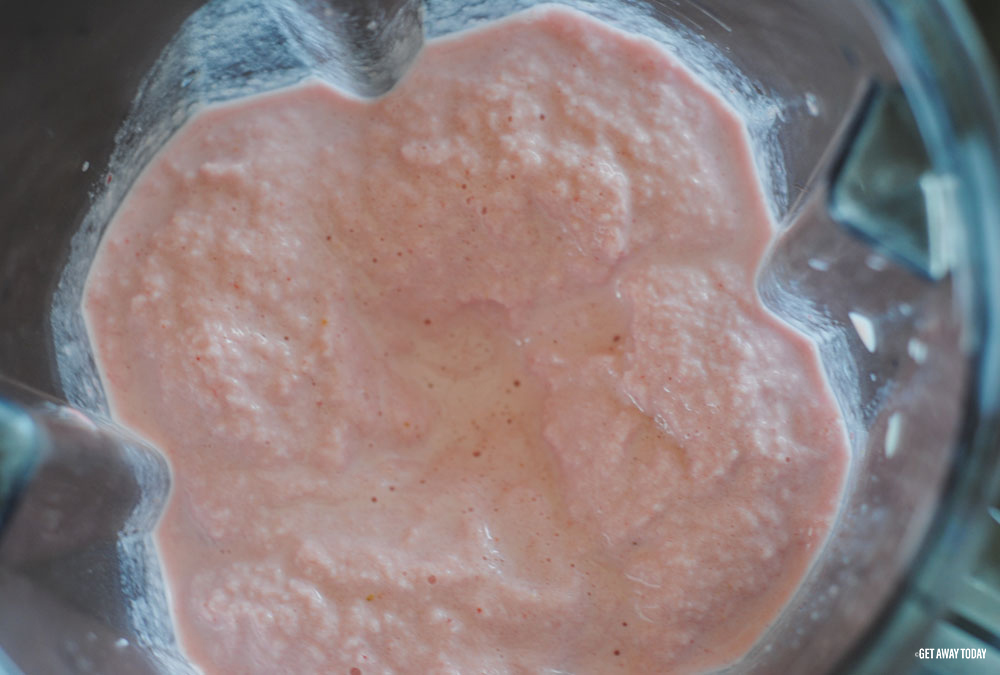 Pour the frozen strawberry horchata into a cup. Doesn't it look delicious?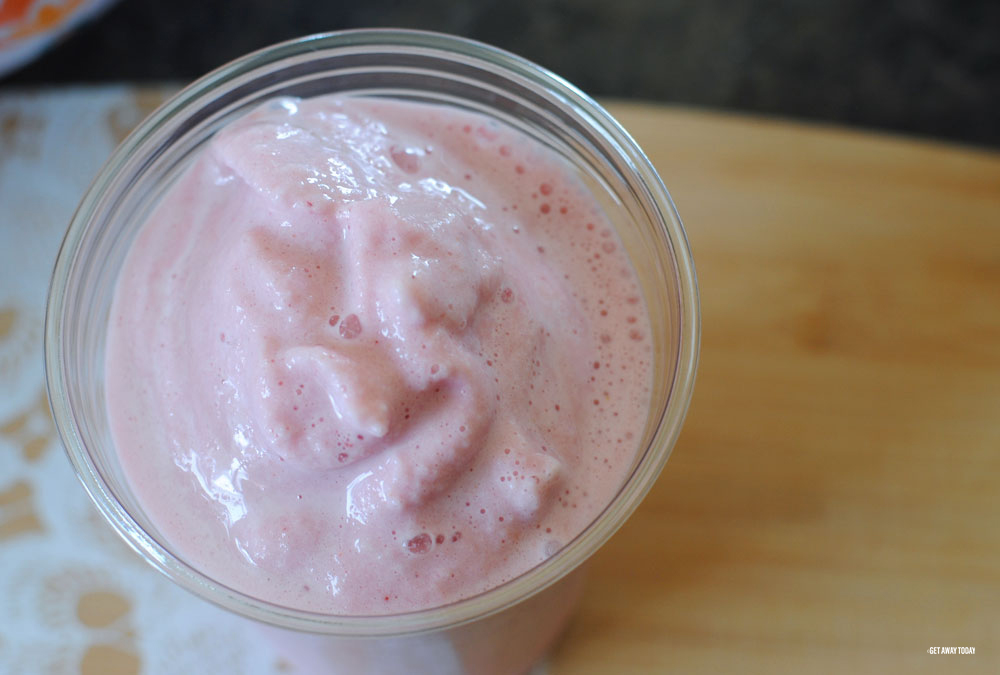 Frozen Strawberry Horchata Shake - Final Touches
Add whipped cream to the top. You can spray it from a can, or whip your own fresh cream with a little bit of sugar and vanilla. I like to whip my own cream.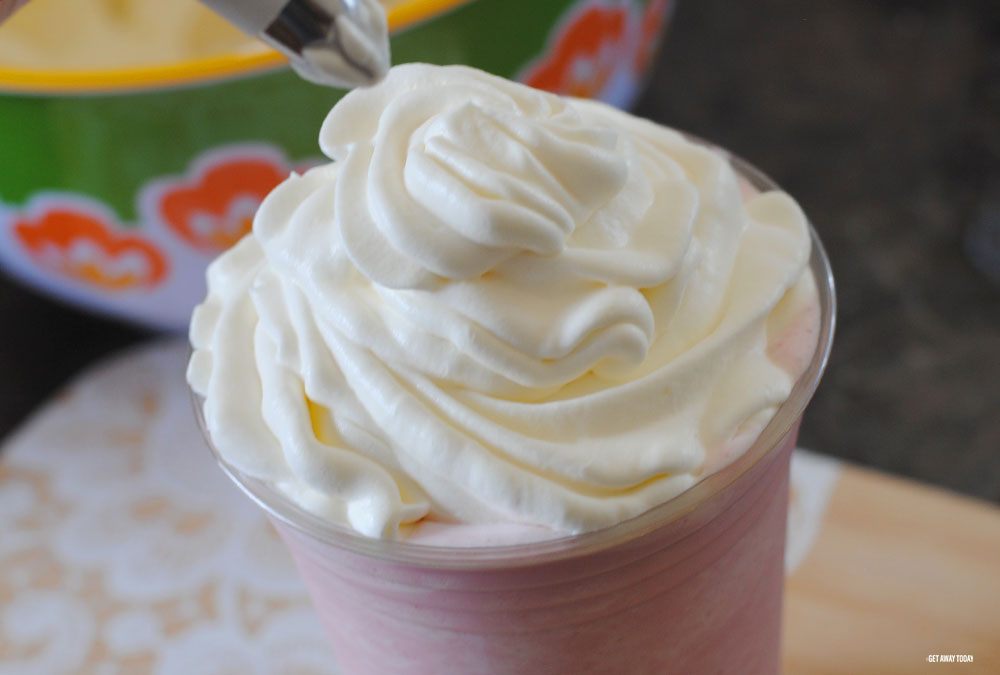 Sprinkle a bit of cinnamon for looks and add a drizzle of strawberry ice cream topping to add some color and an extra pop of flavor. Garnish with a frozen strawberry.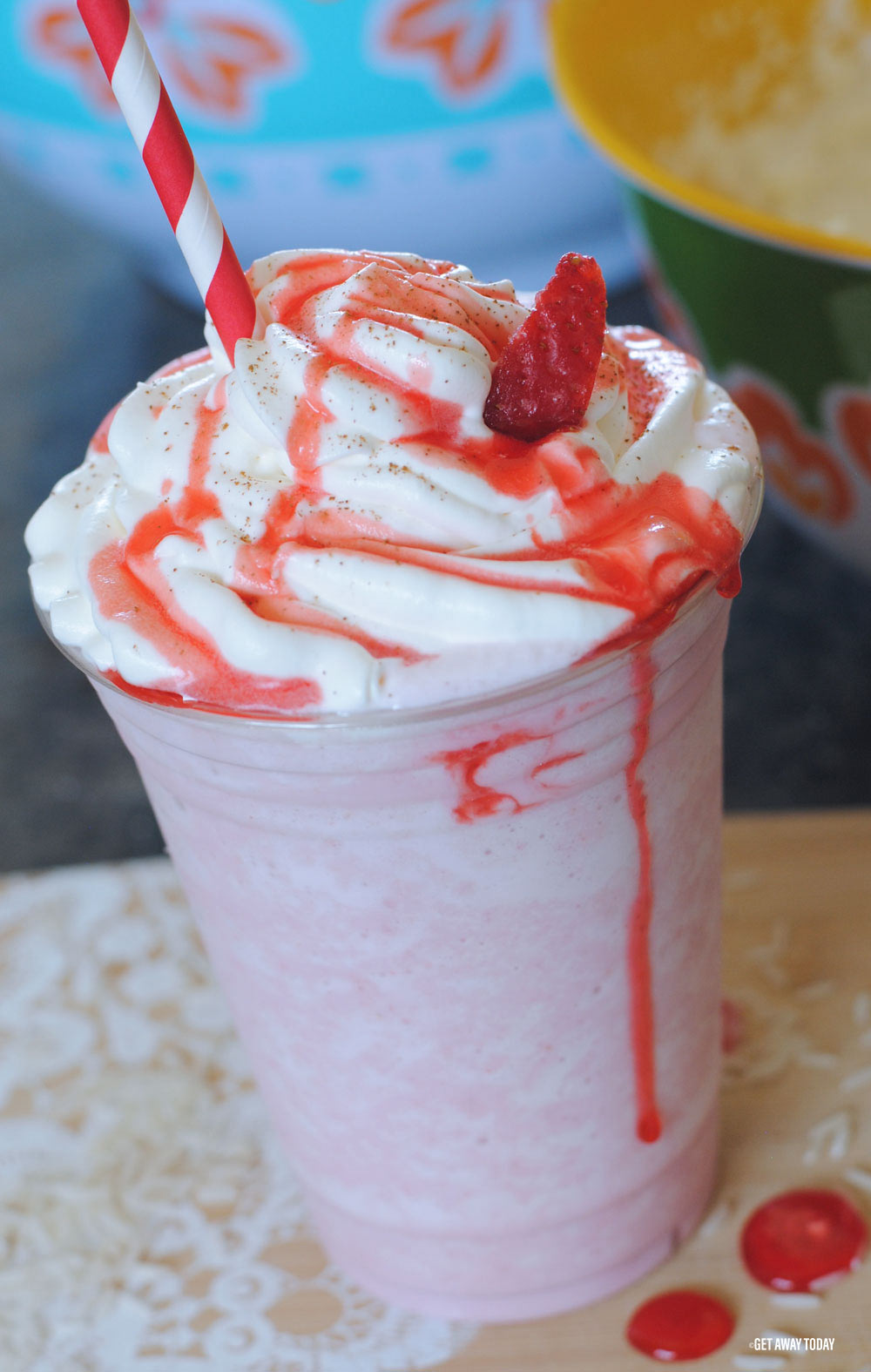 I suggest eating your frozen strawberry horchata immediately. It is best when served cold and thick. I sure enjoyed sampling mine. Horchata isn't overly sweet. It is kind of a mild dessert. It has a good nutty flavor and the hint of cinnamon is yum.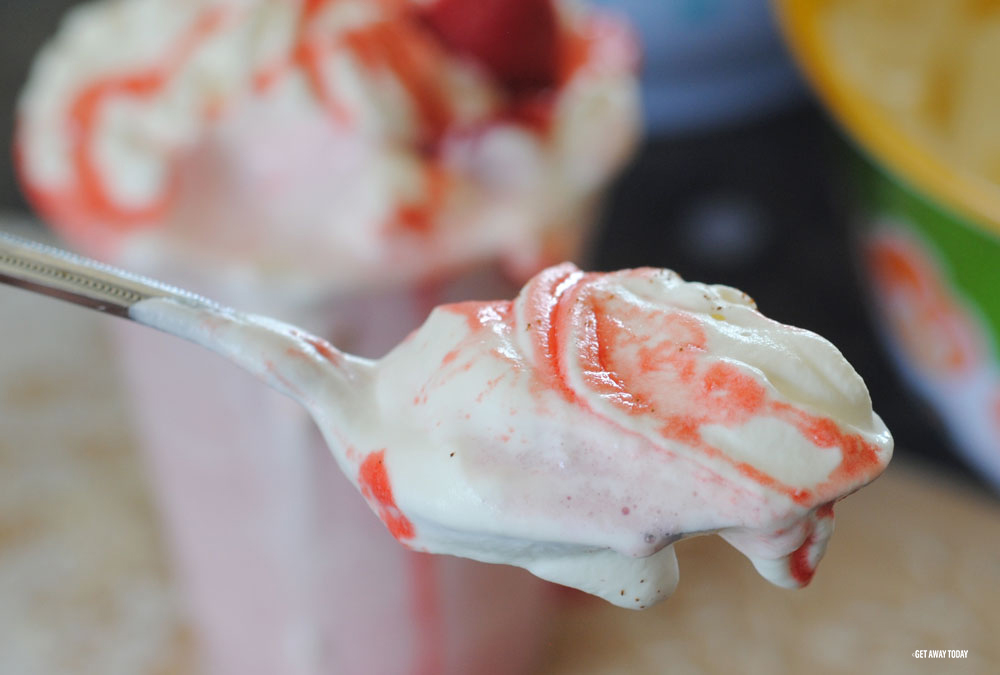 You can find the Frozen Strawberry Horchata at Frontier Land at Disneyland. I hope you enjoy this and all the other amazing food that is being served for Mickey and Minnie's special celebration.
Ready to head to Disneyland and fill up on delicious treats like strawberry horchata? Let the experts at Get Away Today help you plan your next visit to Southern California! You can find all of our vacation package online, whether you are heading to Disneyland, SeaWorld or elsewhere. You can also give us a call at 855-GET-AWAY.