Learn how to paint your own Glow in the Dark Galaxy Jars with our easy tutorial. This glowing galaxy activity is the perfect craft for a Guardians of the Galaxy Party or any space themed event.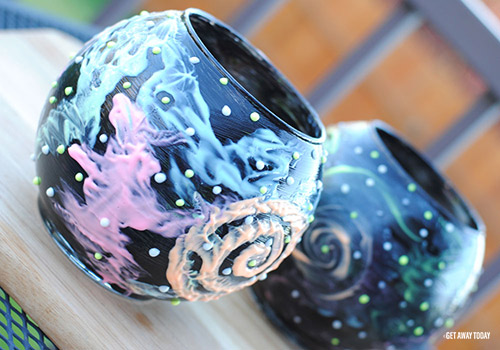 The Guardians of the Galaxy are a pretty fun collection of heroes. They know how to work hard as team, but then, they also take time to relax and play. They are the perfect inspiration for a birthday party or movie watching event. In fact, they have inspired not just this craft, but also the new
Guardians of the Galaxy - Mission: BREAKOUT
! attraction opening in a couple of weeks at Disney California Adventure Park. If you really want to immerse yourself in the Guardians of the Galaxy, check out our
Disneyland packages
and
Disneyland tickets
. But whether you're visiting Disneyland this summer or not, you can still celebrate the Guardians of the Galaxy!
If you are planning a Guardians of the Galaxy party, then this painted glow in the dark Galaxy Jar craft is a great activity to add to your party agenda. I was surprised at how relaxing and engaging it was to paint these cool galaxy jars. It was almost hypnotizing. You will love it too!
Galaxy Jars Craft Supplies:
You can select any size or shape of jar for this activity. I found some cool round glass vases - I liked the globe shape of the jar. It felt very astronomical.
Start by painting the outside of your galaxy jars black. Make sure to get a nice even coat. Let the black paint dry completely.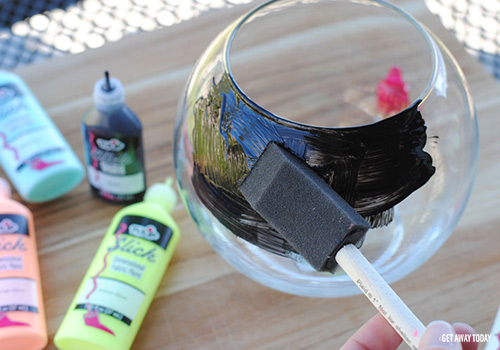 When the black night sky paint is dry, then add the layers of stars. If you look at a picture of a galaxy, there are big areas of bright color. The colors a kind of blurry and they run together like a water color paining. It is beautiful!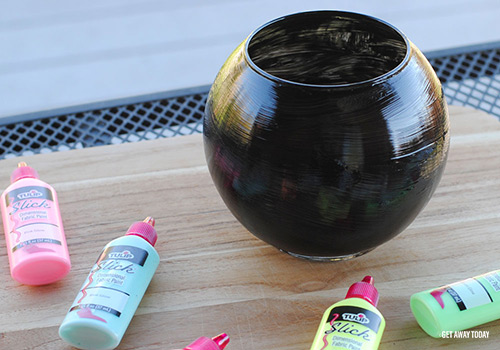 I like this Tulip brand of glow in the dark paint. It is actually fabric paint, but it works great for this activity. The most common package comes with a variety of bright colors. You can order on Amazon
here
to make it easy!
Start adding the colorful layers to your painting. I squeezed the paint onto the outside of the jar in squiggly lines. Then, spread the paint out with the sponge brush.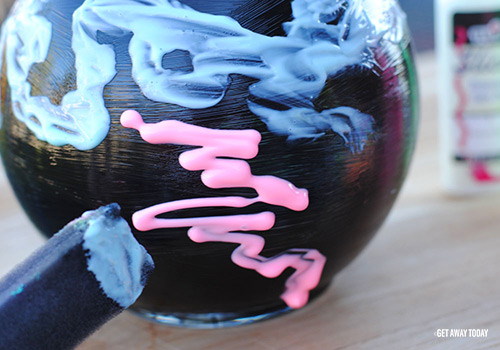 After I added a few of the colorful layers, I added some swirls and twirls. It seems to me that good galaxy jars will have some little galaxies inside of it. It also makes me think of that famous Starry Night painting by Van Gogh. Might as well imitate one of the masters right?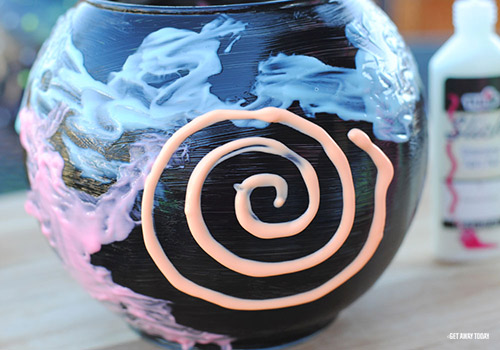 Blend in the swirls and twirls with the sponge brush. When you are happy with the background, it is time to add the individual stars. I did dots of white and yellow to make my stars. Just squeeze little dot from the paint bottle onto the glass. There are a lot of stars in the sky, so go crazy with this part!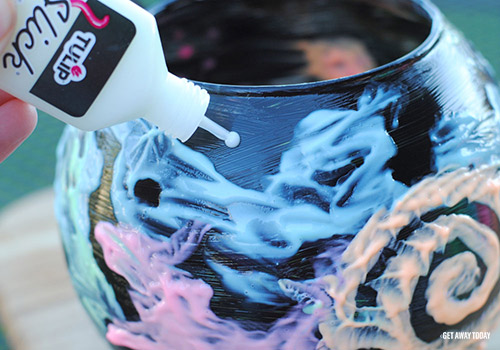 Now, let your galaxy jars dry. Once the paint is set, you can test out the glow factor in a dark room.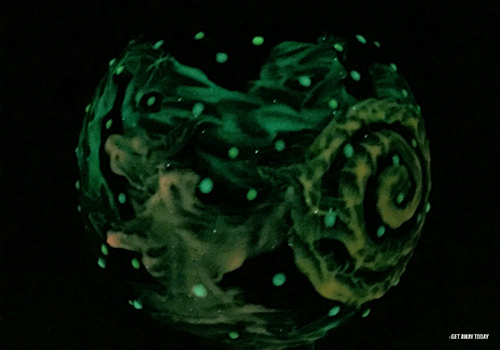 I think they are so fun! The paint glows best if it has been in the sunlight. The light seems to charge the paint in some magical way. You can use your glowing galaxy jars as pencil holders or candy jars. Store your secret treasures in it or place it by your bed as a night light. The galaxy jar gives off a nice, soothing glow at night.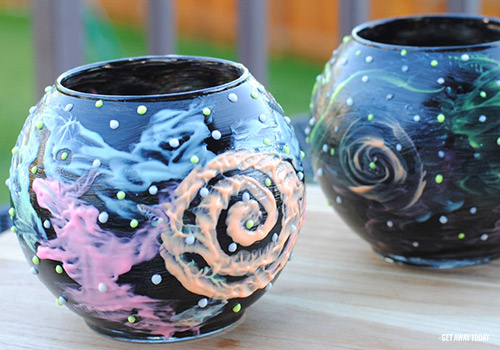 The Guardians of the Galaxy are huge right now. We are so excited about the grand opening of the Guardians of the Galaxy - Mission: BREAKOUT! attraction that is set to open in just a few over two weeks! This intergalactic adventure is one you are going to want to drop in on. Passengers are recruited to help Rocket the Raccoon rescue the other Guardians from captivity.
It is going to be visually stimulating, drop-in-your-belly exciting and also refreshingly funny. Rocket is his regular sarcastic and humorous self. And to celebrate the new Guardians of the Galaxy attraction, Disney California Adventure Park is hosting a whole
Summer of Heroes
event. Disney guests are invited to dance with the Guardians of the Galaxy, train to be a super hero with Black Widow and Hawkeye, and rub shoulders with the most popular Avengers characters. Be sure to have your camera ready. It is a summer you won't want to miss!
All of our
Disneyland packages
can be booked on our website or over the phone. Or, if you just need
Disneyland tickets
, we can help with that too. Our agents can help you customize your vacation, or build your own online. Either way, you're sure to get a great deal when you book with Get Away Today. Book your summer adventure
Disneyland package
online or call our travel experts at 855-GET-AWAY.

Check out these other great articles: