Breakfast is the most important meal of the day. Why not make it the happiest meal of the day as well? Serve your family a tasty breakfast with a side of Disney magic and fun. There is never a dull moment when Mickey Mouse is in the house.

Add these cute and easy Mickey Mouse Pop Tarts to your menu to get your kids excited about an upcoming Disneyland vacation, or to extend the vacation magic once you return home. Either way your kids will be smiling from ear to ear.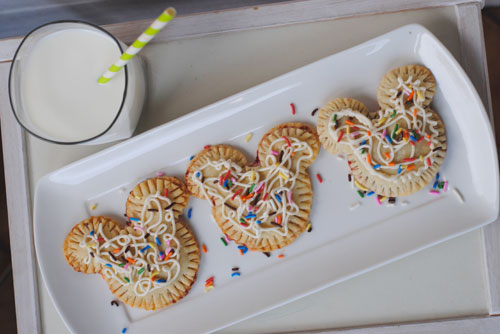 You will need:
One package of pre-made pie crust
Jar of your favorite fruit preserve (jelly or jam, store bought or homemade)
Butter
Mickey Mouse cookie cutter
Frosting
Sprinkles

Roll the dough out onto a cutting board. Use a Mickey Mouse cookie cutter to cut the dough into individual Mickey faces. You will need two shapes for each Mickey Mouse Pop Tart. So, be sure to cut an even amount of Mickeys.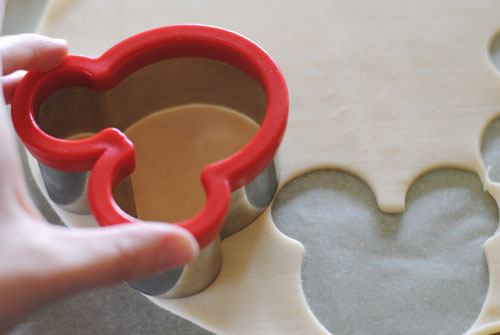 Spread a teaspoon of preserves onto one Mickey dough cut out. Leave a little bit of space around the edges. Eventually you'll repeat this process for half of your Mickey cut outs. The other half of your cut outs will be for the tops.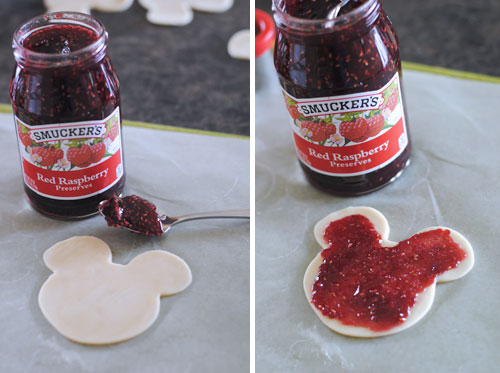 Place a second piece of Mickey dough on top of the jam covered dough. Use a fork to press the edges together and make a nice tight seal.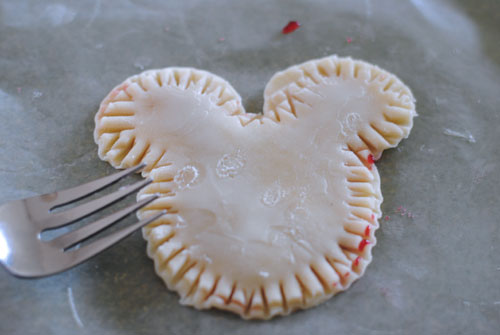 Place each of the Mickeys onto a greased cookie sheet as they're completed. Once all of your Mickey Mouse Pop Tarts are put together, you'll butter the tops. The butter is what makes them nice and toasty brown when they bake. Feel free to spread it on! Next you'll bake your pop tarts in a preheated oven at 400 degrees for about 7 minutes. Check them while baking. When the edges get golden brown, they are ready.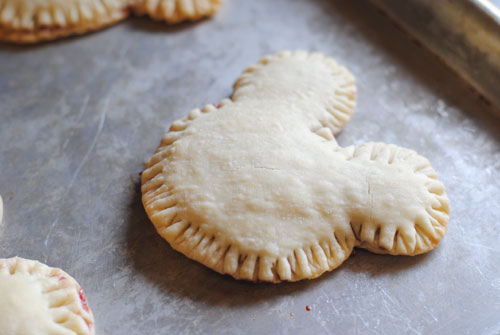 Let the baked tarts cool on the pan for about two minutes, then transfer them to a serving plate. Frost the tops with butter cream frosting and embellish with colorful sprinkles. Everything just feels a little fancier and more fun with sprinkles!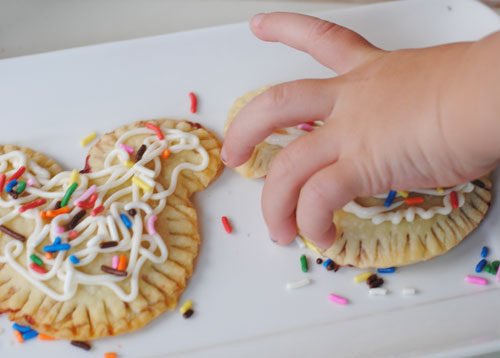 My kids liked these homemade Mickey Mouse Pop Tarts way better than the boxed kind. They really are quite tasty! The warm savory tarts didn't last long at our house. I can only assume it would be the same at yours.

One thing that will last longer than our homemade Mickey Mouse Pop Tarts are the memories you'll make with your family at the Disneyland Resort. Right now there is so much to celebrate - including Disneyland's 60th Anniversary and the Diamond Celebration and the limited time Star Wars Season of the Force. Don't miss any of the magic and book your Disneyland vacation today. Book any of our Disneyland packages online or call our agents at 855-GET-AWAY.


Check out these other great articles:

25 Tips for the Disneyland Diamond Celebration
Top 10 Mickey and Minnie Crafts and Recipes
Season of the Force is NOW Open
New Dining Experiences Coming to Disneyland
NEW: Afternoon Tea at the Disneyland Hotel