Enjoy this copycat recipe for Disneyland's Angry Little Pudding Cups. Inspired by Guardians of the Galaxy, these Groot pudding cups are available for a limited time as part of the new super food lineup at Summer of Heroes in Disneyland. But, you can have them any time with our copycat recipe for Groot pudding cups.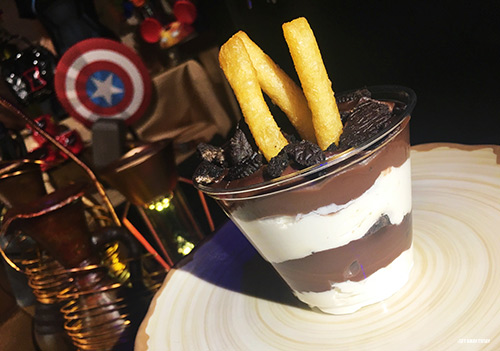 The Summer of Heroes is going strong inside Disney California Adventure at the Disneyland Resort. There is action and adventure around every corner. Tasty new themed foods, rockin' dance parties, super hero meet and greets, and hero training camps are just a few of the fun events planned for park visitors.
You can be a hero in your own home this summer with this fun copycat recipe. The Angry Little Groot Pudding Cups were created by Disney to look like dirt and mud in a pot with little Groot trees growing. They're perfect for kids and adults. Who doesn't want to make a mud pie that actually tastes good? Here's everything you'll need to do just that:
Angry Little Groot Pudding Cups Recipe:
Makes 4 Servings
1 package chocolate pudding
1 package of whipped cream (or make your own)
Groot funnel cake fries (recipe below)
These Angry Little Groot Pudding Cups are a perfect treat for a Guardians of the Galaxy party or movie night! Most of the steps are easy enough for children to do all by themselves. Let them be part of the process and the whole family can have fun.
Start by whipping up a batch of instant chocolate pudding. I purchased the Hershey's kind and it was so good. Put the pudding in the fridge to chill and set up.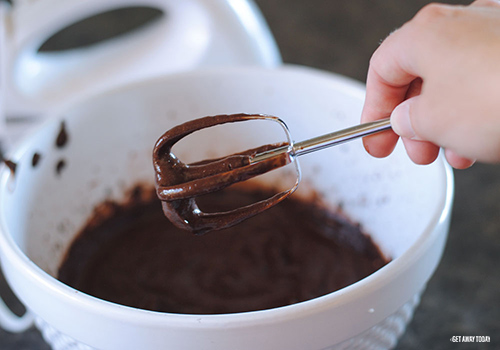 While your pudding is setting, make your whipped cream. I love the taste of real whipped cream. Ditch the stuff from the can or the tub and try whipping your own cream. It is delicious. Use 1 cup of cream, 1 tablespoon sugar and 1 teaspoon of vanilla. Place it in a bowl and beat it with the mixer until the cream is thick and creamy. Do not over beat it, or you will have butter. Tasty, but not exactly what we are going for. Place the whipped cream in the fridge.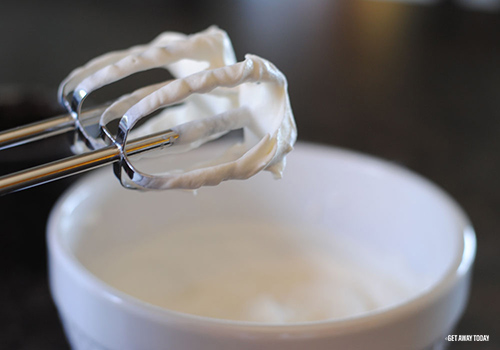 Now it is time to make the dirt! Pull about eight cookies apart and scrape the cream off of the cookie with a butter knife. Or, if you are feeling adventurous, you could lick it off. That is what my little kitchen helpers wanted to do! That method, however, is not approved by the FDA. We settled on scraping the frosting off with the knife and then sampling it.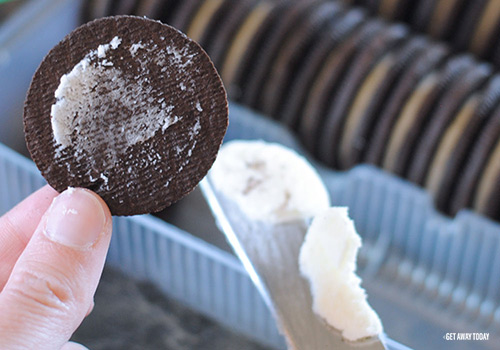 Put the cookies into a Ziploc bag and beat it with a rolling pin to crush them into small bits and crumbs. Instant dirt! Set the dirt aside while you make the final part of the Angry Little Groot Pudding Cups recipe...Groot Funnel Cake Fries!
I had never made these funnel cake fries before I tried them out for this recipe. They are super easy, so don't be nervous to give them a shot!
Funnel Cake Fries Recipe:
Mix the flour, baking powder and salt together in a bowl. Whisk them so they are combined completely and set them aside.
In a separate bowl combine the egg, sugar, milk and vanilla. Beat them until the mixture is foamy and bubbly. Then, carefully add the flour mixture to the wet ingredients and combine them together with a spoon. The batter should be smooth and thick. Not as thick as bread dough, but not runny either. Kind of in between, like waffle mix!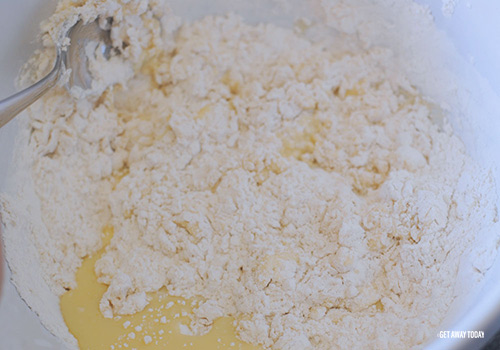 Place the oil into a frying pan and warm it up on the medium heat setting. You want the oil to be at least one inch deep. Frying temperature is about 350 degrees. If you don't have a kitchen thermometer, then you can do a temperature check by adding a small bit of batter to the oil. If it bubbles up quickly and floats to the top of the pan, the oil is ready. If it starts to smoke and burn, the temperature is too hot. If the batter sinks to the bottom and tiny bubbles appear, wait a few more minutes for the oil to heat up.
Our Angry Little Groot Pudding Cups wouldn't be complete without Groot! You make Groot by placing the batter into a squeezable plastic condiment container. The small hole makes pouring and shaping the funnel cake fries really simple!
Squeeze a line of batter into the hot oil. They really don't have to be perfectly straight. Groot isn't a stick! He bends and moves. I could only manage about four funnel cake fries at a time in the pan. Any more caused over crowding.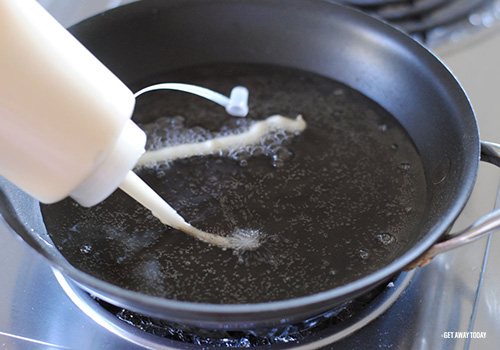 It takes only about 30 to 40 seconds for the fries to cook on the first side. Once they start to turn golden brown, turn them over with tongs. Let the second side get nice and golden brown and then remove them from the oil onto a plate covered with a paper towel. The towel will catch and absorb any excess oil.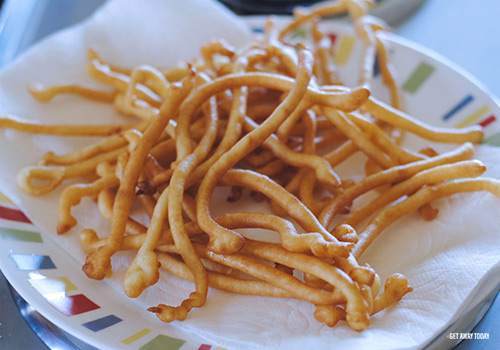 Once all of your funnel cake fries are ready, it is time to build the Angry Little Groot Pudding Cups. This step is perfect for little helpers! Grab your "dirt" before getting the pudding and whipped cream from the fridge.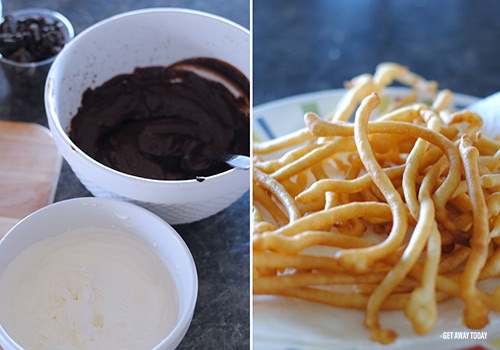 Start with a layer of pudding in each cup.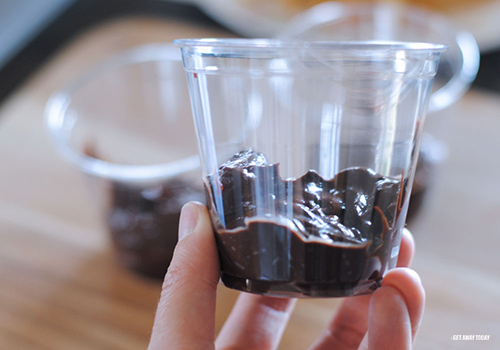 Then add a layer of cream. Repeat the steps until the cup is full and then top with a sprinkle of cookies.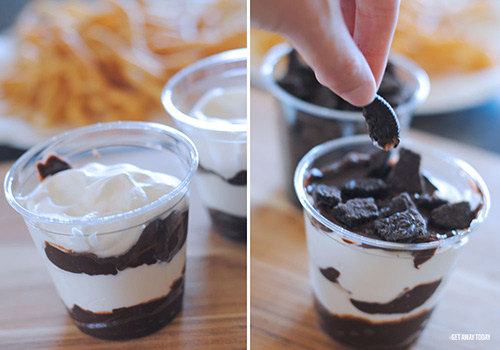 Next, poke the funnel cake fries into the top of the cup. Your Angry Little Groot Pudding Cups are ready!
I was really surprised at how tasty the funnel cake fries were. They were light and fluffy. My husband said they reminded him of eating a marshmallow. They aren't overly sweet on their own, so be sure to dip them into the pudding and cream when you enjoy your own Angry Little Groot Pudding Cups!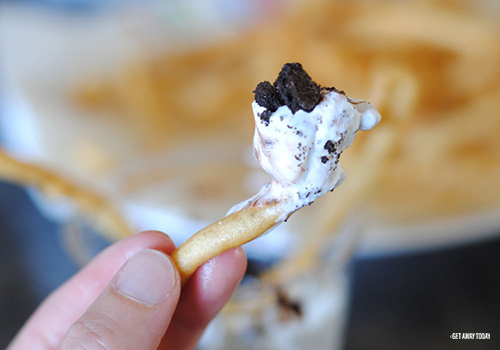 I dipped quite a few extra funnel cake fries into my own Angry Little Groot Pudding Cups. They were too good to waste! I hope you have fun making these Angry Little Groot Pudding Cups at home.
If you would like to try the original Angry Little Groot Pudding Cups at Disney California Adventure this summer, you can find them at Award Wieners in Hollywood Land. On top of the delicious food, you'll also find excitement like never before during Summer of Heroes.
The adventure will end on September 10th, so visit the Disneyland Resort this summer to experience legendary fun. Take advantage of super savings on your Disneyland package with our discount Disneyland tickets and discounted hotel rates. Book online or give our travel super heroes a call at 855-GET-AWAY.

Check out these other great articles: