Make a creamy cookies and cream milkshake just like the kind served at Disneyland. This Mickey Cookies and Cream Milkshake has vanilla ice cream, Oreo cookies, and a little bit of Disney magic! Blend up some Disneyland fun right in your own kitchen.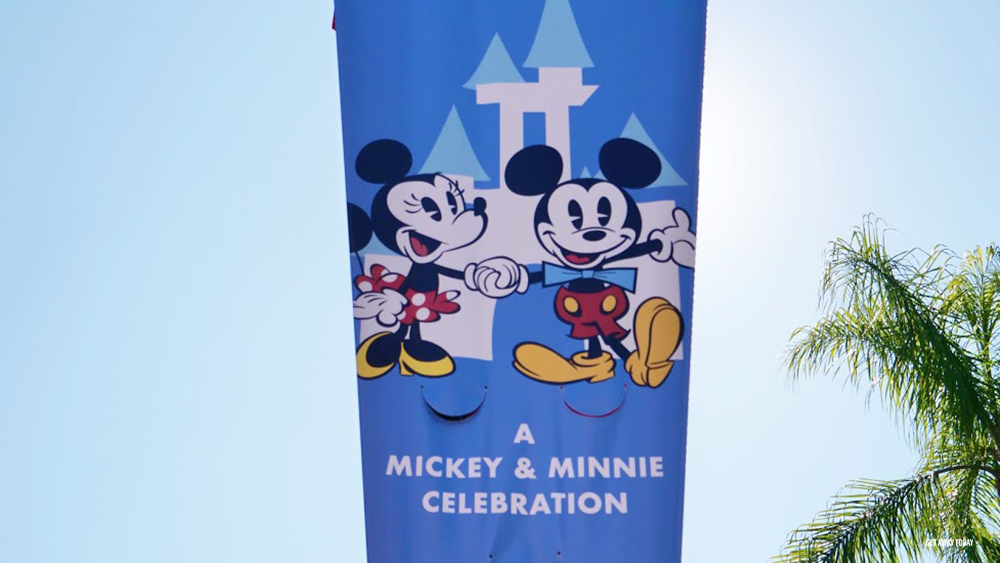 I think Disneyland is made up of sugar and spice and everything nice. There is something magical in the air and in the food! Trust me, your mouth is going to think it is the happiest place on earth! There are so many amazing new foodie options available during the Get Your Ears On: A Mickey and Minni Celebration this year. If you haven't heard, Mickey and Minnie Mouse turned 90 and it is going to take an entire year to celebrate the big event. Disneyland is sure making the party fabulous with festive food, entertainment, merchandise, and super cute photo opportunity spots. It is one birthday bash that should not be missed.
Mickey Cookies and Cream Milkshake
A birthday wouldn't be a birthday without ice cream. One of the cutest things on the menu at Disneyland this year is the Mickey Cookies and Cream Milkshake. It is a creamy sweet milkshake made with hand scooped vanilla ice cream and crushed chocolate cream cookies. Because it wouldn't be a Disney dessert without a little bit of creativity, the milkshake also has cookie Mickey Mouse ears and chocolate candy buttons. It is almost to cute to eat. But, not quite!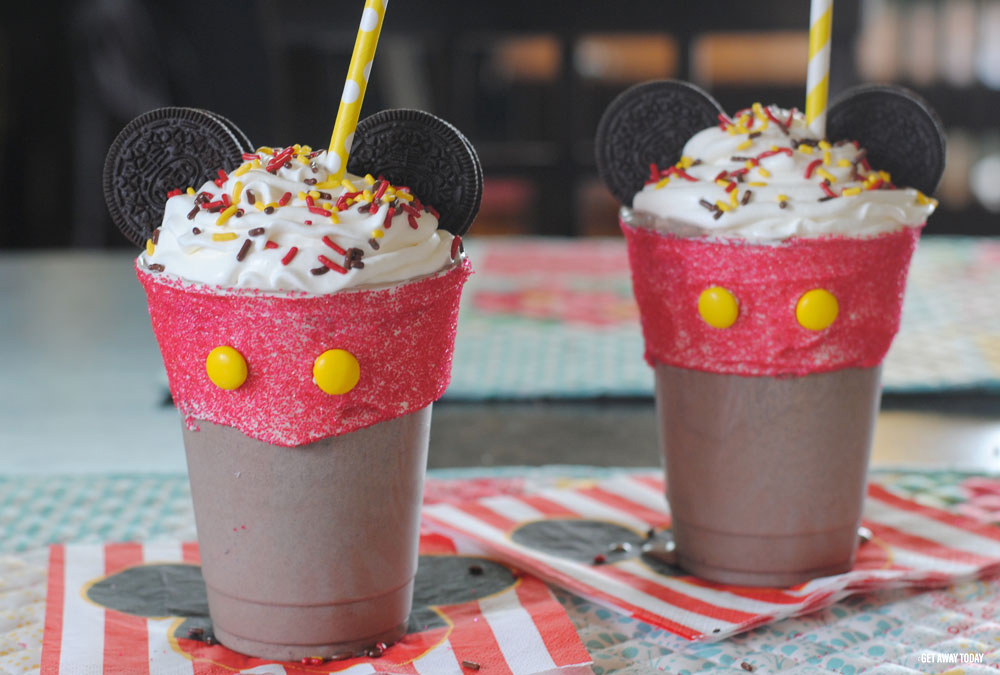 You can make your own Mickey Cookies and Cream Milkshake at home with this simple recipe and tutorial. Even if it isn't your 90th birthday, there is always something to celebrate in life! Sometimes, I have to celebrate making it through my laundry pile or getting everyone's homework completed and turned in on time. Small miracles of mothering deserve a party. No one knows how to party like Mickey Mouse!
Mickey Cookies and Cream Milkshake Copycat Recipe:
1/2 Gallon Vanilla Ice Cream
Package of Oreo Cookies
1/2 Cup Milk
Vanilla Frosting
Yellow M&M Candies
Red Sugar Sprinkles
Red, Yellow, and Brown Sprinkle Topping
Whipping Cream
Tall Clear Plastic Cups
You can find all of the ingredients for your own Mickey Cookies and Cream Milkshake at pretty much any grocery store. I gathered all the supplies pretty easily! Remember, when you buy ice cream to make a milkshake, you want to buy a high quality brand. The "cheap stuff" blends down into almost nothing. Premium brand ice cream is thicker and filled with less air than the cheap stuff. Just as a heads up!
Mickey Cookies and Cream Milkshake: Getting Started
Start with decorating the Mickey Mouse cups. Use a spatula to spread vanilla frosting around the outside edge of the plastic cup. I used my frosting knife. You want the frosting to be about 2 inches down from the rim of the cup.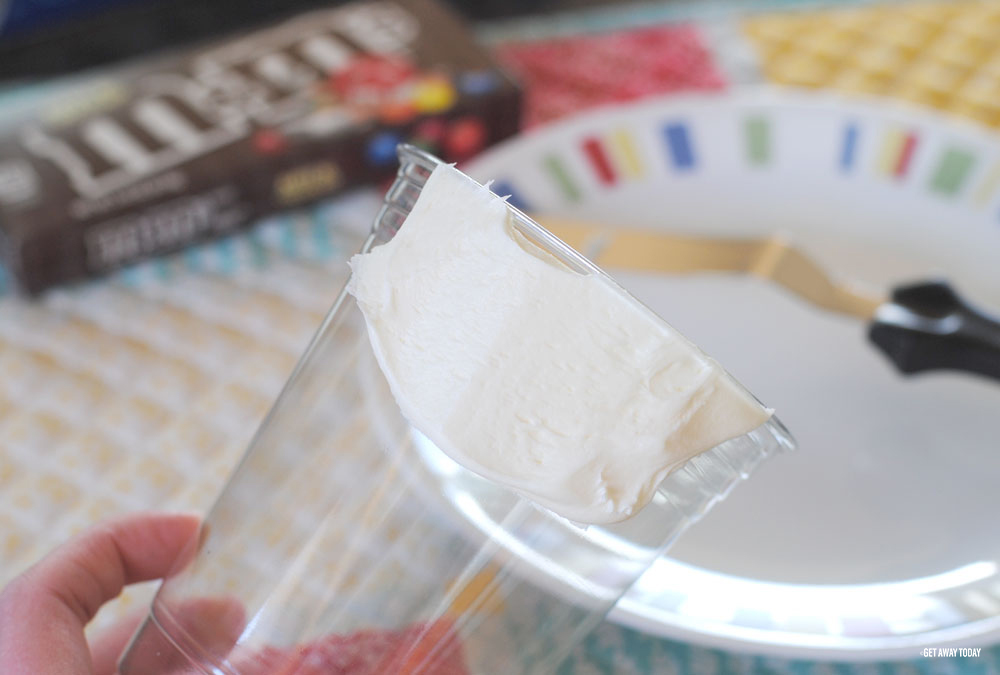 Sprinkle the frosting with red sugar sprinkles. Give it a nice even coat that covers the majority of the white frosting. Mickey does wear those cute red shorts! You want it to look red. Place a plate under the cup as you sprinkle the sugar sprinkles to catch the excess so you don't have a mess all over your kitchen counter when you are finished.
Open a package of M&Ms and pick out a couple of yellow candies.
Place a little dab of frosting onto the back of the M&Ms and press them onto the cup in the center of the red sprinkle zone. These are Mickey's cute buttons! If ya want to get fussy, place the side of the candy that has the M&M logo facing the cup so the plain side of the chocolate is facing out.
Mickey Cookies and Cream Milkshake: Get Blending!
Set your decorated cups to the side for a bit. Scoop about a half of a gallon of ice cream into your blender. You know the strength of your machine. If you have a nice powerful blender, fill it up. If your blender is not so strong, you may have to make the Mickey Cookies and Cream Milkshake in smaller batches.
Add a stack of Oreo cookies. I used 17 cookies. No need to scrape out the frosting centers. Just plop them into the blender whole.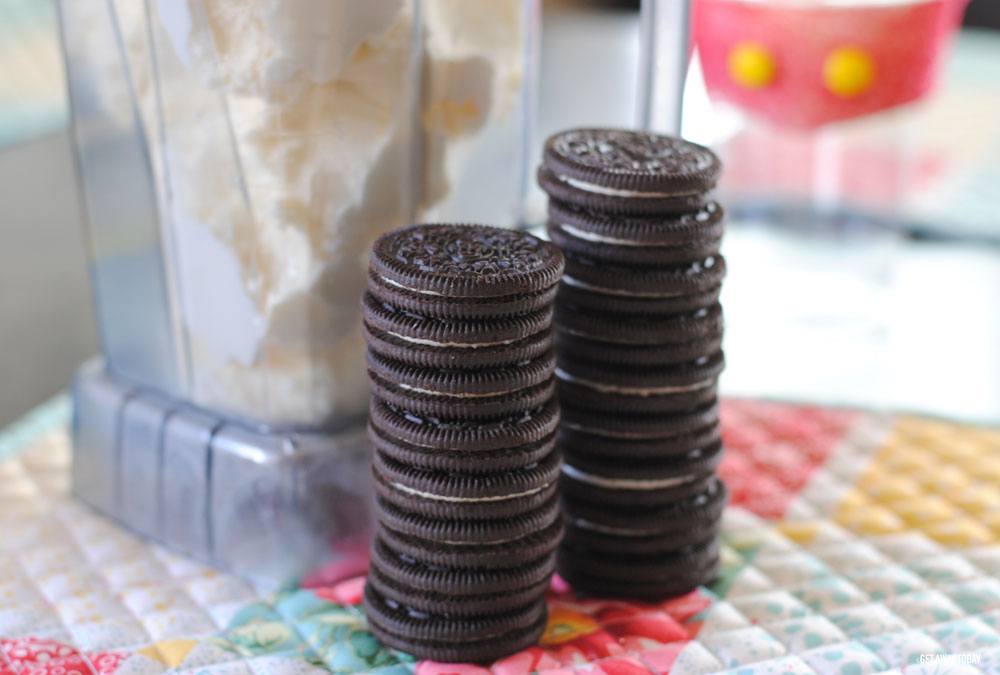 Pour in 1/2 cup of milk. This will help getting things flowing during the blending process.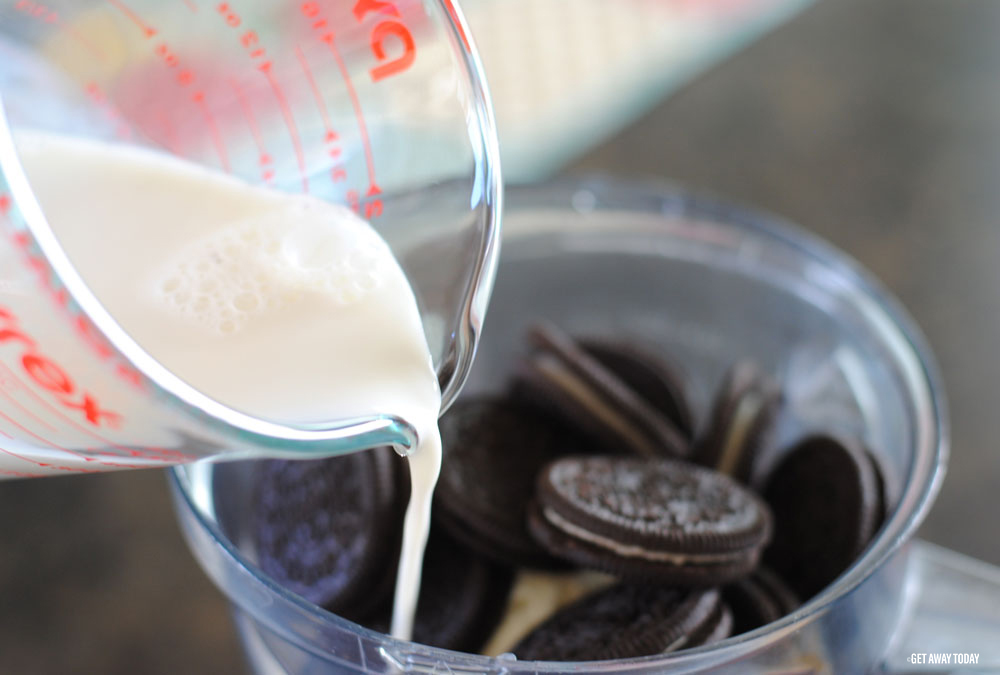 Shake up the ingredients until you are happy with the consistency. I gave my milkshake a good shakeup. My kids like their ice cream smooth. If you like chunks in yours, feel free to cease blending when you can still see a few lumps and bumps in the blender.
Mickey Cookies and Cream Milkshake: Serve it Up
Pour the delicious magical dessert into the Mickey Mouse cups that you prepared. Then, top the ice cream with a dome of whipped cream. I whipped my cream from scratch with whipping cream, vanilla, and sugar. You can make your own, or spray the cream right from a can!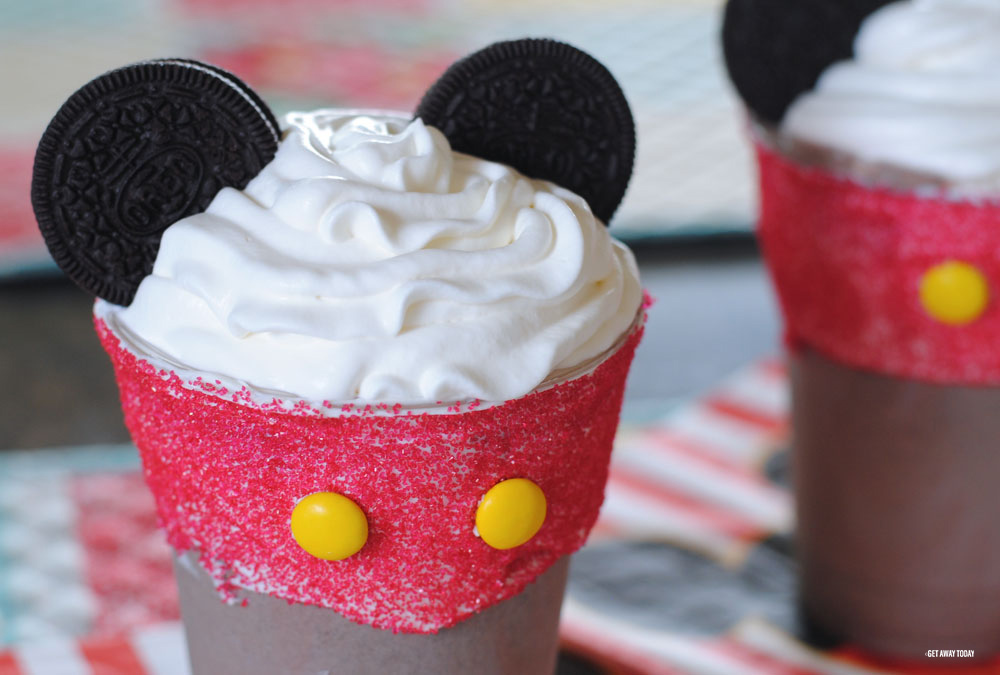 Make Mickey Mouse ears with two chocolate Oreo cookies. If you rest the edges of the cookies along the side of the cup, it helps them stay in place.
Sprinkle red, brown, and yellow candies on the top to give it a little bit of happiness and you are all set to dig in. Bottoms up!
Eating a Mickey Mouse Cookies and Cream Milkshake is worth celebrating in itself, but it is even better as part of the Get Your Ears On Celebration at Disneyland! We are so happy it is Mickey and Minnie's 90th birthday this year. It is so fun to see all of the festivities happening at Disneyland with them and the rest of the gang.
If you want to join in on the action at Disneyland, let us help you find the perfect vacation package for your family. Whether you head to the Resort to celebrate Get Your Ears On, the Food and Wine Festival or even a graduation, it is always a good time. You can see what vacation packages are available with Get Away Today online, or feel free to give one of our helpful travel experts a call at 855-GET-AWAY.