Surprise your kids with their very own Mickey Mirror to announce an upcoming Disney vacation. Our easy tutorial makes fun to say, "Look who's going to Disneyland!"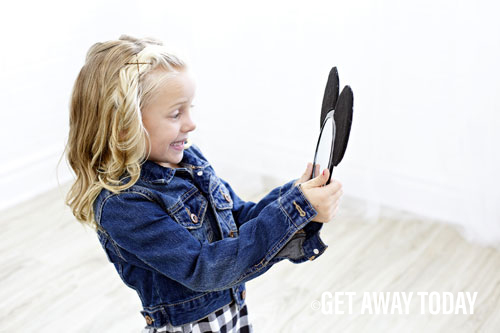 We believe that one of the best things you can give your family is memories, especially when those memories involve a Disney vacation! Imagine the joy on your child's face as they find a Mickey Mirror wrapped up on Christmas morning and they see their reflection as you exclaim, "Look who's going to Disneyland!" Or to Disney World, Disney's Aulani, or even on a Disney Cruise for that matter. It's the perfect way to give your family a Disney vacation.
Our Mickey Mirror tutorial is so easy to make, and you only need a few supplies. You probably even have most of them around your house.
Mickey Mirror Supply List
A round hand mirror - any color will do, but we prefer classic Mickey black
One sheet of felt that coordinates with your mirror- again, you can use any color, but we prefer black
A flat sheet of cardboard
Hot glue and glue gun
Scissors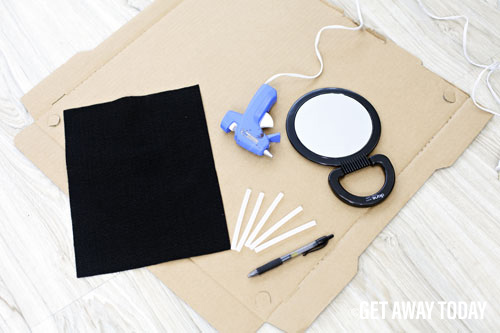 Start by making your ears. Place your mirror onto your sheet of cardboard and hand draw the outline of your ears directly onto the cardboard using a pen or pencil. You'll want to use your mirror as a guide to make sure your ears fit snugly on your mirror. If you're not confident in your free hand skills, you could grab a Tupperware lid or another circle object and trace it to create your ear shapes. Just be sure you place your guide over your mirror to make sure that the bottom of the ears will fit easily with the shape and size of your mirror. Once you've drawn your Mickey ears onto the cardboard, cut them out.
Take your cardboard ears and place them onto your piece of felt. Use the cardboard ear as a guide to cut out your felt ears. You'll need two pieces of felt for each ear, so you'll cut a total of four felt ears per Mickey Mirror. Leave a tiny little bit of space around the edge of each cardboard as you're cutting out your felt ears.
Once your felt pieces are cut out, you'll hot glue them directly to the carboard pieces. Seal any extra felt around the edges of your Mickey ears with hot glue so that you can't see any of the cardboard. Trim any leftover felt from the bottom of each ear piece. The cardboard will stick easier to the mirror without extra felt.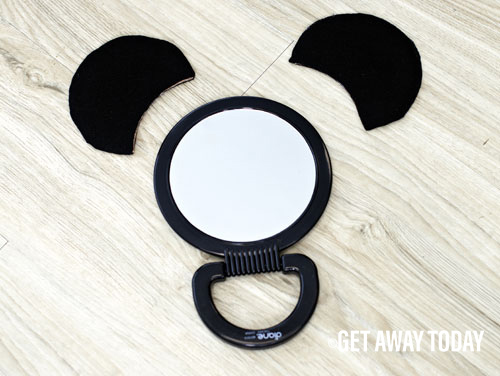 Now you're ready to glue your ears to your hand mirror and complete your Mickey Mirror! If you'd like, you can easily turn your Mickey Mirror into a Minnie Mirror with a bow accessory. Or, personalize your Mickey Mirror for each child with embellishments. You could decorate the ears with jewels, your child's name, ribbon... anything at all. Leaving them as classic Mickey ears is a perfect option as well.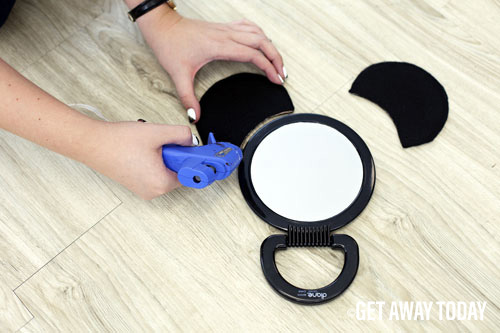 Your Mickey Mirror is now complete and ready to make quite the statement. Your kids will be so excited when they look in their own Mickey Mirror and see that it's them who's going to Disneyland!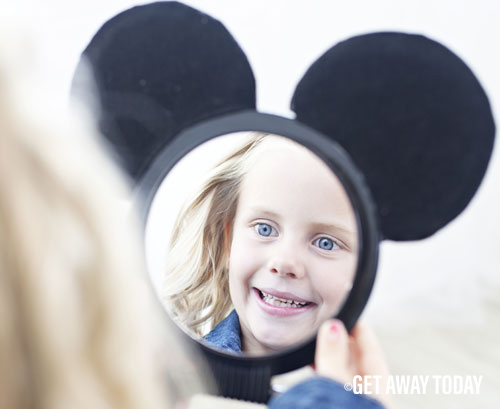 The best part about giving your family the gift of a Disney vacation is that you don't have to travel over Christmas or the day you make your announcement. In fact, we think the anticipation of a future Disney vacation is a big part of the fun! Combine your Mickey Mirror Disney vacation surprise with a Disney vacation countdown chain, or include a calendar with your travel dates marked on it.
We'd love to help you book your next Disneyland, Disney World, Disney Cruise or Disney Aulani vacation - especially for your family's Christmas this year! You can book all of our Disney packages online, or you can call our Disney experts at 855-GET-AWAY. Either way, we'd love to help!

Check out these other great articles: