These Mickey Mouse Cupcakes are pretty magical. Make your own Sorcerer's Apprentice cupcakes with this easy to follow tutorial.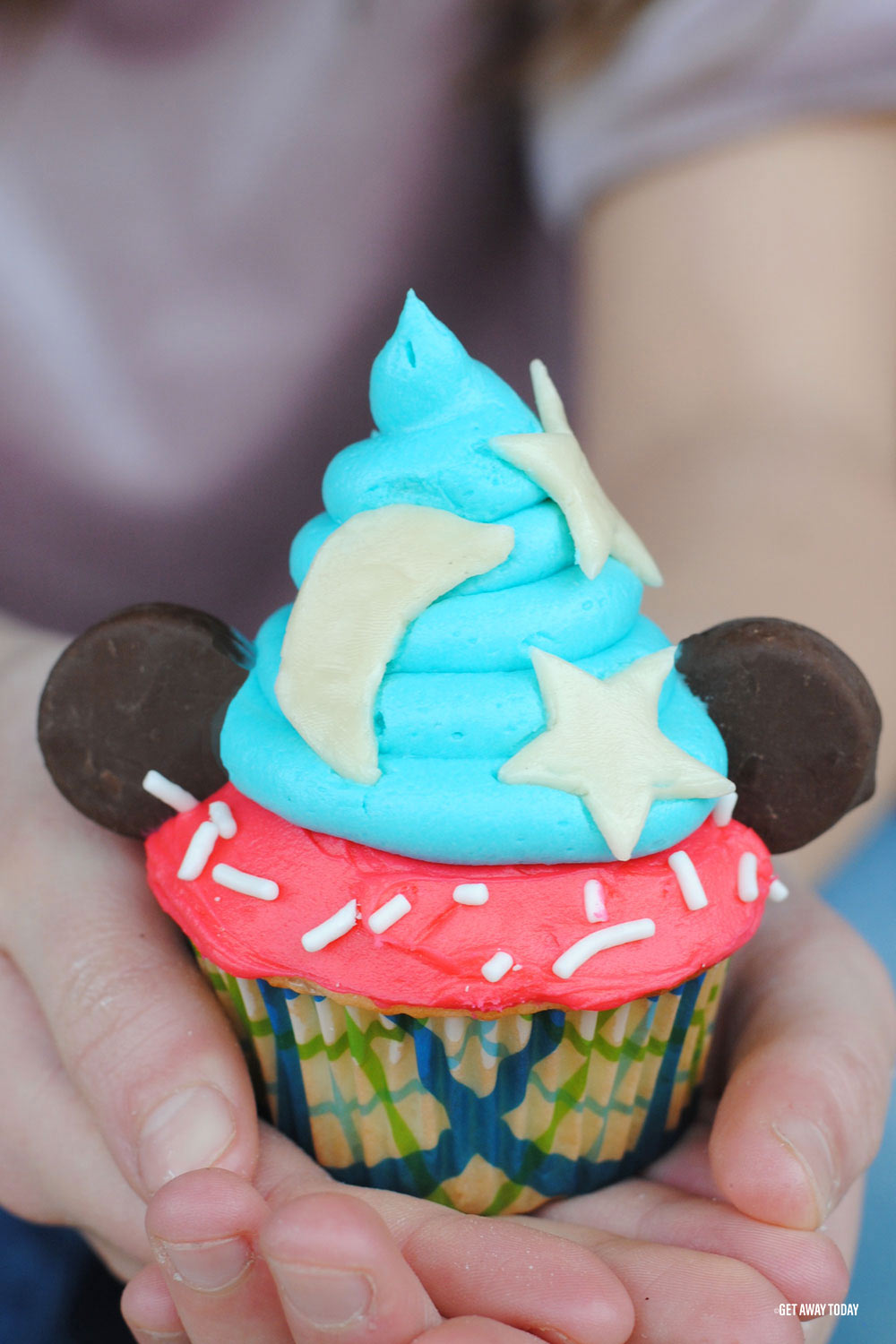 Right now, Mickey Mouse is celebrating his 90th Birthday at the Disney Parks. In fact, Mickey is celebrating all year long with a festive Get Your Ears On Celebration at the Disneyland Resort! The Happiest Place on Earth is happier than ever before. And it's about to get even happier. Just last week Disney announced that Mickey's PhilharMagic is coming to Disney California Adventure Park this month! Not only are we so excited that this Walt Disney World attraction is coming to California, we are thrilled that it's coming so soon! That Mickey is just full of surprises.
You can't have a birthday without cake and no one knows how to make cuter cakes than the Disney bakers. They have cute down to a science. One of my favorite new treats making a debut during the Get Your Ears on Celebration is the Cookies and Cream Sorcerer Cupcakes. The big blue frosting Sorcerer hat is so MICKEY. These Mickey Mouse cupcakes make me smile. And even more so now that Sorcerer Mickey is making his Disney California Adventure debut in Mickey's PhilharMagic!
You will find plenty of reasons to smile at Disneyland and Walt Disney World during Mickey and Minnie's big party. In addition to the adorable food, park guests get to enjoy new birthday entertainment, darling merchandise, cute photo backdrops, and more. Guests are literally skipping though the park because it is just too happy for walking.
Mickey Mouse Cupcakes: The Sorcerer's Apprentice
You can make your own Mickey Mouse Cupcakes at home with this easy to follow tutorial. Turn your kitchen into the happiest kitchen on Earth with these magical treats.
Mickey Mouse Cupcakes: The Sorcerer's Apprentice - Supplies
Baked Cupcakes
Frosting
Red and Blue Food Coloring
Vanilla Tootsie Rolls or White Fondant
Mini Oreo Dipped Fudge Cookies
White Sprinkles
Round Frosting Tip and Bags
Mickey Mouse Cupcakes: The Sorcerer's Apprentice - Getting Started
To start creating these cute little magical treats, bake a batch of your favorite cupcakes. I chose vanilla flavor to match the kind at the Disney Parks. When you bake cupcakes using a regular cake mix from the grocery store, add 1/2 cup of sour cream to the batter. It makes the cake really moist and yummy!
I used a multi pack of blue cupcake liners to match Mickey's awesome sorcerer hat.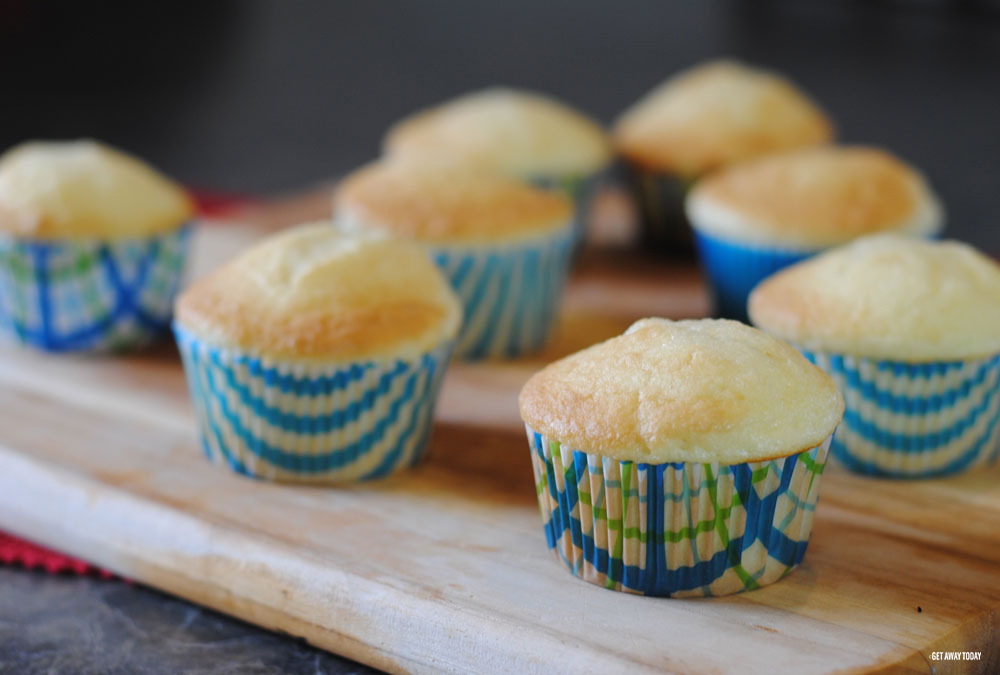 Mickey Mouse Cupcakes: The Sorcerer's Apprentice - Frosting
Now, make a batch of buttercream frosting or just grab a tub of frosting from the store! You need LOTS of frosting to form the sorcerer's apprentice hats. I would plan for double the frosting you would use for regular cakes/cupcakes.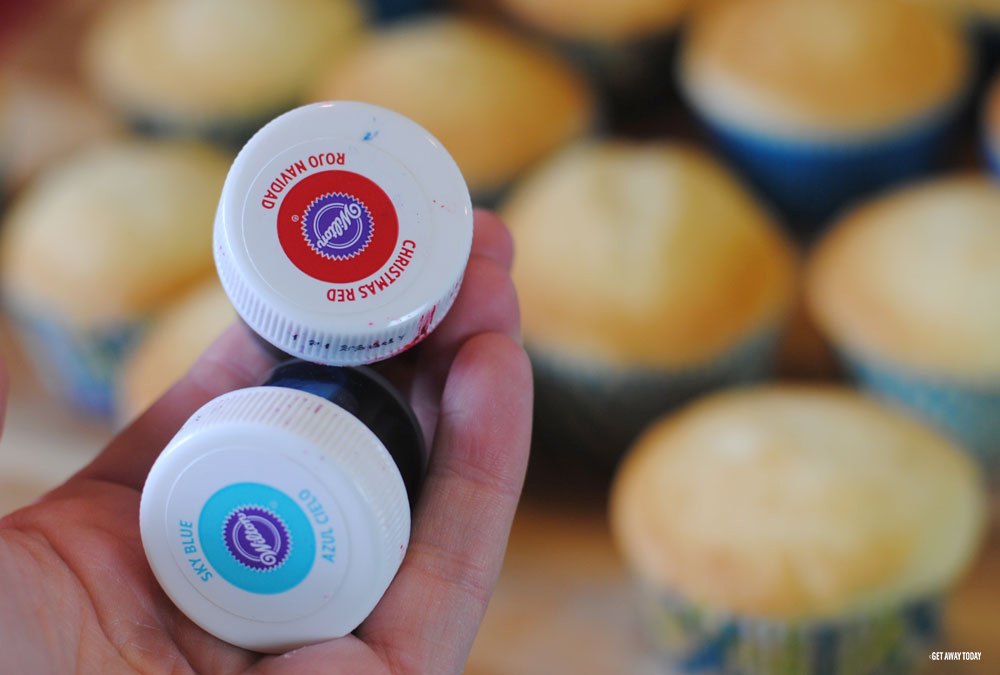 Scoop 3/4 of the frosting into one container and the other 1/4 of the frosting into a separate container. The large amount of frosting needs to be blue and the smaller portion red. These frosting colors need to be deep and vibrant. So, don't hold back when adding the food coloring.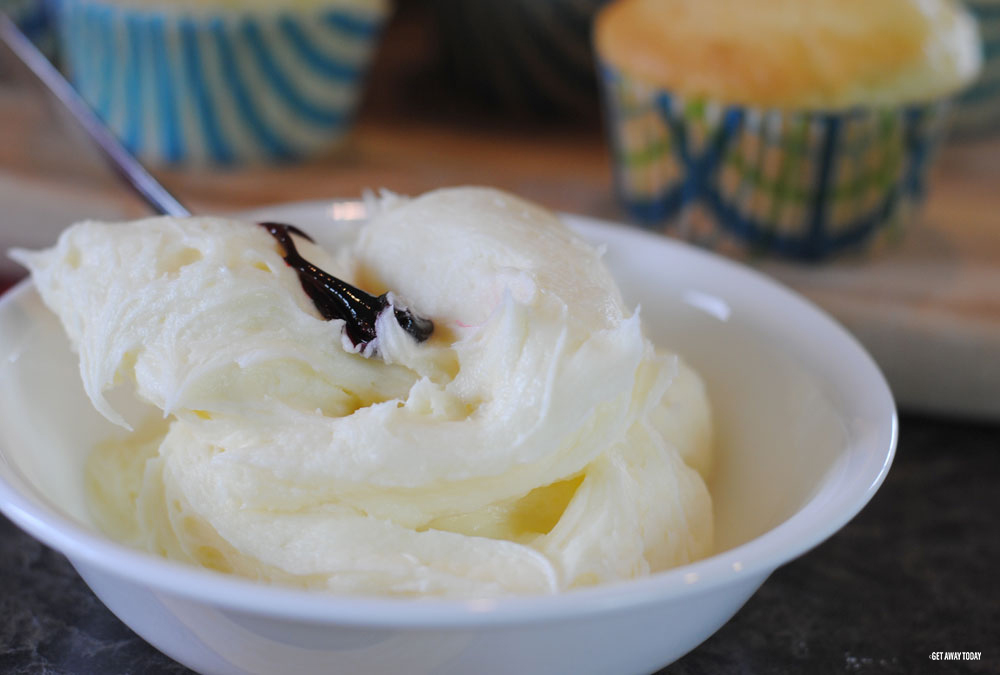 Mix the food coloring into the frosting until it is evenly distributed. Set the blue aside for a few minutes. Use the red frosting to cover the tops of each cupcake. Spread it on flat. You just need to cover the cake.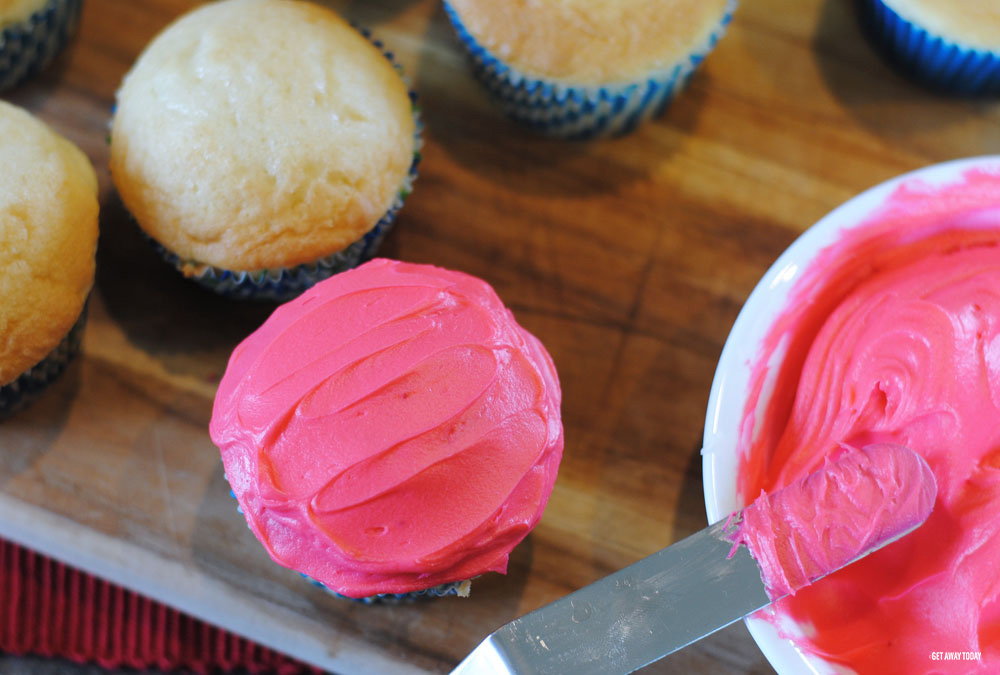 Mickey Mouse Cupcakes: The Sorcerer's Apprentice - Sprinkles
Then, while the frosting is still soft and fresh, shake some white sprinkles onto the outside edge of the cupcake. You don't need to cover the middle of the cake because that is where the sorcerer's apprentice hat will be!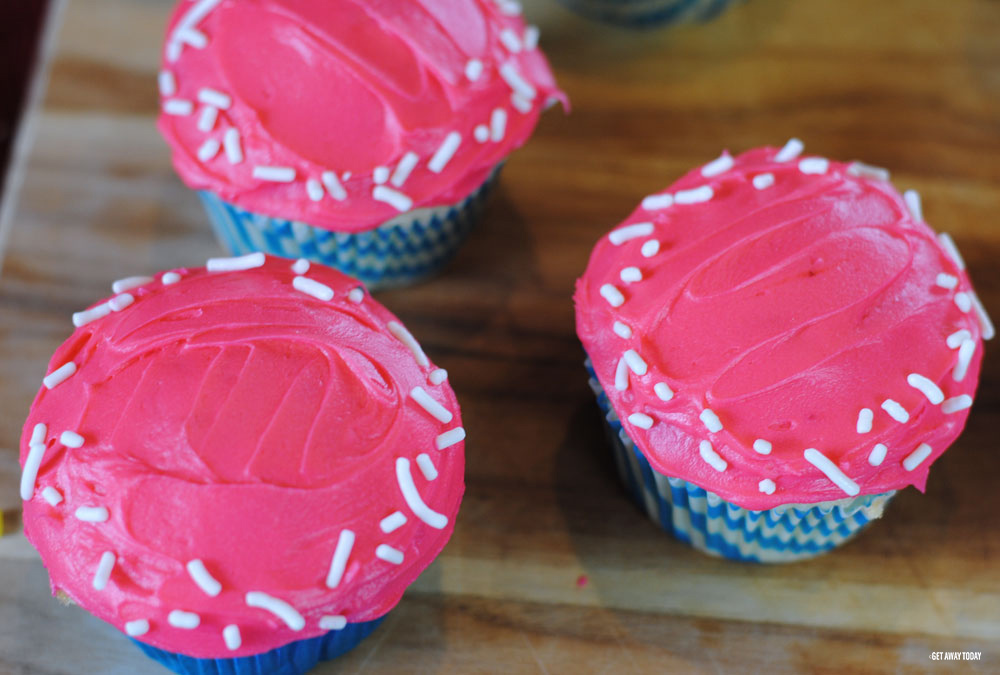 Mickey Mouse Cupcake: The Sorcerer's Apprentice - Piping the Hat
This is where things get exciting! Scoop some blue frosting into a bag fitted with a large round tip.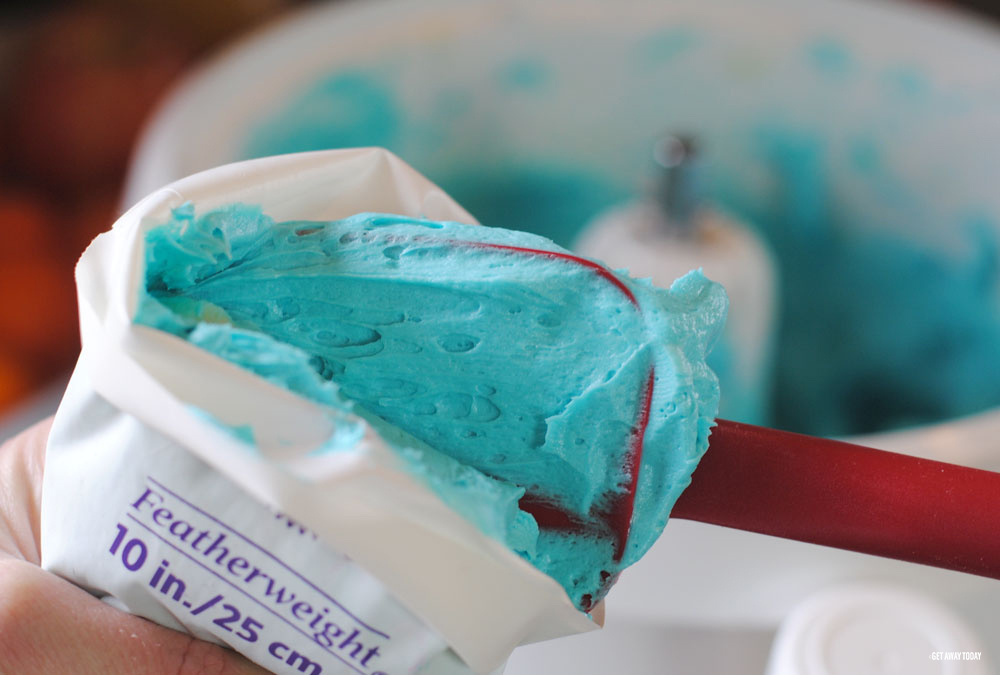 Then squeeze the frosting onto the center of the cupcake. You want to make the hat so it is bigger at the bottom than at the top. So, start wide and make a spiral going up to a point. Mickey's hat is pretty tall and floppy. Feel free to use plenty of frosting!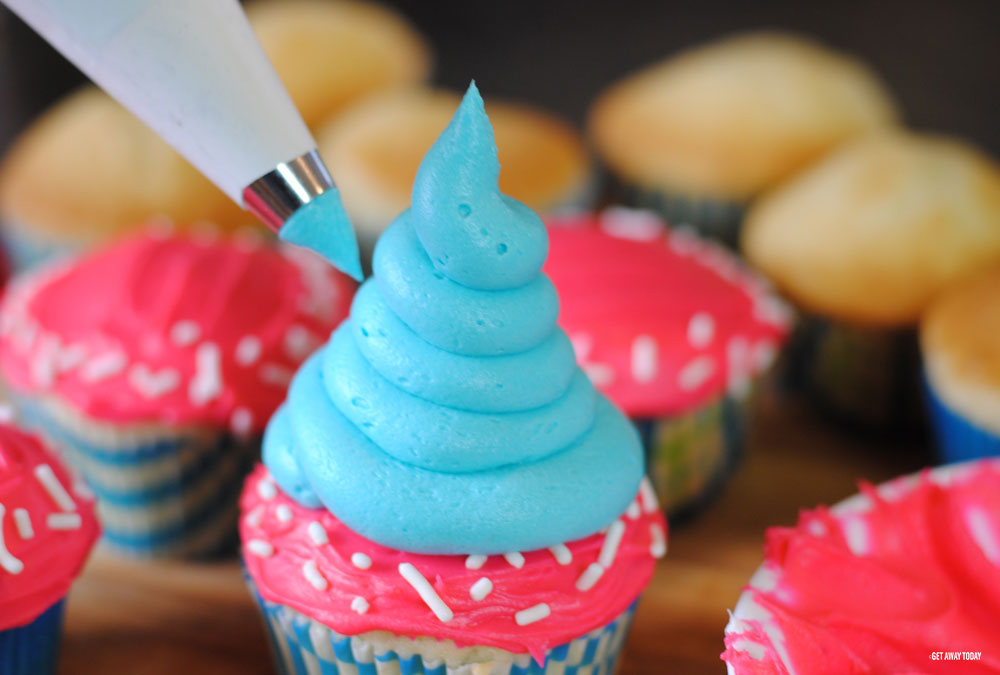 Mickey Mouse Cupcakes: The Sorcerer's Apprentice - Ears
Make all of the hats! Mickey's birthday celebration is called Get Your Ears On, so we better get some ears on these Mickey Mouse cupcakes. I used Mini Oreos. They are in a bag and they come covered with a chocolate coating.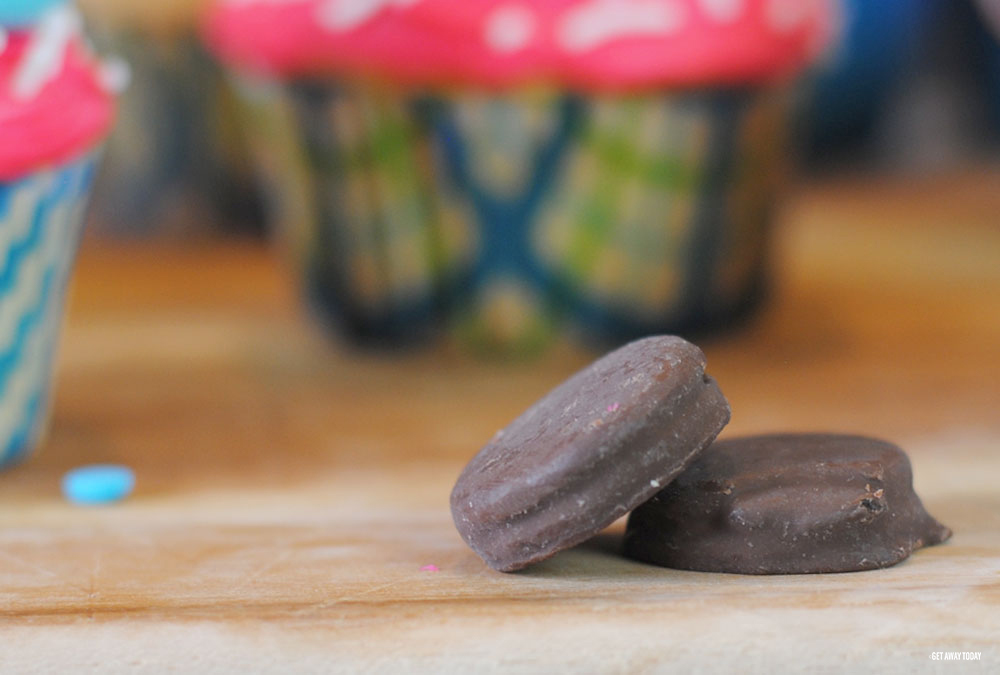 Slide the edge of the cookie into the bottom side of the sorcerer hat and the top of the cupcake. They should stay in place pretty easily.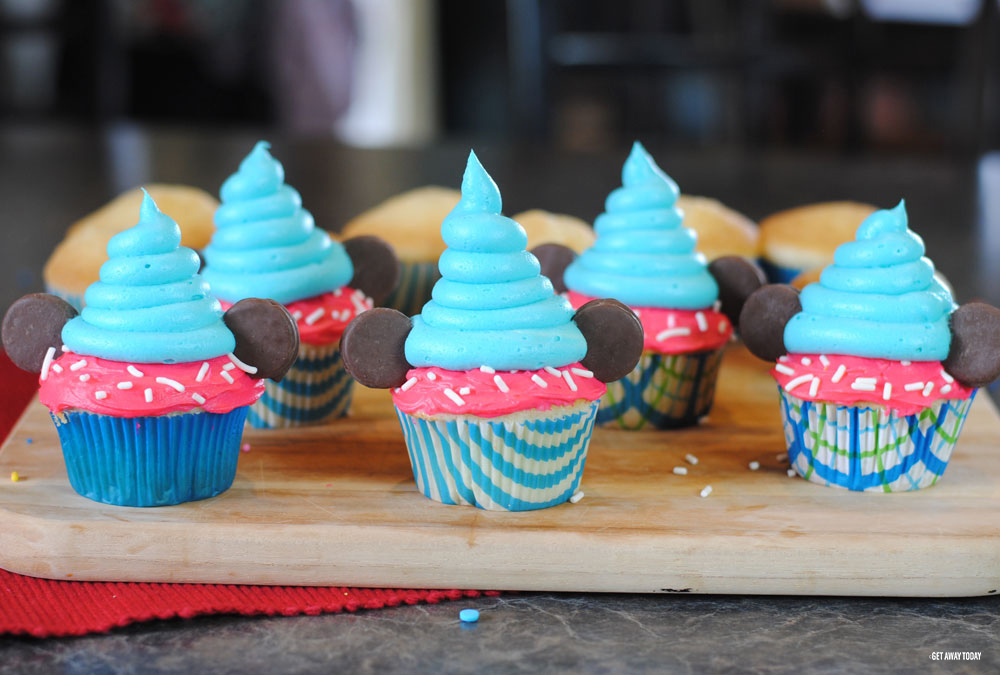 Mickey Mouse Cupcakes: The Sorcerer's Apprentice - Embellishments
The final step is to add the stars and moons to the sorcerer's apprentice hat. I don't love the taste of fondant, so I decided to try something different on this cupcake. I bought some vanilla tootsie rolls instead! I will say, fondant might be easier to work with, but I sure liked the vanilla flavor of the candies!
Roll out the tootsie roll onto a cutting board.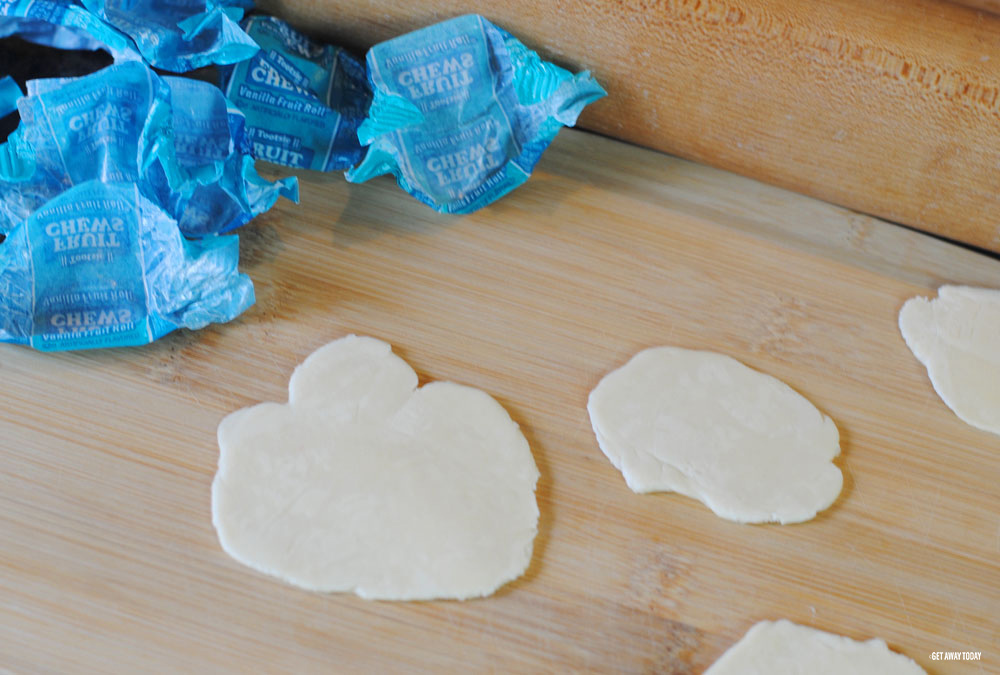 If you have little cookie cutters, you can use those to cut out the shapes. If not, I just used a star and moon pattern to mark where to cut with my knife. It wasn't too tricky. The shapes are very basic!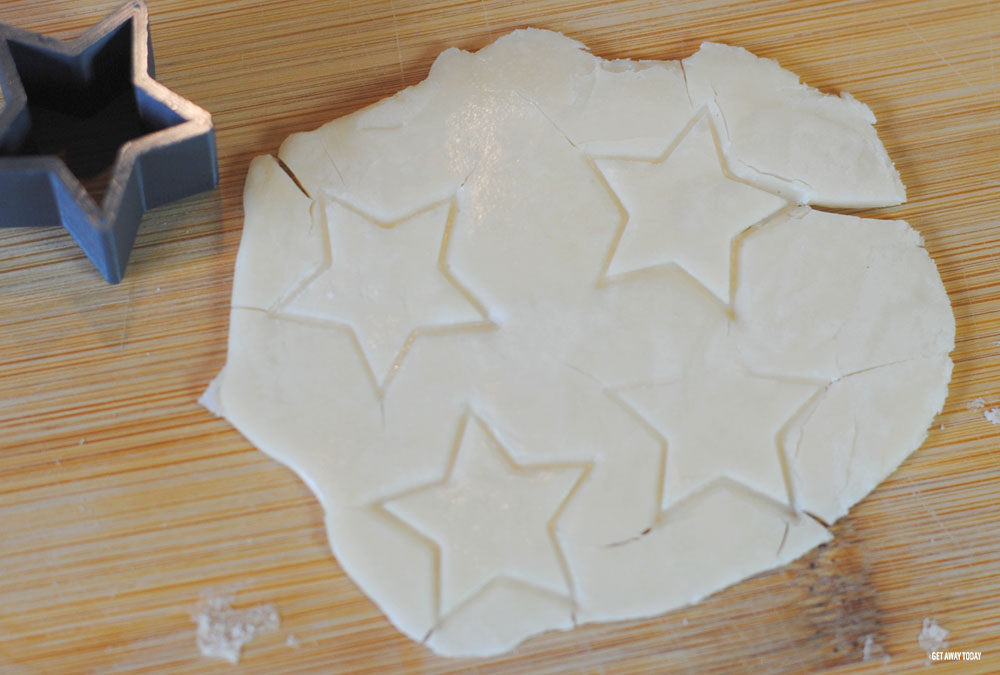 Place the yummy stars and moons on the frosting hat. Press them so they stick into the frosting without falling off.
I feel like you can make any wish come true with these magical Mickey Mouse Sorcerer Cupcakes! Look for them at Walt Disney World this year. Sing a little happy birthday tune to our favorite mouse before digging in!
Don't these Mickey Mouse cupcakes bring back memories of Fantasia? They're conjuring up images from the movie as we speak. And once you get to experience Mickey's PhilharMagic at Disney California Adventure Park, they'll remind you of that too!
To see (and taste) these treats and more at Disneyland, lock in your discount Disneyland tickets with Get Away Today. Using the convenient, interest free Layaway Plan you can start planning now and make payments later. Give our agents a call at 855-GET-AWAY and they'll help you find the most affordable vacation package for your budget.