Some of the most familiar lines of poetry begin with the phrase, "Twas the night before Christmas, and all through the house..." The story of a Christmas Eve visit from St. Nick has filled our hearts and homes for generations. I decided to add a Disney twist to the popular verse. Now, jolly old St. Nick brings his pal Mickey Mouse along to give the children a Disneyland Vacation for Christmas. If you are traveling to the Disney parks this holiday season, surprise your family with this adorable poem book. It will add that extra spark of Disney magic to your vacation reveal.

To start, print the book template here. I printed my book at the print shop on 13x19 inch glossy paper. You don't want to use thick paper on this project, because it makes the book hard to fold. Trim any extra white paper from around the edges of the paper before you begin.

Fold the rectangle in half so that the back sides of the paper are touching.
Make sure you crease all of the edges well as you continue with the folding process. You want them nice and tight. Then, fold the paper in half the opposite direction.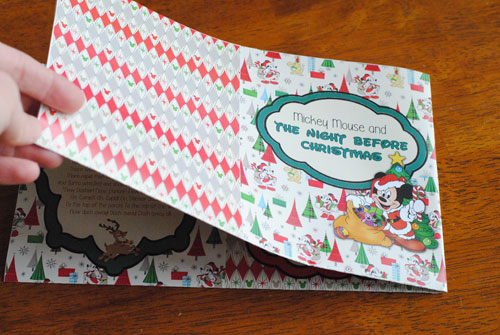 Pick up the paper and fold it in half again so that the left side is folded under the right. The cover page will be on the top.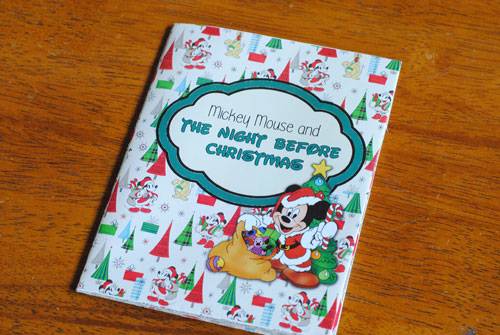 Next, open the paper so that it is back to the original shape. Then, fold it in half the fat way.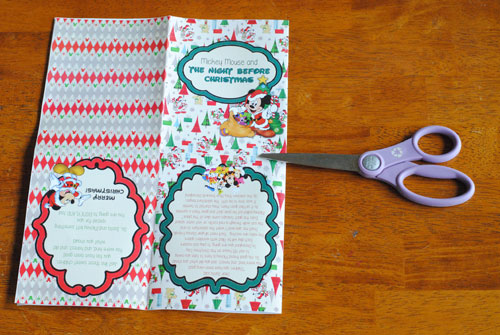 You will now make a cut in the paper. Starting in the center where the scissor point is touching, cut along the fold. Only cut along one section. Stop halfway across the page. It will look like this: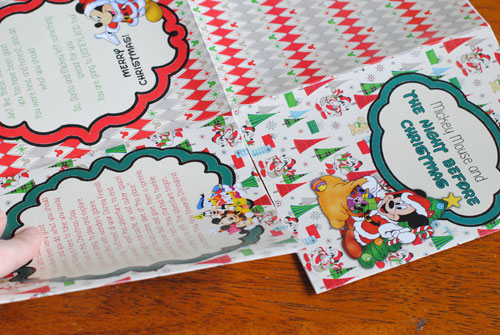 Stand the paper up on its ends. It will naturally make a diamond shape where you cut.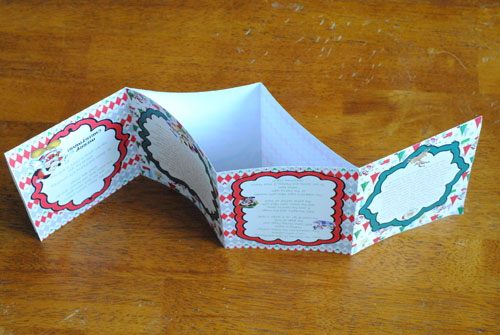 Now, bring the corners of the diamond together. This creates your pages. Crease the edges and your book is finished!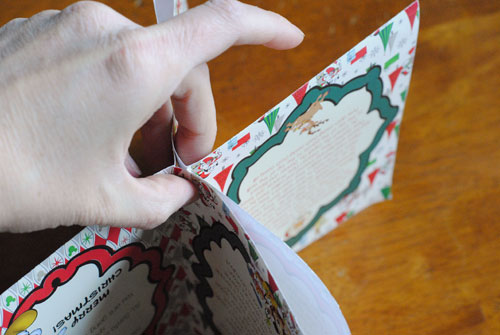 It is that easy! You can include your Disneyland tickets in the book for your family to find. I secured them in place with tiny clothes pins. The Disneyland tickets cannot be replaced. So, only include them in the gift if you are confident they will not get lost. That would be really sad.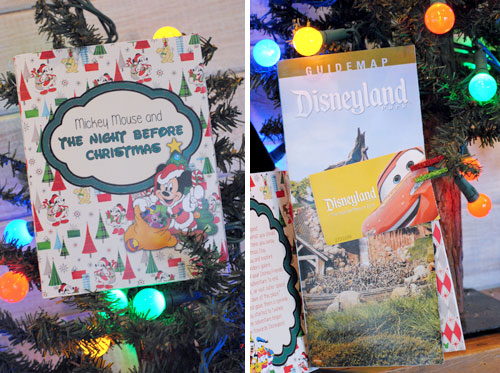 I have included the poem text here, so you can read it easily. I hope you can use it to create a magical memory with your family this Christmas.

Mickey Mouse and Twas The Night Before Christmas

'Twas the night before Christmas and all through the house,
not a creature was stirring - except for a Mouse!
The stockings were hung by the chimney with care,
in hopes that St. Nicholas soon would be there.
The children were nestled all snug in their beds,
while visions of funnel cakes danced in their heads.
But, Santa had a special treat for these good girls and boys,
that was better than packages filled with new toys!

He needed some help to deliver the news,
and he knew exactly which friend he should choose!
"Oh Mickey," he said, with a twinkle in his eyes,
"I need help revealing a special surprise!"
Mickey hopped in the sleigh and put on a red hat.
Between a bundle of toys and ole' Santa he sat!
Up, up, and away! Behind reindeer they soared.
There was no need to fear with Santa on board.
More rapid than eagles their coursers they came,
And Santa whistled and shouted and called them by name:
"Now Dasher! Now, Dancer! Now Prancer and Vixen!
On, Comet! On, Cupid! On, Donner and Blitzen!
To the top of the porch! To the top of the wall!
Now dash away! Dash away! Dash away all!

Down the chimney St. Nick and Mickey came with a bound,
they sneaked into the house without making a sound.
With some Disney Magic and the jingle of bells,
the room lit up-- as if under a spell.
With the lights, and the magic it was too hard to sleep,
and the house soon filled with the pitter patter of feet!
The children's eyes filled with wonder at the merry sight.
What luck!
To see Santa and Mickey at their house Christmas Night!

Dear Santa said, "Children, you have been very good.
You were kind, and honest, and you did what you should.
So, my good friend Mickey is here to take you away
to visit HIS house on this Christmas Day.
To Disneyland you are going, to play and explore.
Each day will be filled with wonders galore.
The rides are exciting and you'll meet all your Disney Friends.
Trust me, you won't want this adventure to end.
You can walk through a real castle, or visit outer space!
Even the giant teacups come alive at this place."

Mickey pulled out his pixie dust and gave them a sprinkle.
As it settled upon them, they started to twinkle.
It was time to be off! The adventure began,
Up the chimney they flew towards Disneyland.

Just like these sweet children, you too have been good.
You were kind, and honest, and did what you should.
So, Santa and Mickey left something special for you.
You are going to DISNEYLAND too!
If you haven't already booked your Disneyland package, there's still time! Check out our packages online or call our travel experts at 855-GET-AWAY. Keep in mind, you can always give the gift of a future vacation as well if you don't want to travel over Christmas! Just fill in the dates your family is going in this book, or use any of our other vacation surprise ideas. Your family is sure to remember this Christmas forever!
Check out these other great articles: