For the first time in forever you can meet the real life Olaf! At Disney California Adventure Park Olaf is waiting to give everyone a warm hug in the
all new Frozen Fun area
! We wanted to bring some of that little snowman's magic home with these easy and delicious Olaf cupcakes. They are so fun to make and taste even better!
I started out by finding an Olaf face pattern online then positioned it to the size and shape I wanted. I just printed it out on standard computer paper and made plenty of copies because we will use them later on as well. Next I slid the print out into some clear page protectors to make it so much easier to trace the outlines and minimize the mess.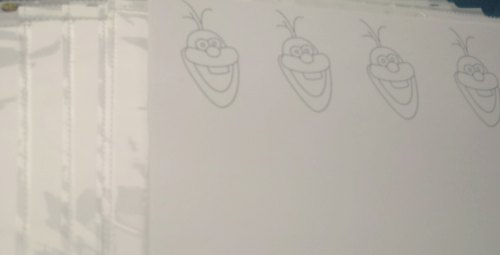 Using a piping bag and #2 tip, pipe Olaf's hair onto the clear page protectors. Then place a 4" lollipop stick down from center of face to help support the weight of our little snowman.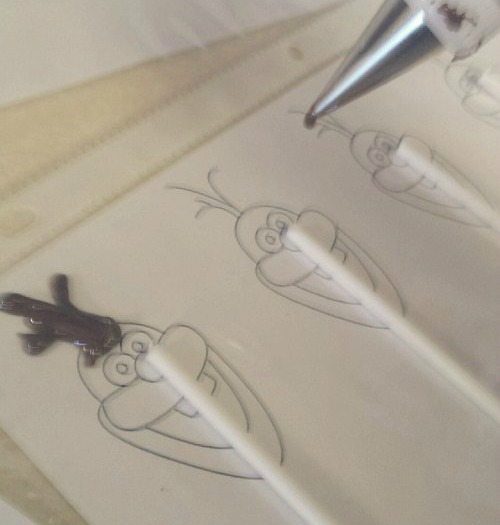 Pipe white chocolate, overlapping the chocolate hair, for the outline of his face.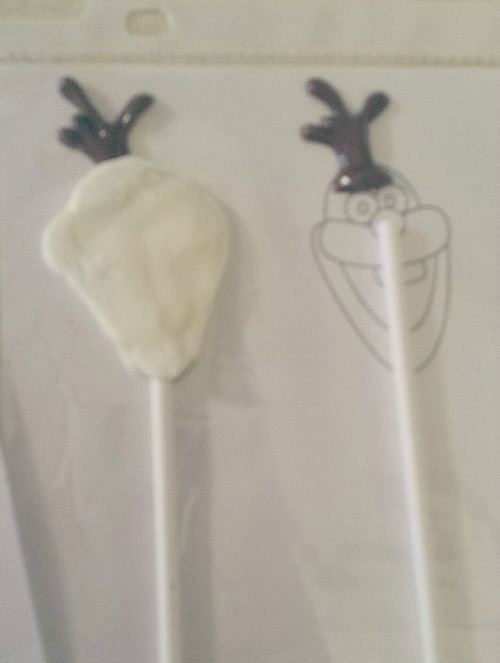 You can smooth it out with a hot knife if you like. It does not need to be perfect, you can trim it up later if needed. Next I piped the arms with the same milk chocolate on some page protectors as well. I did not use a stencil for his arms to keep it simple and make it look more realistic. Then once you are done, place everything you have made so far in fridge overnight.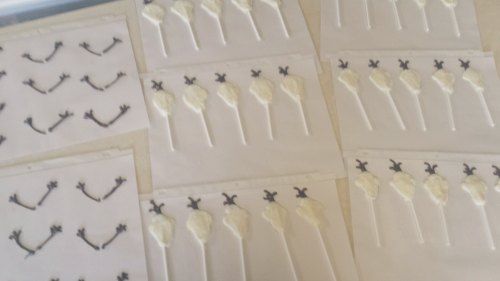 Once everything has been chilled, you are ready to take them out of the fridge. Trim Olaf's head where necessary to make sure to keep the shape of his face. Try not to handle him too much as the chocolate will melt. If your chocolate does start to melt, you can throw it back in the freezer for a couple minutes to cool it down again.
Once everything is trimmed and looks the way you want, thinly roll some white fondant and cover Olaf's head. You can support his hair at the base. The used fondant I found on Amazon and it worked perfectly.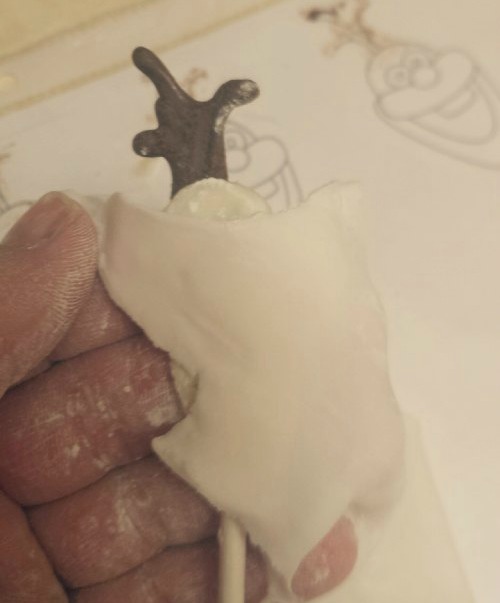 Now you just smooth out the fondant so it lays nice and flat.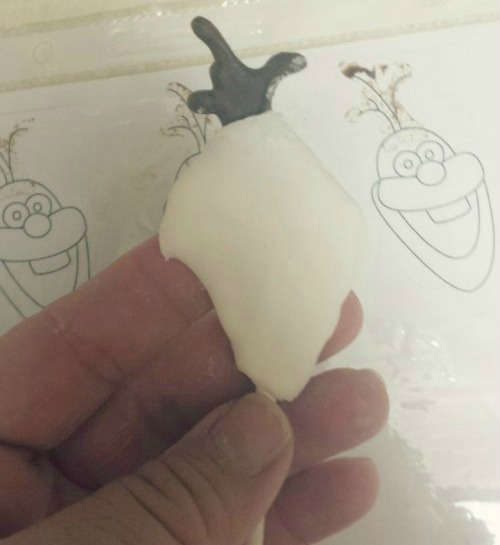 With food coloring, color a 2" ball of fondant brown or black. You can make more if needed. Using the same printout of Olaf's face, position the colored fondant over Olaf's mouth, followed by white for his tooth. Lastly roll a classic "snake" to place over top of mouth and tooth as his upper lip. Press together firmly to bond all 3 pieces of fondant.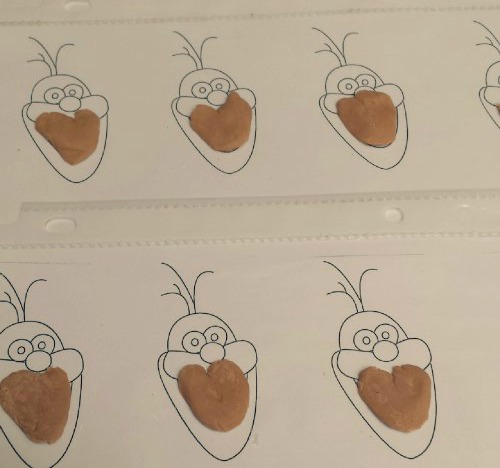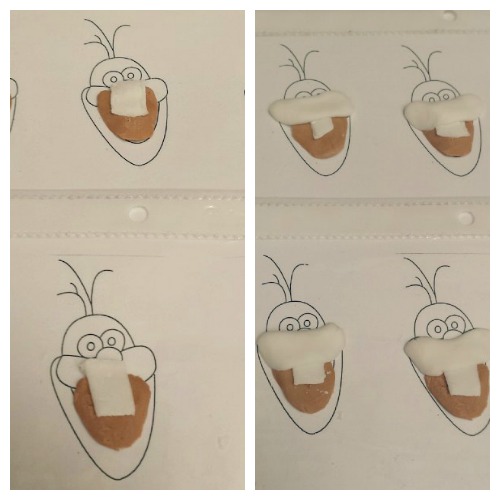 Carefully lift his mouth with a small spatula or knife and line it up with Olaf's head. Place his mouth on his face and press to secure in place. If fondant has begun to dry, take a small brush dipped in water and paint the area of his head before putting it together. Then throw on an orange Tic-Tac for his carrot nose.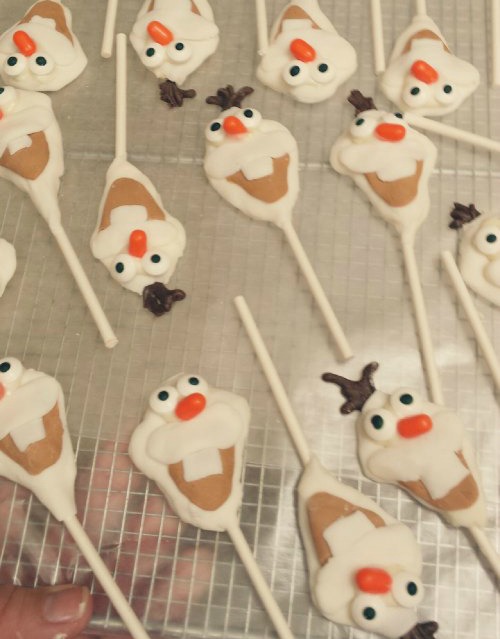 Ice your cupcake with 2" of frosting, you can build this up to look like a body of a snowman using stiff Royal Icing, a piping bag and a #12 round tip. Place your Olaf face down through the center of the icing and to the bottom of your cupcake. Then position Olaf's arms out of the side of his body and place them in fridge to firm.




And now you have your finished Olaf Cupcake! They are super cute and will add a splash of snowman fun to any event!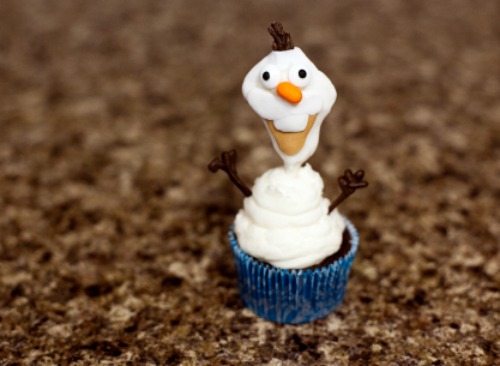 Olaf is everyone's favorite snowman and now with the chance to meet him, it is the perfect time to go to Disneyland! We would love to help get your family there to give Olaf a warm hug with any of our
Disneyland packages
. Book online or call any of our Disney experts at 855-GET-AWAY.

Check out these other great articles: