Count down the days to your Disney Vacation with this cute Olaf Disney Countdown Chain. Use the free printable template to build Olaf and then watch him melt away a little bit each day as your vacation draws near.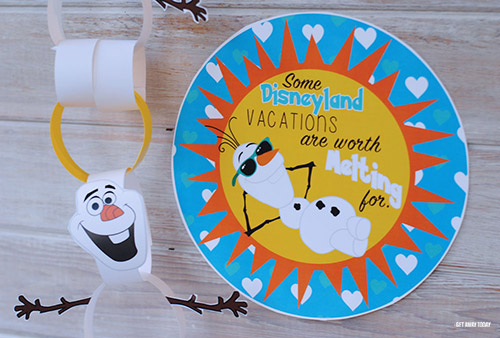 Do you want to build a snowman? This Olaf Disney Countdown Chain is Queen Elsa approved. Plus, you don't need special icy powers to create it. Link up a whole bunch of paper Olaf snowmen to make the days before your Disney vacation totally cool.
Some Disney vacations are worth melting for. Just ask Olaf! Watch the days before your next Disney vacation melt away as you remove a link from the Olaf Disney Countdown Chain each day. Kind of like what happens to frozen water when it gets warm...
If you are planning a vacation to any of the Disney Parks or on a Disney Cruise, then you can participate in this fun Frozen activity with your family. Get started with the easy tutorial below!
Olaf Disney Countdown Chain Tutorial with Free Printables
You will need:
There are three parts to the template that you will need to download and print. First, pick the header that goes along with the vacation you have planned. There is a header for Disneyland, Walt Disney World and a Disney Cruise. Print this header on cardstock paper if you can.
Then, print the Olaf Face Template and the Olaf Arms Template. Each of these pages has six links. In addition to the printables, you will need two pieces of regular white printer paper and one sheet of yellow paper. The white paper will need to be cut into strips that are 5 inches long and 2 inches wide while the yellow paper should be cut into strips that are 8.5 inches long and 1 inch wide. One page of each will be enough to give you 24 days of countdown. If you want more than that, you can print multiple pages.
Cut out the Olaf Disney Countdown Chain links from the templates. Take special care when you are cutting around the arms. They are a little bit skinny and you don't want to accidentally cut the arm off the link! Olaf wouldn't like that.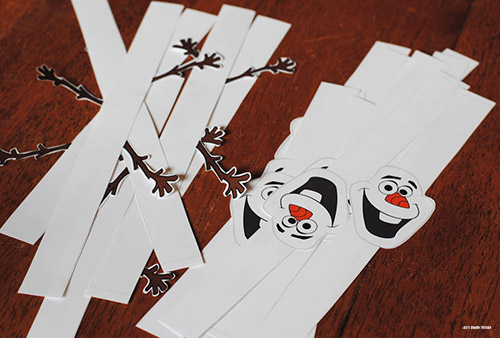 Build the Olaf chain just like you would a regular paper chain. Start by making the link with Olaf's head into a circle. Bring the two ends of the link together and staple them in place with a stapler.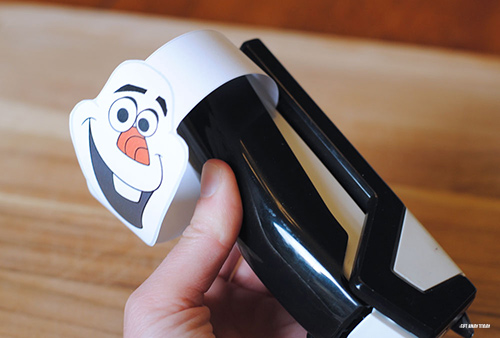 Before you add the body link, you need to fold the arms. Lay the paper link face down on the table. Bend the arms up at a 90 degree angle. This will make the arms stick out when you add the link to the chain.
Slip the body link through the head circle and staple it into place.
Now, for the feet! I love that Olaf is different from a traditional snowman and has feet. You will need one strip of the white paper (5 inches long by 2 inches wide) for every Olaf you are adding to your Olaf Disney Countdown Chain.
Cut the foot link down the center. Start at one end and cut up towards the opposite end. Stop when you have about 3/4 inch left of the strip. Keep that end complete. Don't cut all the way through.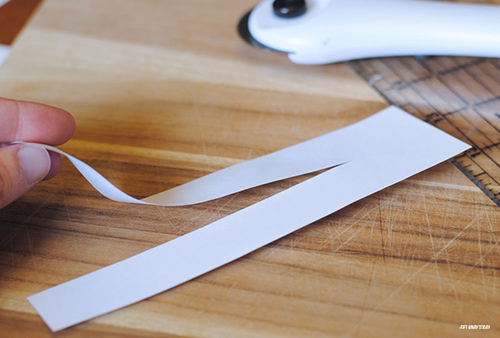 Slide the legs link through the body circle. Before you staple it together take note of the technique. Attach the split ends to the solid end at an angle. Overlap them in the center so the strips angle out to the corners of the solid end. This will help the feet look like they are separated from each other.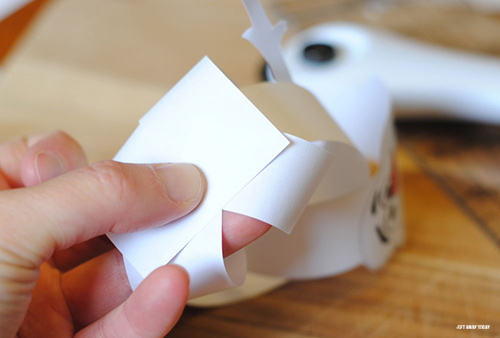 Now add a yellow strip (8.5 inches long by 1 inch wide). This represents the sun that Olaf loves so much…even if it has a melting effect. Slip the yellow strip through the head and make it a circle. Staple it in place and you are set to start the next Olaf.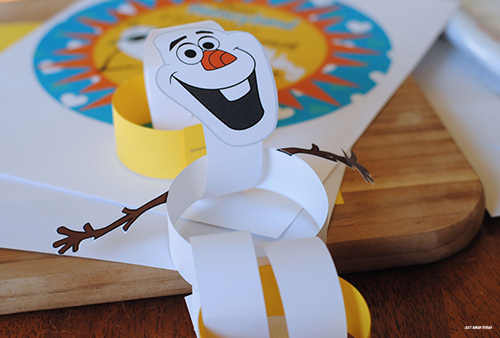 When you have enough links for your Olaf Disney Countdown Chain, it's time to add the cute header! Cut out your header from the template that matches your vacation destination.
Then, use a string or ribbon to attach the header to the chain. String the ribbon through the top link in the countdown chain and then tape it to the center back of the header.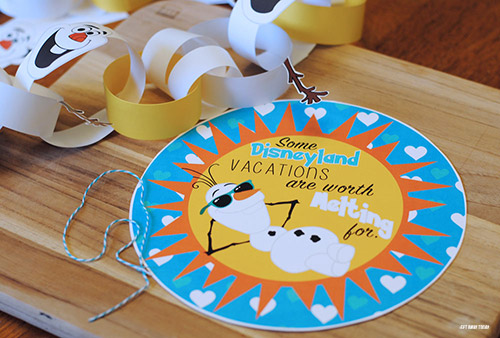 You are now ready to start melting your snowman! Remove one link of the chain per day and let it go!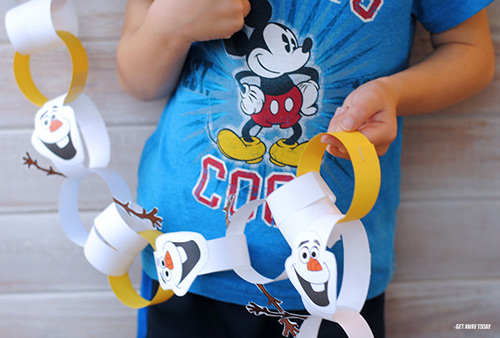 As Olaf melts away from excitement, you'll be getting closer and closer to your magical Disney vacation full of Frozen fun. Here's all the Frozen things you can find at the Disney Parks and on a Disney Cruise:
In Disneyland, your entire family will be blown away by the breathtaking show, Frozen - Live at the Hyperion. Located in Disney California Adventure Park, you'll want to make sure you plan an afternoon (or two!) with the Broadway-caliber performance in mind. Being able to sit and enjoy air conditioning for an hour or so is another bonus to this Frozen fun!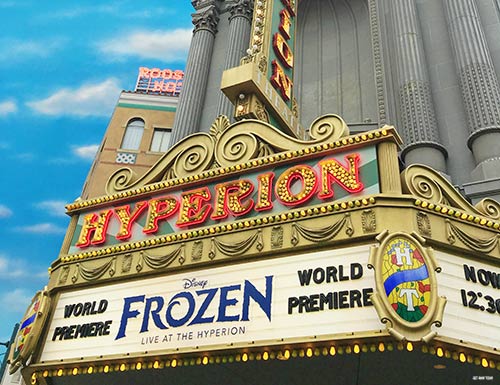 If you're heading to Disney World, you'll find the Frozen characters in a few spots. You can sail through the story on Frozen Ever After or meet Anna and Elsa at Royal Sommerhus in Epcot. If Olaf is your favorite, you can meet him in Disney's Hollywood Studios. That's also where you'll be able to laugh and sing with Anna and Elsa during First time in Forever: A Frozen Sing-Along Celebration. Lastly, you can catch a glimpse of the lovable characters in the Disney Festival of Fantasy Parade and Mickey's Royal Friendship Faire in Disney's Magic Kingdom. Talk about a vacation to melt for!
Those sailing on the Disney Wonder will get to enjoy Frozen, A Musical Spectacular. This stunning performance is exclusive to the Disney Wonder ship and has quickly become a favorite since it debuted in 2016. You won't want to let these Frozen memories go.
The best part is that there's still time to book a magical holiday vacation to Disneyland, Disney World or even on a Disney Cruise. When you book with Get Away Today, you'll know you're getting the best price and service, guaranteed. Book online or give our agents a call at 855-GET-AWAY.

Check out more holiday vacation fun: